Some of the post race Pulpcasts transcribed for those that are audio challenged
Some of the post race Pulpcasts transcribed for those that are audio challenged
PHOTOS BY SIMON CUDBY
Me: John Dowd, Southwick. The end of an era. Farewell to a legend. You got 18th or 17th so you got some points today. Talk about it.
John Dowd: It was a crazy day. It actually wasn't a great day. I had bike issues in the first one, and I actually had goggle issues in the second one. My roll-offs kind of broke so I couldn't really see too good. But whatever; it is what it is. At my age I know I'm not out here racing for the win anymore. But I was actually really excited to qualify. That was my biggest worry coming in.
I heard that you were stressed about the hot lap because that's not your specialty.
Yeah, man. Last year I was 36th in the timed practice, and I was younger last year. So I was stressing about it. Really I just wanted to qualify and ride two motos. I kind of didn't really have any real expectations. I was kind of hoping to get into the top 20 and maybe have something kind of cool happen. It didn't go that way but it went all right. No crashes or nothing. I had fun. The fans were amazing today. I could hear them everywhere. So it was really cool.
Yeah, the fans struck me too. They were really behind you, obviously these are your people. It's your last National ever, but if it was still Southwick next year would you keep on going? What made you realize and announce it that "I'm finally done"?
I retired from full-time Nationals stuff in '05 when I was 40. And I've been doing this now, coming out and just trying to keep my number for 8 years or something. This is my 8th year trying to do it. Last year, they keep changing the rules. You need 25 points now to get your number. I've been starting to kind of lose the drive for that, too. I was already kind of thinking about my exit. I just didn't really know…
Well, I mean, you're 47, John.
Yeah. We joked about trying to do it until I was 50 but I was really thinking that's going to be… It's getting hard to do it. It's hard enough for anybody I think to just show up at one race and jump into the pace with these guys. It's fast out there.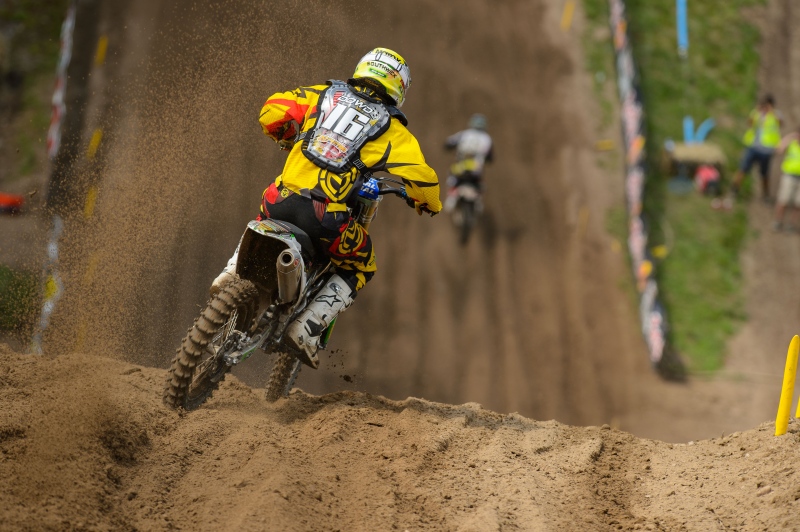 It's over…
How much prep did you go in? Maybe not this year but for last year, how much prep goes into one race for you? How much motos do you do? You're a business man. You've got jobs and kids and everything.
It's hard. I do have other stuff in my life now. It's not my full-time deal. I know what I kind of need to do to even be close anywhere in the program so I was trying to do my best. I probably been riding once a week. To me that's a lot. I said that to Jimmy Decotis the other day and he laughed. I said, "Yeah, I've been riding a lot. I've been getting out like once a week!" And he laughed and kind of made me realize, you're right, I guess I haven't been… I've been trying. Because I don't want to show up here completely unprepared. It's hard enough as it is to show up here and be ready and run with these guys. I tried to do my best to get ready.
Did you take time in that second moto to think about… Jason Thomas is a buddy of mine and he hasn't had the career you had but he said at his very last National he knew he was hanging up. He did it for 15 years or whatever. He said that last moto he looked around a lot, he thought about it, that kind of sentimental crap. Did you do that? Or where you just trying to get Chad Reed.
Yeah, I don't think I did. I was kind of still hoping to do one last good moto. I don't know. I saw Chad; I thought he was lapping me. So I kind of pulled over and let him by and two other guys went by too. I was kind of mad.
You haven't been following the season this year then…
Yeah, I know he hasn't been doing great, but whatever. He still has the potential to get a good start or whatever. I could see the blue flag, but they waive the blue flag and there's like five other guys behind me before the guy that's lapping me.
Yeah, they do premature blue flagging all the time.
When you turn around and look all you see is number plates covered with dirt so you don't know who's who. I was trying to be nice and get out of the way. So I gave up like three spots, but whatever. I kind of don't really care. I was just a little bummed. I had bike issues in the first one and then I had some goggle problems. But I don't think I really thought about it too much. I just wanted to ride one last moto.
Your typical style.
Yeah, just riding the last moto. Right at the checkered flag though I kind of pulled over right off the side of the track and it kind of hit me. I was like, man, that's it. That's the last one.
1988 or '87?
'87 I rode the National the first time. I went like 13-22 or something. Almost similar motos actually. I was doing all right in that first one before my motor went.
You ended it where you started it. Good job today. Congratulations. It's been super cool to watch you, at first as a mechanic trying to compete against you and then listen to the fans cheering and everything. It's been cool.
Thanks. It's been an awesome career. I have no regrets. This has been a major part of my life. It's changed my life completely.
You started racing when you were like 16 you had no idea…
No, I was 20.
Okay, you started racing when you were 20 and look what this all did for you.
Like I said this is a major part of my life and I'll never forget it. I hope for my son that he can get out there and do something with it. Obviously I love racing. I love motocross. I love the sport. I would love to keep coming to the races and watching him. Hopefully he can do a little something with it. We'll never know. We'll see soon enough. Hopefully he can get it figured out. But if he's going all right you'll probably see me around too.
******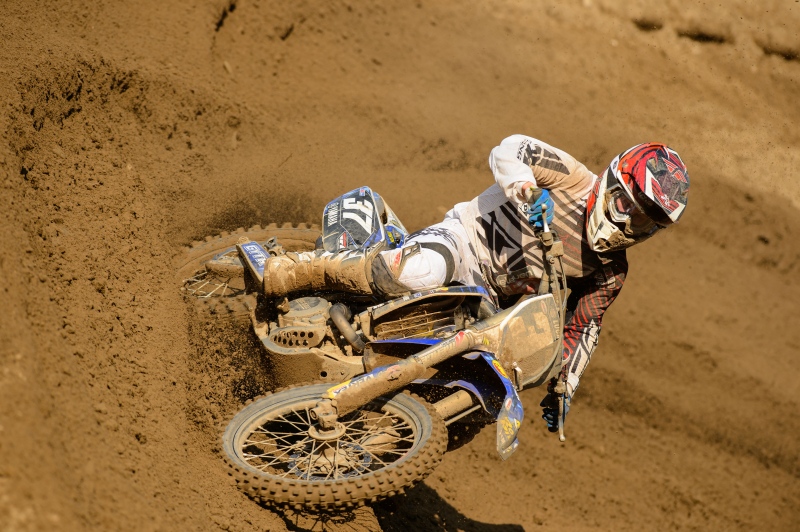 Alex Martin had his best race of the season.
Me: Alex Martin, Southwick. Definitely your best National of the year. It's got to feel pretty good to you. I don't know what you ended up overall. Do you know?
Alex Martin: 12, 11, maybe 10th.
No doubt, two motos, best race of the year.
Yeah, absolutely. I started out the day not so great so to end on a positive note is good. I think I was 36th fastest after the first practice. I was like, wow. We took the gasket out of the motor to give it a little bit more compression and bumped up the sprocket a couple teeth in the back, and it made a huge difference. I think I was 6th off the start in the first moto. I haven't been in that position at all this year where I've had good starts. So it was good to get a good start and run up front again and see that I can actually do that.
It's got to be a huge confidence boost for you. I'm sure you were starting to get down there. The guys at Club MX I heard were on you pretty good too for your results. So this has to feel pretty good.
Yeah. You weren't even there and you knew what was going on. Zach's killing it; Phil's killing it, and Big Al, because that's better than Troll, was sucking ass, big time. I was just down, depressed. Still putting my time in during the week, running, riding a lot. And then to go to the race and be 20th it's like, "What am I doing? I'm a spode!" So it's good to be kind of back up there again.
You switched teams recently. We all know you had some issues with the other team, Eleven10. How much mentally though is it off your mind, or how much was the situation with the team getting to you mentally? And now it's almost like a breath of fresh air – is that it at all?
Yeah, absolutely. Towards the end there, High Point, I just really wasn't enjoying riding. I wasn't enjoying going to the races. I've been with Chad for a while but it was time to go my separate way and have a fresh start. Coming over to Rock River, Christina's been really helpful and very nice to make the transition go as smooth as possible. I was definitely a little bit down there for a while.
Yeah, that affects you on the track, right?
Oh, absolutely. I feel my best days, or anyone's best days, are when you're really having fun on the bike. And when you're depressed and just bummed out, you go out there and you just don't even want to ride. That's not the attitude to have.
And you got a practice bike now.
I do. Thanks to the little man, Jeremy. And I really like riding the 250 again. Riding it this week made the whole week fun, just to be able to ride that. Because the 450 is a big bike for me. I haven't tested on it so I'm just kind of running it. Cut the sub-frame with a bench grinder and use the file. Just got that baby dialed in, but not quite perfect.
Good job today. Keep this up. The Alex Martin that we've known and seen is back, hopefully.
******
Me: Ryan Villopoto, Southwick. Your team is tearing down in there. We're just avoiding the rainstorm. I guess considering you feel down in the first turn, not a bad day. You went 4-1. Fell again, too; first lap. So 4-1, second overall. Probably the best you could hope for on a day like this?
Ryan Villopoto: Yeah, it was a bummer. Didn't get the greatest of starts. I could have got a holeshot then I wouldn't have been in that position. But it is what it is. Ended up falling over. Was stuck in the first turn there for just a little while. Ended up getting back up and taking off and then I didn't even make it a lap before two other guys cartwheeled and their bikes came across the track and slammed into the side of me and I ended up falling over again. So I was way back.
You know what the problem with those inside gates is, right? Sometimes you boom or bust. One of these things happens. Sometimes those gate picks don't always work out on the inside.
You kind of would know about those gate picks, all the races you've won with inside gate picks, or outside gate picks – whatever you like.
Second moto you sprinted out a little bit. Dungey put in a couple, two or three laps, got close to you and then you pulled it back out. Something you did? Something he did? Something you adjusted to? It looked like lap three or four he was going to catch it.
I was making a couple little mistakes out there, but he was riding good. Put in a good push. The track was, I wouldn't say one-lined, but it's a little bit harder to pass on.
Did you pick it up or did you find some better lines?
Yeah, I ended up, by not making mistakes my lap times got better. So I ended up pulling it back out and then just kept going.
So a couple of mistakes on your part allowed him to get closer. Talk about the track. You've been here a bunch. Where does this rank? How bad was it? They got rain all week. What'd you think?
It was really rough. Southwick's very unique. It's sandy, rough, but a very hard base. It makes it really hard for bike setup, for tires, to pick a tire. Southwick's always a hard place to come to.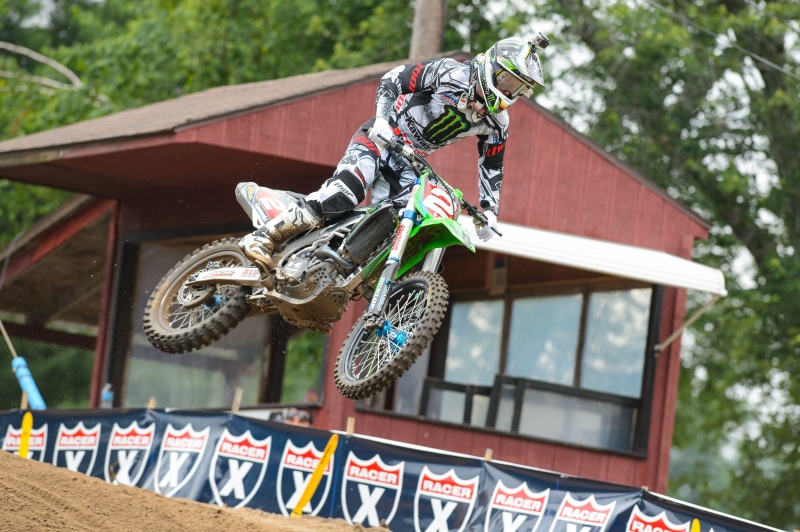 Ryan Villopoto rode great but crashes kept him from winning.
You got to do some suspension testing this week with your guy in Florida. Obviously looks like it helped.
Yeah. We made some very good improvements and kind of some big changes. Definitely it was much needed that we did that. We made the bike better. I think we're looking good going into Red Bud.
You lost two in a row now – you mad?
Yeah, definitely. It's not something that I would like to be doing. But first turn crash like that, not much I could do. I was happy with the ride that I put in. Dungey and the guys were not that far ahead of me, even after the first moto. That was definitely a good ride.
James was looking good early in that first moto!
Yeah. but it's a long moto.
Adam Cianciarulo told me you guys were pretty harsh on him all week long after his debut. Can you confirm or deny this?
He was here at Southwick hanging out on Press Day.
He said Monday/Tuesday was not good.
Well, what do you expect? He went like 15-18; it's pathetic.
I'm guessing you were, then?
He rode well and what do you expect?
What did you do your first race?
I think I went 14-16 or something and then I got 5th in the second. I think definitely there's still some more potential there that he can do better. He's just getting back into the swing of things.