The two winners, Weimer and the 338 speak abou their Washougal
The two winners, Weimer and the 338 speak abou their Washougal
PHOTOS BY SIMON CUDBY
Zach Osborne
Me: Your first motos are terrible. Second motos, great, but there's two of these things.
Zach Osborne: Thanks for that insight.
What's going on?
I'm just struggling.
You were higher. You must have fallen in that first moto.
Yeah, twice in one lap. But that wasn't the deciding factor of how crappy it went.
Did your arms pump up again?
Yeah, just solid. To the point it's dangerous. Just struggling, putting too much pressure on myself to do good.
You're thinking about it all the time now.
Just a nightmare.
Let's a talk about the second moto. That was great. That was a fantastic ride. You got to be pumped.
Yeah. All year my worst second moto is 5th place. So I got to get the first moto sorted out. There's two guys leaving the class next year and I'm the next guy to step in for this team. So I got to get it figured out. And they've told me that. So just going to keep working with these last four rounds. Now I'm only 21 points behind Baggett so it's maybe feasible to get up to him if he continues to have some of the races like he's been having. I just need to get it sorted out.
When's the last time you were here and what do you remember about the last time you were here? What'd you think about the track today?
I've never raced here before.
I'm even more impressed with that 3rd place. What do you think about it as a track?
I loved the track from the time I saw it. It's awesome. I was really looking forward to a good day, but obviously I struggled in the first moto, like you said 9 times in the last 10 minutes. I rode here for like five laps for a KTM dealer show one time. Other than that, I've never raced here. I've never really had any experience with the track and the shadows and all that stuff. So it was an experience. But it's pretty Euro. I really enjoyed it a lot.
Good battle with your teammate Bogle there for a little bit in the moto.
Yeah, I was just kind of biding my time and trying to keep the pressure on.
Marvin was on you then.
Marvin started making a little bit of an attack so I was like, it's time to go now. So I did and dropped Marvin a little bit and hung on for 3rd.
*******
Jake Weimer
Me: There's the Jake Weimer we've all been waiting for. I love to make fun of you and make a joke, but that was a terrific second moto ride. First of all, before we get into it too much, you were 4th or 5th and then you went back to 7th or 8th. What happened?
Jake Weimer: No, I think I was 5th and then Chad passed me. I think Stewy got me too right out of the gate.
Good ride, though. You got to be excited.
Better, yeah. I'd definitely take that at this point. It's been a rough roll here so I'm good with that.
Your dad was here this weekend. Did he yell at you a lot?
Quite a bit, yeah.
Talk about the first moto a little bit. What was that about?
I think I rode decent, but I think I started 16th or something. That's just not going to work unless you're maybe one of the Ryans. So for me starting 16th you're never going to see me. I was out there but you're never really going to see me.
We were talking about that and there's literally a gap between a Jake Weimer in 3rd or 4th and a Trey Canard who got 12th or whatever. It's the start. Unless you're Ryan Villopoto or Ryan Dungey.
Right now, obviously it changes, but recently it kind of seems to be that way. It's important to get out front early. No matter how fast you are you're not going to be able to do it the first couple laps if you got a bad start and those guys get away.
I raced this track in '98, 500 B. I got 4th. It looked like to me, and again I only raced here one time, it looked like a radical difference between first moto and second moto track conditions.
I wouldn't say radical.
Sun came out, it got a little dusty, a little rockier…
Yeah, but I wouldn't say radical. When I think radical I think, like, radical. The track was a little different. There's a few lines that I took that were different but overall I think it was similar.
Roost bad?
I don't know if I just kind of got lucky this year but I'm fine, actually. I kind of got a fat lip. This is one of the worst. If you would have asked me two years ago I would have told you it was the worst. Even in that first moto when I didn't get a good start somehow I think I passed 7 people or so, but somehow I didn't really ride with people that much.
Can we build on this? That was the best ride of the season. Are we going to build on this?
I don't know if you can build on it but I'm sure going to try.
Maybe your dad goes to more races to yell at you.
******
Ryan Villopoto
Me: Finally the monkey is off your back. You've won your hometown National, with 2-1 rides. Terrific day. Second moto you got by Dungey and put the hammer down.
We had a good day. First moto I didn't have the greatest of starts and had to work my way up and pass through 3, 4 guys. It took me a while to get around James and Ryan was getting away. I was finally able to get around him and was able to reel him in but he was riding well and time ran out.
To your credit you were riding well, but I think he was pacing himself a little bit. At the finish he was 1.2 or whatever but it wasn't that close of a race. He was in command once you got into 2nd.
For sure. The moto was over by the time I was just maybe starting to eat a little bit roost. So he had command of the whole thing until the end.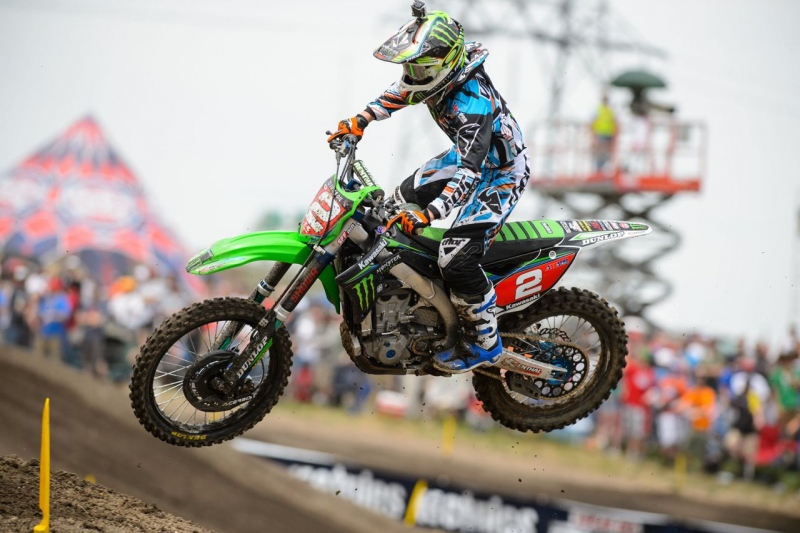 Villopoto finally won Washougal with great 2-1 rides.
And second moto, you were probably, hey, I got to get up there. I got to attack right away. Like you said, had to get by a couple guys.
I had a better start and obviously me and Ryan, we took off. And watched some of his lines and actually made a change on the bike before the second moto and then it was definitely better, for the track, the way it was. And that was good. And then we were able to watch and learn and make a move. Then slowly pull away. It didn't happen really quick but we were able to pull away and get 8 seconds or so.
Finally happy to stop answering questions about why you haven't won at Washougal? Your home race?
I've always struggled here, as on an 80. If you really want to get back… Josh Hill, if you go back and look at results and put them all together he see, I would be that he's beat me more times than I've beat him. So there's always struggled here, and was able to get moto wins but never sealed the deal.
For the first moto, some controversy. Somebody had a laser pointer at you on the starting line. Did it affect you? You didn't get the greatest starts, not bad, but talk about that a little bit.
I was sitting on the line there and I was on the right-hand side of the box. As the 30 board went down, I was just looking at the gate. We were all revved up, ready to go, and there was a green laser pin that got shot into my goggles. It wasn't there when the gate dropped but it was there for probably two seconds and they hold the gate from three to five. Then we went.
Was it just then? Not when you were in staging, and not when you were sitting there 30 seconds?
No, just as the board went sideways.
Allegedly it was Jeff Alessi.
That's what we're hearing.
Did the officials talk to you a little bit about it?
Yeah, we've talked and don't know where it's going to go from here but I'm sure they'll handle it.
You and Ryan Dungey have really taken your riding to a new level. It seems like no matter what happens you guys are going to 1-2, 2-1, something. What is it you think you and him have over these guys? Is there some reason for this dominance? None of us idiots in the media… we thought Barcia, Stew, we thought some guys would grab wins here and there but you two have really dominated more so than anybody thought. Why is that if there's a reason?
I think we have superior programs to everybody out there, me and him. It works for both of us. He has his own program; I have mine. We also have great teams behind us. He has Roger. We have a great group of people behind us, and everybody on KTM also. It takes a great team, obviously a great rider. You can't do nothing if you have a great team and no rider. It's just the package deal.
Next week Millville. He's pretty good there. It's a big challenge.
It is. He will be good there but I feel like if any track on the 12 rounds, I struggled here the most. I think we can get it done.
Last time there he caught and passed you.
The second moto, not the first. So, we'll see.
*******
Eli Tomac
Me: Us smart guys in the media, we were talking about the race beforehand, we're like, we're worried about Eli's starts. This track's tough to pass on. He's not the greatest starter. We could see Roczen winning today. Eli needs to minimize the damage, etc. We're idiots because you went 1-1, crushed everybody, got your starts.
Eli Tomac: I did get my starts. You know what my goal is by the end of the season? Is to silence the media about saying I get bad starts. So, that's what I've been working on at home. Obviously it's paying off. I had good moves through the first and second corner today. Just made some passes. They weren't huge holeshots or anything but I was at least close enough to make it work.
Wil Hahn, let's face it, he went for his…
He's just like Mighty Mousing, hooks up and he's gone.
You had the day you dreamt of. Talk about it a little bit. Where did you think you had those guys? Were you using better lines? We talked at Red Bud; you said outsides were really the key for you, but talk about that a little bit?
I can't really tell you because there's not a whole lot of lines on this track. I guess it was just not losing the rear in the corners, just being smooth. There wasn't special lines. Zach Osborne's a beast.
Osborne's first motos are terrible.
Apparently his first motos are terrible. I can't really tell you why I was so fast.
What'd you think of the track? It looked to me again, I'm not out there racing, but the first moto, second moto, a lot different or no? Like drier and crappier?
It was a little bit drier, little bit crappier. Not huge. This track doesn't really get super rough but there's little edgy bumps, so those came around a little bit more. But the thing that came around was the sun and the shadows. That was the sketchy part and that's what almost ate me in the second moto.
Talk about that a little bit.
If you see it it's pretty spectacular. I literally rode a nose wheelie. It was up the Horsepower Hill rollers. Just dropped my front end too early and then I ran into a square edge.
And that was it?
Oh yeah, for sure. It was full panic rev. I was like, I'm about to crash, do a massive endo going uphill if that's possible. But I almost made it happen.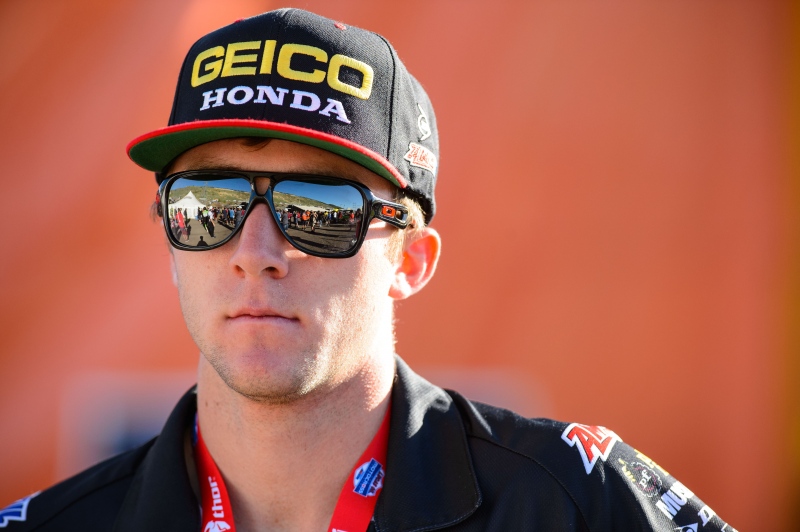 Tomac had an incredible day at Washougal going 1-1.
Your dad's gnarly but what happened – he's not so gnarly?
I guess he got a little too overconfident from being too gnarly. And he was on this bicycle that had like 20 more suspension with a dropper seat post, tried to bomb down this rock section that I walked.
You walked it and he was like, let me show you, kid.
Yeah. And it was game over. Like 11,000 feet up in the mountains, mile and a half walk out to the forrest road. Full survival.
Was he is in big pain?
A little bit. Broken elbow. Wasn't the joint so that's good. And tore his thumb ligament.