Another blog from Scog!
Another blog from Scog!
Scog Blog: Winner Takes All
By Isaac Scoggin
Photos by Lissimore
Do you remember what it felt like to win, at anything? Yeah, me neither. Growing up you are not taught to lose, you are not taught to win, you are not taught to play hard, or push yourself to be better…that all comes natural because you want to be better than your friends. It is as if from day one we have an instinct to push towards being the best, and it really isn't the number on a trophy or the recognition that drives us; what drives us is the feeling of complete satisfaction. In baseball you see little kids kicking the dirt because they missed a fly ball, or you see them hang their head after being tagged out at first base. Mother and father didn't tell them that was what they were supposed to do when this particular error happens, but the internal sense of failing took over. Failing at anything sucks, but what sucks the most is losing sight of what it feels like to win. That is how it all starts, what follows is the lack of desire to compete, and eventually the feeling is gone altogether. We have all been told by a close family member or loved one the famous, "you don't need to prove anything to them" line. Well, maybe I don't but I still want to just to shut them up and regain my manhood! You know?
The one I lost somewhere around the time that failing became the norm. It is even worse in MX because it is not a team sport. There is only one winner a moto, one winner overall, and one champion come seasons end. All the kids who grew up winning local races, regional races, plus Loretta Lynn's championships soon find themselves forgetting what a win feels like. It is a contagious feeling (or so I am told) that perpetuates more wins, good luck, and a positive outlook on whatever lies ahead. However, some riders who find themselves in this particular "losing" conundrum find solutions, and no matter where they must go to find them, they go there. They understand, just as they did from day one on this Earth, winner takes all…always.
When discussing this topic in moto the first rider to come to mind is Brett Metcalfe. He isn't necessarily forging a new path never before tread upon by a fellow MXer, but he is the perfect example. He is an example of a rider who has been fantastic but has spent nearly a decade fighting for a win here or a win there. He deserves a lot of credit for being one of a very small group willing to fight for a feeling rarely earned. Perhaps Metcalfe has an incredible memory because he has extreme focus and drive. Without the true feeling of winning though the ball just doesn't seem to roll where you want it to. Brett was left without a good ride with the deserved monetary value attached, so he headed north to a place where wounded veterans go to let the last ounces of their MX career be sponged away.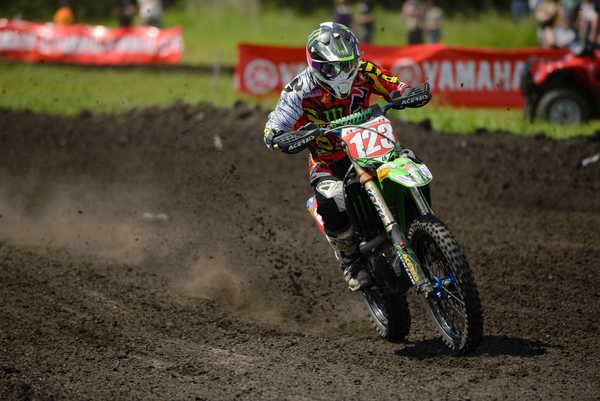 Metcalfe is learning how to win again up in Canada.
Except, this is the best part, he came in ready (as usual) and now has re-experienced that mentality of going to the races prepared to win. It was a huge change for him and he has even admitted to not realizing there was something missing from his approach to the races. Now that he has gained a piece of the puzzle that we all had at one time, and most of us have lost by now, he will be even better when he returns to the States next year. How do I know this? Look what it did for him at Southwick…he was on a very privateer bike, did his best to set it up with what he thought would work, and he was within 10 seconds of the race winner in moto one. Regardless of whether or not Metcalfe is a great sand rider, that was a great performance, and one that displays the intangibles a winner's mentality can bring to any fight.
Now I know what you are thinking, Matt Georke should deserve the most credit because he went to Canada last year and won. The answer is yes, he does deserve a lot of credit; however, he hadn't been racing as Brett had for a decade fighting for some glimpse at a moto win. Both riders did what needed to be done, and without trying to they have created a new path to redirecting a career from the depths of nearly forgotten to the bright lights of a solid team in the United States. All those that follow can now thank the Godfathers of redemption via Canada. It is certainly tougher than it looks, and the true secret lies in dominating the series up North so that they are noticed down here. That is a lie. The truth is even if they won all the motos they may still lose out on a good ride in the States.
What they have to do is regain the mentality of winning, come back to a national in the United States and put in two very solid motos. Canada does not get them all they need in terms of attention, but they get the feeling they need to drive them on. Even the two excellent motos Brett put in at Southwick are getting a bit overlooked because he is so good there. Now he has to put in great motos when he returns at Unadilla and Lake Elsinore and hope someone takes a chance that he hasn't forgotten how to ride SX. Which he hasn't, but memories are short on the great teams.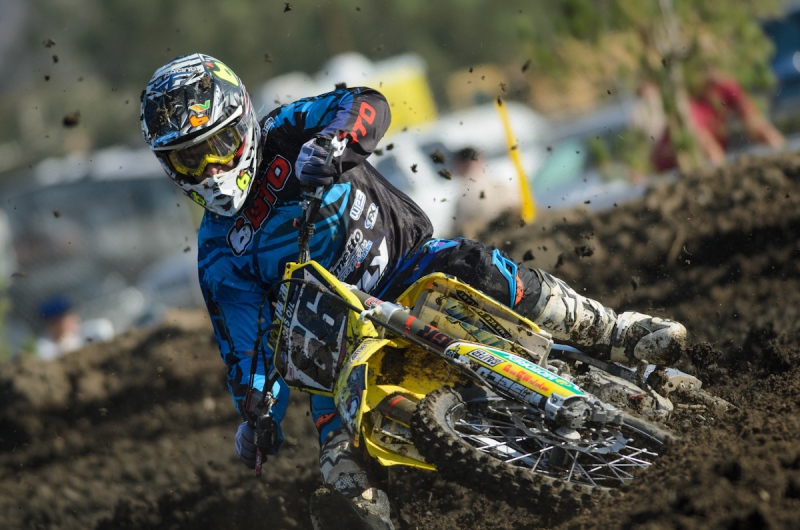 Jason Thomas won a lot, just not in the USA and he was better for it.
Forgetting the entire feeling of winning is a struggle we all must face, but riders are beginning to understand there are options available. Many riders are looking to go to race in not only Canada, but also Australia, and even a few to the GP races scattered around the globe. The United States houses the best series of MX and SX, that is for sure; however, experiencing winning is slowly becoming more important than the prestige of the series. Who can really blame them? Austin Politelli is well on his to being a Canadian MX2 champion, and that won't hurt his confidence or bank account one bit. Teddy Maier has experienced a lot of success up North where he would have been fighting week-in and week-out just to make all the races down here. Now he is a top racer up there, making good money and racing for wins. I bet he doesn't care where he is racing as long as he is making money doing what he loves, and fighting for wins.
Bob Kiniry has been a front-runner in the Canadian series for years, and I personally would like him to win a title up there just to put some icing on his cake. He deserves it, and he is a rider that has gone out of his way to find places to race to win and make money. He is the modern day JT! JT was the king of Germany SX, and won all over the World. He was a globetrotter of sorts in the SX and MX sphere. He was smart, he kept himself relevant by networking and making the most out of situations other riders wouldn't consider.
They say every person must know their place in this World, but that doesn't mean we must be complacent. If every rider had an equal share of all that keeps the MX industry afloat that would be ideal, but that will never happen. By going out of their way to find a place where they can fit in and be relevant, these racers are fighting back against the lose of the feeling of winning. They are being creative and unique with not only their race craft, but also with their careers. An MX career is far too short to spend in a situation where you are one of a million. Why not search for your place. Hey, one Countries record book is just as good as our own.
Now that I say that, the privateers that we all know and love in the American series will all ship out to find a place to be King. That is not necessarily what I want or mean. I mean that in rediscovering what naturally goes away over time, a racer may find themselves relevant, or at least happy with knowing what it feels like to be fighting for a win again. Now, as for that feeling in regards to us non-professional athletes around the World. We may or may not have found our place in it (the World), but with that said it would still be great to find that mentality again. The winning feeling or mentality must go to the same place dreams go to die! If I find where that is I will let you know.