Moser, his buddies and a unicorn head go to Washougal
Moser, his buddies and a unicorn head go to Washougal
Moservations Washougal 2013 Presented by Optrix
ALL PHOTOS VIA AN IPHONE AND OPTRIX CASE
We lived through yet another Washougal. It's a running joke Washougal weekend that one of these years someone is going to die, this statement is followed with hesitant laughter because there is just a little too much truth to it. You undoubtedly listen to the Pulpmx show if you're reading this so you may also be aware that I am the proud owner of an Optrix iPhone case who is a new sponsor to the show. Tits was kind enough to offer me an Optrix, I didn't even have to ask, he even overnighted it to me so I would have it in time for the big lake weekend over the 4th of July.
I spend a lot of time around the water in the summer time and it was only a matter of time before my iPhone took it's first and last bath, so I was excited to try this baby out. After putting my Optrix through it's passes I called into the show and gave a brief "unbiased" review of what I thought. Some may say it was a raving review with few critiques. With Washougal soon coming we realized this would be the true test of what kind of abuse an Optrix can really withstand. Having two Optrix is better than one so we thought we'd pitch the idea to them, what could it hurt, what are the chances they would really send us some free product right?
Subject: Moservations Washougal 2013 Presented by??? Possibly you!!
To whom it may concern,
If you are not already aware, Peter Legendary sent me an Optrix case which I've been having a lot of fun with and I gave a quick review on the pulpmx show the other night. I write a weekly article during the SX and MX season for pulpmx but I also do a couple of features that I call Moservations at the races I attend. These features are more so about the adventure of my trip than the actual racing. These trips are a mini vacation or "man trip" for my friends and we tend to let our hair down and get a little wild but we have a great time and to date haven't hurt anyone.
Over the years we've had different themes. One year we carried around a life sized cardboard cut out of a friend that couldn't make it, last year we drug the pulpmx cooler through the race. I've been having so much fun with my Optrix and it's been talked about so much on the show I thought it could make a great theme for our trip this year.
"Moservations Washougal 2013 presented by Optrix"
The pictures featured in my article would all be taken with the Optrix lens and anything and everything that could possibly happen to an Optrix case will happen during this trip. We would obviously have some fun with this and be posting photos on twitter and instagram throughout the weekend as well. We do tend to drink to excess and get a little rowdy so if you don't think it's a good fit or good representation for Optrix I completely understand. The links below are to some of my previous Moservations articles. The number of readers varies but averages around 2,229. The other gentleman accompanying me on the trip would need cases as well.
Here are my other terriffic articles for your reference:
http://pulpmx.com/stories/moservations-washougal-2012
http://www.racerxonline.com/2013/04/25/insight-moservations
http://pulpmx.com/stories/moservations-washougal
Thank you for your consideration and I love my Optrix case.
Cory Moser

Can you believe it? They sent us some free product! I'm as shocked as you are. So here it is lets see what we can recall through our Optrix fish eye lens this year at Washougal.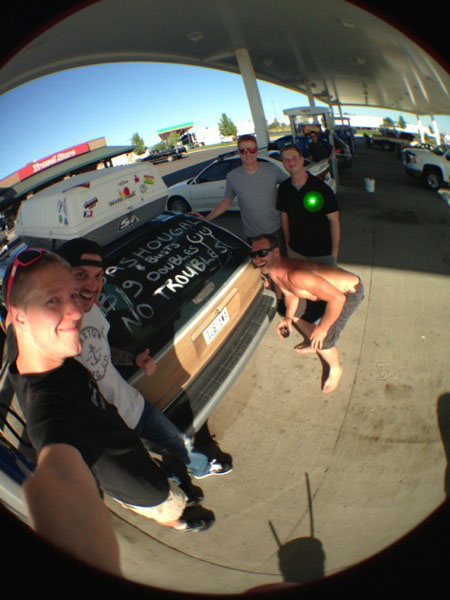 We had a "best caption" contest on Instagram to run on my 1991 Buick Roadmaster Estate Wagon this year. We got a lot of good entries and we sounded like a bunch of women arguing over which was the best. After finally deciding the winner was "Big doubles no troubles" we realized the window paint that Holliday bought didn't work though. No worries Buell bought some from some kids headed to a softball tournament that we saw at the gas station. Congrats to @breck726 for the winning caption, your prize is in the mail I hope we wrote down your address correctly.
Here are some of the runner-ups for slogan of 2013. If you want to look back through all our Instagram post over the weekend check out #WWR13. I know I did to try and piece back together the weekend.
2nd We cume we conquer
3rd Dustin off our nuts its Washougal or bust
4th Washougal bound we'll have your mom back by Sunday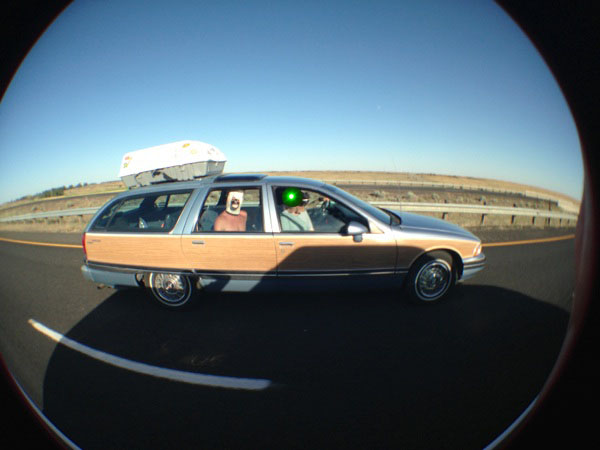 Nothing outlandish happened on the drive down to Washougal pretty standard road trip. I have no idea why we ended up with a Unicorn and Horse head mask and yes they are totally creepy, Benny bought them. They are a good conversation starter though, second only to having an Optrix of course.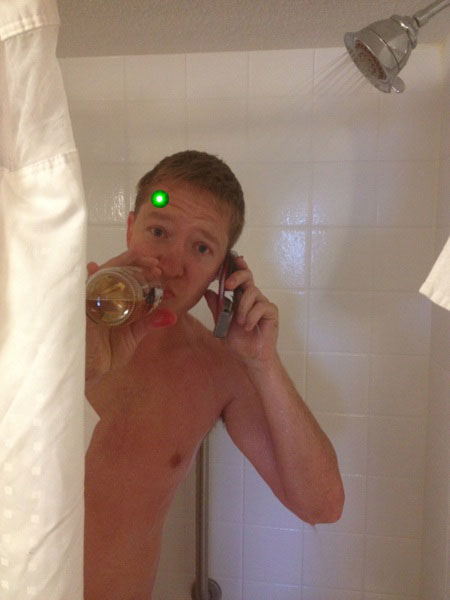 Freedom is being able to shower while on the phone. Also this is an approved method of washing your phone according to Optrix.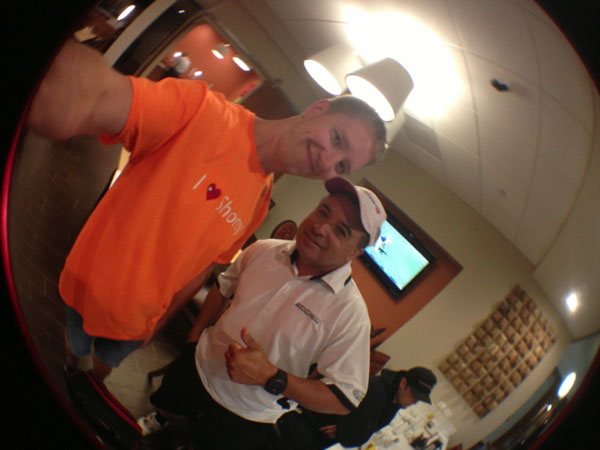 With lazer like precision I spotted Tony Alessi in the hotel lobby. The one arm selfie picture is incredibly easy with the fish eye lens and came in handy all weekend. I don't know if Tony doesn't like me or more likely has no idea who I am but he wasn't pumped to take the picture. Who knew this would be the least of his worries on the weekend. I can't complain he took the picture with me, it's not like he poked me in the chest or anything.
Golf at the Edgefield to start off our Friday morning. This is the second year we've done this too early to call it a tradition but it's a par three course, it's only 12 holes, there are no rules or dress codes and they promote drinking at 8:30am so it's a pretty good fit for us. Alan demonstrates the money shot.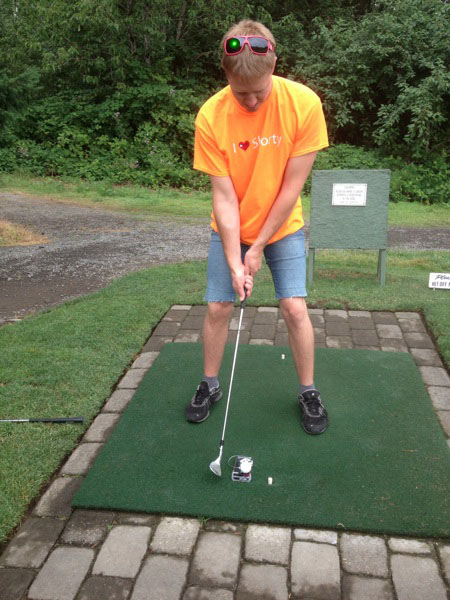 A good day on the links testing the Optrix.Proof that an Optrix is tough.
Over the course of night one we hadn't really put the Optrix to the test, sure we dropped it on accident and spilled beer on it, pizza grease all pretty standard stuff. But we wouldn't use an Optrix for a tee shot right? Of course we would. Full disclosure it's safe to say this is not recommended by Optrix but it worked great and without a scratch. We actually had to do it a couple times because we kept messing up the pictures and videos. I got a text from Tits almost immediately after posting a picture on Instagram, "Can't belive you didn't break the glass lens idiot" my response was it's an Optrix and he replied "fair enough".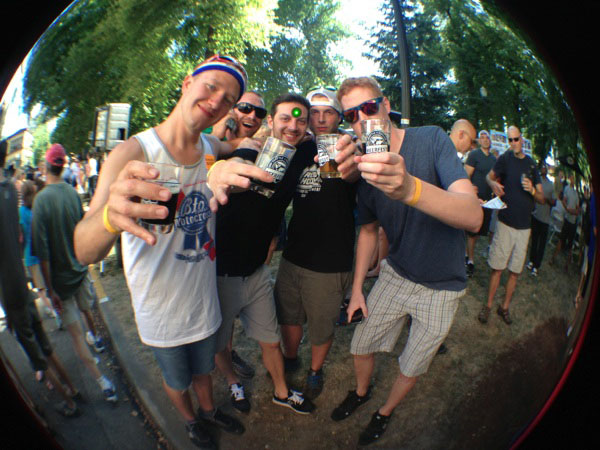 You know you're getting old when you have 4 hours to kill in between activities and the unanimous decision is to go back to the room and take a nap. Maybe were becoming more responsible in our old age, or we just like naps. Portland international beer fest was simply stated, delicious. These things are a great time you never know what your going to see great people watching everything from fanny packs to lederhosen, keep Portland weird indeed.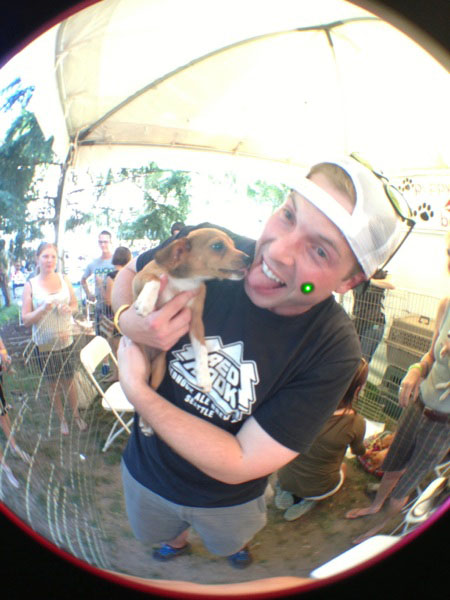 We had to drag Holliday out of the puppy kissing booth guy couldn't get enough. Beer and Optrix go together like Tits Legendary and free stuff. "Do you constantly drop stuff and spill? Then Optrix is for you" that should be their new marketing campaign. At some point during the weekend I realized that the Optrix is drop proof up to 33', I don't know what that equates to in throwing distance, I couldn't find an equation for that. But I found that throwing your phone a long distance was highly entertaining, a great way to start a conversation and meet new people. So throwing the Optrix at approximately this part of the trip became common practice.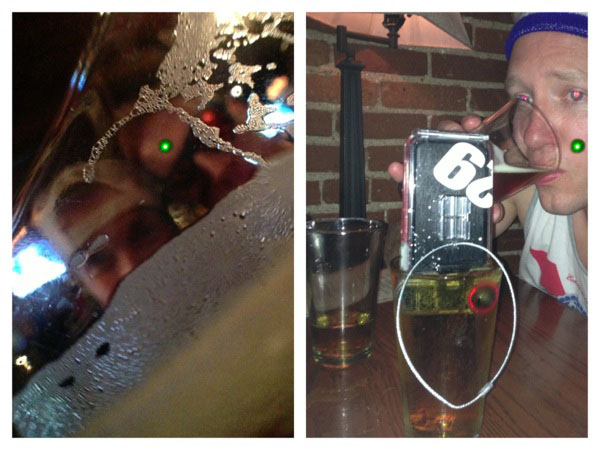 Throwing someone's phone into a beer and/or taking a picture through some head also became common practice. All things you have always wanted to do but never could. Friday night ended without much sleep for reasons not appropriate in this forum, but it's safe to say Buell "rooned" our trip.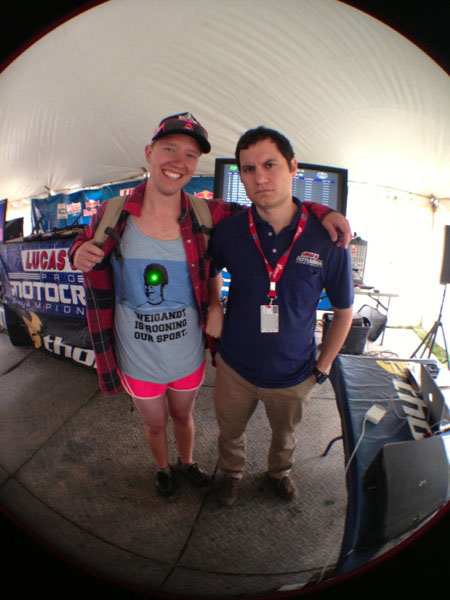 Over the past couple years the custom tee shirts has kind of become our "thing". It helped a lot when Benny decided he just had to have this printing/press machine in case he need a custom shirt. We always procrastinate until the last minute to make the shirts, then Benny has to pull an all nighter to get them done before the weekend. This year was no different but it goes without saying they turned out great and the trip wouldn't have been the same without them.
Someone needed to step up and tell Weege he was rooning the sport, I mean Reed wasn't going to step up and do it. I think there were 6 of us wearing the tank tops, the only goal of the day was to get a group picture with Weege, can't be that difficult right? Never happened. Try coordinating 6 drunk guys at Washougal, can't be done.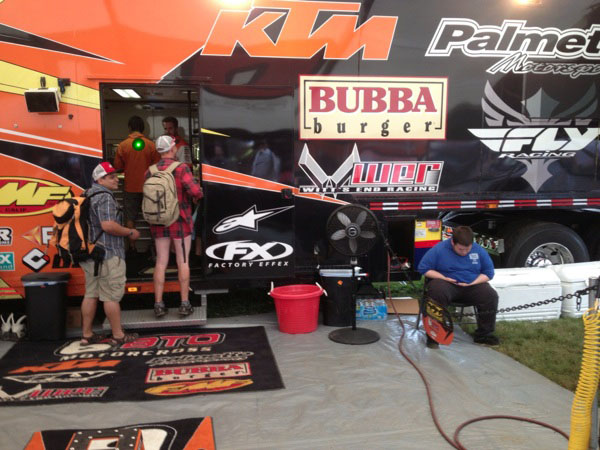 Contrary to what Kenny Watson says I don't just go barging into semi trucks (except for the one time that we will never speak of again). People have asked though, how do you get by the security personal stationed at the trucks? Exhibit A- it's not that difficult when the security guards are sleeping. Of course we had to stop by and see how Shorty was hanging. His hair was on point this weekend, not sure what he's putting in there but I gotta ask him, it had that messy but I don't care thing going on, or maybe it was just messy and he didn't care.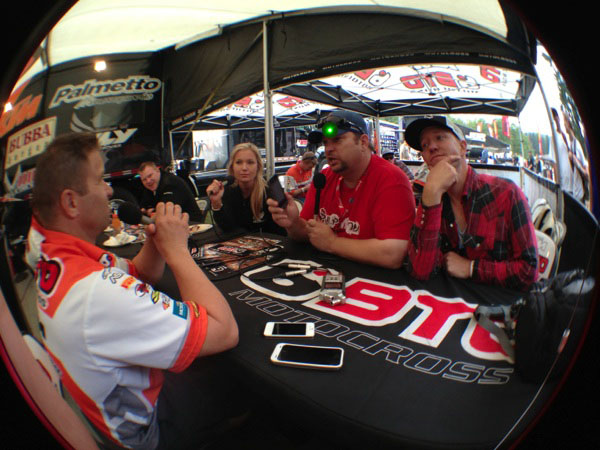 Ever wonder what a pre race podcast looks like? Well now you know. Photo courtesy of @bryancaldwellswarm on Instagram who was participating in the BTO VIP fan experience. I let him give the old Optrix a test drive. I haven't closed on the deal just yet but we've gotten to about 3rd base on an Optrix sale.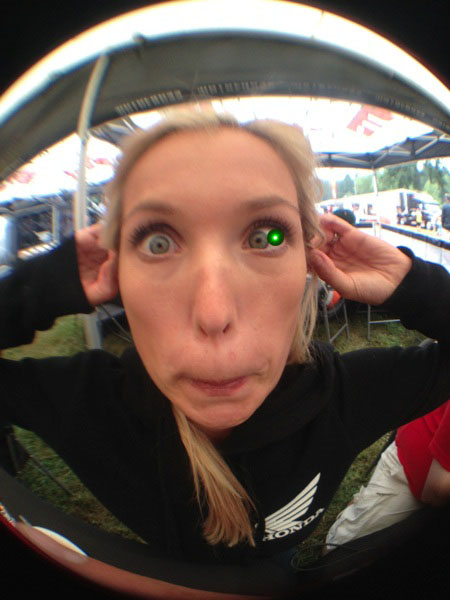 Georgia Lindsey Albertson demonstrates how to do a fish impression in a fish eye lens.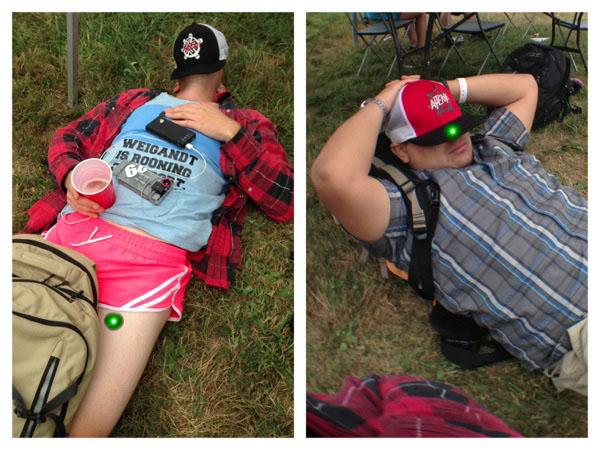 Benny and I are just resting our eyes before the 1st 450 moto of the day. One of us may have fell asleep, spilled a beer all over them selves and missed the entire 1st 450 moto. Sigh.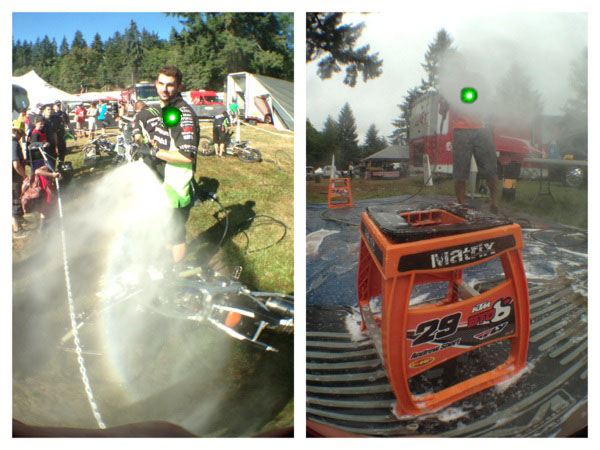 Mechanics no longer need to be worried about getting their phones wet while washing bikes. They can be tweeting while doing a reach around on the undercarriage. Pressure washer tested and approved, I got right in there too and ended up taking a soaking.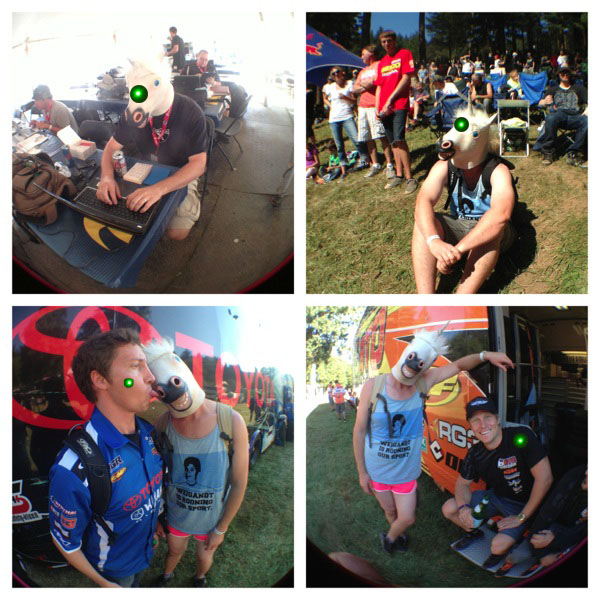 More unicorn pictures? No problem. Aaron Hansel hard at work in the press tent (he's so hot right now). Holliday watching the 2nd 250F moto of the day with a horn on his head. Horsing around with Shorty. Johnny O Moto tries to get fresh with me, he must have a thing for magical creatures.
The short race schedule for live TV will take some getting used to. The day is over really quick and I think I prefer the racing spread out a little bit more but on the other hand the racing is over so quickly that there is plenty of bro down time in the pits at the end of the day. You gotta take the good with the bad. I missed Lazer gate argument by about 5 minutes which I'll never forgive myself for at least I didn't sleep though it. Drama was high in the pits afterwards it felt like high school all over again.
With the lack of pockets in my short shorts I managed to misplace things throughout the day. The loss of the car keys was going to be a serious problem until I found them in my flannel pocket. Later on in the evening I was again throwing my Optrix as a party trick, it's a crowd pleasure I'm telling you. Earlier in the day I had a nice underhand toss down the downhill and still not a scratch. Back to the party though I was throwing the Optrix onto an ezup letting it slide down then trying to catch it before it hit the ground. Well it ended up getting stuck up there and I got sidetracked and forgot about it. Long story short I lost my phone, maybe the Optrix should come with a disclaimer. "Caution do not forget where you throw your phone". Someone stumbled upon it later that night and after a short prank in the morning by some "buddies" they had it for me back at the track. I'm not sure what I would have been more heart broken over losing my phone or my Optrix.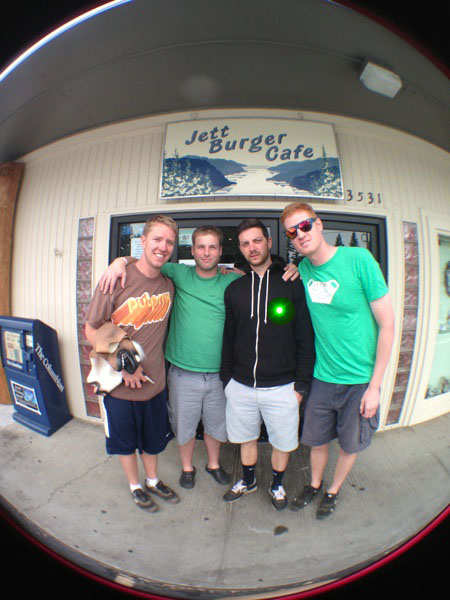 We detoured on the way out of town to our favorite Washougal breakfast spot Jett Burger only to find out they will be closing next month. It's a real heart jearper the end of an era some might say, glad we got to toast to our trip one final time. It was another great year lots of memories that we have documentation of thanks to Optrix. All kidding aside the Optrix cases held up great and we beat the hell out of them. The fish eye lens is something fun and different to play with, the most difficult part is trying to convince a stranger taking your group photo to stand close enough so you don't look like ants. Besides the durability of the case I'm still blown away with how well the touch screen works usually with films and covers the touch screen is a pain in the ass but I didn't notice it at all except for the very edges of the screen. It's also easy to slip in and out of the case if you want to avoid a huge bulge in your short shorts. We met a bunch of Pulpmx fans throughout the day it was cool meeting, talking, drinking and getting to hang out with our wangs out.
Thanks for reading, thanks to Optrix, Moser and the rest of the Washougal Woody crew out.
Please send any and all comments to jasonw@racerxill.com