I may have been the most excited guy around when laZergate was at it's pinnacle last week but as we often see with polarizing instances in life today, it jumped the shark in the end and I'm glad to bid it farely-well.
I may have been the most excited guy around when laZergate was at it's pinnacle last week but as we often see with polarizing instances in life today, it jumped the shark in the end and I'm glad to bid it farely-well.
Photos by: Simon Cudby
Millville has always been a track the riders are happy to visit. Moreso this year than most due to the comfortable temperatures but the flip side of that became a track that wasn't prepped in it's typical deeply-ripped fashion. The end result was still a great race track, though not quite as tractable, rutted and familiar as the perennial favorites have come to expect.
With racing like we saw this year though, who cares! We saw some pretty intense high speed ejections, literally bar to bar racing for the duration of moto's, some contact passes (even from riders who traditionally avoid contact), intensity was damn near off the charts and even a new victor in the 450 class. Man it is great to bury the silliness of all the laser talk and get back to what we all live for; intense race action with points shake-ups and a healthy field.
450
James Stewart said he started feeling a little more like himself and that his comfort at speed has been improving at Red Bud. Washougal may have seen him finish 3rd but it was a distant 3rd and not indicative of the promise he had felt at Red Bud. In Millville though, it was clear that James jr was riding more comfortably than he has since probably the first two rounds of MX in 2012. He was able to race intensely for the duration of both motos with confidence and control that has typically ended up with him remounting in recent years. Regardless of the cause, the effect was impressive; solid 1-3 scores which gave him the edge over a very impressive Trey Canard. It's tough to say what this win means for JS7. We know he isn't a fan of Unadilla due in part to the uncanny ability that track has to separate him from his machine. He'll no doubt have more confidence coming into Unadilla in two weeks but it's by no means unflappable. On the other hand, Millville's prep left it resembling Unadilla sans-rocks, therefore perhaps James will be able to continue the confidence building in New York.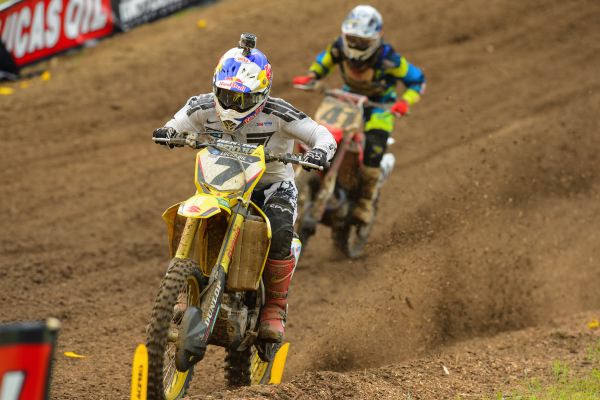 These two guys put on the best show of 2013 MX thus far.
Regardless of the storyline, the conclusion in Millville was a JS7 win. The only rider to put the Ryan's in the periphery of the focal point on the podium in 2013 and that is a serious achievement. If you recall in the pre-season podcast speculation, there was no one on the line who thought James Stewart would even last this far into the series and who could blame them. James appears to have sort of broken himself down, rebuilt and retrained himself following his sidelining of the last three Supercross rounds. The result is a more mature and patient approach to the series as a whole. Even though he's nearly 150 points out of the lead, he's building for a fresh start in 2014 and using the pitfalls experienced now to learn from. You can easily see now how much more the win means to James than they used to. He's always been all smiles after a W; and it's not just relief that makes it different, it's a true appreciation and satisfaction you can see James glowing with following the win. Perhaps he realizes how rare they will come in this new era of the dominance of "The Ryan's", or perhaps he knows that his new approach is beginning to click and there are more wins to come?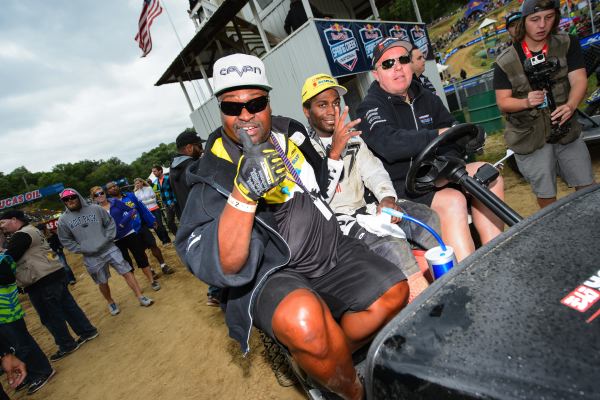 Things are starting to look up again for the 7 camp.
I have never seen Trey Canard look so comfortable on a bike as he did at Millville. You could see the Trey of old back. Scrubbing, bar flicking and just flowing through corners. Doing all of this at a blistering pace and literally wheel to wheel with James Stewart. It was poetry in motion and it speaks loudly of Trey's comfort level and mindset as he settles back into the familiar race craft he applied so naturally before that shocking string of injuries and time off. Some people are irk'd about the points and how nowadays a 1-3 beats a 2-2 for the OA but I'm fine with it. I feel like if you lockdown 1st one moto and 3rd the other, that warrants a bonus point over 2-2 scores. It resembles the pay structure in this sport doesn't it? A guy who *can* win will always see a better pay day than a consistently great rider who's less likely to win. I'm not saying Trey isn't likely to win, that's just a likeness to this weekends particular result.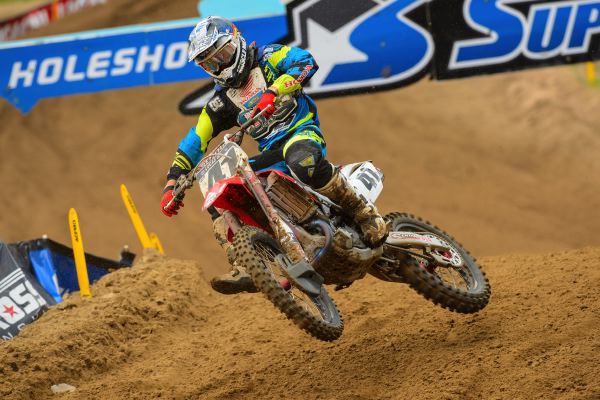 Hopefully the Trey we saw at Millville is what returns after the break. He was incredible.
Wouldn't ya just know it? The moto where RV slips up and all but hands Dungey a bunch of points back, Dungey runs into more mechanical issues? Sure, it's nobodies fault, rocks and chains have never made friends in this sport but it's just the way it appears to go when Dungey has an opportunity to capitalize on an opponents miscue. He rebounded in moto-two for the win where RV also had a couple errors and ended up making up 8 points on RV. That's all well and good but you can't help but think about the 9 extra points he could have added were it not for the chain issue in moto-one.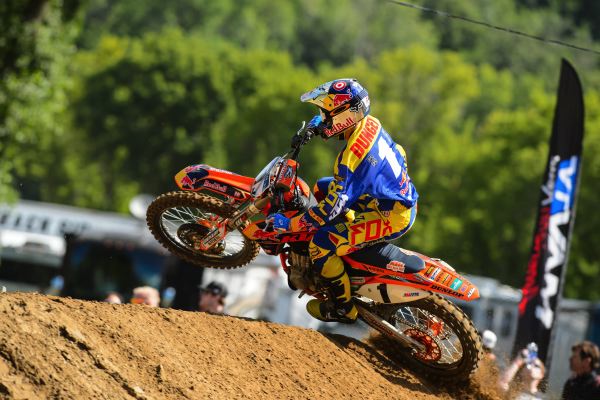 Ryan #1 could have put a real dent into the points deficit were it not for a rock in his chain.
I'm not really sure what to conclusion to draw regarding Justin Barcia. In all honesty, I think Jeff Stanton's reasoning that Justin just doesn't have man-strength yet is pretty spot-on. He's fast as hell but just not able to sustain throughout an entire moto; not against The Ryan's, James or Trey, anyway. Very impressive for his rookie 450 effort, win or not.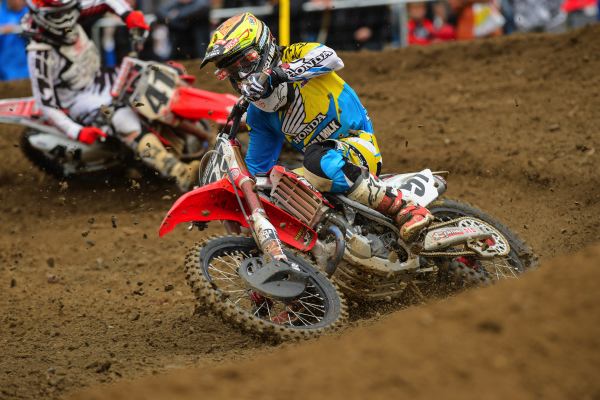 The Honda boys shadowed eachother for much of both motos on Saturday.
Who, besides RV2 could turn 28-10 starts into a 5th OA? Honestly with the dominance that RV has shown in this series, 5th OA is a bit off the pace for him. I would absolutely expect him to podium with those starts but that first-lap ejection was gnarly and moto-two was multiple errors combined, so that 5th was still impressive. Yes, even for RV2.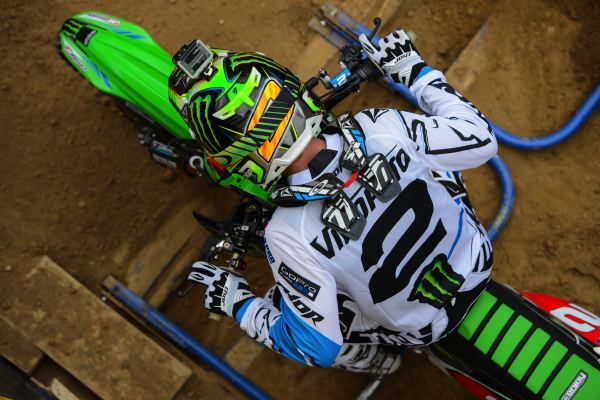 Ryan #2 had no idea he was about to sent skyward, sans KX450 only moments after this gate drop.
Expounding upon RV's first-moto first-lap aerial ejection; more and more often when RV does sample soil in spectacular fashion, he resembles a former pro with a farm animal abbreviation for a nickname. Is it an extension from the Aldon Baker training and preparation regimen or sheer coincidence? I can't say myself but as moto's click-off, the careers of these two gingers are looking more and more similar. I bet that continues.
Bummer to see a little of the bad luck rear it's head again for Josh Grant. He's been on a tear since Red Bud and looking like the JG of old but it hit a wall, a sand wall, on lap one of moto-two. He still walked away with 11th OA points but more importantly, he gets another week off to shake it off–err wait, he's scheduled to compete in X-Games this week. Hopefully if he's not 100%, he opts to sit out X-Games and heal up for the Miller Motor Sports Park series debut.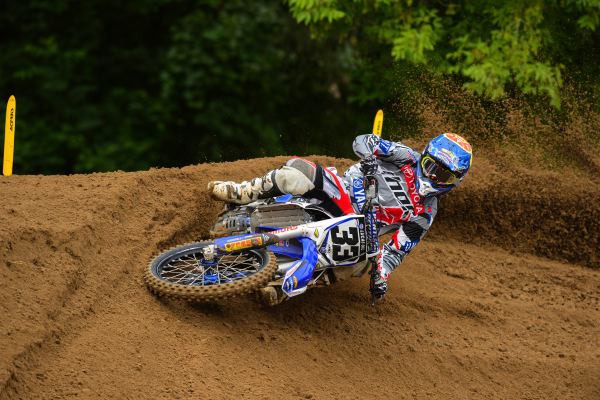 Hopefully JG is back healthy in Utah.
I want to give a little shout out to Zack Freeberg who recently moved up to the 450 class after having little luck in the 250 class. Zack's a big kid, thus he is better suited to a 450 and showed as much with a solid 15th OA in Millville. I'm sure Mitch or Ziggy could build a 250 that could haul Zack around pretty well, in 2014 or so, y'know?
Lastly, did you pay any attention to Mike Alessi's bike?! I've seen professional bull riders look smoother than Mike's bike at Millville. Either he isn't giving very good feedback to his tuner or they missed the mark in a huge way. It looked like his bike was setup to make even the smoothest section give him a handful of trouble. Back to the drawing board.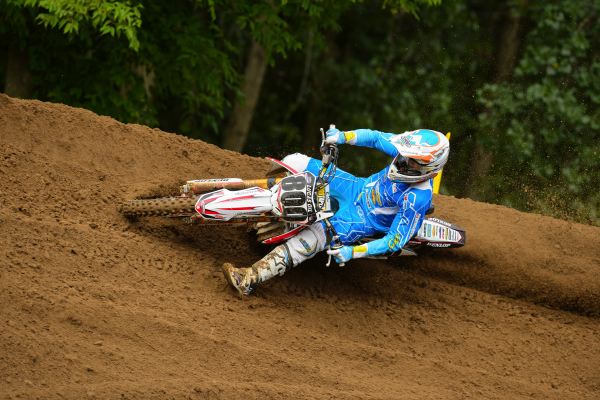 I'm a big fan of the Smart Top bike "look" but that doesn't mean it "looks good" on the track. Ya feel me?
250
Eli Tomac is a great example of why rushing to jump up to the 450 class may not be the best decision. Coming into the year Eli was admittedly a little less than excited to contest another year on the 250 but the neck and neck battle every week with Ken Roczen reinvigorated him and nearly instantly, he was 100% enthralled in the 250 class again. The SX title eluded him due to a mind-melting subpar performance when Ken Roczen failed to even make the main. Even though Ken scored zero points, Eli's 1 DNF in the series in addition to his brain-fart in SLC left him looking up at Roczen in the series points. The battle moved outdoors and through 8 rounds, these two had given us a ridiculous two-rider war which left only a single point between them coming into Millville. Yup, Eli Tomac is still fully enveloped in his 250 career, the year he had previously hoped to be on a 450. I say look at this as a lesson. There's the ridiculous way to contest the 250 class, like it's the career-class, the nearly-as-ridiculous approach, to get in and get up to the 450 as quickly as possible and then there's the smart way. Look at Eli, look at Wil Hahn, look at Blake Baggett or Cole Seely. These guys jump in, get their feet wet, work on comfort and consistency and secure some wins as they grow comfortable at the leaders pace. Some will really excel and battle for the title, the others may just be a tick off that title-winning pace but when all is said and done, the experience they have prorated will see them enter the 450 class with as much capability as they are going to achieve.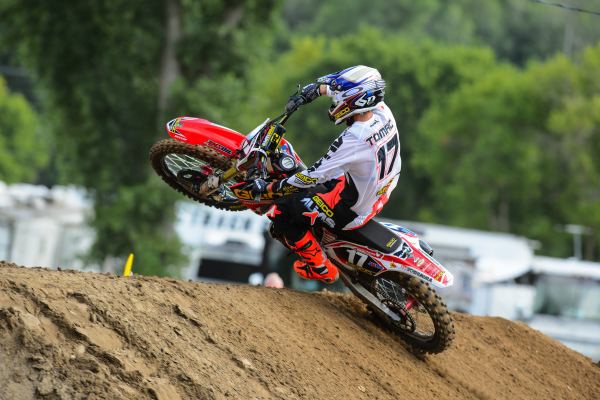 Don't worry, I'm not going to start calling him Chuck again.
You can't tell me that Eli hasn't garnered more skill and confidence both indoors and out in 2013 to make his jump in 2014 even more electric and capable than if he had debuted this year. Careers in this sport are so short, why take the fast-track to retirement? Especially when you are going to be getting your beak wet against The Ryan's and the other leaders.
Eli has indeed found his groove. His speed the last two rounds has been such that, even if he started backwards, his chances for winning are pretty damn good. With Ken Roczen's scary crash and DNF and the way Eli has been riding, this thing is signed, sealed and delivered. They do continue to race every lap of the last four moto's though and for good reason. This aint over by any means.
I remember at Unadilla last year, I guaranteed a Marvin Musquin win to JT$. Unfortunately, I specified a moto win and he got the overall without winning a moto. This weekend in Millville, Marvin pulled down 2nd OA by moto scores of 4-4. Yup, Marvin is a good dude, livin' right. Fast too but even when he's not on the lead pace, livin' right pays off for him. Heel-clickers all around folks.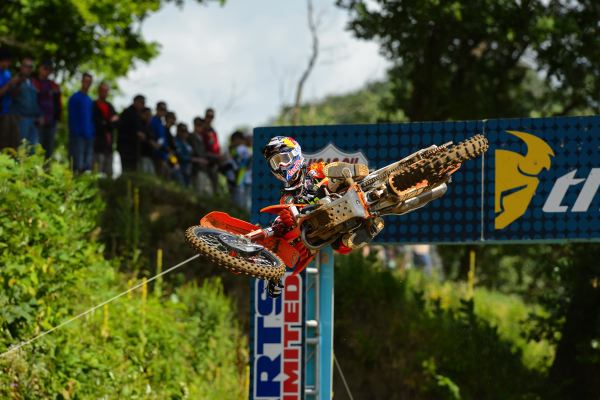 Marvin didn't have to go balls-out to secure 2nd OA in Millville.
Jason Anderson had himself a great day at his hometown race (heh heh)! It's mind blowing to me that this was Jason's first outdoor podium in the pro ranks. The kid is definitely taking the long route but I honestly believe, it's the route that will pay the biggest dividends for the New Mexican. He spent some time figuring out the wrong approach to pro racing and he's clearly figuring it out. He will be a legitimate title-hopeful in 2014. Indoors and out.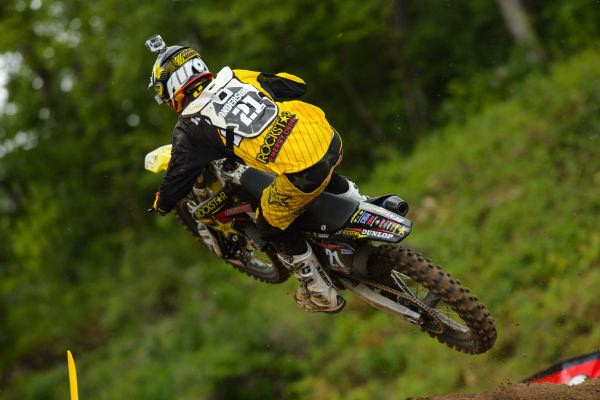 Old Anderson, new Anderson, it doesn't matter, he's going to un-tuck any jersey he runs.
Not surprising that Jeremy Martin had a killer day at his family-owned track. He's looked awesome most of the year and improving all along the way but I was absolutely impressed with how aggressively he defended his position in moto-one. You could feel how badly he wanted to show his hometown supporters that he isn't afraid to dice it up with the best of them. He showed Roczen a wheel more than a few times and had even me puckering a time or two. Good for him.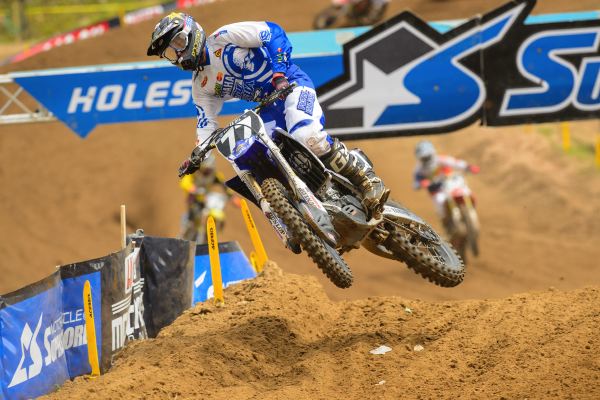 Jeremy Martin has full-on old school Euro-style but he hauls so it's cool.
Glad to see Justin Bogle continuing his string of solid moto finishes. He's been starting really well, running with the lead pack for much of the race and not giving up positions without a fight. He's in the same position as teammate Wil Hahn at this point. They both just need to find some more speed deeper in the races.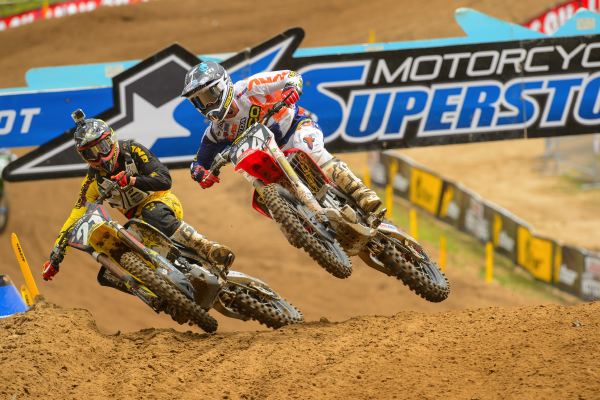 Justin Bogle and Jason Anderson about to brush up on their "body english".
"Bill" Hahn has turned into a holeshot machine. No seriously, it's ridiculous how on-point this guy is off the line right now. He's only been back for 10 moto's and he's nailed about 7 of the holies. Even better than that is he's maintaining the pace after the holeshot for laps now, not just corners. "Bill" has always been fancied a Supercross rider but he's making a damn inspired attempt to show he's got "balls-out" skills too.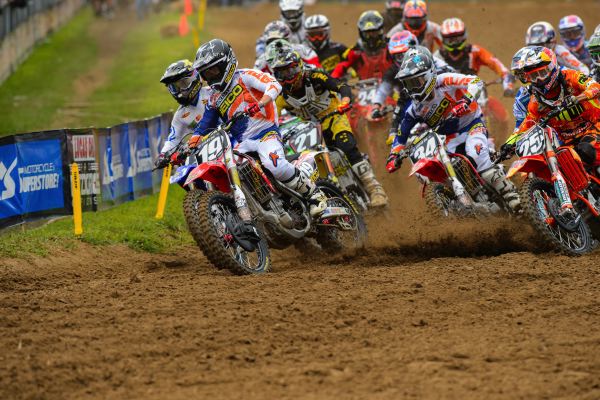 Oh just "Bill" Hahn doing what he does these days. Killing holeshots and mounting them in his den.
Ken Roczen pulled himself a Chadapult get-off without a jump-face. There's no question, the non-standard prep of the Millville track lent itself to many instances of sketchiness like Roczen suffered from when he was ejected. It's hard to say he was lucky since he DNF'd and lost his breath from a hard hit but he really was. That could have been much worse, just like RV's ejection could have been so much worse. Ken took it for what it was, an unfortunate, unpredictably scary crash that left him unable to rebound in the moto. He won't dwell on it, he'll simply continue to put forth max effort and hope his teammate, Musquin's, fortune will rub off on him.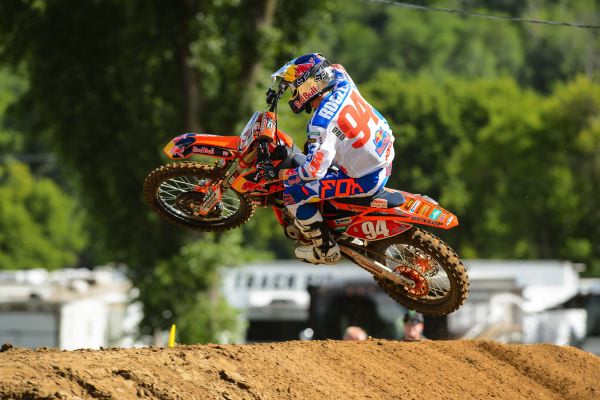 Will Roczen be able to rebound from the points loss in Millville?
It's the off-week and that means two things, X-Games and more importantly, Loretta Lynns! It's a moto-cornucopia! See you when the series resumes at the debut of the Miller Motorsports Park in Utah.