Antonio Cairoli showed that even the heat can't beat him in Germany.
Antonio Cairoli showed that even the heat can't beat him in Germany.
Article by Jonathan McCready
Photos by YS and Ray Archer/KTM Images
Set in a speedway facility the man made track looked like a giant motocross version of the Daytona SX and the whole event and track was well received by the riders. It was certainly something different and if it gets established it could become a huge event in the calendar due to the accessibility of the circuit and the challenging track beneath the stands.
The high temperatures and humidity played havoc with the riders and even forced home hero Max Nagl to pit and have a bucket of ice cold water thrown on him mid-moto!
But it was Cairoli who played it the smartest. In moto one he settled for second in the waning laps allowing Clement Desalle to take the first moto win without much of a fight. It was a great ride by Desalle though who passed Cairoli early in the race and earned the win.
Cairoli though said he didn't want to risk too much on the rough track and decided to save his energy for decisive moto two. The second moto was set up perfect as it came down to a Desalle/Cairoli duel and after Desalle shadowed Cairoli for half the race it looked like the Belgian might be able to do the double. But Cairoli used the energy he saved in race one and pulled away to a 15 second lead by the end to show that he is still the king of GP motocross whatever the weather and despite his asthma being a problem in the heat.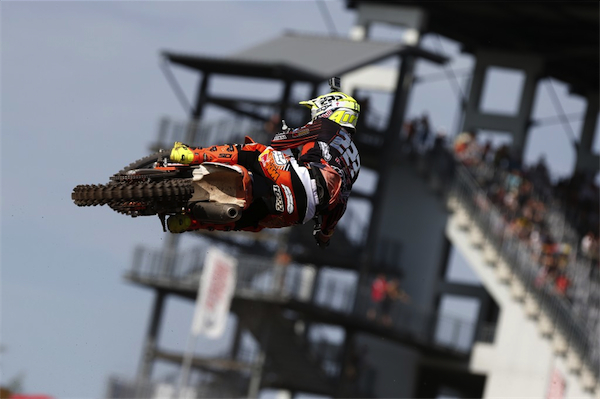 Cairolli kept up his winning ways.
However, it could have been harder if Gautier Paulin had not knocked himself out while leading in moto one. The Frenchman had taken the holeshot and opened up a five second lead against Desalle and Cairoli but then the bike kicked violently on the face over a very small ski jump and sent Paulin over the bars head first. Paulin face planted the ground hard and knocked himself out. Thankfully further evaluation showed Paulin didn't break anything but he does have a concussion. He didn't ride moto two and it is unknown if he will compete this weekend in the Czech Republic.
Tommy Searle won the qualification heat on Sunday but just missed the podium after tying on points with Ken De Dycker for third and losing on the tie break after Ken went 4-3 and Tommy 3-4. It was another step in the right direction for Searle and in cooler weather he may have been able to challenge for the win.
Kevin Strijbos was a solid fifth overall and came through the field well to fifth in race two. Behind him it was good to see David Philippaerts and Joel Roelants back on form. Philipparets has had an up and down season once more affected by niggling injuries and some big crashed. But he showed his usual toughness and some extra speed in Germany that will inspire him to keep the momentum with the Motocross of Nations coming up.
Joel Roelants has been battling injury all year but for the first time he was free from problems and finally showed the form that got him the Rinaldi Yamaha ride in the first place. Roelants was knocking on the door of the top five and hopefully his confidence is back to where it was before he dislocated his hip at the British GP in August last year.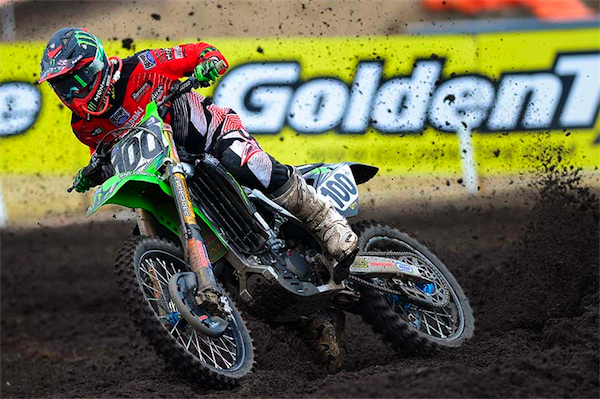 Searle was just short of the podium.
In MX2 Jeffrey Herlings won his 14th GP in a row and could clinch his second world title next weekend. Despite a big crash during the week Herlings got good starts and romped away to two dominating victories.
Jordi Tixier was second overall and he gave Herlings a good race for the first ten minutes in race two. With Herlings now staying in the series next season, Tixier admitted that he is trying to run him his teammate in a bid to lift his speed so he can challenge for the title next year.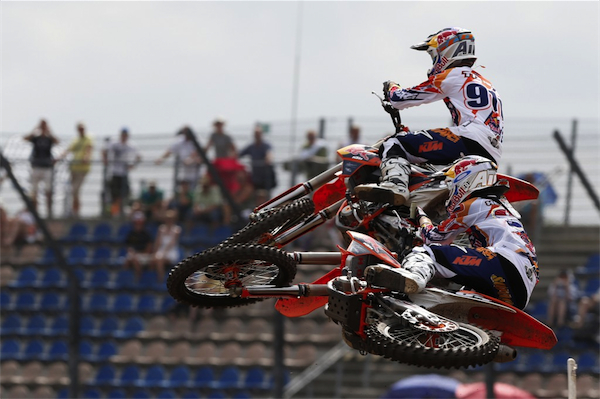 Tixier Herlings (lower) gave the crowd a great race in MX2.
It was two Dutch flags on the podium as Glenn Coldenhoff finally took his maiden podium. An emotional Coldenhoff fought to hold back the tears after years of injuries and coming so close at a few rounds this year. It was nice to see the emotion from Glenn because it shows just how much heart goes into this sport from the riders.
Jose Butron had another solid day in for fourth but the best news came when Butron confirmed that he will have a factory KTM next season but will remain under the Silver Action awning. It is a good fit for both parties and Burton could be a guy to keep an eye on in MX2 next year.
Max Anstie should have been on the podium. Anstie finally with two semi decent starts showed just what he could do with a brilliant ride from outside the top ten to fourth in race one. In race two he started he started fifth and was all over Tixier for second with five minutes to go when he overscrubbed a table top and went down hard. Anstie remounted and salvaged an ninth minus his goggles to get fifth overall. But the race will have given Max huge confidence and hopefully he has his starts sorted now.
Christophe Charlier showed that the French team for the MXDN isn't so bad after a second in moto one (with TIxier third) but a first turn crash left Charlier with no back brake in race two and he could only get back to twelfth. But the guy is fast and with his size he could be even faster on a 450.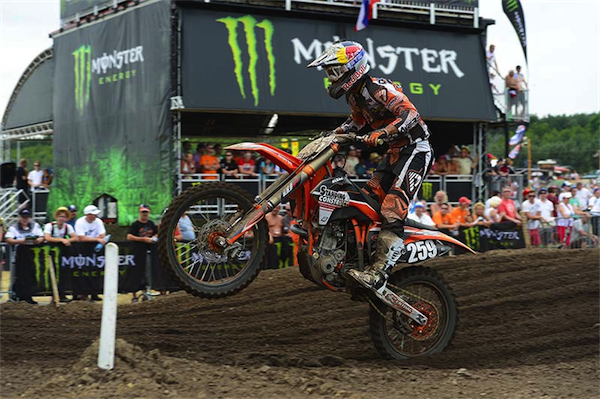 Coldenhoff fought for an emotional 3rd OA.
The tour now heads to the hard pack track of Loket in the Czech Republic, giving the riders a totally different track to race on but will the results be any different?
Results
MX1 Overall top ten: 1. Antonio Cairoli (ITA, KTM), 47 points; 2. Clement Desalle (BEL, Suzuki), 47 p.; 3. Ken de Dycker (BEL, KTM), 38 p.; 4. Tommy Searle (GBR, Kawasaki), 38 p.; 5. Kevin Strijbos (BEL, Suzuki), 32 p.; 6. David Philippaerts (ITA, Honda), 28 p.; 7. Joel Roelants (BEL, Yamaha), 27 p.; 8. Jeremy van Horebeek (BEL, Kawasaki), 22 p.; 9. Milko Potisek (FRA, Yamaha), 21 p.; 10. Matiss Karro (LAT, KTM), 19 p.;
MX1 Championship top ten: 1. Antonio Cairoli (ITA, KTM), 611 points; 2. Clement Desalle (BEL, Suzuki), 503 p.; 3. Ken de Dycker (BEL, KTM), 479 p.; 4. Gautier Paulin (FRA, Kawasaki), 465 p.; 5. Kevin Strijbos (BEL, Suzuki), 397 p.; 6. Tommy Searle (GBR, Kawasaki), 375 p.; 7. Jeremy van Horebeek (BEL, Kawasaki), 327 p.; 8. Maximilian Nagl (GER, Honda), 314 p.; 9. Rui Goncalves (POR, KTM), 230 p.; 10. David Philippaerts (ITA, Honda), 219 p.;
MX2 Overall top ten: 1. Jeffrey Herlings (NED, KTM), 50 points; 2. Jordi Tixier (FRA, KTM), 42 p.; 3. Glenn Coldenhoff (NED, KTM), 36 p.; 4. Jose Butron (ESP, KTM), 33 p.; 5. Max Anstie (GBR, Suzuki), 30 p.; 6. Dean Ferris (AUS, Yamaha), 28 p.; 7. Jake Nicholls (GBR, KTM), 26 p.; 8. Christophe Charlier (FRA, Yamaha), 22 p.; 9. Mel Pocock (GBR, Yamaha), 20 p.; 10. Harri Kullas (FIN, KTM), 19 p.;
MX2 Championship top ten: 1. Jeffrey Herlings (NED, KTM), 642 points; 2. Jordi Tixier (FRA, KTM), 483 p.; 3. Jose Butron (ESP, KTM), 416 p.; 4. Christophe Charlier (FRA, Yamaha), 365 p.; 5. Glenn Coldenhoff (NED, KTM), 362 p.; 6. Dean Ferris (AUS, Yamaha), 341 p.; 7. Jake Nicholls (GBR, KTM), 318 p.; 8. Max Anstie (GBR, Suzuki), 282 p.; 9. Alessandro Lupino (ITA, Kawasaki), 259 p.; 10. Petar Petrov (BUL, Yamaha), 238 p.;