#69 and #36 race at Unadilla. But what Unadilla?
#69 and #36 race at Unadilla. But what Unadilla?
Hi everyone, from the late 80s through the mid 90s I was a contributing photographer for Hi-Torque Publications (MXA and Dirt Bike magazine). The photos that you see here were never published and have been stored as 35mm slides for the last 15-20 years. A month or so ago, I finally got around to purchasing a quality scanner and the journey began, going through these images has been a revelation, as I haven't looked at any of them since I put them away and had only seen them as tiny little 35mm slides. Scanning them, then seeing the images on a computer screen has been like seeing them for the first time, they stir up lots of great memories, and bring back a great era for motocross, lots of bright color, big characters and of course, some true legends of the sport.I hope you enjoy viewing them as much as I have-Mike Sweeney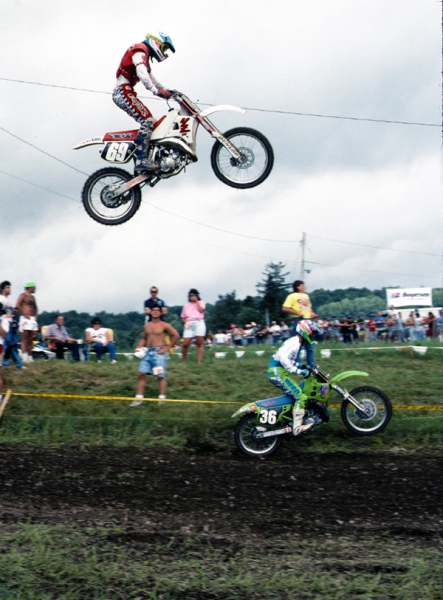 Henry airs it out over Emig coming out of Gravity Cavity.
Sweeney: When I think of Doug Henry I think of a bunch of things, I remember a shy quiet kid from CT coming up through the NESC, his early glory days as a factory Honda rider, the infamous Budd's Creek crash, his multiple comebacks, and of course his epic Supercross win on the big Yamaha 4 stroke.
Doug had cut his teeth racing the NESC circuit, going up against the likes of John Dowd, Pat Barton, Carlo Coen, Jim Meenan, JoJo Keller and a host of other fast guys. As I've said before, on any given Sunday a NESC race was like a mini national and Doug held his own, he certainly had the speed and definitely wasn't afraid to hold that throttle in the locked position.
For this week we're featuring Doug at the 1990 Unadilla National held in mid-October of 1990. We touched on this race in Motocross Captured #1 with the picture of Guy Cooper from above, and covered the drama and teamwork surrounding him clinching the title.
As Guy entered the day tight and grumpy, Doug entered it on the opposite end of the spectrum, a high flying risk taking rider from Connecticut, with nothing to lose, he let it hang out for the crowd in practice, launching his YZ125 out of the cavity flying higher than anyone, landing way down the track his suspension clanking in protest, which I'm sure was echoed by his mechanic. He didn't care though, he was out having a ball, riding fast and loose, he finished the day in 5th overall. Pretty darn good for a kid from CT who at the time was still relatively unknown.
You also might notice the guy that Doug is jumping past, that would be a young Jeff Emig, now riding his second year of nationals and running the 36, down from the infamous 747. I'm not sure what happened to Jeff on this day as he didn't place in the overall standings. These two would go on to battle many times, who could have known at the time of this capture what they had in store for them.
Two future Motocross legends just getting started.
Matthes: Mike's picture really had me stumped, he said it's from the 1990 Unadilla national but checking the results, there's no Jeff Emig in that race on the Racer X Vault. And as he says, he couldn't find Jeff in there either. But that doesn't always mean that's the end of the story because the Vault has some mistakes. That's where Cycle News Archives come in. So I cross-referenced the date of the national and went to CN archives and found the issue where the national is covered.
Alas, no Jeff Emig in there either. So wtf? Where did Doug Henry jump over Emig's head in 1990 at Unadilla? Of course I double-checked the national numbers HERE to make sure that it was indeed 1990 and it was.
Ok so now what? A call to Emig was in order…
So Jeff, what's up with this photo?
Jeff Emig: Yeah, I showed this picture to Doug earlier this year. We were talking about it. I used to jump pretty far out there, and he was way, way, way further than me even. Was it during the race or could it be practice?
Matthes: It could be practice. It's not the race. I checked Cycle News and I checked the vault; you didn't race the motos. So, what happened?
Emig: It has to be from the GP, I think I rode the 125 support class then.
Matthes: That explains it!
Emig: Where I was getting with this is it could be from the National. If it was from the National it could have been if we had Friday practice. My point is for the National in 1990, and this is where my story came up, I was at Factory Kawi that year then I was leaving to go to Yamaha. At the time you were allowed 80 pro-am advance points. And then we used to have a pro-am and expert license. I had a deal with factory Yamaha set up. Yamaha manager Keith (McCarty) called on Friday morning and said are you sure about your points?
We're like, yeah, we talked to Micky or whoever it was at the AMA and she said you're good on points. He says, well, I talked to her and you have 73 points. It was 73 or 74. If you're the top pro-am rider you'll point out this weekend in your two motos. Remember you could get five Pro-Am points if you were the first pro-am guy. It didn't matter where you finished, it was in the running order who had pro-am licenses and who didn't. So you could be 12th but be the first pro-am guy and get the full five points. So I had a real good possibility that if I raced I would point out. I literally flew home Friday. So I wouldn't have rode, so there's no way that I would rode even if there was Friday practice.
So then I turned right around and went home Friday… This had to be Thursday, the conversation. I fly home Friday, go to a party, and basically get my ass kicked at this party. So when I go to Yamaha on Monday to sign my first Yamaha contract with Keith and I got a massive black eye. That was the story that I was going to tell, but I think that photo must be the 125 support class at the US GP.
Matthes: So, how did you do?
Emig: I have no clue. But we didn't mind racing these things. We raced for no money anyway. You made about 200 bucks to win the 125 class back then anyways. If it's '90 it was Cooper, Kiedrowski and those guys.
Matthes: So there you have it folks. A good story from Jeff Emig about everything BUT the photo above. Ok so back to Cycle News Archives I go and Emig went 16-7 for 11th overall in the 125 support class at the 1990 Unadilla 250 USGP. I think this photo is a little iconic as Emig gets 11th overall and Doug Henry goes 5-8 for 5th overall and both of these riders with these high numbers went on to win multiple national titles. But I'm sure back then no one looked at either of these guys and thought they would end up as all-timers but they did. There were plenty of riders faster than these two on this day but not very many of them went on to the wins and championships that these two did.
I guess the moral of the story is you just never know when the goons wearing #69 and the amateur kid that's always second fiddle to the bigger names will become.