Enticknap takes us through a week of his life
Enticknap takes us through a week of his life
The Seven-Duece-Duece
By Adam Enticknap
Photo by James Lissmore
The privateer journey, that's the team I ride for, and really- that's my life as well. This week was just another typical week as a professional racer trying to make it! Everyone that's a privateer always talks about or says how hard it is and how much privateers struggle. And they're right but I am a little bit different because I try to enjoy it so much. Don't get me wrong, my dream is to show up to the track and have the bike sitting there ready to go with a nice check! But the way I get to live is not bad at all! I am all about it! I mean shit , I am the 7-deuce-deuce!
My week started off with staying at my best bros house Nick Schmidt AKA #themilestoneassassin. One thing I love about the 415 is we can talk a lot of crap to each other and we only get pissed at one another every once in awhile (hahaha). The #milestoneassassin and I usually wash bikes and get the practice bikes ready on Sunday, but this Sunday was the last west coast race so I had to make sure I was set for the east coast. I had to get a new top end and get my suspension redone (I have been having some troubles with my front end being to soft). I got my bike all washed up, took the suspension out, then I put my extra air forks on and luckly I could borrow a 2012 rear shock from #themilestoneassassin to stick in to make it a roller! Haha it wasn't quite the right fit though, she was looken a little stink bug!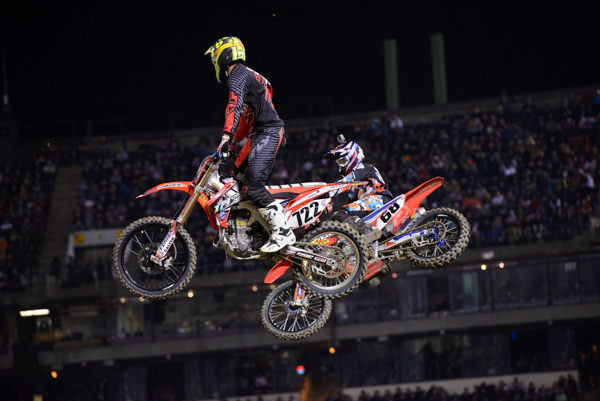 The Seven-Deuce-Deuce didn't make the main in San Diego but it's not for lack of trying.
Monday-Woke up about 8:30 rolled out to milestone, and you know I got the buffalo chicken foot long with spinach, green bell peppers, onions, olives, cilantro, salt, pepper, a little bit of ranch and southwest chipotle. Try it, that's a mean sandwich! Get the gas, gallon of water and I am set till 2:30 or so. We rolled in Milestone around 9-9:30 do some motos and I get a front flat. Which I fix. Do some more motos, now I get a rear flat. And I'm pissed! (hahah) I know what your thinking, check your tire gauge Adam! I did, and inspected the inside of each wheel, plus I was running 13 psi front and rear! Oh well I was on the gas Monday, and fixed both flats! Ain't no thang for the 7-deuce-deuce!
After Milestone washed the bikes, check oil, air filter, and go over all the bolts on the bike. Hop in the roached Toyota, load up the suspension and head to my suspension guy which is about 30min away. Got that taken care of, now its gym time! Workout, then get in some pick-up basketball games and most of the time get out the gym around 10pm make some dinner and do it again!
Tuesday-Woke up around 7:30 load up the race bike, drive down to Tokyo mods about an hour away and get there at 9. Drive back to #themilestoneassassins house pick up my bike and get out to Milestone A.S.A.P.! Rode there again because its really the only well kept sx track in the southern California area open to the privateers. Did my opening motos and got out of there .
Wednesday-Got another front flat (hahaha). I'm serious by the way. Get done fixing that then of course these fools go out and water right when I get done. I really want to ride my dirt bike so I go do some practice starts. Did ten starts let the bike cool down, did ten more let it cool down, did nine more and WAM-BAM-THANK-YOU-MAM there goes my transmission! Done for the day!
Thursday- Little spin bike action on this day. I would usually would ride but I am out of commission. The race bike is in the shop until Friday, so I don't get to ride it or test the suspension before race day. Plus my practice bike is a 2012 and the race is 2014 so there pretty much totally different bikes. Not to repeat myself but, -ain't no thang for the 7-deuce-deuce!
And finally it's race day, my starts improved MAJOR (well worth the blown up transmission). I had a great ride in the semi, due to a great start. The lcq I popped out with a good start, but I hit a human body and launched off the track, man, I got so lucky! That was the end of my night though.
Sometimes you hit a few things on the road but shit son if it was flat it would be boring! I do love supercross and there are a ton of bumps on that thing (hahahah)! At the end of the week I am doing what I love everyday, hanging out with the coolest people, and I am not injured! I have a sick life and I wouldn't change anything about it.
7-deuce-deuce OUT!
P.S- Tune in next week for the black ice trip to Dallas, TX and the motor rebuild. Got a little crazy!