Some key figures from last night's races talk about what went on
Some key figures from last night's races talk about what went on
Photos by James Lissimore
Nick Wey
Hey man, no one's really going to talk about it but in the main event you were 17th, 18th, and then you got 11th.
Nick Wey: I blew it in the semi. My mechanic MoHead was not happy with me. I crashed and then I could have made a dirty, dirty move on the kid but for some reason I thought better of it. Good job, he made the main though. He told me 'thank you for not just putting me in the stands'. And I said, 'please don't thank me in front of MoHead because he will fight me'. But I rode a lot better today for sure. We've been working a lot this week on starts and things. The heat race, and the semi, and the Last Chance got great starts then obviously I put myself in a bad position to where there was not any chance I was going to get a good start in the main. Just needed to execute in that semi because I was honestly maybe a little bit impatient because I did not want to get beat by Alessi. I saw him leading and I wasn't in 2nd yet to try to make any moves when I went down.
Because of that LCQ win, you would have got 10 grand had you won the main event.
I kept that alive. Also the Kawasaki guys asked me what happened in the semi, and I said "you're welcome, I just sold some Kawasaki's in that Last Chance."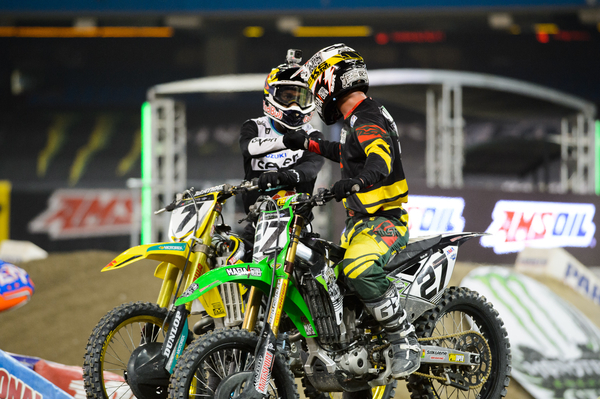 Nick Wey had his best race of the season at St Louis.
Your starts seem to be back from where they were – you had a little mid-seasons lull. But your starts are back and the track was tough tonight.
My bike was working great. I can't thank the guys enough for helping me out. The whole Mafia Moto Crew team, MSR, X Brand, Motosport.com…
Dragon back was gnarly.
A lot of guys having a hard time there. I made some moves there. I never missed that all day. Honestly I did it on the first lap of practice. Whoops kind of my deal. If it's a little bit more technical of a track I have a good time. So tonight was good. Obviously it was my best finish of the season but I feel like there was a lot more under the hood.
Like I said, no one's going to talk about it because you got 11th but it was a great ride.
That's what you think. A lot of people are talking about it. I got a lot of TV time, just blowing up Mafia Moto Crew. I saw a lot of guys here with shirts on and there were chicks jocking them, so I'm proving my point. If you get a Mafia Moto Crew shirt, chicks will be jocking you.
****
Trey Canard
First race back and a 5th place. You got a little bit of a gift there with Brayton and Dungey, but still you got to be happy.
Yeah, definitely got the two-for-one but I thought it was a good day, about where I expected. These guys have raced twelve races and in the groove and had time to really work out the bugs, and I haven't. I thought it was a great night. Really no scares, no big dramas all day. I thought I rode pretty decent. I was really, really jittery in the first few laps which really hurt me.
Is that just from like lack of starts and lack of races?
Yeah, I just got so nervous. That's one thing you just cannot replicate at home is that first few laps of just carnage basically.
I was impressed though, you were balls-out in practice trying to go over that table, which we saw Brayton do. The wheel tap thing was great. You not scared, considering the little bit of rust or whatever. I was impressed.
Thanks. I felt pretty good. That stuff I don't normally seem to have too big a problem with; they're working out all the other stuff. It was fun. I was just glad to be back at the races.
How was the fitness for twenty? I know you've been working hard probably off the bike, but like you said, nothing like racing.
I felt good. After the race I was like okay, let's go. But you can't replicate that. I was holding my breath the whole time. I came over the finish line and was like [gasping for breath] but once I caught my breath I was good. It's just going to take that time which is really one of the main reasons I came to race these. I didn't want to wait until outdoors and not have that intensity that you need. And a tough track to come back. The long set of whoops into the dragon back really took it out of you, and then you ride into a 3-1. All in all a good night.
***
Justin Brayton
I'm confused. You won the heat. You're the only guy doing the 4-3-3. Decent main event until the last lap where you didn't see Ryan and now your foot's all wrapped. I don't know if this was good or bad.
I'm right there with you. I just kind of talked to the guys. We did some really cool stuff today, one of the first guys to wheel tap that thing before the triple, one of the only guys going all the way over. Felt like my bike was really good. Won a heat race. But it just stinks that I broke my foot hitting Barcia's bike and then last lap crash hitting Dungey's bike. Kind of out of my control but my foot wouldn't hurt as bad if I'd have gotten a 5th instead of a 10th.
Did the foot bug you much?
The two right-hand turns did for sure when I would dab it. But otherwise it was fine. As long as I didn't hit it on the ground I was totally fine. But lap 14 or 15 I was still doing the all the way over, the table after the finish and the ruts started to get pretty bad. I dabbed it once really hard and that just like took the wind out of my sails. I kind of limped it home from there. I had 6th no problem and then came over a double. There was no yellow flags or anything and Dungey was down.
I guess you never saw him? It looked like you just plowed right into him.
Yeah, never saw him at all. Once again, I was in the air thinking, this isn't going to be good. Same thing in the first heat before the red flag I was like, this isn't going to be good, hit Barcia's bike. So kind of a bummer.
That rhythm section like I said, pretty impressive, but on the other hand the couple times you didn't get it, you got passed there, you lost a lot of time. So it was ultimate like pay off or get screwed over deal.
For sure, we talked about that but that's one thing that I've just got to go to. For sure it was a little bit faster, maybe not a lot.
I had it at three-tenths.
It was definitely worth it when I would get it but that's where I got passed both times. Definitely a bummer. I feel like that's kind of where my foot would hinder me is I couldn't hit the turn as fast. When I hit my foot and dabbed it on the ground it didn't feel good.
****
Kenny Roczen
Good ride, good battle with Ryan (Dungey). You pulled away a little bit. You have to be pumped with this ride.
Yeah, obviously not where I want to be. Just the last few races it seems like it just didn't come together. It was not the best race, not the worst race. I actually was really happy today with the bike setup, but as you know it's a long season and I'm just struggling right now a little bit. Not that it's a long season – I feel actually good, but it's definitely long.
I think that's common for first-year guys.
The legs are starting to feel it and stuff. It's still in there a little bit. I wouldn't say I was 100% in the main, which kind of bummed me out because I felt great in practice, super good, I felt loose. Really could have done some damage. But honestly it wasn't that bad of a race. A couple mistakes here and there and that allowed Barcia to have a little bit of a gap. Otherwise I was never really close enough to be able to make a move.
I felt like if you would have started third you would have finished third, it was that kind of race.
It was a solid race. I'm just trying to hang in there. As you know, it's a first year. I'm enjoying it still. It's not always fun because sometimes you just suffer, but it is fun. I'm born to do that. I'm just learning everything for next year. I really want to be there next year. Even though the season's still not over and I think I'm in a great position, made a few points on Dungey tonight, I'm in there. I'm all about it.
Hey this track was tough.
Track was tough but the dirt was actually one of the best this year I have to say. It was good, tacky, and soft but not too much so the ruts weren't too bad. So it's actually a really nice track. Definitely tricky, the whoops got really cupped out and uneven, which I've never even ridden one of those dragon back, like starting whoops long section and then enter dragon's back. I've never done it before. So that was a cool experience but I think I mastered them pretty good. Actually we made a tiny little bike change after free practice and it made a huge difference and then I was really happy.
With your buddy Herlings out of MX2 who wins MX2 tomorrow (Sunday) in Brazil?
I'm hoping for Tonus. He's one of my good friends and I'd really want him to win.
***
Justin Bogle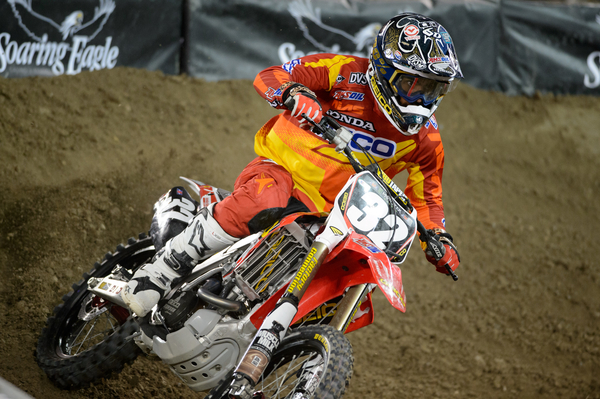 Bogle rode well at St Louis with a second.
You rode great. Just got to give it up to Martin; he rode awesome too. Maybe the whole thing came down to you missing the dragon back. You worked up to catch him, you missed that, and then you worked up again, but that was it.
Yeah, definitely gave him a pretty good head start off the start as well. But I got to give it to the dude, he rode awesome. No mistakes and I feel like I had that one with the lappers trying to split the lappers up that dragon back and I kind of got off line and caught an edge and had to roll. But it's all good. I felt like I could catch up whenever I needed to and I just wasn't ever quite close enough to make a pass.
Last lap you maybe could have really dirtied him, but probably not.
I don't even think I was close enough to do that. Believe me, I thought about it. But it's all good. I feel like even though I didn't get the win everything else was in my column I think tonight. I felt good.
Catching him twice and reeling him in, yeah you lost some points but going into New York you're like, hey, I was probably the faster guy tonight.
For sure. I felt like I was good. I feel like I got good momentum going my way still. Honestly I'm happy, but I'm not satisfied at all. But I'm pumped to be where I'm at right now because two weeks ago I wasn't even in this conversation, and two months ago I wasn't even supposed to be racing. So it's all good. I'm still alive, I'm still kicking, I'm still here trying to make stuff happen.
Track was tough tonight.
Yeah, I think it played into my favor too, with the whoops being tough. That was my spot, was the whoops tonight. It was good. Kind of funny that my good spot ended up being kind of what cost me a lot there, but it's all good. Couple issues with lappers but that's the name of the game.
Did you have some place where you were thinking this is where I'm going to get him? I know you said you were fast in the whoops, but did you have a spot where you were like, this is where I want to get him?
I had a couple spots but for sure the whoops was one of them. I just wasn't quite close enough. I'd get really close but I didn't make it happen. All good, like I said Martin rode awesome and this thing's going to come down to the wire and be a fun one.
*****
Ryan Villopoto
What'd you think? You had to be okay with a 2nd place, probably not stoked but okay.
Bottom line is in the beginning of the season we put the work in and put ourselves in this position, being four rounds to go, with a good points lead. So I don't have to go out there on nights like this and push that envelope. I would have loved to win, wanted to win, but I got to think of the big picture. That being said, I can't take anything away from James because he rode really well.
You guys had a good lead on 3rd.
I was struggling in the whoops and then after the whoops in that turn, that was my worst section on the track, I thought. Everywhere else I thought we were really close. So that was my weak point on the track and he was able to bridge the gap with being better there.
The quad out of the turn that Brayton was doing, did you look at it? What'd you think?
I didn't clean it to then go triple. I ended up doing it in practice but I figured for 20 laps there's no way that that was going to be able to be done.
****
James Stewart
What a ride, man. Win number 50. Maybe the best win of the year for you?
Yeah, as far as me and Ryan going at it, we went at it at San Diego also it just seems like forever ago. Last weekend was obviously special breaking a record but tonight I had to run him down. The track was pretty basic. Everybody was doing the same things, but I was able to find something somewhere. My corners got really good in the main event and all of a sudden I got pretty good through the whoops. In the heat race I was behind him. I caught up to him a little bit and I was just kind of looking at his lines in the heat race.
I have a theory you played possum on that a little bit.
I wouldn't say I played possum. I felt like I had more speed but I didn't think with the track being so one-lined I didn't want to give away my passing spots in the heat race. But it was good. Not possum, but I didn't show everything.
Whoop speed was good tonight. I thought a lot better than him. You were catching that thing. That dragon back thing, everyone talked to me tonight about it and said how tricky it was.
It was definitely tricky. You had to get in the whoops and make sure you hit every one otherwise you'll skip over the top. I had it in the main event. I was going inside all day until we figured out the bike, it was smoother over there. In the main event RV started going inside and so I had to switch it up and try to go somewhere else, but we definitely dialed it in. The only time I did go to the outside all day was in the main event and I think it was because of a lapper and it was the best pass I went. But I didn't trust it so I went back to the inside.
A little bit of a bike problem in practice for you. Kudos for your team for figuring it out and getting you back out there. You said at opening ceremonies, I guess we'll find out in about a half hour.
Yeah, for sure. We had some issues and stuff. I think the hard part is when those guys jet it here and then you go into the dome, it's such a temperature change, even from here to the tunnel to the track. I think that's what called us out. But they got it fixed, otherwise we would have been stalling it all night.
I was talking to Tim Ferry earlier. He told me James Stewart's going to go quad over that table and 3-3 after the finish line. Brayton did it but I was surprised we didn't see that from you.
I did it, I just never did it in the heat race. I did it and instantly pulled off in the practice. It was like 2 tenths faster to do that but it was 8 tenths slower if you didn't make it.
The places where Brayton got passed were when he screwed that section up.
Yeah, so it wasn't worth it to do it. That on-off, that was the best way, the most consistent way to get it done.
I guess if there's anything to worry about your starts a little bit.
No, when I picked that gate I just didn't have the best. And then the heat race… last weekend in the main event I hit a rock. This weekend in the heat race I hit another rock and then I didn't have the best pick. I need to worry about them but at the same time I feel like I can pull it out if I need to.
More gate selection and rut selection than technique?
Considering that I hadn't done those starts in a long time, they're all right.
Great job, 50 wins, 5 wins on the year. You never know, maybe this thing will go down to the wire.
We'll see. All I can do is try to keep winning races and riding the way we are, so either way I think it's something to be worried about.