Over the years St.Louis has seen it's fair sure of climactic action from debilitating, series-altering injuries to full-contact passes. 2014 met some of that criteria.
Over the years St.Louis has seen it's fair sure of climactic action from debilitating, series-altering injuries to full-contact passes. 2014 met some of that criteria.
Photos By: The James Lissimore
St.Louis is a great stop on the circuit. The track surface is one of the most tractable in the series and for that reason, confidence and daring is at a peak for riders. Think back to Trey Canard's rookie Supercross season when he put the infamous move on Ryan Villopoto which sent him chest ward into the finish line scaffolding. It was a bold move for a rookie to pull on the class champ but the dirt just had Trey feeling frisky. Flash-forward to the 2010 season when Ryan Dungey looked to be well on his way to the title when a "husky" Ryan Villopoto finally caught fire about halfway through. When the series visited St.Louis, RV was clearly looking to rip the momentum away from the Dunge when he ran it in hard and left them both on the mat. Unfortunately for RV, all that momentum went out the window when he caught the slippery stadium surface under the dirt on a jump face in a rhythm section. RV's 2010 came to an abrupt and painful end.
Once again in 2014 that seductive track surface came calling and with it came some gusto, some amazing feats and yes, some costly crashes.
450
I don't even know what to say about Wil Hahn's brutal ejection in St. Louis. It's been a year and a half since he made his healthy return in 2013, capitalizing on it with a SX East 250 title followed by an abbreviated 250 outdoor series (hand injury at Vegas) where he made the most of his appearances with the hole-shot award. His rookie 450 SX series was looking so good over all with a few hiccups along the way and then St.Louis happened. It was so dirty and it goes to show how much pain he has sustained in the past that when he woke up from his crash, cracked skull, broken clavicle, dislocated shoulder and multiple fractures of the humorous, he merely sported a frustrated grimace. Unreal. The guy has so much heart and hope. I have zero doubt he will put in his standard level of heart, sweat and effort and be better for it all. Heal up Wil, your worth has been proven already on a 450.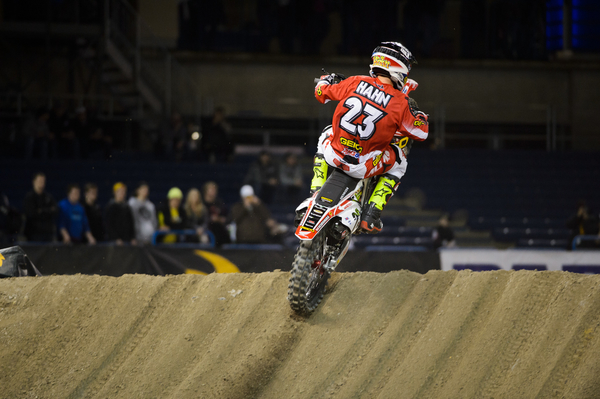 Wil Hahn is not stranger to rebounds.
The troop master for the Mafia Moto Crew has earned his best finishes of 2014 the last two weeks. Good dirt and a high level of technicality are two big pluses for the NYK. Following Broc's crash and broken back in Toronto, a friend and I were discussing Nick and his broken back in the 2012 Nationals and how it has affected him since. We both agreed we feel Nick is better than his finishes indicate this year, he's riding really well but he's keeping it reeled in with the big picture in mind. Not the big picture we often cite in moto, the points chase, the big picture as in life after moto. I'm not saying for a second that Nick is mailing it in, not in the least. But there isn't a doubt in my mind, if he wanted to dial it up and ride closer to the edge, he absolutely could and he would likely be rewarded for it in finishes and points but the opposite side of that coin at this point in his career is simply not worth it. He has a great family of four at home and that is the big picture. Much like Matthes always said about Kevin Windham the last couple years, it's all positives at this point for Wey so just keep battling and repping the crew, week after week. A top ten is absolutely doable.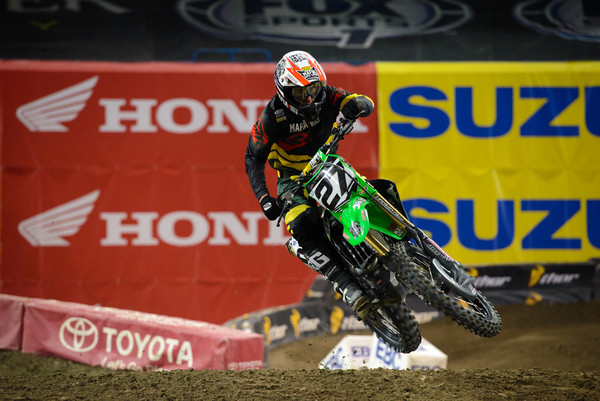 Nick is a winner no matter what.
I'm not real sure what to make of Justin Brayton's season let alone his St.Louis. He's been all over the map. In the beginning of the season, people were talking about him possibly winning a main, then it got a little sideways, moderately better and then it went broke in St.Louis. Justin has come a looooong way in a short few years and I definitely don't think he's plateaued yet. With a broken foot and pinky in St.Louis, he's still talking about racing in Houston. He's a tough guy with untapped potential and consistency that I do believe he'll cash in on; just not in the remaining SX races of 2014. Sorry Weege, Justin is definitely CeleBrayton the end of this series at this point.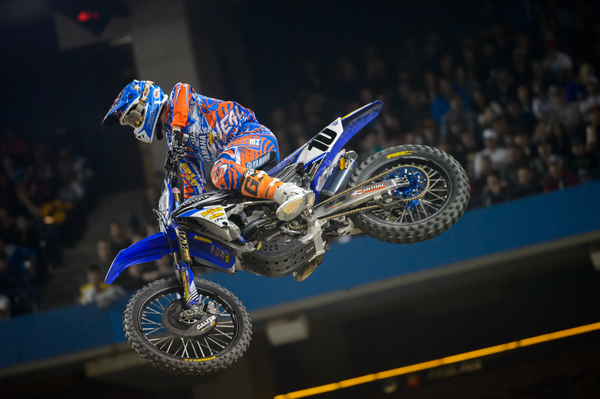 Brayton's STL went about as many different ways as his series.
In Ryan Dungey terms, St.Louis was an utter disaster. Howso? His 9th place finish was the worst finish of his 450 SX career, save for races where he DNF'd. Even before his last lap snafu, Dungey's night was not looking like the podium-picture of efficiency we have come to expect. He struggled to make moves and when he did, his combatants made moves back on him. This off-night moved Dungey to only one single point ahead of Stewart in the points race. With a surging Stewart, the battle for second in points just turned into a real barn-burner. Stay tuned.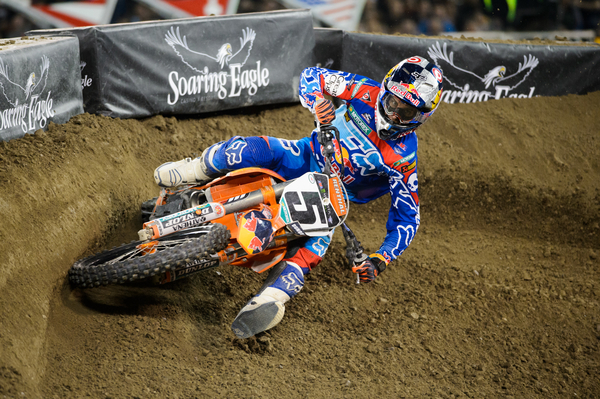 9th for Dungey? Is this the Twilight Zone?
Eli Tomac has missed one more race in 2014 than he has finished. Not exactly the rookie season me and every other moto fan on the face of the planet expected in Eli's rookie 450 series but hey, that's what rookie years are for. They can't all be MC and Dungey now can they?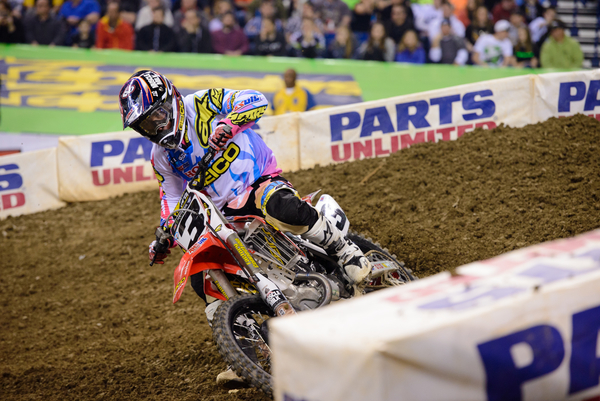 Who'd have thought just finising a race would be a plus for Eli in his rookie 450 year?
Am I the only person who felt like Trey Canard just experienced the longest hiatus from racing due to a broken arm in history? Ok, I just proved myself wrong by looking at Jake Weimer's 2011 series where he broke his arm the week before A1 and he didn't return until the penultimate round in SLC. At any rate, it was great to see Trey back again and I am not at all surprised that he reeled in 5th after Dungey's last lap faux pas. Want proof? I picked Trey in my fantasy dork league. That's right, YOLO.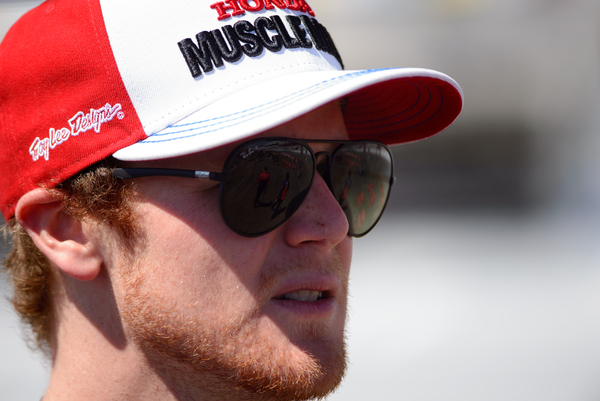 He's back!
I don't want to go all fanboy on James Stewart's ride in STL but he was damn impressive again. I mean, seriously, who have you ever seen pass RV like that in a Supercross race and leave RV looking so detached from the unit that is him and his motorcycle? I can't recall ever. The story of that win for Stewart in my opinion was his line through that rhythm section before he made the move on RV. He started left, veered right, then did some crazy jedi mind trick on RV to scrub/mid air turn back to the left and cut under for a truly impressive setup and pass. Watch it again, that was some serious race craft there. The tricky veteran pulling new tricks and his 50th win.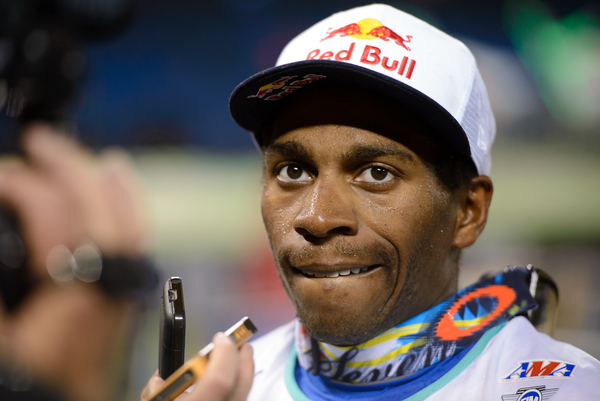 James may be thinking about the title again after his 3-peat win.
250
After Matt Lemoine's breakout ride last week, he started well again in St.Louis and I was giddy all over again as he pressured forward from 3rd. Suddenly, he was gone. No more on the ticker. I was destitute. Matt made a mistake and let his bike get away from him much the same way we all have at one point or another. It sucked, he's bummed but I am fully optimistic that he'll brush this off and pick where he left off, before he got whiskey.
I can't help but feel Alex Martin going down and taking out his brother in a chain reaction was the moto-gods laying the smacketh down for him giving his brother a position in Detroit in the last corner. Don't tempt the moto-gods , Mr. Martin.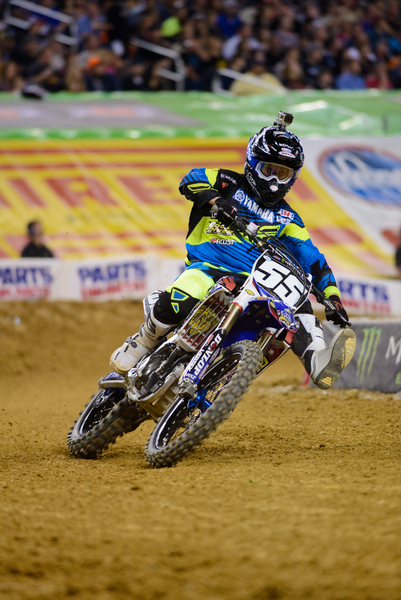 Alex Martin tempted fate with his move in Detroit and it bit the brothers in STL.
By a show of hands, how many of you expected Martin Davalos to holeshot, be pressure more than the Guiness Book of World Records hemorrhoid by Justin Bogle and overcome the pressure to his second win of the series (and his career). Mitch Payton now looks like a genius, as if he didn't already before. Even if Martin doesn't nail down this title, Mitch finally made him a winner. Justin Bogle's second place was a great ride, very smart. He could have gone in there and done something stupid but we're talking about Martin Davalos here, who has a history of dirtying himself even when he's got a massive lead. In the 450 class the game plan when racing JS7 has often been, pressure him a little, the crash will come. Well, if that's true with James, it's times 10 with Martin Davalos, unfortunately for Justin Bogle, it didn't hold true. Martin Davalos was a unicorn, no, a Centaur in St.Louis. Something you just never, ever see. He saddled up the weight of all that title pressure, as well as Bogle's pressure up his yahoo all race and simply held strong. Perhaps JT$ and his #banditos will look like genius' too?!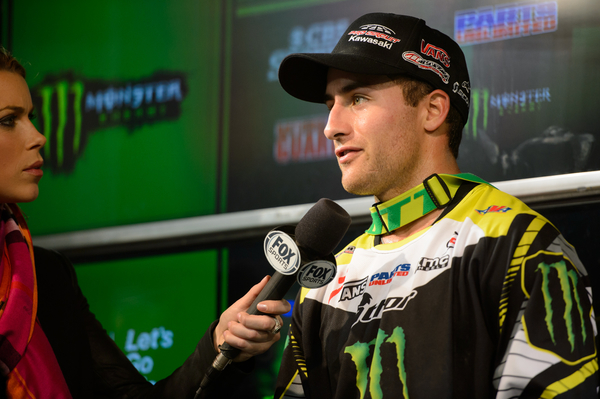 The Centaur of STL.