Le Cobra strikes back!
Le Cobra strikes back!
Photos by James Lissimore
1- If you're an RV fan you're saying hey big points lead, no need to worry. If you're a JS7 fan you're pumped because your guy caught and passed RV. Not too mention JS has 5 wins on the season to RV's 3. What's your take on the race?
I don't think we can compare James and Ryan on St Louis race. Their mindsets and goals for this race were so different. JS just had one of his best races ever in Toronto and RV maybe had one of his most awkward and difficult races of his career.
Stewart doesn't anything to lose and has to win (and have RV "mess up") to still have a tiny chance to compete for the title. He was 39 points behind RV in the championship before St Louis, and it's 36 now. There is only 100 points to give with 4 races left. It would need a miracle for RV to lose this championship but at least Bubba is trying to take it all the way until Vegas. On the other hand, RV had to have a strong race, be consistent and score big points in Missouri. And he did just that. RV is control of this thing. He has a 35 and 36 point lead on Dungey and Stewart respectively. He doesn't have to push hard anymore. He doesn't have to win races. So all that being said, I don't think we will have any awesome JS/RV confrontations again this season.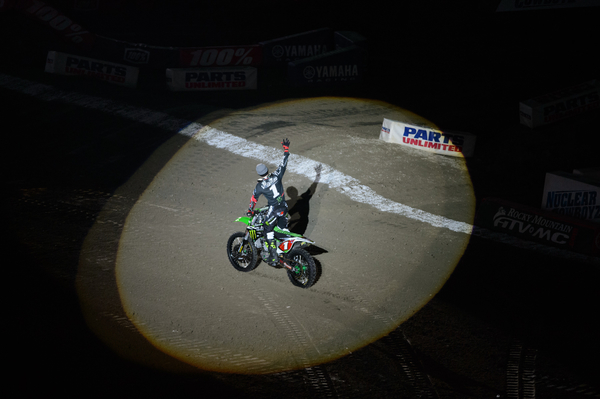 Vuillemin doesn't think we're going to see any epic RV/JS battles the rest of this year.
Points are more important than a race win or proving who can beat who head to head like last Saturday. If we had this scenario in the first five to six races, the battle would've been better. We gotta give it to RV this season. He added consistency, race strategy and more racing intelligence to his package. Even with only 3 wins out of 13 races, he has a 35-point lead! The number of wins might not be impressive for a future champion but the math is! As far as the race itself, obviously, James was flying but it seemed like he really wanted to make a point in St Louis. Why do I think that? Just because the way he rode, the moment early in the race when he passed RV and his little more than usual sketchy riding style this weekend, not as smooth as in Canada. I was surprised to see James attack Ryan and pass him half way into the main. I thought it was maybe too early. But it worked out very well for him. It proves that he's in confidence and didn't care to have the 3-time champ on his butt for 10 laps. With RV controlling the points lead and the other riders not being good enough to beat James and Ryan, Bubba has the odds on his favor to win maybe the last four races. But it will not be enough…
2- We were all waiting for Davalos to make a mistake but he rode great to win and extend his points lead to 8. Are you more secure in his title hopes now with two races left?
Martin is obviously the favorite for the title but 8 points isn't much. Especially when Davalos has a history of exploding and losing the front end for no apparent reasons. With a few laps to go in the 250 Main, I really thought Bogle would have been a bigger threat. But instead of having Martin make a mistake, which he got us used to for almost a decade now, it's Bogle that started making mistakes. In my opinion Justin missed a huge opportunity in St Louis. The 6 point swing between the 2 title contenders might have hurt Bogle. If JB would've won, Davalos points lead would've been only 2 points. It's now do or die for Justin. He HAS to win or at least finish in front of Davalos at the next East Coast race to keep some kind of hope. But we also know Martin's old demons… The last 30 laps of the season will be very interesting, but only if Bogle gains some points on Davalos in New Jersey…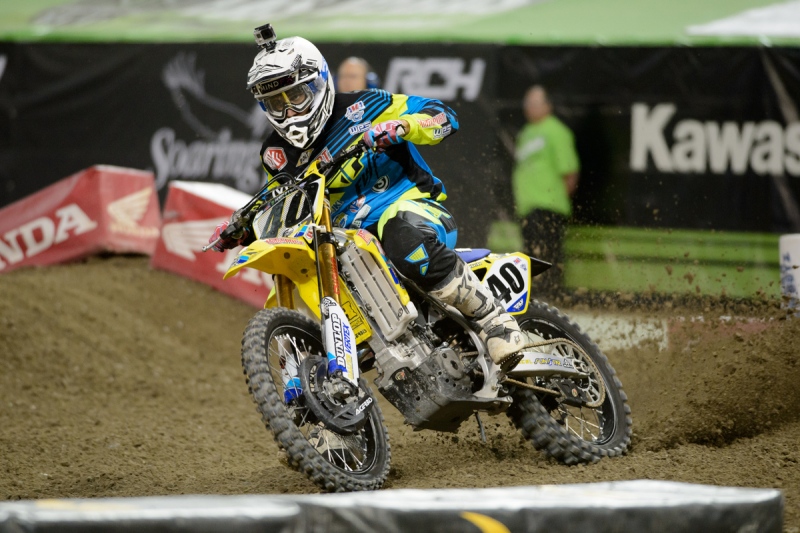 Weston Peick is having a great season so far and Vuillemin thinks that no factory riders like to get beat by him.
3- Wil Hahn and Matt Georke are both out now for a while joining Tickle, Reed and others who will miss a lot of races. How tough is it to successfully complete a 29 American racing season?
It's very difficult! It's something people who have never done it or the Euro fans and riders don't really know. I don't know how many weekends off they have this season for the 29 races but in my days we would race 28 races out of 34 or 35 weekend. It's insane! Plus you add 2-3 months of training before A1, all the preparation and the testing for the MX Nationals, all the travel, all the planes you have to take etc… It's very tough on the body and in your head. And it's a dangerous sport with not too much protection so unfortunately the injuries are part of it. And will always been…
4- Barcia's pass on Peick, what's your take on it? Weston was not very happy with him for that and we assume he felt it wasn't needed as both riders were in qualifying position in the heat…should Barcia have shown some restraint?
It was maybe Barcia's nicest block pass since he turned pro! Nothing wrong with it but I guess the fact Justin kinda stopped on top of the berm, almost brake checked him and Weston almost lost his balance was what WP40 was upset about. What I really don't understand in this incident is why Dungey didn't get better than 4th in that heat race. He had the pass made on Peick and he could've squared Barcia up in the 180 before the finish but instead, Peick passed him back! It's pretty much time for Dungey to make the right racing decisions and "get in there" with more authority.
As far as your comment about Barcia and Peick being already qualified for the main but Barcia went for it with 2 turns to go. Was Ferry (or yourself as his mechanic), while at Factory Yamaha, happy when he finished behind a privateer rider even in a heat race? No, I would think that every factory rider wouldn't be pumped to get beat by Weston. Plus, Barcia gained a couple spots to get on the gate in the main. The block pass was fine and Barcia doesn't deserve a fine or anything else… for now…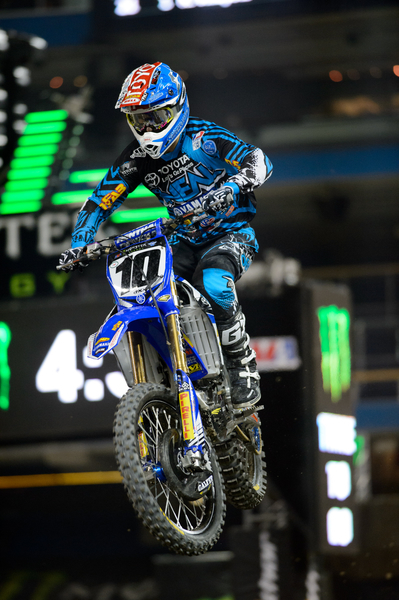 Brayton had a good St Louis SX, even if his results weren't that great.
5– Were you impressed with Brayton and his heat race win and 4-3-3?
Brayton on any track on any continent is impressive when he races at his total best. The guy is an awesome rider. That 4-3-3 in the rhythm section was cool. That jump had to be difficult if no one else actually did it. If you do something that James Stewart isn't doing, you're doing some amazing. I really think Justin could be stronger mentally and has to believe he has the potential to race for podium spots every weekend. Saturday was the perfect example, in a heat race, without pressure nor points, he's great, jumping crazy stuff, going thru the whoops perfectly and is racing to win.
I don't think he has the same mindset when he lines up behind the gate of the main event. This weekend, he wasn't very lucky with Dungey crashing at a landing of a small double. Brayton went down and lost some spots… He has pretty much top 5 locked so that might be a good spot to be in to go "balls out"… I would love to see him ride like he did in Phoenix earlier this season.