Just another Pulpmx fan that has infiltrated American motocross
Just another Pulpmx fan that has infiltrated American motocross
Thomo living the dream in America
LIVING THE DREAM
Words and photos by @whosthomo
Ok how do I start this off? First I'm no writer or much of a grammar driven person so excuse my poor writing skills. I suppose I'm like Moser with his Andrew Short connection ( @clmoser give him a follow) where through a bit of a Pulpmx networking I've become good friends with the JGR Toyota/N-Fab MX team through Twitter which has resulted in invites to come and stay. Fortunately I take advantage of these invites as I work for an airline, which allows me cheap airfares, or as the MX industry says "hooked up"
I arrived in Huntersville,NC on late Tuesday night and my accommodation was with Ben Shiermeyer (@sheetmetal220) who is Josh Grant's mechanic. I would of stayed with Jonny Oler (@jonnyomoto) the team's suspension tech again but he creeps into your room at night so I played it safe and stayed with Ben.
Wednesday I got to spend the day at the shop and it was evident why the JGR guys are top notch with a welcome befitting of a king. The shop has an absolutely laid back atmosphere with people coming in and out all day. There's even a young kid who just hangs at the shop all day bouncing off the walls who seems to entertain those there. There are two Puerto Rican brothers there who I'm sure are there on fake passports and also a vertically challenged young guy there who works on Brayton's bikes to help the injured Patty. With this mixture of lads there is an awesome atmosphere at the race shop. Wednesday night is mountain bike race night which most team members and a few riders participate in which is a great concept and helps team morale. And although it rained we still exercised. (Our livers)
A Thomo loose in the JGR shop
Thursday I was fortunate to go out to the track where Justin Brayton was testing and Cole Seely and Josh Strang were putting in some laps with Nate Ramsey working the watch. It only takes a 1 second glance to realize the JGR team are investing serious money into their facility with a large workshop, excavators, skid steers and tracks that are top quality. The outdoor track is a thing of beauty. To get even more of a greater experience I went to the baseball with the team members and was lucky enough to once again have some beers with Weege (@jasonWeigandt) who paid for bleacher seats and then came and sat with us front row for the night. Good stories were had by all and as well as cheap beer.
| | | | |
| --- | --- | --- | --- |
| | | | |
| | JGR Yamaha has some serious earth movers at their track. | | |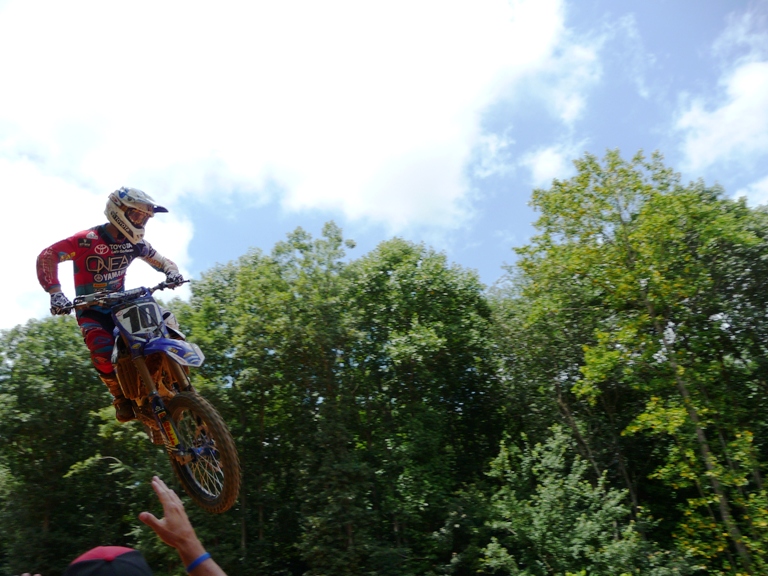 Brayton puts some practice laps in.
Friday was time to meet at the race shop at 7am to hit the road for the six hour journey north to the track to help set up. First thing you notice is how hard the truck driver for the team Big John works. Then come race day he works even harder and is one hell of a cook to as I put his seasoned spuds in my mouth it was like being in heaven. Anyhow time to head back to the hotel for the odd 1 or 15 beers and some sweet bench racing. If you were a super fan this hotel is the place to stay, as there were team members and some past greats everywhere like Jeff Ward minus his wheelbarrow.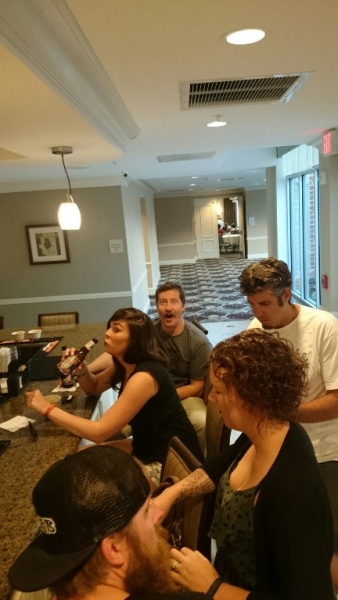 Bench racing with the JGR crew at the hotel bar.
Race day and what I've spent 19hrs of flights and one damaged liver to come and see. Budds Creek is an absolute awesome place and the best national I've been to mind you the only other one I've been to was Elsinore 2012. First thing I did was have a quick walk around the pits before the crowd was there and just happened to bump into Matthes who actually remembered me from Elsinore. We just had a quick talk (15mins) as you could tell he had dog hair to remove from goggles or the food was ready from the Honda rig. With pass in hand I went for a recon to see where I could get and the areas were spot on. To make things even sweeter Ashley. who is Bens wife, hooked me up with a pass to the Parts Unlimited tent for another great viewing area.
My access wasn't just under the team tent it was also in the transporter with the riders, team members and trainers it was access all areas. I was even to told to get in the JGR team cart and get some ice for the riders ice baths, the looks from the crowd as your driving by was priceless, only if they new I was just a guest. I chose not to be up in the riders lounge as the team doesn't need some hang about there while debriefing is happening. These debriefings, from what I noticed down in the transporter, are a lot more intense than I thought with a lot of track sector break down going on between team and trainers. First thing you notice is how well the team gels on race day with the engine guy Deano ( @deanbaker113 ) and Jonny "the gravity nemesis" with heads buried in laptop computers getting the magic figures to help get all 3 bikes to first turn first which they did and sitting pretty over the rough stuff.. There's talk of gearing changes which is only magnified when you consider gear ratios, front and rear sprockets and also clutch basket gearing.
JGR suspension guru Jonny O'Moto
One of the highlights was talking to an old neighbor of mine "Filthy" Phil Nicoletti who was so laid back and happy. It's clear he likes me and hates talking to Matthes cause he was a cracker to talk to. I better clarify this neighbour thing. When Filthy lived in Aussie we were a two hour drive away from each other. Filthy's mechanic is former wrench and all-around JGR handyman Spencer Bloomer ( @spencerjgrmx ) who is the soothing soul of Filthy and also one big guy who if he took a dump in the woods would have to move to finish it. Josh Grant's mechanic is Ben who is very easy to pick out in the pits as he is running a sweet big ginger beard. Look for Ben in the latest FMF advert on "Unsung Heroes" Ben is one of those mechanics with an interesting story on how he got to the top team in MX and definitely worth a podcast or shared podcast with.
Ben and Jonny seem to have a good synergy going in their professional and private life's so they work together very well but this private synergy was not good for my liver. Now what does Coy do? Well I'm not sure what Coy does race day but put him in a skimpy dress and I'm sure he'd make a great promotions girl. J-Bone seems to be in charge of spot fires and ensuring the team is provided with everything to keep the flow of men and materials in the right direction. The talks I had with J-Bone at the race track and race shop only solidified this is an endless task. A big surprise was the endless visits by tire technician extraordinaire or Mr. Rubber (@tatkimsey_tat) and suspension reps from KYB. Hearing firsthand the reasoning for tire choices was far beyond what I'd expected but if you aren't on Pirelli then you aren't on rubber.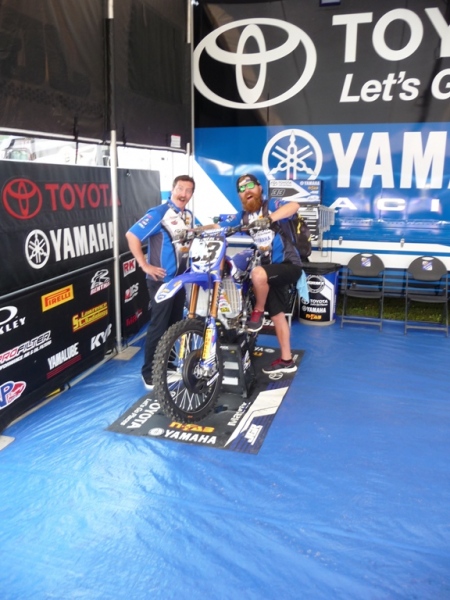 Jonny and Ben work together to get a perfect set-up.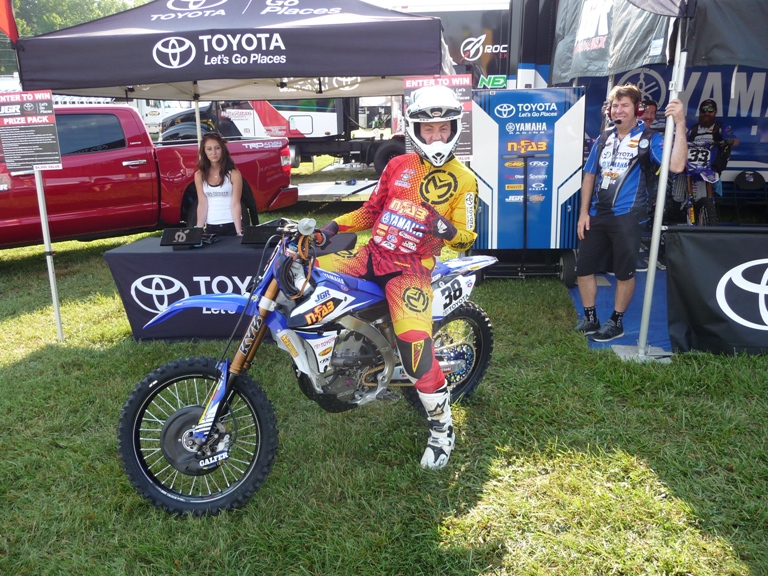 Filthy was happy to see Thomo.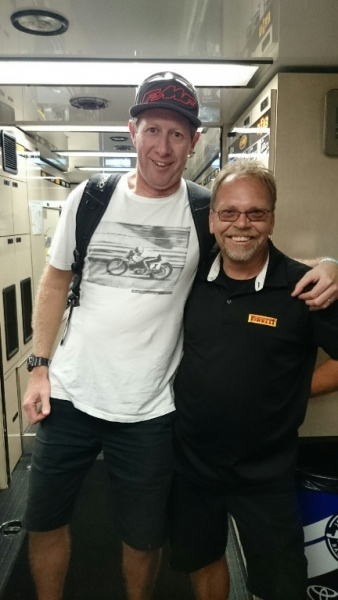 Thomo and Tad, the Pirelli guy.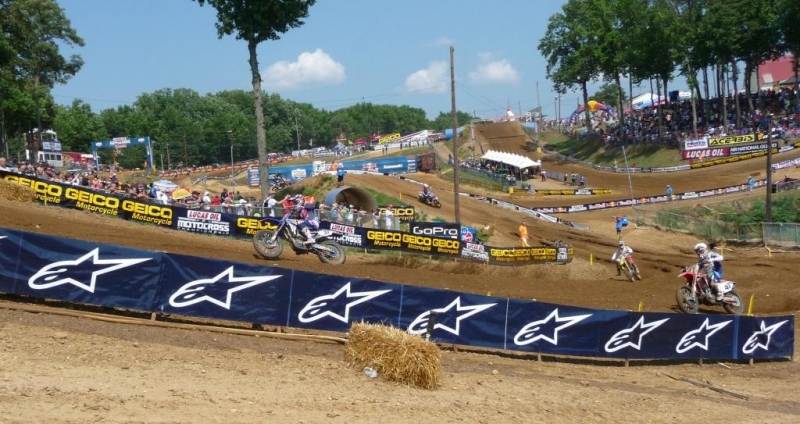 Trackside viewing for the Aussie at Budds Creek
So we are nearing race time and the American national anthem is sung and although I'm no American each time I'm at an event and the Star Spangled Banner is sung I get goose bumps and a sense of pride at how the people of the USA have such love for there flag/country. A great part of the show was a huge shout out by all the crowd to the wounded warrior guests at the event and the pride shown by the crowd for their sacrifice to this great country I'm not going to lie but my eyes got a little bit watery. On Thursday night we got a tip off as to where Weege and Langston were doing their pre-race report and were told to be there at 9:45 on the dot. I think Langston might have missed this important bit of info as 15mins late, he rocks up and just nailed it. Quicker than him nailing the report, he was gone like a Meer Cat. If Weege needed someone to step in for Langston I offered my services and was put through a test to see if I had the metal. The crowds are starting to roll up now and its clear there's going to be a lot of sunburn going on today as dudes were shirtless already.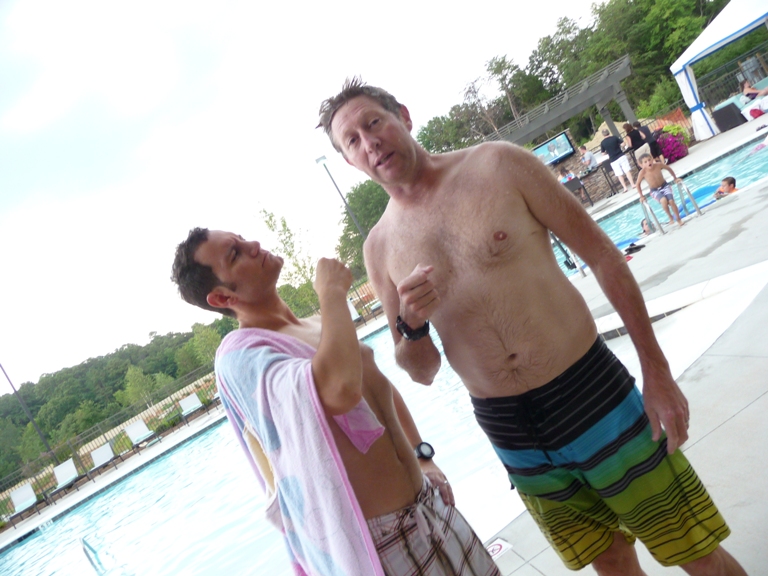 The voice of motocross, Jason Weigandt, interviews Thomo.
So practices have happened and riders go deep in conversation with team and trainers to work on weak spots and changes to the bikes. JG33 doesn't do many changes if any at all. I'm now watching the final bit of adjustments as riders congregate to mount their steads the atmosphere heightens. Now would be a good time for Coy to come out and rally the troops with a pep talk……insert the crickets chirping.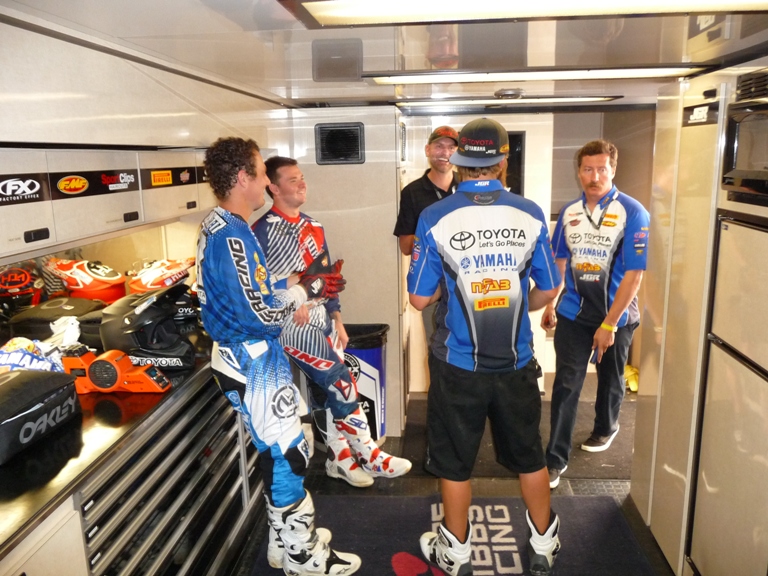 The guys get together to discuss how practice went.
Well we all know what happened in the races but one thing which is apparent is the lack of time for the team to get the bikes ready for the 2nd race. When you see what is done you soon realize that the quick turn around needed for the TV schedule in my opinion has great potential to cause a serious incident with a bike malfunction out on the track. If a rider hits the dirt hard in the first moto there really isn't that much time to get the bike fully prepped for the 2nd moto, now throw in the lack of manpower resources some of the teams / privateers have and you can see where I'm heading.
The races are won and done and its time to tear everything down bikes included. A little hint for those who are seeking some sort of souvenir from a team would be that MANNERs matter. It would get you a long way let's put it that way. One thing that I was very impressed with was Ben (Josh Grants mechanic) saves all the plastics and instead of throwing them out he gives them to a young struggling privateer as these plastics are far newer than the ones the privateer is running. It's about this time that Matthes is lurking and gets his interviews done and now I understand why there is so much noise from people in the background as I was one of them.
Well that's a wrap, this trip can't be put accurately in words and neither can some of the stuff I was privy to but one thing is for sure I was probably one of the luckiest fans at the track that day. A big thanks go's to all the JGRMX team Coy included who honestly the last few visits has treated me extremely well, Ashley Shiermeyer for letting me stay for the week, Heather (Jonny's Sheila) for the race day company and Weege for showing us some sweet wrestling moves at the baseball and Steve (@pulpmx) for allowing this article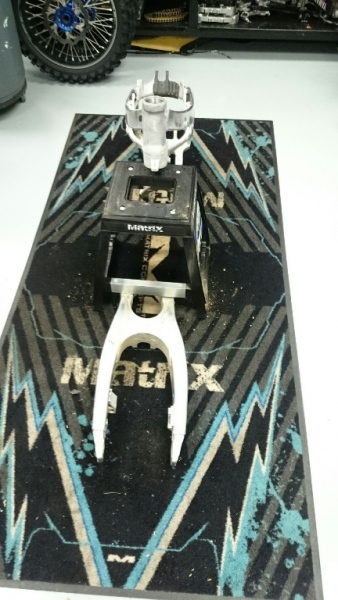 The beginning of a race bike…
See ya when I'm looking at ya
@whosthomo