Another Washougal has come and gone, and it's probably for the best that it only happens once a year. Let's take a look back at this year's "highlight" reel…
Another Washougal has come and gone, and it's probably for the best that it only happens once a year. Let's take a look back at this year's "highlight" reel…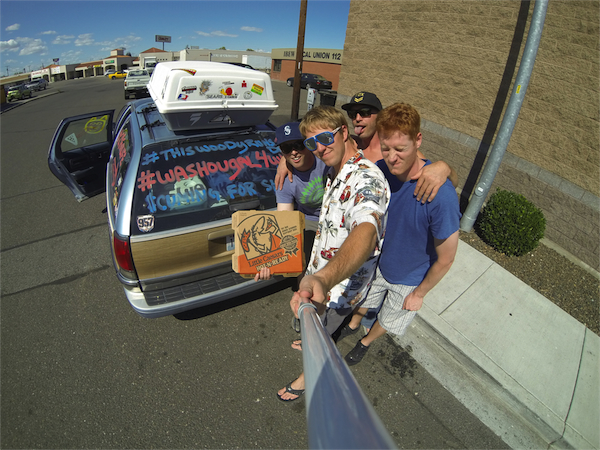 The usual suspects attended this year. In the photo above, you can see Big Red squinting because he's allergic to the sun, the Cryer is wearing sunglasses to hide his tears, Buell is always without a shirt, and I'm the sexy guy in the rad woody button-up party shirt.
Much like an onion, the Washougal weekend has many layers and it also smells so bad at times it brings tears to your eyes. This year we got the Woody on the road earlier than in the past with hopes to tackle the approximately 7 hour drive before last call. Our first order of business was what "hashtag" to run on the woody this year. We've had some strong slogans in the past, such as, "Washougal & Busts" and "Big doubles no troubles". This year we settled on #Washougal4what, with the tip of our hat also going to #ThisWoodyRunsDeep, and #Cumming4Shorty. It wouldn't be a roadtrip to Washougal without stopping for a $5.00 Little Caesars Pizza, also known as the "Weege Special".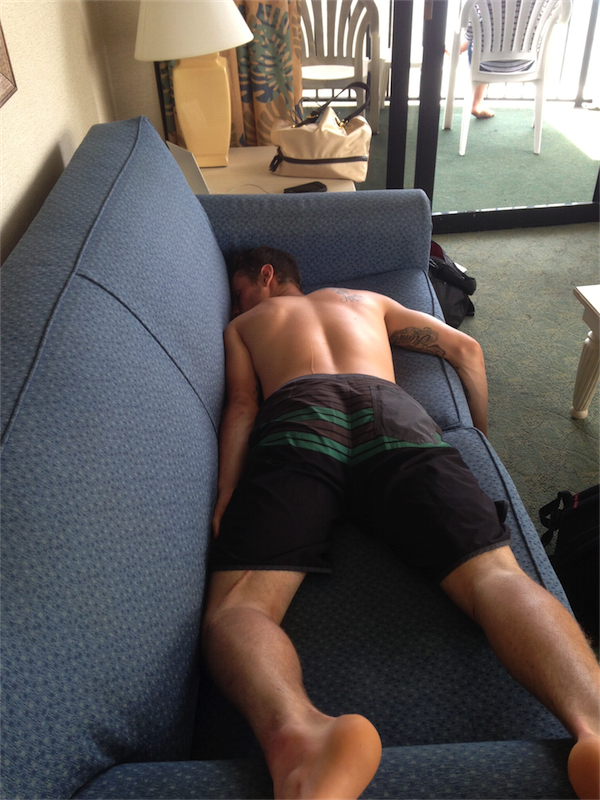 Pit stops are a necessary evil
We made great time by stopping for fluids only; the release of fluids by the passengers and filling of fluids into the woody. Here is a "tip" – you can cut a pee stop time in half if you avoid actual bathrooms. I just put new white wall rubbers on the woody for this trip, the Cryer and Buell wasted no time to break them in. Congrats to Buell for setting a new record for puking the fastest on a Washougal Woody road trip, only 2 hours in he spewed all over the sidewalk in front of the bar…stay classy buddy. The downside to leaving early was quickly realized when the community college tuition fund program was found to be closed at this hour. With this sudden turn of events, we could probably make it to the PIR Thursday night race in Portland.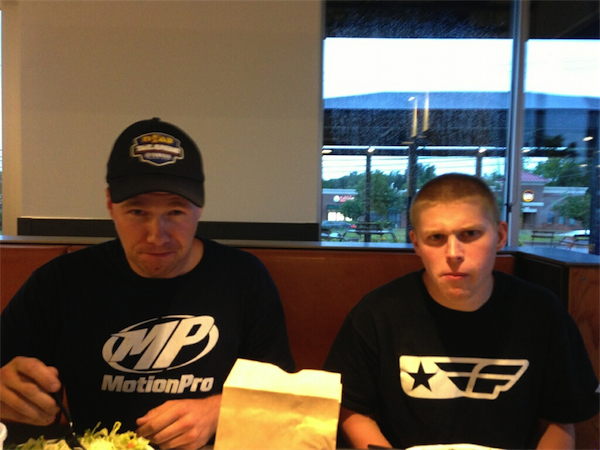 The 7 deuce deuce showing me I'm number ONE
I hadn't been to an amateur race in awhile but, PIR had a great rider and fan turn out. When you have to double stack the pro gate, you know you have a good pro purse. Top Jimmy showed us his broken nose from qualifying. It looked pretty straight, but thank god our buddy Buell was there, (a self proclaimed broken nose expert), to explain repeatedly how to straighten his already straight nose. I suppose if Georgia slapped him around later and it got crooked, that info would come in handy.
The 7 deuce deuce looked to have the holeshot, but we never saw him come out of the first corner until several laps into the race, we spotted him pushing his bike back to the pits. The 7 deuce deuce crashed in the same spot, in the same hole, as Top Jimmy and mangled his middle finger. When I asked if that was going to affect his clutching abilities, he told me, "not at all, I have a Rekluse"… perfect sponsor plug, B2B. Josh Hansen was riding, I mean that literally. He was riding around in the back after qualifying poorly and having bike problems all day, so he just cruised around in 30th place. In all my wisdom, I asked Matthes if I should get a couple interviews after the race, in which he endorsed. As I'm watching Hanny ride around the track, I began contemplating on what am I going to ask him about his 30th place finish? None of us had even heard of the guy who won the race, so my interview podcast career was looking to be over before it even started. I gave it the old college try though, so if you can, go give it a listen in the Steve Matthes podcasts if you haven't already.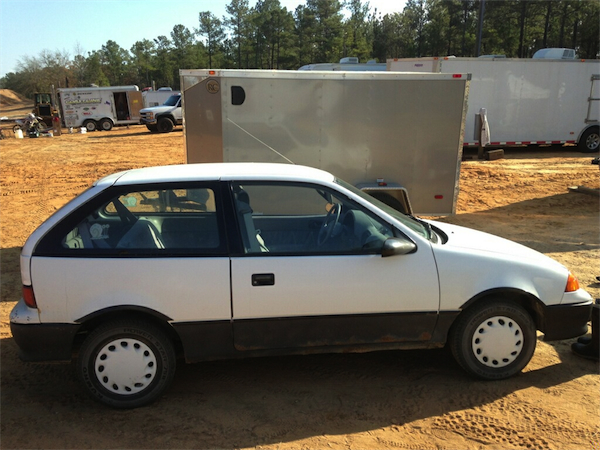 Mrs. Motosport outlet, Hanny and 7 deuce deuce
I highly recommend meeting the 7 deuce deuce next time you are at a race, the guy is a trip! Most people assume he's acting on the air or in interviews, but that's really 7 deuce deuce, just super pumped on life. He really wanted Hanny's autograph after the race and it had to be with a silver sharpie to show up on his shirt properly, so he searched the pits high and low until he got one. The awkward exchange of Hanny giving him an autograph, while questioning if he was a pro rider, and then posing for a picture, was priceless.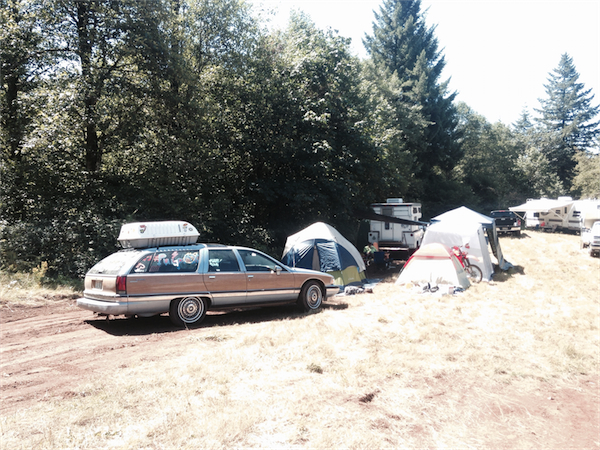 The Wallace-Woody campsite
After almost losing our hotel reservation, playing some golf at a brewery, and strapping bottles of alcohol to our bodies to sneak it into the track, we arrived at the Wallce-Woody campsite. If you are a longtime fan of the PulpMX show, you've probably heard the name Matt Wallace. He was a race mechanic for a long time, and wrenched for Birdwell before Matthes. Wallace has been around a long time and knows a lot of people and is still good friends with Watson, Berlutti, and a host of other industry people. Wallace departed the fame and fortune of moto and now resides mostly in the California high country, hosting cattle and horse drives. I've become friends with Wallace and his lovely lady Lori, and they happened to be on a road trip that coincided with Washougal, and offered to host the campsite. I was a little worried about our delinquent group, and did my best to warn or deter the idea, but they insisted. We had never camped quite like this. Fully catered with real meals instead of the bag of chips and granola bars we usually pack. Ice cold beverages, shade, entertainment with a limitless number of stories, and a flat screen TV. We had a great time and it definitely made us question what the hell we've been doing all these years. The bar has been raised for camping next year… we might have to start acting our age, but I doubt it.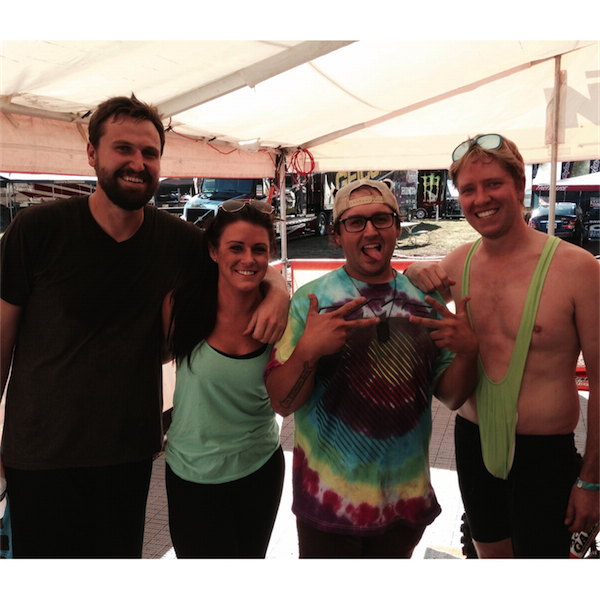 Washougal running club
I saw that Shorty's mechanic Nate, had been running some of the tracks on Friday before the race. I'm a 4x Ironman and am always looking for any excuse to mention that. I told Nate if he was going to run the Washougal track, I would do it with him. I bought both Nate and Shorty their own Borat suits so we could match as we ran the track, but Shorty had to race the next day, so he passed on the run and Nate said he wanted to save his Borat suit for sun bathing on the Short Family Farm. This "run the track" thing was started by the AMA to raise money for charity, and they run one lap of the track for each round. Glen Helen was 1 lap because it was round one, so Washougal was like 8 laps. Needless to say I barely made it one lap, but I had a great time run/walking with Nate, Gregg, and Dani. (The beer shotgun in the whoops by Gregg was classic, so make sure and check it out on the Albertson brothers project).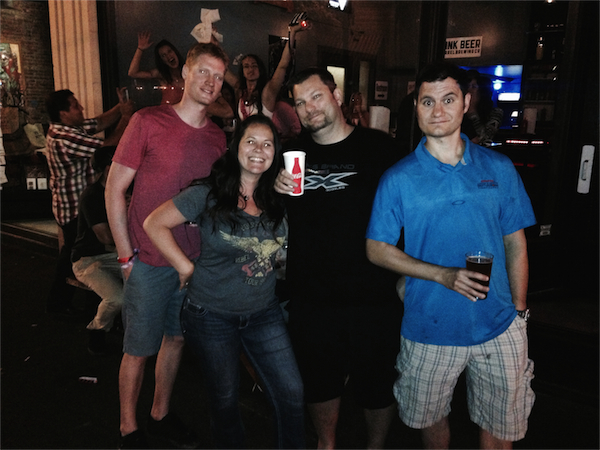 Friday night in Portland
We ended up in downtown Portland on Friday, and met up with Pookie, Matthes, and Weege for some drinks and bench-racing. The bars are packed on Friday night in Portland by the way. While making idle chit chat, a woman overhears us talking about the race and she chimes in that she's going tomorrow. We explained to her that this guy Weege, standing with us in the Lucas Oil Pro Motocross polo shirt, announces the races, but she seemed hesitant to believe us. BUT, who does she happen to be good friends with? Steve Cox, of course. This leads to her texting pictures back and forth with Cox, and once she realizes that this Weege guy really does announce the races live on TV, she drags him into the bar to introduce him to her husband. Just another night for a big celebrity like Weege. This picture has it all, bachelorette photobombing, Benny taking a picture of the bachelorette, and the random friend of Steve Cox getting to second base with Big Red.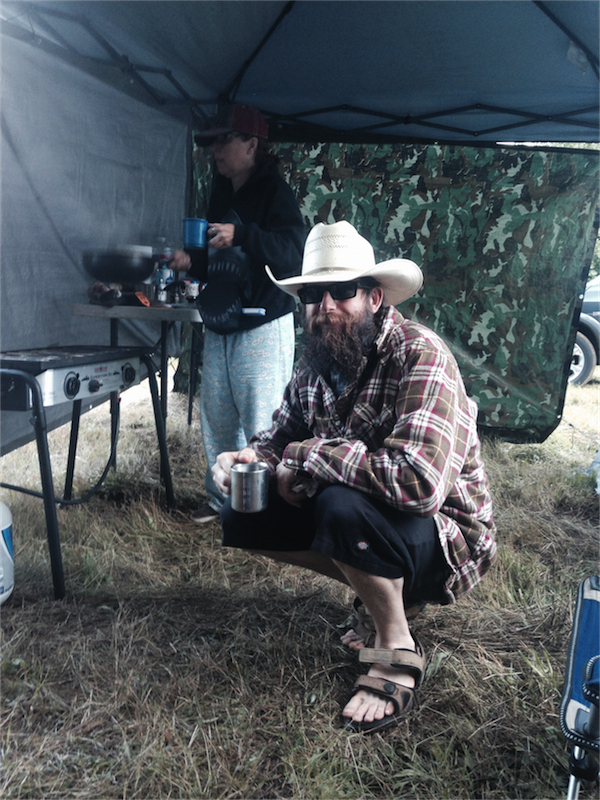 Breakfast of champions
"The key to drinking is eating consistently through-out the day, so we'll make sure you get a good breakfast, lunch, and dinner." (Matt Wallace Verse 2:9).
Wallace and Lori cooked us up a killer breakfast, and come to find out, there is no better way to start a Washougal morning. We are accepting resumes for this cook position for next year. It pays in alcohol… as much as you can drink.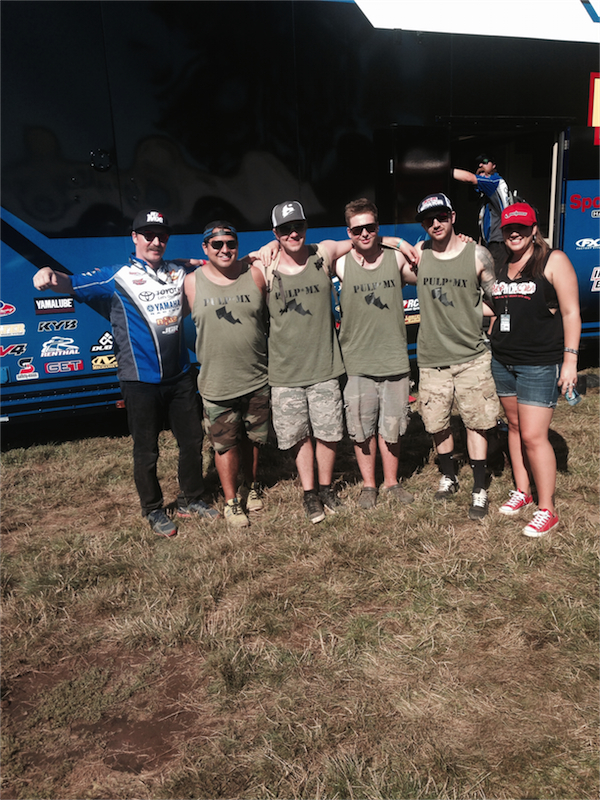 PulpMX Army
Washougal nailed in on the military appreciation "theme". They did not nail it on the execution. Few industry people were aware of it, with JGR being the only team with themed graphics. Benny always nails it, and he also designs awesome shirts for us every year, and this year was no different, with Mash-themed PulpMX tank tops. JGR suspension guru Johnny O (pictured above) purposely dodged us and our phone calls on Friday night. I'm not sure if we should take this as an insult that he didn't want to hang out, or as a compliment that we are such a good time, that he knew better than to just "come have one beer with us". I think Johnny O was still hung over from Thomo's visiting for an entire week. The JGR truck driver Big John had seen my "running outfit" the day before and wanted me to talk to Coy about streaking the starting line. I told Coy I would love to pay off the mortgage on my house, but he said there was no cash offer to be had. He explained further and this actually makes sense; every major main-stream sport has streakers and that our sport needs streakers (preferably across the starting line as the 30 second board turns sideways). Until this happens, we will never be main-stream. In a crazy Coy Gibbs way, it made sense at the time and he convinced me streaking wasn't about the money. Damn he's good.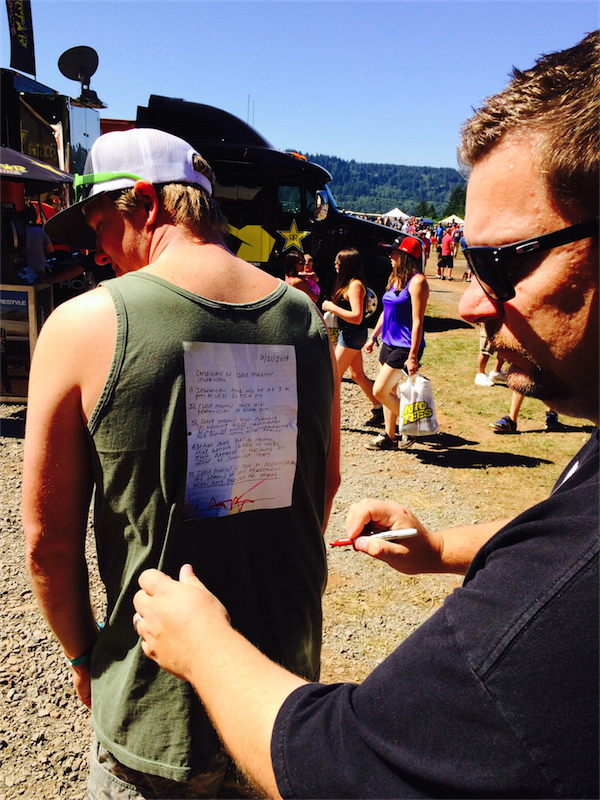 Documentation
The back of the tank tops were outfitted with the complete Tony Alessi contract. After some intense negotiations, we got it signed so I guess Matthes is good to interview the MCR Team and maybe he is protected again in Canada.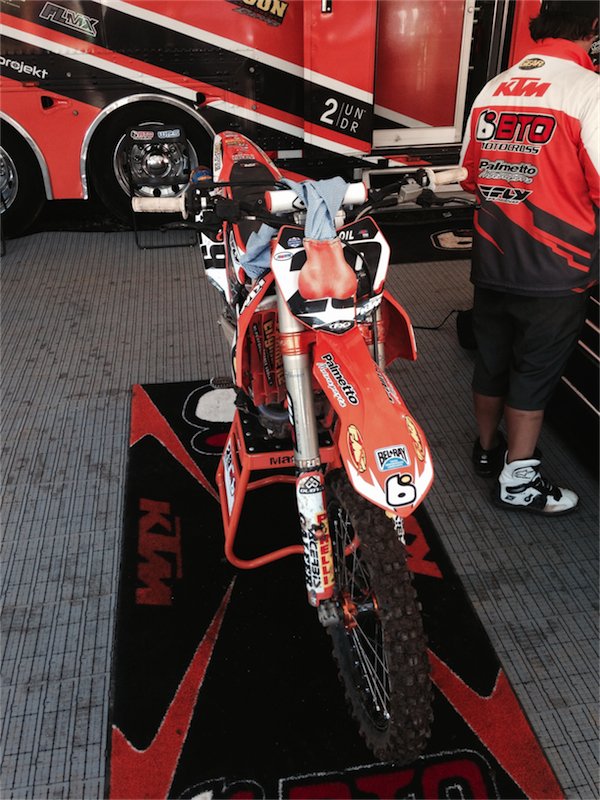 Unzip your pants, place balls on the handlebars
With team owner Forrest gone for the weekend, the BTO team was like a rudderless ship… insert Moser. I did my best to fill Forrest's shoes, I asked repeatedly who was in charge and nobody wanted to be responsible if something went wrong, so they said I could take the blame. I roamed under the tent ensuring people were doing their jobs by asking questions like; "What's that thing?" Why are you doing that?" "Are you sure that's the way you do that?" The most common answer to my questions were, "shut up Moser". I tried to stick to what I know and I'm good at, so I threw some balls on Shorty's handlebars and took pictures. All joking aside, you know you've got a good team of guys when the team owner doesn't have to show up at the race, and the team still runs like a swiss clock. Everyone knows their job and does it. In theory, this seems easy, but finding the right group of guys to do it is no easy task. It's fun to watch, there is basically no downtime on race day, it's just wide open organized chaos making sure everything gets done.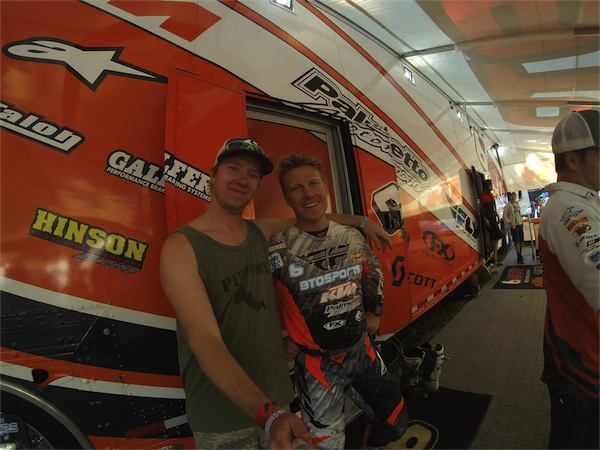 Shameless Shorty selfie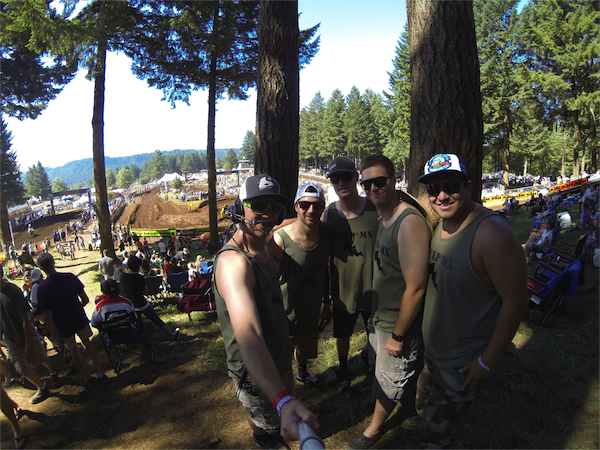 Team manager for a day
We blend right into the background in our camo green PulpMX army tank tops, but if you look closely, I'm wearing a team headset radio. They were probably joking when they told me I could wear a headset for practice, but I took them up on the offer immediately. What do the teams talk about on those things? I was sworn to secrecy that I'll never tell. It's mostly just lap times, track conditions, and line selection. There is some emphasis on which qualifying practice will potentially be faster, which I think varies from track to track. Washougal was still muddy from all the rain a couple days prior, so lap times were notably faster in the second timed practice session. Did I mention they let me wear a team radio?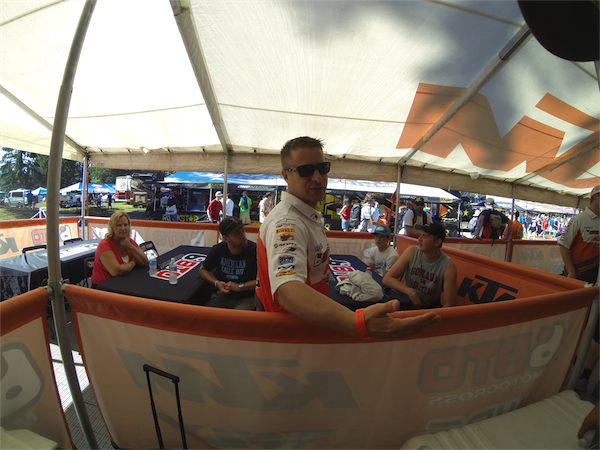 VIP
JT was busy looking "Fly", hosting his VIP group for the day. No joke, I don't know what hair product JT uses, but his hair was still perfect at the end of the day.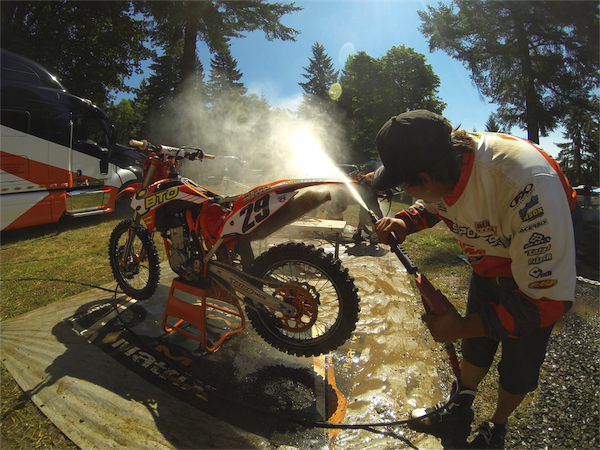 Spraying Shorty's undercarriage
The mechanics don't wash the bikes between practices, the turn around time is too short to justify it and any time you wash the bike, you could have more potential problems. While Nate was scrapping the mud off the bike between practices, he was asked at least 6 times why he wasn't washing it. As he grew more annoyed with the stupid questions he gets asked over and over each week, the more I laughed. Mechanics basically work in a fish bowl; there is no escaping the prying eyes and questions. I saw Berlutti wears earplugs, which makes it easier to ignore the fans when needed.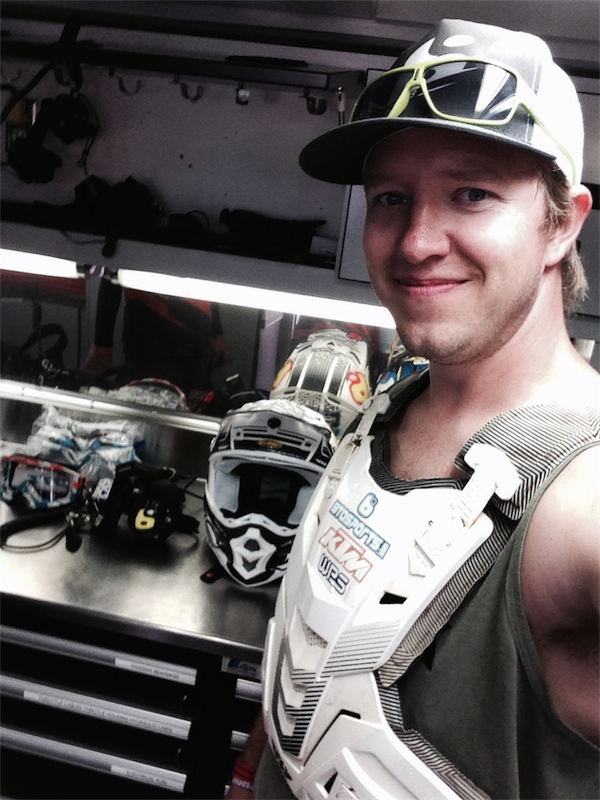 Personal gear fitter
I don't recall exactly what year it was, but I inherited washing Shorty's chest protector. Max, from Fly Racing, gives me this honor, and finds my enthusiasm for scrubbing dirt, amusing. After I clean it, I always try it on just to make sure everything is in order. If Shorty ever needs a personal gear stretcher/breaker-inner, I'm the guy for the job.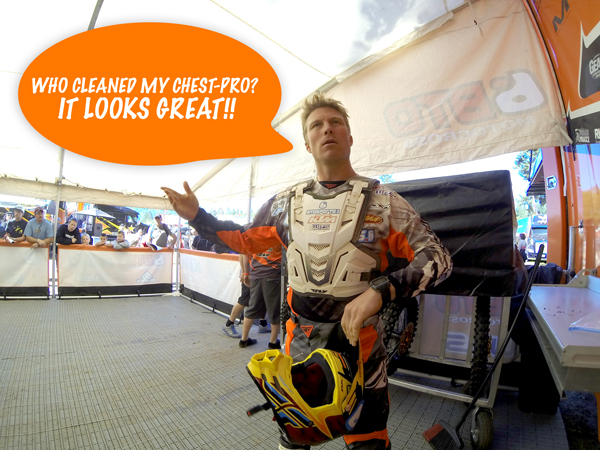 Great job Moser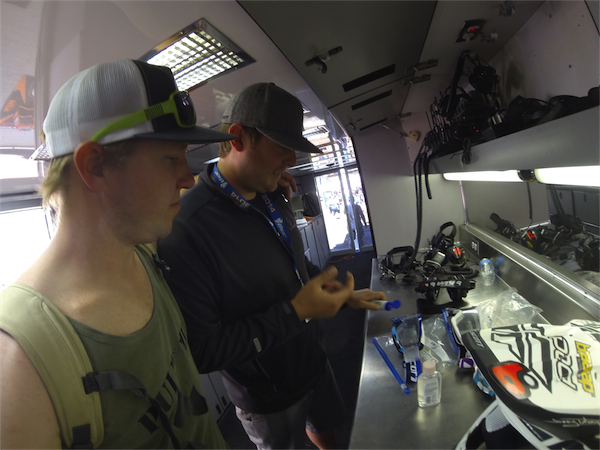 Secret Scott goggle prep
It's always good to see Knowles from Scott goggles. He owes my buddy Benny $20 from a bet at A1 a couple years ago, which Benny always throws in Knowles face. Knowles always offers to pay, then Benny declines and says let the money ride. I assure you it gets funnier every year. What did I take from all the neat tricks and tips that Knowles taught me about goggle prep? That fact that every weekend, he has to buy Maxi Pads, and a little bottle of lube.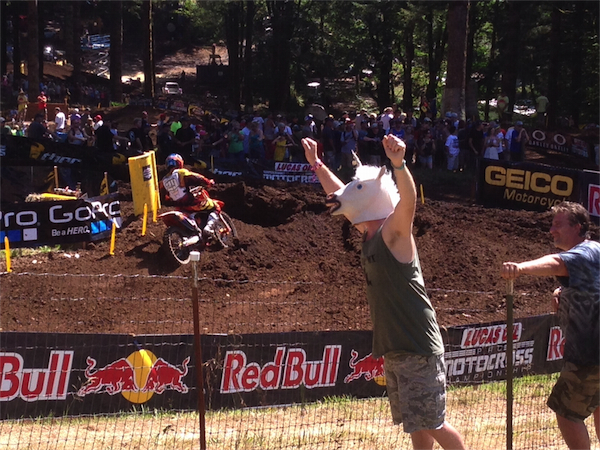 Mythical Washougal wildlife – Shorty had a good day at Washougal, there was even a unicorn spotted cheering him on.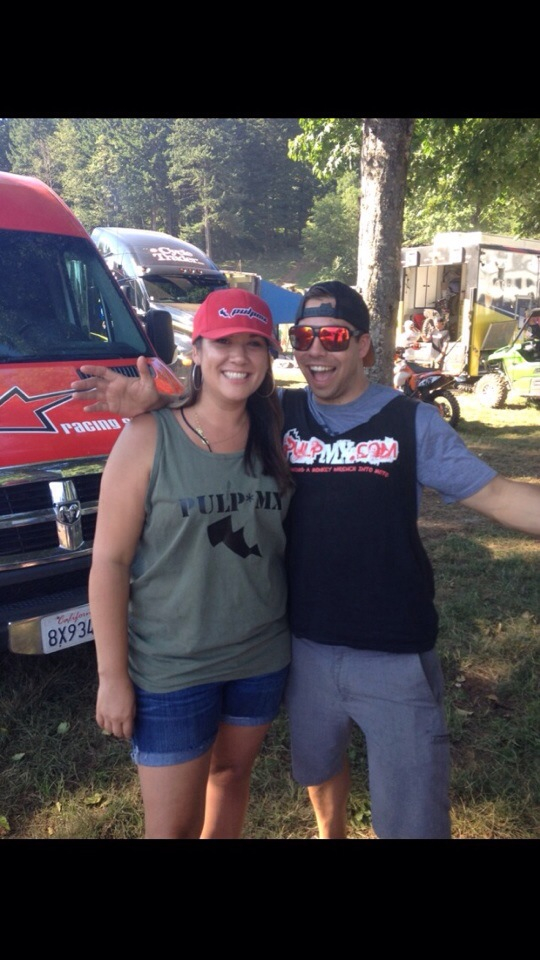 Pookie – Mrs. Matthes if you're nasty & Krad
Pookie came out of retirement for the nationals. We had the pleasure of her company throughout the motos with her LV purse in hand. We started at the Fox tent for snacks and beverages (Thanks Joey), then we worked our way around the track and up the hill. The uphill has the best overall viewing and it's shaded. The heat couldn't keep us from the back corner of the track, where there was no shade to be found and the line for the outhouse was soo long, men and women alike were headed for the bush (not that bush). Pookie was a good sport and a good time, she's going to make AC really happy someday. At some point there was a bet made between Pookie and Krad for one another's shirt. I don't recall what the bet was, but Pookie won the shirt right of Krad's back. I think Krad felt like the winner though, taking her custom cut Pookie PulpMX shirt home with him.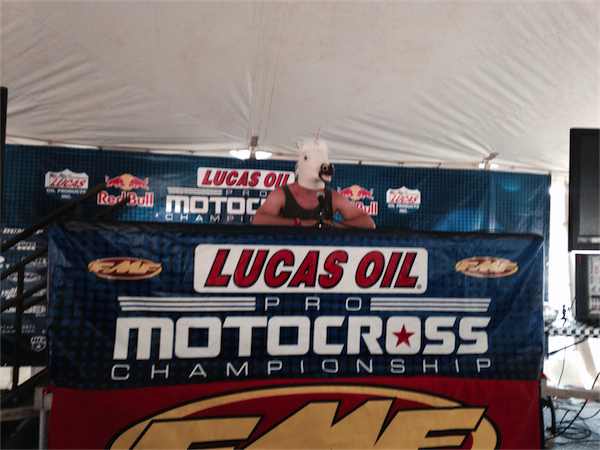 Gotta give it up to my team
After the races is when the pits finally calm down, and it's ideal "bro down" time. Washougal is one long traffic jam leaving the track, so most people hangout until the traffic lets up. Bench-racing and shit talking, most of which I can't repeat. The JS7 IV talk was still a hot topic and it's interesting to hear different peoples perspective about what's going to happen with the WADA tests. As fast as they set up the trucks and tents, they tear it down even faster, it really is a traveling circus. I owe a big thanks to a lot of people; 1st is JACKI SHORT for always getting me tickets to the race, my friends and I really appreciate it. Shorty, Nate, Coach and the entire BTO team – thank you for tolerating me. Matthes and Pookie – thanks for the new shades. Wallace and Lori – thank you for the awesome campsite and amazing food you spoiled us with. Weege – you know what you did and thank you sir. All my jerkoff buddies – I'm glad nobody died this year, I wouldn't want to go to Washougal without you, except for one of you that I wouldn't mind leaving at home… you know who you are. We already had a special guest reserve their spot in the Woody for next year! Yup… next year could be the year that someone finally dies.
Thanks for reading, please email jasonw@racerxill.comwith any compliments and complaints, he is also happy to provide you with the TV schedule for when the race will be aired in your area.
Moser