The Aussie went back to the GP's for a few races…
The Aussie went back to the GP's for a few races…
Interview and picture: Jonathan McCready
Dean Ferris' 2014 season hasn't went to plan at all. A late decision to ride in the USA meant he had limited time to adjust to supercross and his results were not what he or KTM had hoped for. While getting ready for the outdoor season, where he was really expected to shine, he broke his wrist while practising in Australia.
Then, as he prepared to get back into the AMA outdoor Nationals, he got the opportunity to return to the GPs but this time in MXGP on a factory Husqvarna. Ferris took his chance to impress the GP teams in the four races and has secured himself an MXGP deal next year.
We caught up with a friendly and confident Ferris to talk about his rollercoaster year, from the difficulties of learning supercross to a fine performance in the sands of Lommel, we also learnt he won't be racing the last three AMA nationals for KTM USA.
Pulp MX: It's been a tough season for you but you have really showed your potential again in these last few races for Husky.
Dean Ferris: Yeah it was really good. Obviously I was going to race in America and then I got the opportunity to race these last four European rounds of the GPs. So I was pretty happy about it, it was a tough return in Sweden but in Finland I was strong, Czech wasn't a great track for me but this weekend I was strong again. The finishes weren't as great as I thought I rode today but I am pretty happy.
Pulp MX: Did you expect to be as strong here today?
Actually I didn't know, it was a big question mark. But I was stronger than the riders just in front and I started to go really good at the end of the weekend and it makes me really happy and confident about my sand skills. That was the next piece of the puzzle for next year so I am happy about.
Pulp MX: Are you signed sealed and delivered to race MXGP next year?
Yeah I am signed, sealed and delivered but I can't say who just yet!
Pulp MX: You went to America and with the U23 and riders moving up were you worried it might be hard to get a ride next year?
No I wanted to move to MXGP this year but the way it all unfolded there was no ride for me, I got myself in a bit of a pickle and I got the opportunity of a good ride in a America and I took it even though that wasn't really what I wanted to do. But then I got the opportunity to come back and I took it.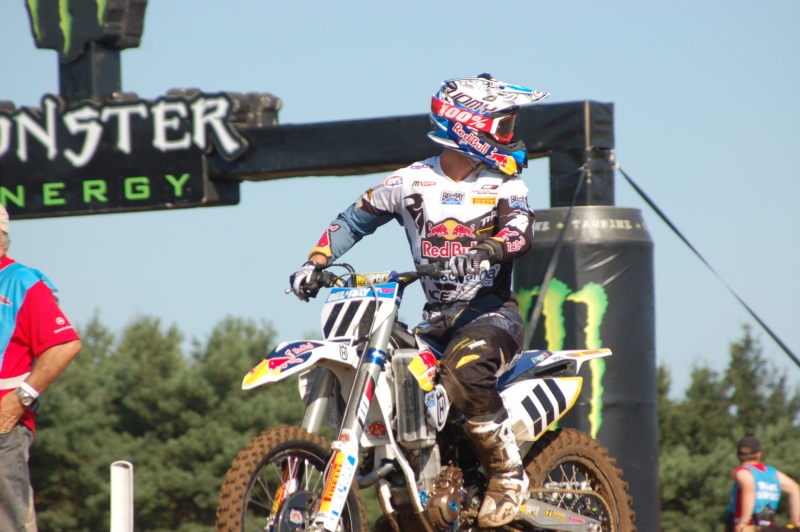 Ferris is going back to the GP's next year.
Pulp MX: Just regarding Supercross, when I was there for Anahiem and San Diego, your pace was decent but it was just the odd big mistake that caught you out, how did you find it?
Yeah it was just my timing. It was a bit rough, I didn't have much time to prepare, I just had a month and was thrown in at the deep it. But even still I thought I might have done better.
Pulp MX: Did you enjoy the experience?
Yeah I guess so, maybe when I look back on it I will think that but the results were shit so I didn't really enjoy it that much at the time! But when I look back on it in years to come I will have enjoyed it.
Pulp MX: Next week the US nationals are still doing to the last three for the KTM?
No that's off now, Husky said just stay here and focus on these races for now.
Pulp MX: Is that a bit unfortunate for you not to get the chance to show your speed there?
Yeah a little bit, it would have been nice but it will be nice to finally relax for a few days, this month has been so busy and hectic with returning to racing and getting sick and having four races in five weeks. Coming off the injury was the main thing but I was so happy with the team and bike, it was great.
Pulp MX: Have you any problems with the wrist?
No it is 100% now, in the beginning it was a little bit sore but now it's great.
Pulp MX: What are you goals for next year? It's heavily rumoured RV might be coming and regardless of that it will be a stacked class anyway, what do you expect?
It's hard to say but I know I will do well if I stick to the program and don't do anything stupid and hopefully see myself in the podium a few times for sure.