A great shot by one of the historians of the sport
A great shot by one of the historians of the sport
I started shooting Motocross Photos in 1975 basically just because I liked to but then when I started showing some of the guys I knew who raced they would tell me, hey you should sell those, when I asked them "who would buy these?" they said we would we'll buy them all. Those guys were true to their word and they bought every photo I took of them and that was the start of Buckley Photos. Since then I've shot a ton of local races around here in New England, I'd say 99.9% of the novices that have ever raced in New England have a Buckley photo of themselves hanging in their garage.
I also shot a ton of nationals and supercrosses X Games Gravity games road races GNCC's a little bit everything over the years traveling around the country shooting for almost every motorcycle magazine in the world I guess as well as shooting for almost every motocross clothing and accessory company in America. Want to order a classic print or something else? Go to buckleyphotos.com and we'll hook you up. Thanks for reading- Paul Buckley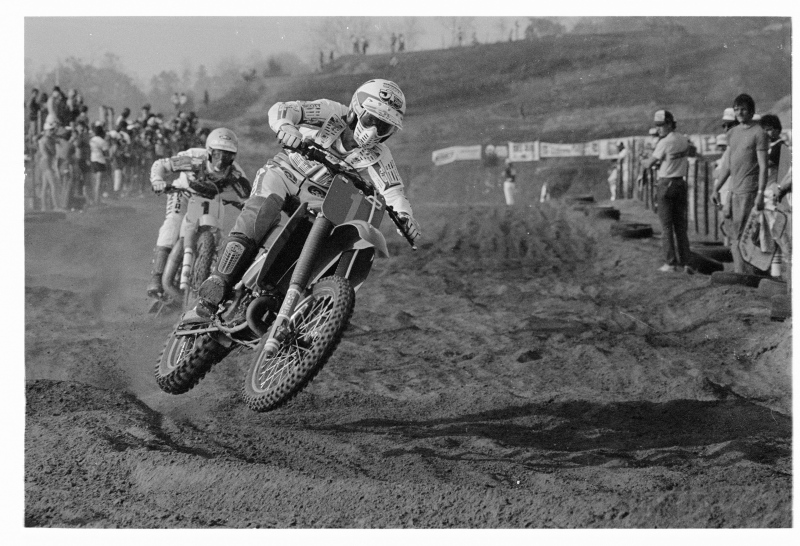 Two number ones in the same class? Welcome to the 1984 500 nationals!
Buckley- "This is the last time we looked like humans" That's what David Bailey said when I asked him to autograph a print of this photo (which is now hanging in Davey Coombs office, I gave it to him framed as a wedding present). The new JT helmets weren't DOT approved in time for the JT riders to wear them at Gainesville so they all had to scrounge around for helmets to wear at the National. I like just about everything about this shot, the two number ones, the simple banners in the background, the late afternoon side lighting and the rough track. I tried to duplicate it at later Gainesville races but all I ever could get was the same nice light."
Matthes-"Good story by Paul and I didn't know that about the JT helmets. I do remember that by the next race all the JT guys had them on. And man, they were SO cool. Except in Canada you couldn't wear'em because helmets had to be Snell certified. A few enterprising racers would buy the JT ones and put a sticker from another helmet on but the mighty CMA would catch on eventually. So alas, the JT helmet- we never really knew you in Canada.
Anyways, Bailey was the Grand National Champion in '83 (most combined points from sx and mx) and wore the yellow on blue number one while Glover was the defending 500 national champion. So, yeah, both guys wore number one. It was super weird but looking back, it was the only time that ever happened (because Bailey was defending supercross champion so no dual number ones there) and it did produce some moments. David waxed Glover this year on the works Honda versus Glover's stock-ish air-cooled YZ490. It wasn't even closer although no one else in the class could touch Broc so there were a lot of 1-1 and 2-2 scores in '84 500 series. The next year, with Bailey on an even tricker bike (although one he says now wasn't really that great- a sentiment that Johnny O'Mara and Ron Lechien back up) Glover got revenge by beating Bailey a bunch and getting his title back. One of the more amazing stories in American motocross for sure…hmmm, maybe a future column idea?
I've seen this photo on DC's wall at Racer X and it's a great shot. I guess it's just me but I'd much, much rather see it in color. I know a lot of people do dig the B&W though. A couple of motocross icons at the peak of their powers (with Glover's bike not so much at its peak) wearing JT and battling it out. Motocross captured indeed."