David Vuillemin answers the tough questons from Indiana MX
David Vuillemin answers the tough questons from Indiana MX
Photos by Simon Cudby
First off, you were a great mud rider. How do you ride fast in the mud and no surprise we had a Euro win both classes and another one ride great (CP) in the slop right?
Very often Euros perform good in the mud. We are used to it. Seems like in the US we only have 1 or 2 races a year in the mud. For me, I wasn't used to the mud because I am from the California of France. Track are crappy, hard packed and dusty but I always rode good at the races when it was muddy. I won my first 125 and 250 GP's in the mud as well as Mount Morris 2 years in a row (even if the Racer X vault doesn't credit me with the 200 win, I won that race) It wasn't from practicing in wet conditions. It was because I was riding like it was dry. Most riders have a mental block when it comes to mud riding. It's not that difficult. You have to pick good lines, stand up more and use your balance on the foot pegs. It's also important to pull on the handle bars so your front end don't get stuck. But, all those points make you a better rider on dry conditions too but it's not as noticeable if the riders don't like like that on the dry. What makes American better motocross riders is their aggressiveness and their fighting spirit. Most of the riders' motto these days is to ride hard for the length of a race with putting aside line choices and throttle control. That's not a good combo in the mud.
Another thing that helps the Euro rider in the mud is the fact that tracks, even dry in Europe, have such bad traction. From mini bikes and our early days of racing, we ride on crappy bone dry track in practice. In my days, I never ever had a prepped and waters track during the week in practice. Only if I was going to Northern Italy to practice when they are set-up more like in the US. We learn about throttle control and be easy on the brakes as soon as we begin riding dirt bikes. And indirectly, it helps us in muddy conditions. Lot of people were surprised to see CP finish strong in the second moto when he never really showed that in the 10 previous races. Mud races level the field physically, the temperature isn't as high as usual, the track doesn't get that rough since they scraped the mud all day and you don't go all out like in Red Bud or Budds Creek for example. I think those reasons played a factor in CP overall performance last saturday. He had a great first moto coming from way back too. Good to see him race all the way until the finish.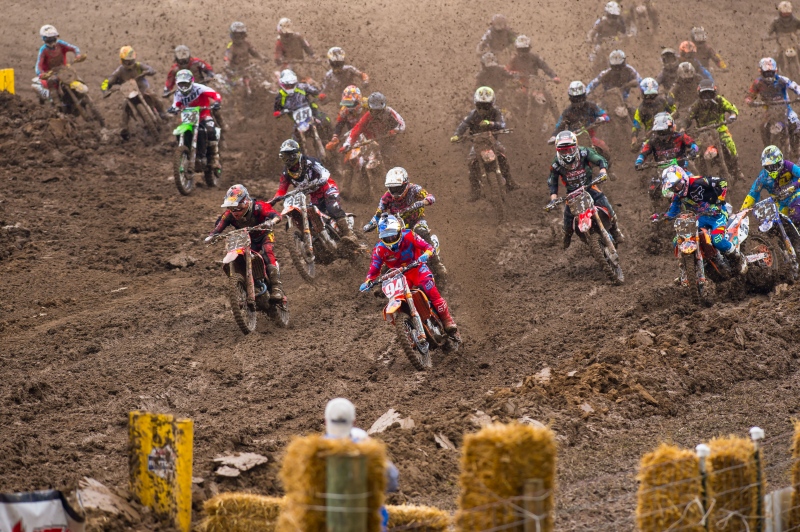 Roczen got two great starts in Indiana.
Some Dungey fans are upset that it took a mud race to effectively ruin the title chase for the #5 but that's part of motocross right?
Obviously, the mud was a big break for Roczen. It was a blessing for Ken who struggled the last few races. The MX Gods were German last weekend for sure. When it looked like Dungey had the momentum, in came the mud. I think it boosted Ken mentally to have a mud race and it showed. It might have worked the opposite way for Dungey. The rain is part of a motocross season and Ken did exactly what he had to do. I talked about it in my last column. I said if Roczen could beat Dungey 2 out of 4 times that he would have a good chance to win the title. That's exactly what happened. Ryan did good in the first moto but lost 3 points on Ken. RD had to beat him in moto to keep a good chance for the title in Utah. By getting 9th in the second, most of the hope is gone. It's a bummer because it would have been great for us if those 2 guys had a "wash" in Indiana or if RD kept the points difference under 10. Both of those guys deserve to win the title but you can't blame a mud race if you're a Dungey fan. It will be a well deserved championship for the German…
Jessy Nelson, what did you see from the first moto winner and it looked like he was going to win the second moto.
Jessy looked great. Obviously the starts helped him like they help anyone in the mud. Like I said in my first answer , it looks like Jessy was riding like it was a dry track. He just rode and it's exactly what you have to do in those conditions. He's Californian and obviously not a mud specialist but adapted very well to the conditions. I also thought he was going to upset everyone with a 1-1 but he started making mistakes and even crashed. Add to it that Marvin and CP actually rode great and since they don't want to get beat by the other, they helped themselves indirectly. I guess being the first Frenchy is pretty important to them… I don't know if CP would've ridden that hard until the 2nd moto checkered flag if Martin, or anyone but Marvin, was winning the race. I call it the French emulation. Anyhow, it was good to see different guys mixing it up in the front like Jessy or Savatgy.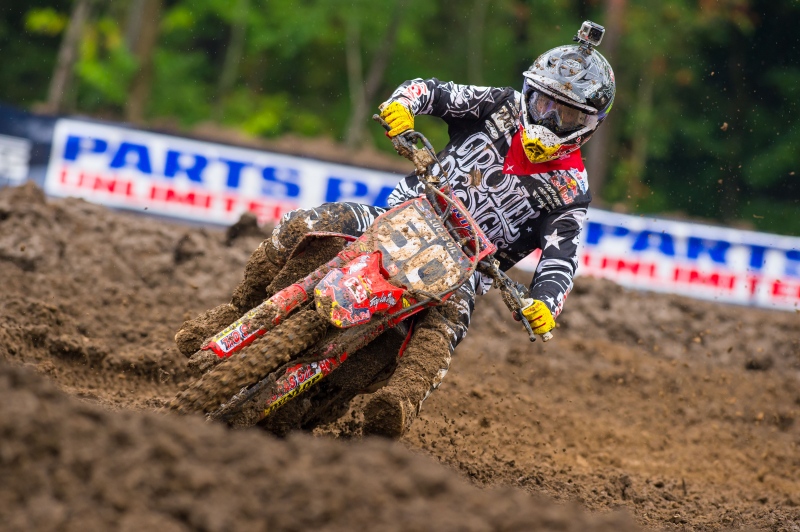 TLD Honda's Jessy Nelson won the first moto and led the second one for a long time.
What did you think of the track and the new facility?
The track layout looked great. I am not a big fan of super fast sweeping first turn on the start like they had on that track but the rest looked pretty fun. I can wait to see a race there with dry conditions. Looks like they had a few fun big jumps that no one was obviously doing on saturday. Marc Peters knows what he's doing when it comes to building a track unlike other guys that call themselves track designers. Yes, Jody, that's for you… You've sucked at it for decades. Find a new hobby, that one ain't for you.
Your best ever mud race?
I had a few good ones. Obviously Mount Morris 2000 which was my second national win and my first moto win. It was actually way more muddy than last saturday. In 1999, at the 250 GP in Foxhill, England, it was a mud fest. I was leading the first moto with a 30 second plus lead when my bike blew up with 3-4 laps to go… Since we can tech 2 bikes in GPs, I actually rode my practice bike in moto 2 and won. I would have loved to go 1-1 there. I think it was the mud race I rode the best at. I actually never went 1-1 at any GPs or Nationals in my career…
You have to be pumped that your old team Yamaha that has been down in the dumps for a number of years have rebounded with strong rides this season.
They said on the broadcast that the last Champion in the 125/250f class riding a Yamaha was Emig in 1992. I never really thought about it but a 22 year drought is a very long time. I'm pumped for those guys at Yamaha and also for the Star Racing team. Bobby Reagan has been around and spending a lot of money for a long time. It's cool that his team finally won a National championship and the amateur recruiting strategy a-la-factory connection is paying off for Yamaha too. They picked up Martin and Webb as amateurs like Factory Connection has been doing for a while. Yamaha came out with a brand new 250f this season and won the biggest American championship of its class. Doesn't get any better than that.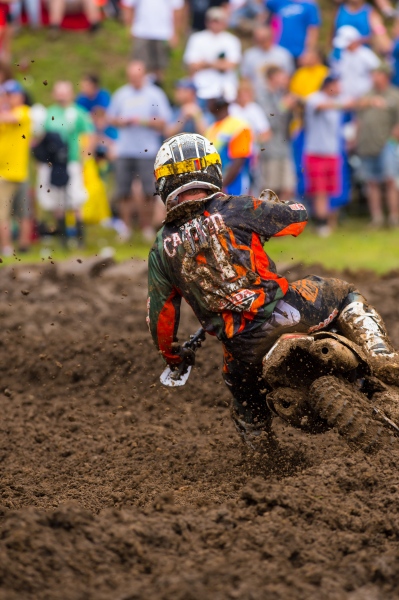 Canard won his second moto in as many weeks in the slop.
Trey Canard! He did it again.
It's not surprising. Trey is a great outdoor rider and a former national champion. After all the big injuries and set backs we had, it's cool to see him winning motos and mixing it up up front again. I'd love to see what he can do showing up at 100% at Anaheim 1 and stay injury free until the last national of the season. He was flying in the second moto in Indiana. He was almost 2 second faster on his fastest lap (2'55″1) than Tomac (2'57″0) and close to 3 second faster than Roczen (2'58″0). That's huge.