I have access to a lot of moto info that isn't publicly available but with a full time job, 3 kids and a busy life outside of moto, I don't ask many of them. Today that changes.
I have access to a lot of moto info that isn't publicly available but with a full time job, 3 kids and a busy life outside of moto, I don't ask many of them. Today that changes.
Photos By: James Lissimore
I'm going to skip the opinions and pondering that Swizcorner is usually made up of and simply tee up the untended-to questions which have been swimming the seas of my cranium over the past few weeks. But who to go to for the answers? That's easy. The first person I thought of asking was Weege but he just had a new baby so right now he's not exactly in his "I am Southwick" frame of mind. Next on my list was the people's champ, JT. He's been too busy hanging with Valentino Rossi, Chad Reed, Antonio Cairolli and having his Team USA fleece dry cleaned to get back to me. I thought for sure that mountain of current moto knowledge, Tits Legendary could answer all of my questions but alas, he won't take a moment from clicking refresh on his iPhone 6 PLUS tracking page to even answer one of my inquiries.
That left me with the unprotected one. Steve Matthes. Oh yeah, my boss just may have an idea or two about these issues which keep me up at night. So lets get this started, shall we?
These are in completely random order as my synapses fire in random patterns.
I always thought a race team's top priority was results. Why would Team Honda force a fork setup down a riders throat as they did with Justin Barcia and in the 11th hour give Trey the option he preferred by moving to a different fork? Rider comfort is paramount and if their mentality is all in on one setup over another, why force them onto something they don't believe in?
Justin Barcia won races on a Showa air-fork and Showa was, for a long, long time, the suspension company of choice for Honda. I get why they went with Showa. If anyone at Honda would've thought that bolting on some KYB suspension would turn around the season the way it did with Canard then I can assure you the KYB's would've been on there. As any listener to my shows can attest to, I do not believe that a rider "cannot" win on Showa stuff and "can" win on KYB. It's not that simple—if it were then we would see every single team ditch the Showa's and put on KYB's. And here's where I point out that Villopoto has won a shit-ton of races on Showa triple-air fork.
The Barcia/Honda divorce is so weird. Historians might be looking at this years from now and still not really know what happened. Before the season all I heard was how fast Justin was going. He set the fastest time at A1, came from behind to pass JS7 and win his heat race and after a terrible start was on fire in the first main event of the year. Then in Phoenix he battled with Justin Brayton for the lead early in the main event and everyone in the stadium knew that Barcia would motor by Brayton and win the race for the second year in a row. Only he didn't and he fell apart. This started the second guessing by Team Barcia, Jeff Stanton tried to help but Justin and his family missed Erik Kehoe a lot and there was some distrust on both sides on how the bike was causing Barcia's struggles.
I cannot deny Canard's turnaround on the KYB's but Showa suspension was not the reason Barcia struggled this year.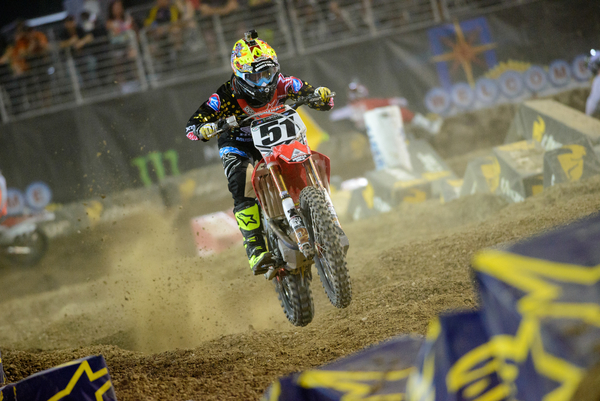 Barcia had some highs and lows in 2014 but Boss doesn't think the forks were the main culprit.
We now see that Josh Grant has joined Team TwoTwo. We know how good Josh can be but those moments have proven to be fleeting in recent years. Do you see this being a "perfect fit" or do you anticipate a frustrated owner in Chad Reed and a strained relationship when all is said and done? Or does it all come down to Chad just being happy with another Two Two bike out on the track without a painful investment on his dime?
Yeah, the second part. Reed has told us all many times that he only wanted to put a second guy on his team if he was good enough to win or be a contender. So hiring Grant is a weird move but I've been told behind the scenes that JG is bringing some money in with him (possibly from his old team owner Mike Kranyak) and that's probably something that sounds pretty good to Chad who must be writing some serious checks to cover the overhead he's got going on. I had someone at JGR last year tell me that they had the perfect single rider. I asked what they were talking about and this guy informed me that the perfect rider would be one that rides like Justin Brayton in supercross and Grant in motocross. So they had one perfect rider!
I think as far as results, Chad's going to be fine with whatever. He knows the deal, he knows what he's getting in Josh and this is a way to get more exposure for Discount Tire and whomever else he brings in.
What do you think James Stewart is learning if anything from his current status in moto? He's like Howard Hughes at this point. He's made mistakes and gone incognito as he always does. I can't remember a rider who had a more seemingly contentious relationship with his fans. He's always tweeting and IG-ing about how much he appreciates his supporters, yet his actions and elusiveness suggest that they are shills and not worthy of explanations when things aren't optimal.
I don't think they're "shills" for him but as I've been saying, I do feel bad for his fans. Stewart didn't show up for the last half of the nationals because as a few PR's told us, he was "recovering" but from what we have no idea. He was riding during the week, Instagraming photos of him riding and if you were a fan of his you would have no idea why your favorite racer wasn't riding. Just peruse the reader comments to his photos he's posted and you can see the confusion his fans have. It's too bad really, I'm pretty in the know when it comes to this sport and I have no clue as to why he's not racing. I've heard that he wasn't able to get his TUE (Therapeutic Use Exemption) for Adderall for the motocross series in time so if he tested positive he would face sanctions in the outdoor series as well. But then I heard from good sources that MX Sports eventually told everyone that if they tested positive for anything it there wouldn't be any penalties this year because they didn't give the racers enough time to get TUE's in (these things take a while I guess) so therefore they couldn't penalize anyone. And I also heard from great sources that JS did test positive for Adderall from Lakewood but again, with no TUE and no time to get a TUE nothing was done. So the first reason for not racing (no TUE) goes against what I heard of no penalties for a TUE. So as you can see, I'm confused. I just know that I've seen JS7 sign autographs for as many fans as he can after the races and there's an effort there to be there for the fans. But yet, he didn't race the last half of the nationals.
I'm more confused than ever when it comes to Stewart and I'm not able to reach out to him because he's pretty pissed at me for things I wrote about his situation with testing positive in SX and the nurse incident at Millville. I don't know what's going on with him but I don't think your question is quite correct. He appreciates his fans but Camp Stewart has circled the wagons as they have with many different things that have come up in his time on the circuit and we'll probably never know what's really going on.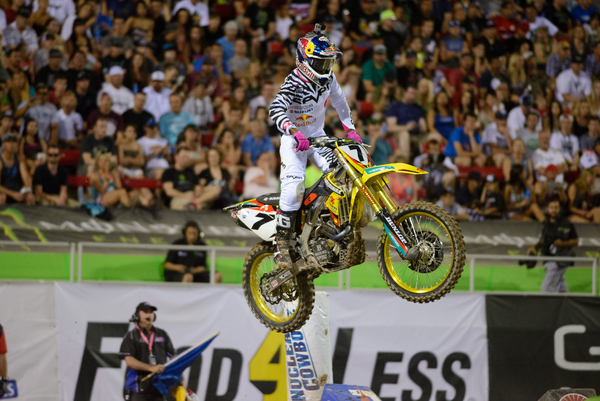 2015 could literally go any number of directions for James. I'm still interested.
Did Red Bull develop the Straight Rhythm in direct response to the Monster Energy Cup's success? Do you see the Straight Rhythm gaining steam and turning into an alternative "series" which could be held and drag-strips across the country like Supercross has?
I'm not sure if the MEC had anything to do with the Straight Rhythm being invented but the date (two weeks before the MEC) is definitely NOT an accident. I look for an onslaught of MEC press releases the entire week of the Red Bull event. Just watch.
I think it's a cool idea and the bonus of the thing is it can be held almost anywhere in urban areas. If Red Bull wants to, it can rent out a street in downtown NYC and hold one of these things. This event seems like a great idea, I'm excited to see what the dudes at RB can do and it can go as far as Red Bull wants it to go. Put up some money and you'll get guys to show up- it's that simple.
Is there a better publicity move that Red Bull could have made for the Straight Rhythm than bringing back Travis Pastrana on a 500cc two-stroke?!
Probably not but these hybrid bikes with 500 motors crammed into a modern four stroke chassis are not a good idea for a serious racer. The OEM's are very smart, they build the aluminum frames to flex in certain places for characteristics of a 450cc four-stroke motor and the welds, braces, etc are designed for one motor. You have dudes cramming a two-stroke motor that hits harder (causing different flex) produces more horsepower (causing different pressure points) and then they're making and welding their own brackets on there (changing, well, everything) and they're pretty scary. But hey, TP only has to go in a straight line so whatever. Good to see him back and I just hope he doesn't kill himself or fans if the bike gets away from him.
What do you think is the real reason RV doesn't want to contend for a 5th straight SX title? Is he fed up with the US moto "circus", fans or you media guys? Is he just wanting to really test himself against Cairolli and stuff a boot in the mouth of that GP/US debate? Do what no one ever has, get inside RV's head and tell me what is up with this move.
I believe that he didn't want to race this year in America, Europe or even the Hawaiian nationals but he was contracted to Kawasaki for one more year and was forced to fulfill that. Why Kawasaki wouldn't just let a guy walk away from a contract after all he's done for them is a little weird but that is their right. Both parties signed a contract for three years two years ago and so Ryan was forced to honor it. Supercross 2015 is out due to his knee injury (he's only cleared to start riding in late November) so if he was forced to race a motocross series, I think he and his wife decided to travel Europe, see some sights, have a more relaxing schedule and oh yeah, race for a World Title.
I don't believe for one second that he has some sort of drive to go to Europe and win a World Title to prove who is the best. Yes he'll be proud to go there and rep the red, white and blue and yes he'll race his balls off to try and win but if Kawasaki had decided to let him go, he would be retired right now. This is all about choosing the least difficult option of racing (in terms of schedule) and trying to get him excited to race motocross once again. Lucky for us, he chose GP's and we're in for a treat.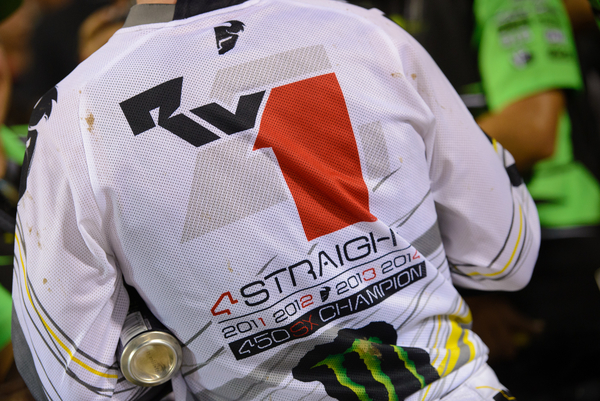 It's so crazy to me that RV is just over it even though he has won 4 straight titles.
What do you think will cause the Canadian MXdN team to miss the A main this year? (ducks)
F**K you bro. Team Canada came as close as one team can to winning the B Main and getting the ticket into the A main last year. And this year they have Colton Facciotti on the team who is a world class rider and won't be intimidated by his surroundings. I predict A main easily and an 11th place overall.
Everyone seems to have high expectations for Dean as he moves to the 450 but I feel like the arm pump issues he showed on the Two Two bike this year were legitimate concerns and not at all alleviated. Do you think the arm pump was a fleeting thing that won't resurrect itself in 2015?
"We can work with speed"- Mitch Payton. That's all I heard from the Dean Wilson fan club this year (president Dan Truman, VP Jason Thomas and head booster Jason Weigandt). He parted with Ryno a while back and although no one was pointing any fingers at Hughes for the reason why he was getting arm pump, there's no doubt that he didn't get it before he hooked up with Ryan as a trainer. So I don't know whether his arm pump will come back or not for sure (I'm thinking no) but this is a big year for Dean-o in terms of showing us what he can do.
The fact that he did well in his brief appearance in the 450 class doesn't mean all that much to me. Guys like Michael Byrne, Travis Preston, Josh Grant have all jumped to the bigger class while in 250's and got some great results. But they never really proved that they were a long-term 450SX podium guy for their careers. But there was that Reed guy in '02 that showed he was pretty fast on the big bike.
This is a lame sunday "pregame" question we often hear lobbed on NFL sunday but who do you see having the most surprisingly good result at the MEC that makes fans and industry's eyebrows raise?
This is an obvious answer- Josh Hansen and I predict a lot of "What would he be able to do if he trained?" and "He's getting screwed by the industry" and "Man he's got so much talent" to be said later on after the race at the Circle Bar at Hard Rock.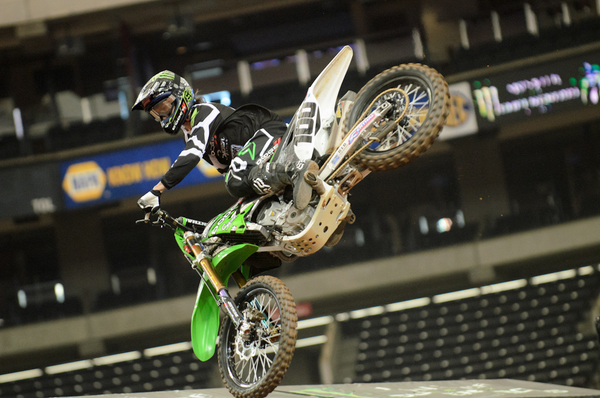 That's right, Boss says Hanny will be the most exciting story at the MEC.
The last time Millsaps raced SX, he was legitimately battling for the title. He's been off a long time (a long long time in race terms), I think he can come back and battle for wins. Am I high?
I don't know man. He was off as long as Christophe Pourcel was and although Pourcel won a race he wasn't in title contention. Like you said, a year and a half away from racing is like people years to dog years—every six months away from racing is equal to 3 years in real time. It's always tough to come back to your old level- look at Pourcel, Mike Kiedrowski, Damon Bradshaw or virtually any of the other dudes that have been away that long. Now granted, Millsaps didn't "retire" and come back- he was just hurt- but it's a VERY risky hire for Kawasaki and Davi's got a lot of work ahead of him (luckily he discovered actual training for motocross a couple of years ago) to get back to his old level. I'm not saying he can't but I'm also not saying he can. #wafflewaffle
Who wins a title first the Raiders, the Maple Leafs or the Canadian MXdN team? Does this happen while your alive?
Years ago I would've said this definitely would have happened but now I'm not so sure. It's depressing year after year. One thing that will NEVER happen while I'm alive is Canada winning the MXDN. But if we could ever get top five…
Go Leafs go!