We get a quiet hardworking rider to chat about his season and life.
We get a quiet hardworking rider to chat about his season and life.
Photos: Simon Cudby
You see the names scrolling on top of the screen, but every one of those riders has a story to tell. This is the best part of the business when we get to know those unsung heroes. These are the guys who do it all to get to that next level. They are doing it because they want to better themselves and make a living in the sport. They also do it because they love it and it's who they are.
Before he went 16-16 in the 450 class last week for 17th overall, Jesse Wentland chatted with us while he was on the way to Thunder Valley. From the comforts of his private jet Wentland talked about his season thus far and what to expect from him moving forward. Oh, and by the comforts of a jet we mean from the inside of a cramped van with two other dudes somewhere in the state of Utah.
Last week we chatted with his teammate Zack Williams and you can view that interview here.
All in all we were all able to waste an hour of driving time and the team made it to Thunder Valley unscathed. This is part 2/2.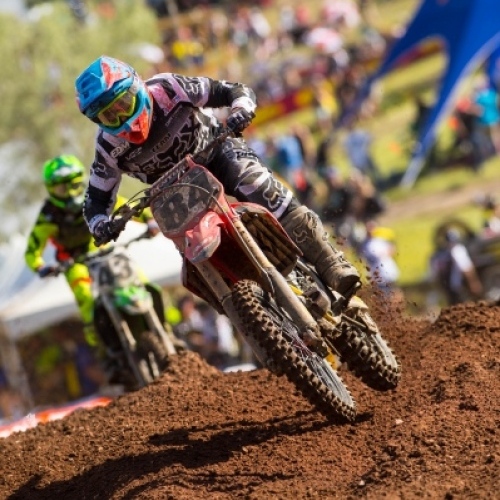 Wentland is quietly climbing the results.
Pulpmx: What's up Jesse?
Jesse Wentland: Not a whole lot. We're on the road.
I get that. (Laughs) You're teammate filled me in on all of that. How's the drive going for you?
It's going pretty good. We're making Tyler drive right now.
You need to make him drive the entire time.
That's what our plan was. He got pretty tired this morning so I took over for about two hours. He passed out in the passenger seat.
Oh, he acts like he is always so tired.
(Laughs)
Why don't you give the people who may not know you an introduction about yourself?
Well, I'm 21 years old and I'm from Elk River, Minnesota. I grew up racing with Zack (Williams), my teammate, and we ride for RSR/Star Cycle Honda. I love to go road biking, mountain biking, snowboarding, and pretty much anything that's outdoors. I love being outside. I also like to go fishing and spending time with my family. There isn't much else. We're living in Florida right now. We drove out to California for the first couple of rounds. We're on our way back to Florida after Thunder Valley. We'll probably be based out of Florida for the rest of the season at our trainer Dylan Turner's house.
That's a cool story right there. It isn't often that you grow up with another rider and then end up on the same team as a professional.
Yeah, it's pretty cool to have one of your best friends as a teammate and get to ride with them all the time as well as train with them. We push each other quite a bit. He's obviously in the 250 class and I'm on the 450, but it definitely helps us push one another. We have Dylan who is always there to help us at the track. He's making sure that we are doing our riding program and trying to push us as well.
Let's chat about your season a bit thus far. At Glen Helen you were 23rd, which was way better than Hangtown where you were 38th. You're moving in the right direction now.
Yeah, Glen Helen was pretty good and a lot better than Hangtown. We had some bike problems at Hangtown. I feel like Glen Helen was a decent start for me. I haven't been racing since last summer. I have been getting hurt quite a bit and had a bad luck streak of injuries. To come out and get a point at Glen Helen was a great start to me. I definitely want to come out this weekend and hopefully get more points. I want to finish more in the top fifteen.
So that's the goal for each week?
Yeah, that's pretty much my goal all season is to be right up inside the top fifteen. I just want to give it 100 percent at every race. Towards the end of the season I want to get closer to the top ten. I know that is going to be tough because there are a lot of fast guys. I definitely feel like I can run with those guys and get out front.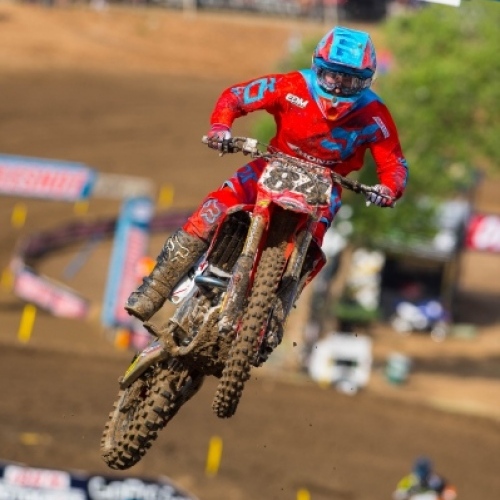 Wentland decided to stay home this summer instead of racing in Canada like he did last year.
Are you more comfortable on the 450?
A little bit, yeah. I'm kind of a bigger guy at 170 lbs. It definitely fits me better, especially on the start. I feel like on a 250 I'm just underpowered on the start. I've always struggled with starts on the 250.
You must have had a growth spurt in the past couple of years?
No, I've just always been naturally a bigger kid. I'm not too tall. I'm only 5'9, but I'm pretty thick.
You're just muscular.
Exactly.
Did you and Zack get to choose what class you wanted to ride this summer or were you hired specifically for each class?
Originally I was going to ride in supercross for RSR, but I ended up getting hurt. I was down in Texas riding on a 250. We were planning on doing the 250 class. The team was going to bring on Blake Dungey to ride the 450 outdoors. He just decided that it wasn't for him. He didn't want to race. The team owner asked me if I wanted to hop on the 450 for outdoors. I took the opportunity because I love riding the 450 more. I thought it would be a better decision than riding the 250.
That's an interesting point there with Dungey. That was some big news there when it was announced that he would be returning to the gate. Now it works out better for you because you can ride what you want.
Exactly. It sure does.
I know you guys just started driving, but do you have any good road trip stories yet?
There are a lot of selfies from Tyler. He is always taking selfies and talking to his Tinder chicks (Laughs). They were all amped up ready to go this morning and I just passed out in the passenger seat.
(Laughs) You're getting focused on the upcoming East Coast swing that's all. Are you excited for that?
Yeah, I am. I've never ridden Glen Helen or Hangtown before. That was my first time. I've never been to Thunder Valley either. It'll be a cool and new experience for me. I'm looking forward to racing in Colorado because I've always enjoyed the state. I've driven through the state, but I have never had the opportunity to race. I'm definitely looking forward to the East Coast rounds. I've ridden Red Bud, Muddy Creek, and Millville of course. I'm pretty familiar with all of them.
Awesome man. I appreciate you taking the time out of your busy road trip to chat. A lot of people that watch the races may see a name, but they never know the full story.
Yeah, we're definitely pretty quiet. It's hard in this industry. You always have to be out there to get peoples attention. It's definitely hard to do.
It is. However, if you keep improving and doing what you need to do you'll get noticed for that. It's cool that you two are two hard working guys from Minnesota that let your riding do the talking.
Yeah, we're pretty humble. Zack and I are pretty quiet. We kind of let our results show who we are. When we have a bad weekend we get pretty bummed on ourselves. We stick to ourselves and try to do better the next weekend.
Who would you like to thank for helping you out this year.
Rick Schugel, Star Cycle, Wisconsin Kenworth, North American Trailer, Blaine Brothers, Jenson Motors, Thermo King, Badger Utility, Loves Travel Shops, Pro Circuit, Works Connection, Rekluse, Renthal, Motorex, Faster USA, Fox, Dunlop, X Brand, Black Diamond MX, and my mechanic Sean Robertson. Sean has been working really hard for us and manages the whole team and getting us a few smaller sponsors. He has been helping us out a lot.