Some key people talk about their race at the creek that's muddy
Some key people talk about their race at the creek that's muddy
Photos by Mike Sweeney
Phil Nicoletti
Fifth overall, nice day today.
It started off rough with you talking shit though…
What happened?
All I know is I'm sucking wind for my life up there seeing God at the gates of heaven and I just hear Matthes' voice over the intercom talking crap about me as I'm dying up there.
I just said it looks like you went down, let's hope for the best.
You're such a liar.
I don't think I was saying anything bad.
I don't know. But it hurt really bad.
Did you hurt your bum bum?
Yeah, I did. It sucked.
What'd you do?
I just jumped up, trippled up and I jumped on the right side so when I landed there was muck. When I mean I stuck and I cartwheeled, I freaking cartwheeled. So it was painful. So I went and got a Toradol shot. So the Asterisk people took care of me. Then butt was numbed up pretty good. Ripped a good start in the first moto. Barcia went down, led for two or three laps, held onto 4th. Baggett was putting on a pretty gnarly charge there at the end.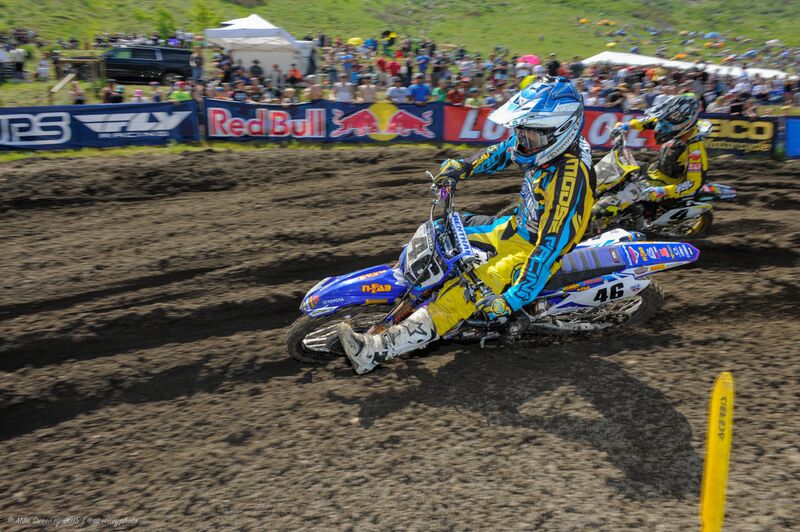 Filthy Phil's just setting career bests every week with leading motos and overall results.
You probably looked back and was like, not this guy.
I was going to cartwheel my brains out before I let him pass me. Which was good, so I was happy with that. Roczen was right there. I don't know what the deal was with him. I don't know if he's back injury or fading or what but he rode good in the second moto so obviously it was something. And the second moto was going good. I think I was 8th and then lappers stopped. They got to do something with the blue flags.
Well this track's narrow too, it doesn't help.
I don't give two craps. If you see a blue flag, get in the water lane. Do something. I know they're racing too. I ended up hitting a lapper and I fell down side of a jump then Brayton got me, which I was kind of bummed about. But overall it's my best overall, I went 4-9. It was good. It's good to be back on the east coast seeing family and friends again which always make it a lot more enjoyable.
What was it like leading laps? And not just like one, a few.
It's hard to for me because I get in that position and I'm still at that point where I'm like, oh shit, what do I do? And then I see Red Bull guys cheering Dungey on so obviously I know it's him and I'm just like, oh man, oh man, what do I do? But it's just putting yourself in that position, running that pace more and more. Like I said, it's not easy for me but we're getting better with it. But it's my best overall result I think, so I'm excited.
Seems like it.
I don't know. It was good. I survived. It could have been a lot worse for sure.
By the way that's straight motos where Alex Martin has been dead last.
I know, I'm so bummed.
I don't even want to go over there right now.
I'm going over there because after the way they shit talked me I'm going to go over there and be like, listen, dude…
Like, look, I just led today.
I feel bad for him because he was on such a role but that's a part of our sport. It's a roller coaster ride so he'll stick with it. He's been in a lot worse positions. He'll pull his head out of his butt and get her done.
One thing about all three of you guys on the team here, you're all pulling great starts with that bike, which is like half the race.
It is half the race. It's no secret our bikes are really good but you also still got to be a good starter. The block behind the starting gate where the boundary is, it put you really close to the gate. So you didn't have much roll speed.
That's not good for the 800. He likes roll speed.
Exactly. That put a little different dynamic on the situation. It was even different for me because you actually had to stay there. You couldn't creep or nothing. But our bikes worked really good. You can't complain. Just get a few more holeshots and put yourself in good position and it should be dialed.
****
Marvin Musquin
Hey, nice comeback there in the second moto and how's the thumb?
It's tough to push with my hand and hold to the handlebar but it was getting better and better and obviously today was pretty good. It was harder in practice but it was getting better and the moto was good. And Dr. G was here so we taped the wrist so it was good.
Bummer you fell. You still rode terrific to come from almost last to where you were. You lost the overall but still a nice day for you.
Yeah, thank you. I felt good. If you talk to Ryan Dungey we had some new setting this weekend. I was actually watching Ryan and his bike was looking really good. I was happy about my bike. Good thing. We both had a good day. First moto was just perfect. I had a great start and leading the moto and tried to get a gap and then control that gap and won first moto. It was perfect. Then the second moto I was really looking for the same thing, getting the holeshot. Obviously it was not the case. But I tried to push really hard right after the start. Jeremy got sideways a little bit right before that turn. It was really rutted and I went down. I don't remember exactly but it was a little jump before that turn and it was really deep ruts and made a mistake and just fell. I thought I could pick up the bike really quick and just go but someone was behind me so I couldn't pick up the bike. And then I stalled the bike so it took me a little bit to get back and going. Mentally it's tough.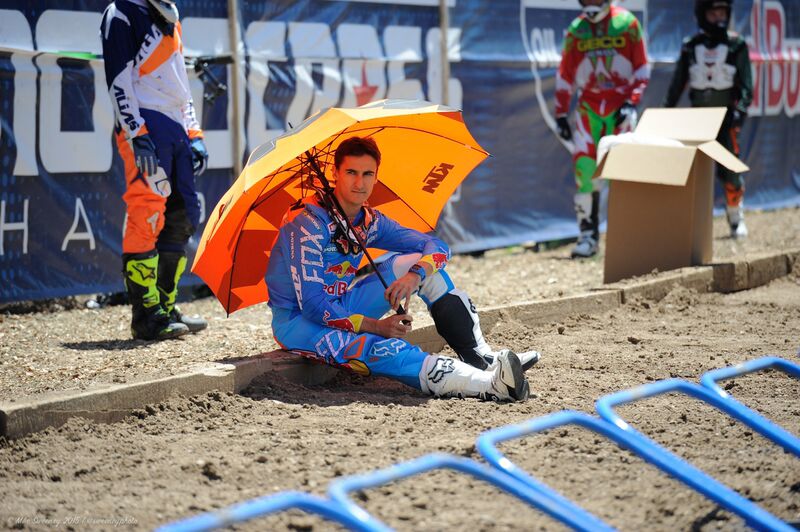 Marv went 1-4 in Muddy Creek with a couple of impressive rides.
Also too this track's not easy to pass on. It's narrow in some spots.
Yeah, it is, but the track was actually pretty good, rutted and technical. I'm really happy. I made it happen. I made good passes. I was feeling confident on making those passes so I was really happy. But then at one point, the closer you get to top 5 for example, the faster the guys are. So it was tough. It was humid so I spent a lot of energy also. After halfway I was starting to get a little bit tired and obviously the last three laps were tough. If I felt better I could have got 3rd but I got 4th. I gave it 100%.
I told Adam, I just interviewed him, I said one more lap and Marvin was going to get you. And he said "no way, man." But I think you had him one more lap.
I came from pretty far so if I get a good start he won't catch me. (laughs)
Exactly. Like you said, not the result you wanted but you rode great. So that's got to help going into High Point which is a good track for you.
Yeah, it is. But today I'm happy to get 2nd overall. That's what I want. I just want to be consistent and obviously Jeremy is going to be strong and consistent also. So High Point is a good track. I won a couple years there ago. So I just want to be consistent and do good.
***
Dan Betley (Honda team manager)
A solid day by your team riders. They're all gone so you get the honor of being interviewed. Seely 5th overall, I think 8-5. Noren maybe 11-9 or something. What'd you think of the day?
All in all it was pretty good. I'm glad to see both guys are improving a little bit each week. Our top five for Cole, that was our goal and he hit it. I think we're improving on the bike and Cole's improving and figuring out what he needs to go fast outdoors. Freddy unfortunately twisted his knee again the first moto but he's a trooper and came back and I thought rode fairly solid for the day.
Is it one of those things with Freddy where he's not able to practice much during the week?
Yeah, a little bit of that but he is practicing. The guy could sever an arm and he'd still be out there trying to ride. He's a tough guy. He actually went down the second moto as well and then he had to pass back the three or 4 guys that he already had passed. But all in all it was a pretty good day I guess. Obviously we're still a little bummed with Eli's departure, but we're going to keep trying to march towards the front and see what we can do.
And Seely had some good laps in that first moto. He got passed and then kind of regrouped, went back on the attack, which was good to see.
Yeah. And then he kind of fell. His times started falling off at the end of the moto. I think he needs to work a little bit on fitness. I think he needs to get acclimated to the humidity and the heat as we march into the summer a little bit. But all in all this is just a learning season for him, as far as the way I look at it. I think he'll keep improving as the motos go on.
I talked to Freddy last week. He said he's guaranteed three races, which next week will be the third one. Any comment on that? Would it go longer? What do you know?
It all depends on Trey's arrival. We're still waiting for Trey to get approved to ride, which we're all hoping very much is the beginning of next week. As soon as that happens he'll start racing. We'll make a plan on when he thinks he might be able to come back. And unfortunately then Freddy's got to go back to Crossland.
But we'll look for Noren at Budds Creek. The end of third round would be next week.
Exactly. But up until then I'm not committing on anything until that.
What about a fill-in guy for Tomac? Are you committing anything there?
Not at this time, we have nothing.
So not even any plans?
No.
****
Adam Cianciarulo
Your first time here as a pro, like we talked about last weekend. Nice battle with Nelson in the second moto. He got you but still a good battle and a good day for you.
Yeah, I think the first moto was… from practice, practice wasn't good. I didn't ride good. I was just over-riding the bike. We've been doing a lot of testing. Not the last couple weeks but even when I first got back on the bike. You get faster every week and you're still trying to set up the bike and you end up going faster at the race and everything's different. I said after practice, you know what, I was most comfortable and I did my best at Hangtown. I said, just give me my Hangtown setup.
Kind of bold because that's California and everything.
Totally. In-between practice, it's been a while since I've been on that, so I went back. There's definitely some things it needs to work on coming into the corners but turning-wise, I don't ever want to be… you use a lot of energy when you're always fighting the bike. I didn't feel like I was fighting as much in that first moto. Marvin was definitely a lot faster than me, which was pretty gnarly. Especially because I watched him this week with his wrist and he only did a little session on Thursday. The guy comes out and he's just kicking your ass like that and it's a bummer. But he's gnarly. That was good until I had that little… I just high-sided.
It actually was a pretty good crash.
It was. People don't realize it. I got up really quick but…
You hit your head, your shoulder.
I'm not the type of the guy, I'm never the guy that's just blowing up the sponsors all the time, all that stuff, but seriously, the Bell, I feel really, really confident in that thing. I hit the ground and it saved me for sure. That saved me a race. If I would have gone blurry or anything like that. I actually got something stuck in my clutch so my clutch was on the whole time after that. But anyway I was 5th. And in that second moto about 4 or 5 laps in I was done, tired.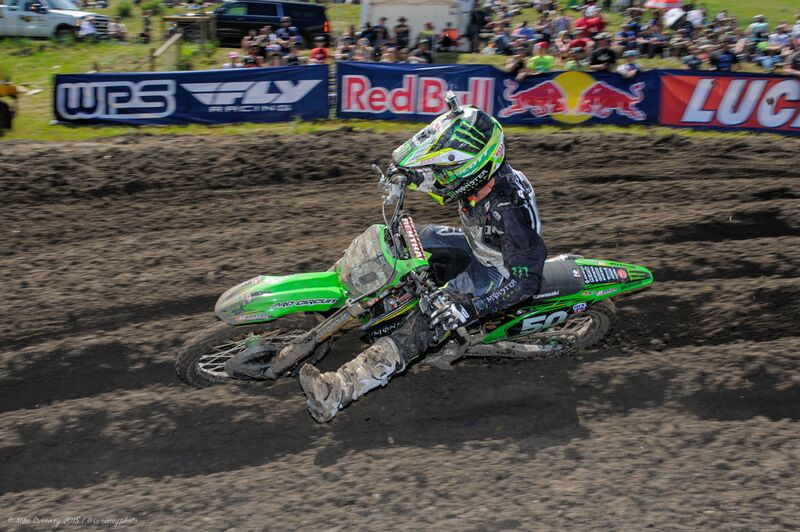 AC was second in the first moto for a bit before he crashed. Second moto he was third.
No way. That's about when you regrouped to get Nelson up the hill there.
Last week I said I suffered more than I ever have and I've re-passed that this week. But yeah, I got Nelson and I remember him, he faded a little bit at Colorado last week. I'm like, maybe if I pass him right away and I look like I'm not tired, put on a facade, he's going to give up. And I think I just pissed him off. And so he passed me and I'm like, you know what, that's his. Nelson was gone and then I just suffered the rest of the way through. Marvin was coming. Plessinger was in front of me. I thought he was a lapper. I told Plessinger on the podium as I was about to pass out that I told you he was going to get top five, which he did. Handicap 12 in your fantasy league. So you're welcome.
I was screaming at him to get out the way because blue flags were everywhere, but apparently whatever. I was wondering why he fought me so hard for it. But it's a good day overall. Last 4 laps I said to myself, no matter where I finish if Marvin gets me or whatever I'm not going to be bummed with the ride because I gave it everything I had. I know it sounds bad but I feel like I could have won that moto. I feel like I could win just as soon as that other side comes around, which I know is saying a lot. I know I might get some hate for that just because those top guys are gnarly. But I do feel when that comes around I feel like I'm battling for wins.
I'm a neutral third-party observer. I think you can win too. They're right there. You're not far off. It's very easy to go your way.
I know I can do it. I have the talent to do it. I show flashes I just need to get in that mindset and do it. But two consistent weekends, 5-4 and then 5-3. I didn't get podium overall this weekend but overall not a bad week. Go back to Florida, but in some work. Actually Bones and those guys are coming to test in Florida with me so we should have a productive week. I think you need to go check on Alex Martin, our guy.
Yeah, I can't find him. I think he was being drug tested.
I got drug tested yesterday.
How was that?
It was pretty good. They tested blood actually.
You're in big trouble because you're one of Aldon's roided up dudes.
Yeah, 100%– four year ban but I'll come back on 450s.