The former AMA SX, MX and GP winner gives us his thoughts on the race
The former AMA SX, MX and GP winner gives us his thoughts on the race
Photos by Simon Cudby
1- Martin or Musquin, Musquin or Martin? Not much to separate these two guys…break them down for us DV!
They're obviously really close and it's tough to compare them since we never really saw them battle in 8 motos. Martin has an edge right now because he's in the points lead and, in my opinion, he's racing a bit better today. I really think Marvin's second moto will be a stepping stone for the rest of the season. It's the best I've seen him ride this season yet. In the first 7 motos, it seemed like Musquin was riding tight and scared to make mistakes. It hurt his speed and efficiency. High Point should be a great track for Marvin and maybe not the best for Martin. I didn't think Jeremy would've as good in Muddy Creek. It's not really a track for his riding style. He's more a wide open on the outsides kind of guy… He still won though. They're really really close and can't wait to see the head to head confrontation. It will come soon enough
2- The Muddy Creek track was pretty epic, you've never been there but what do you think about it?
I never been there but I don't like it. Too many off cambers, too many sweepers, too tight in sections and tight switch backs. Dirt looks good though but it seems like the bike is always turning or leaned over which makes the track pretty narrow when the ruts develop.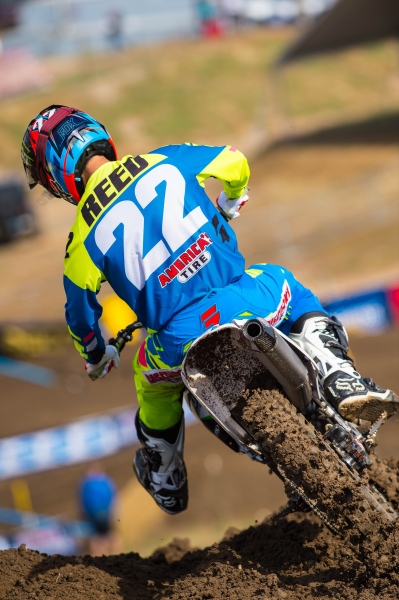 Things aren't going so well for the 22 right now.
3- Your guy Chad Reed is struggling right now, what should he do or what would you like to see him do?
I'd love to see him do better. He's one of the biggest legends of our sports and a fan favorite but, yes, he's struggling. Chad has his destiny in his hands. If he wants to ride he will have to stop being distracted by anything not riding related. Like we talked about it during the SX season, he needs to go back to a comfortable MX set up on his bike and go work on his speed and technique… There's no secret in this sport. When your technique is on point and you're fast, you will perform. If they're not on point, you will struggle. There's another option… It's just to retire, sell whatever he can of the team and sip Bacardi like it's his "burfday" next to his pool. There's a last option. He can always fold his team and get a SX only ride somewhere else. He obviously loves to race and compete.
At 34, in March of next year, I don't see him performing and wanting to race 29 races a year. With his SX abilities and without the headaches of owning a team, racing a SX only season focusing on riding and performing might be a great fit for him. But, we obviously don't know what exactly is going on with his team, sponsors and desire to race. Only Chad has the answers to questions all of us have…
4- Davi Millsaps is getting ready to come back (at Redbud) how's he going to do?
Dude, I don't have a crystal ball for this question. Obviously his SX season was not great. It never seemed like he wanted to be there. It's a different ball game now for him. He's back with a privateer bike with a small amount of support. Most of the time, riders perform well when their back is against the wall. He doesn't have the comfort of a factory team nor the financial comfort of a factory rider. Basically, if he wants to make some kind of dough, he will have to perform. If he did his homework, he will be between 5 and 10… For every rider, it all comes to what amount of work they put in before they line up on the starting gate. If he did 30 minute motos at Perris a couple times a week, it won't work. If he went ahead and trained/rode a la Rocky Balboa, he will be up there. Davi is one of the most talented riders of his generation and I don't see why he wouldn't perform with a decent amount of work put in and I guess we'll see soon.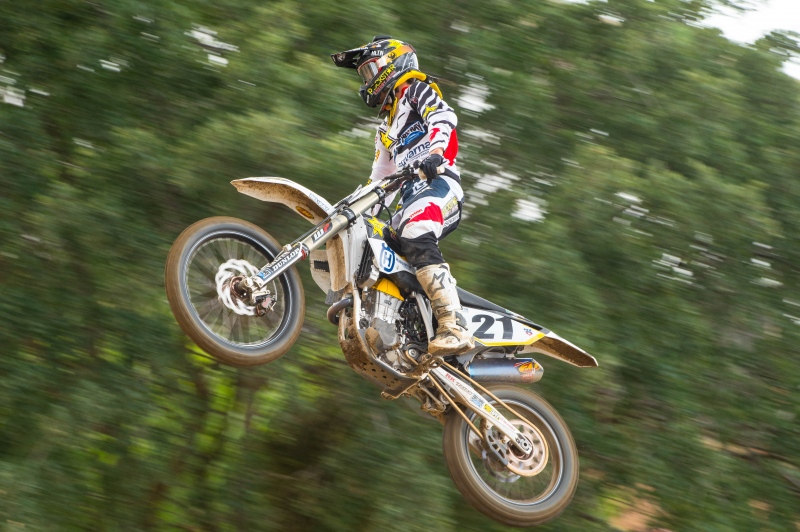 Anderson was great at Muddy Creek with a third overall.
5- Jason Anderson was great at Muddy Creek–can he get in-between Dungey or Roczen some more or maybe win some races even?
Jason is getting good results for a 450 rookie season. It's even tougher to adapt to the 450 in Motocross than SX, especially physically. He's doing well. Can he improve, for sure. I still think there is too much "waste" in his riding style. With riding differently he wouldn't burn as much energy as he is now now. And I think some extra energy would've helped him in a few motos this season. I also see some things he could improve on. His body positioning is too much like a 250f still. He sits to far back on the seat exiting the turns which it's challenging to be in total control of bike. It's also very tiring to ride a 450 like that. I also see he could be a little smoother in the tight ruts. Being a little aggressive results in him doing too many stop and gos in the ruts. It might sound like there's a lot to fix but he's actually not far off to improve tremendously with the right approach/practice.
6- Watching from your air conditioned house in your sweats, what bikes do you like and which ones do you think need some work?
I'm over talking about the bikes when the riders ride them the wrong way. The bike has less than a second in them and some of the riders complaining about their bikes have 3 seconds in their right wrist and technique. The bikes than win looks good because the riders ride them well. Give Barcia's YZF to Dungey or Roczen, you would think it's a total different bike with them on it…