Here's how JT$ thinks things are going
Here's how JT$ thinks things are going
Photos by Simon Cudby
After four races, we are starting to get an idea of how the 2015 edition of the Lucas Oil Pro Motocross Championship is going to shape up. The first couple of races are tough to draw conclusions from as many of the riders are still in supercross mode and working to find their outdoor pace. It's a big transition that I feel is often times underestimated, especially by our friends in Europe. By now, though, most are in the swing of things and getting darn close to max capacity. Let's take a look at the top ten in each class and how I grade each up to this point. Keep in mind that these grades are relative to expectations and corresponding results.
250:
1. Jeremy Martin: A
Jeremy has been great thus far. The only hiccup keeping him from an A+ was a disappointing Glen Helen where he dominated last year. He is the reigning champion so I hold him to a very high standard in this regard.
2. Marvin Musquin: A
Much like J-Mart, Marvin has been just awesome in 2015. He has had a few crashes that have given Martin a few valuable points but otherwise it has been a great four races. In the motos he has won, he has been very impressive.
3. Jessy Nelson: A-
I fully expected Jessy Nelson to be in the running for this spot coming into the season. I was unsure of how healthy Cooper Webb would be and how ready Adam Cianciarulo would arrive but Nelson was certainly in the conversation. He had a rough time at Hangtown but since then has been solid and consistent.
4. Adam Cianciarulo: B+
Adam always has hype around him and that's both a blessing and a curse. Many expected him to come out and win this year but realistically he wasn't ready to do that. He was coming off two big shoulder injuries and didn't have a lot of preparation time. I have to say, though, when he jumped out to that lead in Hangtown, I was a believer. I still think he wins a moto this year.
5. Joey Savatgy: B+
I really didn't know what to expect from Versace Savatgy. He was good in supercross but I also felt that the East was quite a bit weaker than the West. He has been riding well, though, and moves steadily through the pack as the motos wear on. If he can stay off the ground, he can be a podium guy.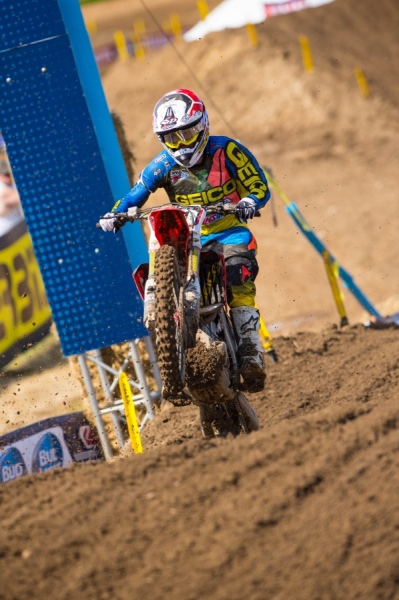 Thomas grades Hampshire a B+ through the first four rounds.
6. Zach Osborne: B
Zach has had many highs and lows this season. He started out with one good moto (5th) and one bad (20th) at Hangtown. He followed that up with two rough scores at Glen Helen before an awesome day at Thunder Valley. His second overall in Colorado was an eye opener as to what he is capable of if things go his way. Unfortunately, in Tennessee he had more trouble and could only fight back to 9-9 scores. He is a top five rider but has to find a way to avoid the pitfalls.
7. Chris Alldredge: A-
Many of you are thinking "how can Alldredge be an A- when he is 7th in points???". Remember, this is based on what was expected of them and how they have ridden in comparison. Coming out of supercross, I didn't have any clue what Alldredge would do. He crashed nearly everytime he rode out of a stadium tunnel and I was concerned that would continue this summer. Well, at Hangtown, he shut everyone's mouth and scored his first ever podium. The following two weeks saw a typical rookie situation as he put in one good moto coupled with a not-so-good moto. Last weekend in Tennessee, he was more consistent with two top ten finishes. That podium in NorCal raised his GPA substantially, though.
8. Shane McElrath: B+
I was interested to see how Shane would do outdoors after incredibly good results indoors. He is a bigger guy and that makes 250 life tough sometimes. He hasn't had a breakout moto yet this outdoor season but I think it's coming.
9. Matt Bisceglia: B
Bisceglia is in his second full season of this series after catching the last few rounds of the 2013 season. He has been pretty solid but I would like to see him capitalize on his good starts a bit more. In supercross, it seemed that he could keep pace with the leaders for a while but outdoors he has had more trouble with that elite speed at the front. Still, though, he has put in multiple top ten moto finishes and that's nothing to sneer at.
10. RJ Hampshire: B+
RJ is a Florida boy and that always gets bonus points from me. This is his first full season and a big learning process, no doubt. He scored his first top five last weekend and if he can get good starts, there will be more to come. RJ doesn't lack confidence so he won't be scared to twist the throttle if he finds himself up front.
450
1. Ryan Dungey: A-
Ryan Dungey is doing what Ryan Dungey does. He goes incredibly fast but always rides within his limits. He doesn't make big mistakes and doesn't throw races away. In the first five motos of the season, he really didn't have much for Eli Tomac yet here we sit as Dungey enjoys a 37 point lead. He was solidly second most of those motos, though, and when Tomac went out with injury, he stepped into a great position. The only thing keeping him from an A or better is a guy named Eli Tomac.
2. Ken Roczen: B
Kenny is the reigning champion and that demands high expectation. The B grade may seem harsh but his first couple of rounds weren't up to par for the German superstar. His back injury really hindered his points outlook and he finds himself in a deep hole to the Dunge. He is getting back to form now, though, so look for that to improve for the second four rounds. I expect him to win in Pennsylvania.
3. Blake Baggett: A-
Newsflash: Blake Baggett rides a 450 very well. He is sitting third in points and coming off of a very enlightening supercross series, this shouldn't be a big surprise. I still think he has the potential to get into the fight with Dungey and Roczen if things are clicking.
4. Eli Tomac: A+
Eli Tomac was on a different level than everyone else this season. Unfortunately, the record books won't reflect that. I have no remorse in giving him this A+ because I was there to witness his riding in person. He was absolutely ridiculous. Anyone who wants to discount his wins this season need to reassess because it was some of the best riding I have ever seen.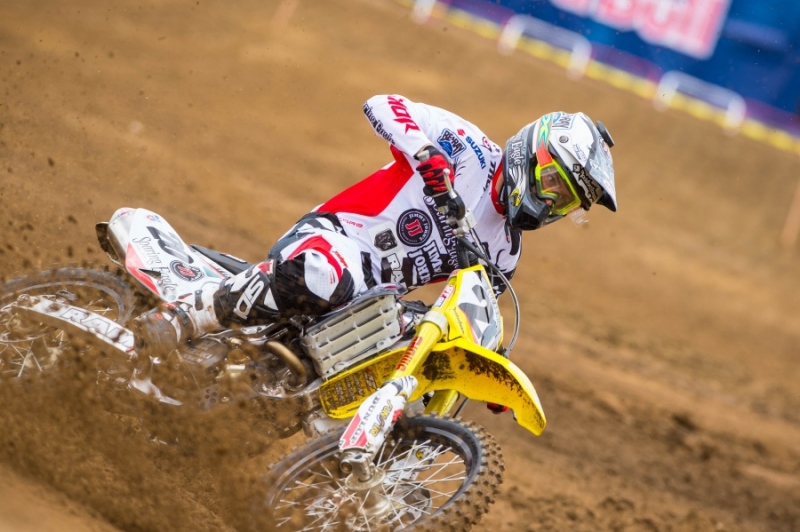 Tickle's starts haven't been all great but he's been pretty fast.
5. Justin Barcia: B+
JB51 has been better than most realize. His supercross season was not good and honestly, I didn't know if things would improve outside. They have, though, and he looks much more confident. I think he will be on the podium quite a bit as we move forward.
6. Jason Anderson: A-
This grade is basically based on two of the four rounds. His rides at Hangtown and Muddy Creek were fantastic. At Muddy Creek, specifically, he was sensational. He took everything that Ken Roczen had in the first moto and never blinked. In the second moto, he came through the pack like a hot knife through butter. I didn't expect a lot from Anderson this summer but he is proving that to be a misguided assumption.
7. Weston Peick: B
This grade is based on what I hoped to see from Weston. He was so good in supercross that I expected the same or better as we moved outdoors. He has had flashes of brilliance but not the consistent podium speed I was hoping for. It's still early but I had him pegged for better than seventh in points.
8. Broc Tickle: B
Broc might be the worst starter since Mike LaRocco. The riding is not the problem at all. He was actually great in Colorado and pretty good in Tennessee as well. He starts so far back, however, that you really never get to see it. It has to drive him and his team crazy to ride so well but not see it in the results column.
9. Phil Nicoletti: A-
Filthy Phil has been better than advertised. In fact, he was the top finishing JGR Yamaha rider last weekend. Read that again if you must but it's true. He is getting great starts and his riding is solid, too. He finished third in the first moto at Glen Helen which was nothing short of awesome for both he and his crew. I think he will be right around that top five again this weekend in Pennsylvania.
10. Cole Seely: B+
I was a bit unsure how to grade Cole. I don't really think of him as an "outdoor guy" but he has had decent finishes before in the 250 class. He was a force in supercross so maybe I shouldn't have so little faith. He hurt his leg at Hangtown and DNF'd both motos so his points placement is a bit deceiving. He has been a solid top ten guy every week since then and I look for that to continue. He is Big Red's only real hope at the moment so I am sure they are putting in the extra hours on his behalf.