Some main players from High Point talk…
Some main players from High Point talk…
Photos by Simon Cudby
Phil Nicoletti
Media count down due to you, breaking a photographer's leg. What happened?
If that was you out there I wouldn't even have felt bad that I crashed but since there's some poor sucker… I know who it is now, Garth, but it was bad.
What happened?
I went down in the first corner and then somebody ran over my front brake caliper and my brake rotor bent in my caliper somehow and I went down into that second bonsai trying to make up time, it's the first lap, and there was no stopping. And when I mean I launched the berm in the second corner, I launched it over the banners and frame cased it on Garth. And I felt bad because…
You went and checked on him.
I went and checked on him because honestly I thought I killed him. It was that bad. He took my frame right to the head. And he was shaking but he was conscious, he was okay. He was speaking. And I noticed my throttle cables were snapped. It was a hit for the bike. But so I sat out and sat for basically four hours and I was 40th gate pick.
You started pretty good for having a 40th gate pick.
I just swung off the rear fender around the outside and I came out maybe 4th or 5th on the start, which is really good because that start's so unfair. It's ridiculous. But I got in a good rhythm. I was behind Pourcel for a little bit. It was hard to get the flow of the track because I missed the first moto. It was a struggle. I felt good and I kind of blew myself up because I sat for so long I went stagnant. Weston ended up getting me but I believe it maybe should have been a 5th. Pourcel was riding the track really well. It is what it is. I got to give thanks to Johnny Ohler. He made an awesome shock change today. He took some initiative and said I didn't know what I was talking about. He used his street smarts and we made an awesome change to work for the rest of the year.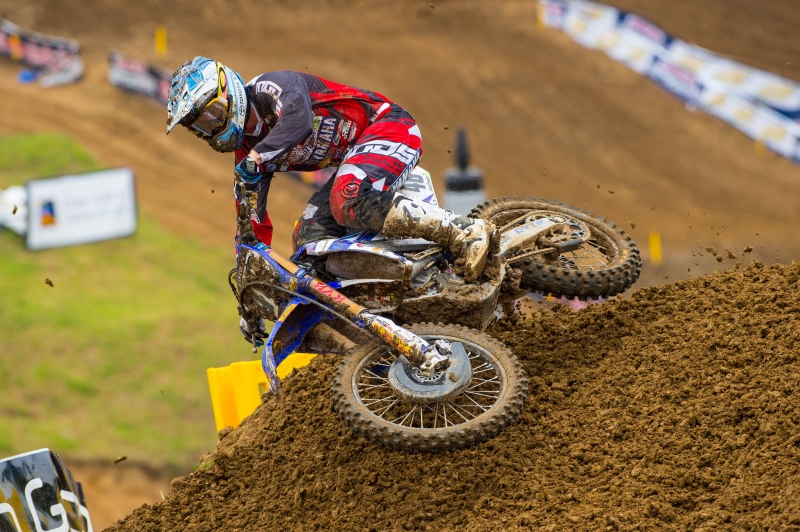 Hitting a photographer and getting kicked out of the mechanic's area for having bare feet–all part of Filthy's day.
I always found in my mechanic career not listening to the rider was better.
It's hard because the sensation I was getting was, I kept saying I was too soft, too soft. Or I felt like I was stiff but it was just so soft and it was kicking me in the butt.
You were traveling in the last third of the stroke.
Yeah, exactly. And he was just like, you know what, you're an idiot. We're going to try a different way. It was unreal. I ended up 7th in the second moto like I said. It would have been nice to get points the first moto but it is what it is. It was still an okay day. I'm glad Garth's okay and everyone's okay.
Fifteen years ago Kelly Smith on a Matthes tuned bike won here the overall.
I don't want to hear this shit.
Did you think about that coming in this morning?
No, but I was listening to the Fly Moto 60 show and Nick Wey really should have won it.
No, not at all actually.
But Nick said he was tied though or something, or he thought he had it in the bag.
He thought he had it but why should he have won it? He just thought the math was crappy.
No, I thought Nick should have won it. Somebody screwed up. The scoring was probably jacked up back then.
KTM's first ever win. Let's hope you're all right and that was gnarly. I was looking at the banners. I knew you went through the banners into the photographer and I'm like, but the banners aren't even ripped. You just jumped over the banners.
I took flight. I launched the berm. He got a very good view of my carbon fiber skid plate and the Wienerschnitzel sticker under there. He's okay. I'm going to text him here tonight just to make sure he's all right. Maybe I'll send him some flowers.
No you won't.
No, I won't. I'll just give him a pat on the back and say way to take a hit.
Troll told me you got in trouble for having bare feet in the pits?
Yeah, what the heck? You can't walk around barefooted any more? I walked out just to say hey, good ride, because I didn't talk to him after the first moto and some lady come up ripping me a new one saying, hey, you can't be in here barefooted! I'm not kidding. You better get out! And I'm just like, all right. I'm leaving. I couldn't believe it.
****
Jessy Nelson
Coming into this race all of us idiots in the media we had a big podcast show. We talked about you. We were like, look, the guy can start like crazy. It's an uphill start. He's going to get up front. He's going to be a good podium guy. But your starts weren't there today.
No, they weren't.
They've been there all year.
Yeah, they have been pretty good other than Hangtown. Hangtown I struggled but I crashed a lot at Hangtown. I crashed like three times both motos. This track I've always struggled with it and for me to come out with what I did, 10-8, it's not good by any means for me but still I'm pretty happy with it. I've struggled so bad at this place. This has been the worst track for me every year. Every year it's been the worst track for me I come back. So I'm not too bummed on it.
Think about two years ago where you struggle to a 10-8. You'll take it all day.
Oh, yeah. It's not a bad deal. 10-8, 8th overall I think, I'm not sure. If that's my bad day, then we're doing okay.
The rain was just the perfect amount to make it gnarly, rutty and kind of slot car-ish. Watching lap times guys would drop two or three seconds a lap from the best lap and then they'd rebound the next lap. It was up and down.
Yeah, I think it's just mistakes. One time you'd come around and your line and your rut would be completely perfect. Next time you come around it's gave out and there's a huge hole in it. It was just adapting to different lines and everything like that, which I've struggled with but I'm getting better at.
How are those Sun Chips?
Pretty good. You can taste the sun.
I was talking to your team manager and he told me your practice crash in Supercross took a lot out of your preparation for outdoors and we saw a little bit of some fading at the end of motos and a little bit in the season but last week was good, this week I think was pretty good. Where are you at fitness-wise? Are you back to where you want to be or you still got work to do?
We always still have work to do. This week we were on the road all week from race to race and we did some dealer shows and just kind of eating out all week and being different hotels and driving all over the place which kind of took a toll on us I think. Everyone on the team was struggling a little bit today with that. But the weekend before I felt better. Every single weekend I've felt stronger so that's a plus. Yeah it definitely sucked to have a little setback before outdoors this year but oh well.
I saw you on a two-stroke hucking that gap at Indiana. How was that?
That was good. I can't believe how good the new…
That's about 4th?
4th or 5th wide on that thing from off the track. It was fun though. I had a blast though. The KTM intro ride or whatever.
They did a good job it looked like.
I was blown away. I thought my 150 was good, my two stroke. But then I hopped o the '16 and then automatically like…
Really, it's that much better?
Unbelievable better. It's probably one of the best stock bikes I've ever ridden. Bone stock, soon as you hop on it it's ready to rip.
2000 KTM won its first ever AMA Supercross/motocross race. I understand they didn't recognize myself as the winning mechanic that day at the dealer show, no Kelly Smith.
Oh, Kelly Smith won the first one? They didn't recognize you?
That's what I heard.
That sucks.
Bullshit, bro.
You weren't there, that's probably why they didn't do it.
First ever win, right here. KTM, Matthes, Kelly Smith.
That's pretty good.
***
Zach Osborne
Second overall, High Point. Not as good as Kelly Smith and I here in 2000 where we won but still an impressive day.
Yeah, it felt good today. I didn't really have great speed in practice but I felt good. Just really good, enjoyed the track a lot. I like the changes. In the first moto I got a decent start, maybe 6th or 7th and worked up to fourth and was working on Hampshire. Jumped off the track. I felt like I would have actually gotten 3rd in the first moto.
A Mart got you.
Yeah I know, so I got 5th. Then in the second moto…
Second moto you were putting heat on Marvin early too. You change much on your bike at all?
Two clicks on the rear shock. Seriously, I'm not joking. Two clicks out of the rear shock just to lighten it off the front a little bit for the bumps. We knew it was going to dry out a little bit.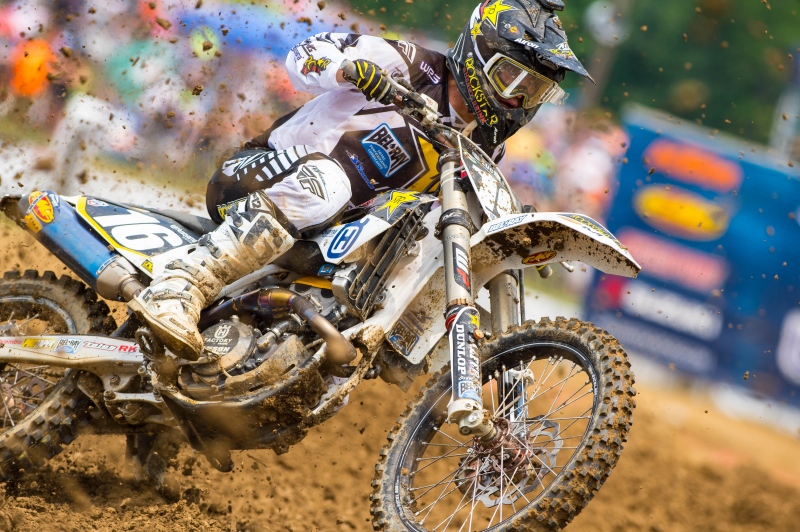 Osborne was second overall at High Point.
First moto was good, solid. Second moto was really good.
Yeah, I tried a little, in that new double double thing I tried to go double triple like 2FIVE minutes in for some dumb reason. And it hurt, like it wounded me. Just blew through my body. After that I lost the toe. Before that though I felt like we were just yo-yo back and forth. He would be two seconds and then I would be on him then he would be two seconds then I would be on him. Definitely it was really good. John's been helping me a lot with my bike. It's just been positive. Even last weekend I felt like I rode really well, a lot better than my 9-9 on paper. I felt like I could have easily been top five, maybe even on the podium. I feel like it's been a long time coming. When the track's gnarly I feel like I can win. I really think I can win a moto. I'm just not as good at hanging it out when it's super smooth but when it gets more off-roady like Enduro type stuff.
You're an off-road guy. It was a gnarly track. The rain made it really tough. I was telling a couple riders that one lap you would drop two or three seconds, and the next lap you'd gain it all back. You would make that kind of mistake.
One mistake today was big. It was almost like riding the sand track and the mistakes were just huge.
In Europe of course.
Yeah, like Lommel or Lierop. But definitely if you got stuck at one of the bottom of the hills in one of the deeper ruts you could lose three seconds like you said. It was gnarly. I woke up this morning thinking we were going to have a full-blown mudder and it was dry and gnarly.
I had to build all these goggles bro, you're telling me. So just a change in the shock for the second moto. It's got to be really encouraging for you because like I said, you were gaining on Marvin at times and you guys would yo-yo back and forth. Right now he's got six moto wins. It's got to give you huge confidence.
Yeah, for sure. I feel good. The best thing for me is to get this going into the break because then I can take some time off and really recharge because we've been working hard the last 8 weeks since I got there, we've been training really hard. This week kind of cool the engines a little bit, do some fishing and try to regroup. I feel like I'll be even better when we come back.
And Anderson got a podium too so great day for the team.
Yeah, and even Christophe rode really well today. Pole position and then in the first moto he was getting after it there for a little while. I was pumped for him. Awesome day. Our bikes are really good. There's no question in that. It's good. Our whole team works hard. I know that that's like the most cliche thing ever but we're a good group of guys. We all get along and want to do well. It's good for me to pay it back a little bit.
Good job today. Congratulations. I'm happy for you. Let's keep it going. That's always been an issue with you. You've got to keep it going. You'll have a good race here and there and then something will happen, so let's keep this roll going.
Heck yeah, let's do it.