DV chimes in on A2.
DV chimes in on A2.
Photos by: Jani
Bummer night for Bud? Racing as Desprey breaks his femur. It's early but whats the plan for the team going forward from here?
?It's always a bummer when you work with a rider and he gets hurt. I had the same feeling when Chiz broke his chain in Houston 2011. It sucks because I know how it is to be in pain and in an ambulance. We've came a long way with Max in a month and a half and he's a good kid to work with. He has no SX background so we had to do a lot of things in 6 weeks. As far as the team goes, Darian Sanayei won't start riding until the beginning of March, so we're on standby right now. Today is Monday so we're gonna have to make a plan as to what we're gonna do. I can't think of anyone good enough to be a Main Event guy without a ride at this time of the season. ?
Outside of the whoops (next question) we thought the track was great, it had some big things that only a few dudes jumped. Right hand start—what did you think?
The track was pretty technical and tight but I didn't think it was that hard to tell you the truth. All the 450 guys were doing the same obstacles. I liked the on-off 4 (I count the table as 2) – 3 after the track that I saw Tomac do. I still see guys jumping everything but not working their speed between obstacles and still seat bouncing too many easy jumps out of the turns. I guess they dont read this column. I really liked what Webb was doing in the rhythm section after the first triple, double and wheel tap 3. I called that during track walk and I like to see riders using their technique and creativity to go fast. ?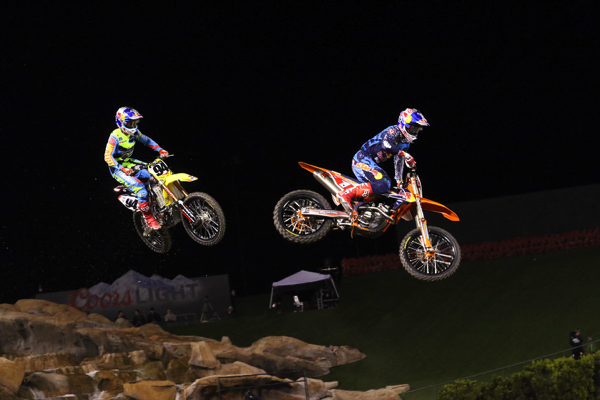 Roczen wasn't far off Dungey's pace but he started too far back.
The whoops were the talk of the night, they were tough. What did you think of them and are you ok with the crashes that resulted in them from being so big?
?They weren't that big. I've seen Craig and other top 250's guys, Reed and multiple 450 guys go thru them like they were riding on the 57 freeway on a Harley… I've seen Marvin jumping thru them by 3 or 4 and also Friese…. When ?you see guys going thru them like they're flat and guys jumping thru them, it should tell you they aren't too difficult. I can tell you if you were trying to jump what I call big whoops in the early 2000s, you would've broke your fork tubes. What happens is that the riders aren't used to big whoops anymore. You see everyone and their brother pin it thru the whoops during the week on their social media accounts. Guy's practice on round, easy whoops all the time. When they're too hard their track guys make them safer and easy. But when you show up on race day when the track builders decide to build some decent and challenging whoops, you see the second and third tier riders cart wheel in them. If you ride in easy whoops during the week in which I could go thru them at 38 years old in tennis shoes with no helmet on, you can't learn the proper technique, speed and bike set up to go thru them good and safely… Yes, the whoops were bigger than what we saw in the last few season of Supercross but they're no where near as dangerous and crazy as they once were. Enough with this "big whoops" talk, I'm getting angry…
Dungey's on point and looks better than ever? What's he doing that's better than the other guys specifically?
?Dungey is always the same Dungey that we all know. But now, he has the confidence to know he can win any heat race and any main against any riders. He's a metronome. He's consistant. He's well prepared physically. He uses a 450 like its supposed to be used. He keeps his momentum thru the turns and he never turns by locking his rear wheel like too many guys are doing. He doesn't ride lazy (least amount of seat bouncing) and uses his legs to soak up the easy jumps out of the turns. He doesn't jump anything more than anyone nor takes chances not needed. He's pretty much text book on how SX should be ridden? with a 450 four stroke in 2016.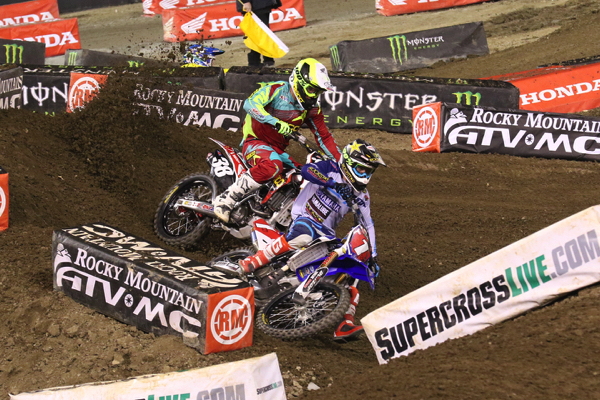 It was great to see the piss and vinegar between these two.
Reed was in trouble late in the race and held off the 3 and 94 though. The 3-3 was great to see.
Chad impressed me last week in SD staying close to Dunge. Same thing this weekend. He got to second and rode pretty much the same way. I wasn't in the stadium for the 450 Main but saw it on TV. I think he had to make a bobble with 2-3 laps to go that they missed on TV for Roczen to catch up to him?. I think Chad can still ride even better. He's still a little too aggressive and "stop and go" in the turns. I also think he rides too high in the RPM range of his bike. When he rides in the RPM range where his bike has the most torque/power and in the right gear while using less rear brake in the turns and more momentum, he'll be even more of a threat to win races.
Webb and Craig race was awesome although I'm sure Webb wasn't happy. Talk about that great race and what you thought of all the passes?
?I thought what Craig did was great. Webb seems like a bully to me and ride with arrogance a little bit. ?That's not a bad thing at all and it's fun to watch but I like to see a rider give him some of his own medicine. I thought the block pass/squaring off actions were great and made for some great entertainment. When Webb got by Christian, it was obvious that Craig wasn't in the best physical shape but at least he tried to give him a run for his money. We all knew Cooper was gonna win but it's cool to see someone not give him the win on a silver plate. Craig was my sleeper since I first saw him ride in Elsinore over a month ago. He has great technique but he needs a little more of a Rocky style training regiment to hang with Cooper on a 15 lap main. If he improves physically, we might see him give Cooper more troubles by SD2 and Dallas…
Who was bad in the whoops and needs some practice?
Everyone but top 4 in the 250 Main Event… ?In 450, when the top guys are flying thru them and you're a factory rider, you're not allowed to jump them by 3s like I was doing in Phoenix 1998 to win the Main. That was for Marvin obviously. With his technique, he should be able to skim them like the best in the class. So basically, if you weren't in the top 8 in the A2 450 main, you got work to do. The top 8 guys in 450 were going thru them like it was any other track.