We caught a glimpse of the past at A2.
We caught a glimpse of the past at A2.
The theme of my writing this week isn't going to go over well with some pro riders. It's a good thing for me that I write essentially like my brain is vomiting through my fingertips and honestly, have you ever heard of a vomit filter? Lets move on.
The Anaheim 2 track wasn't necessarily a crazy departure from the standard of track we've come to know during the current era of Supercross. What defines that era? Ehhh, race bikes oozing horsepower, certainly more than is necessary (and possibly smart) in a Supercross environment. No, this track wasn't a pink Unicorn amongst pony and donkeys; it really only had one aspect that set it apart: those gnarly whoops.
Those whoops at A2 were sporting the characteristics that elicit a butt=pucker factor that reaches into the "11's" on a scale of 1-10. You know how anyone who has raced MX but never actually stepped foot onto a real-deal Supercross track, gets to that point after a beer or two where they claim the ability to "do that tabletop" or launch that triple"? Welp, even after a 6-pack of the skunkiest malt liquor the could get their hands on, EVEN those bozo's would be foolish enough to spout off about those Anaheim 2 whoops. They were constructed of the stuff nightmares are made of… just ask the guys who left a good chunk of their pride in them on Saturday night.
Stick with me here during the 2-stroke vs 4-stroke explanative-tangent…
The 2-stroke crowd has been screaming from the tinfoil covered shacks for years that 4-strokes suck, are ruining the sport and have no soul. One thing is inarguable about some of that argument; 4-strokes have shifted the balance of skill vs horsepower so far into the HP realm that it takes a truly gnarly obstacle to really show the line between the beasts the rest of the 1%ers. This all taps into that debate we've been having for years now of "deep field". DV can't stop talking about how the field is not deep (and he's wrong… but also right…) but this is actually an argument that gets lost in translation. The majority of us look at the racing and racers, notice that there are legitimately 8 guys who could win (when was that ever the case decades ago?) and say, "yes, the field is deep". I think DV interprets this as "there are more top guys than there have ever been before" (which there are) and that the sport is faster than it has ever been (which it is) but here's where the translation or interpretation is jacked… it's got so little to do with the progression of the riders and so much to do with the riders familiarizing themselves with this excess of horsepower and achieving comfort in manipulating it.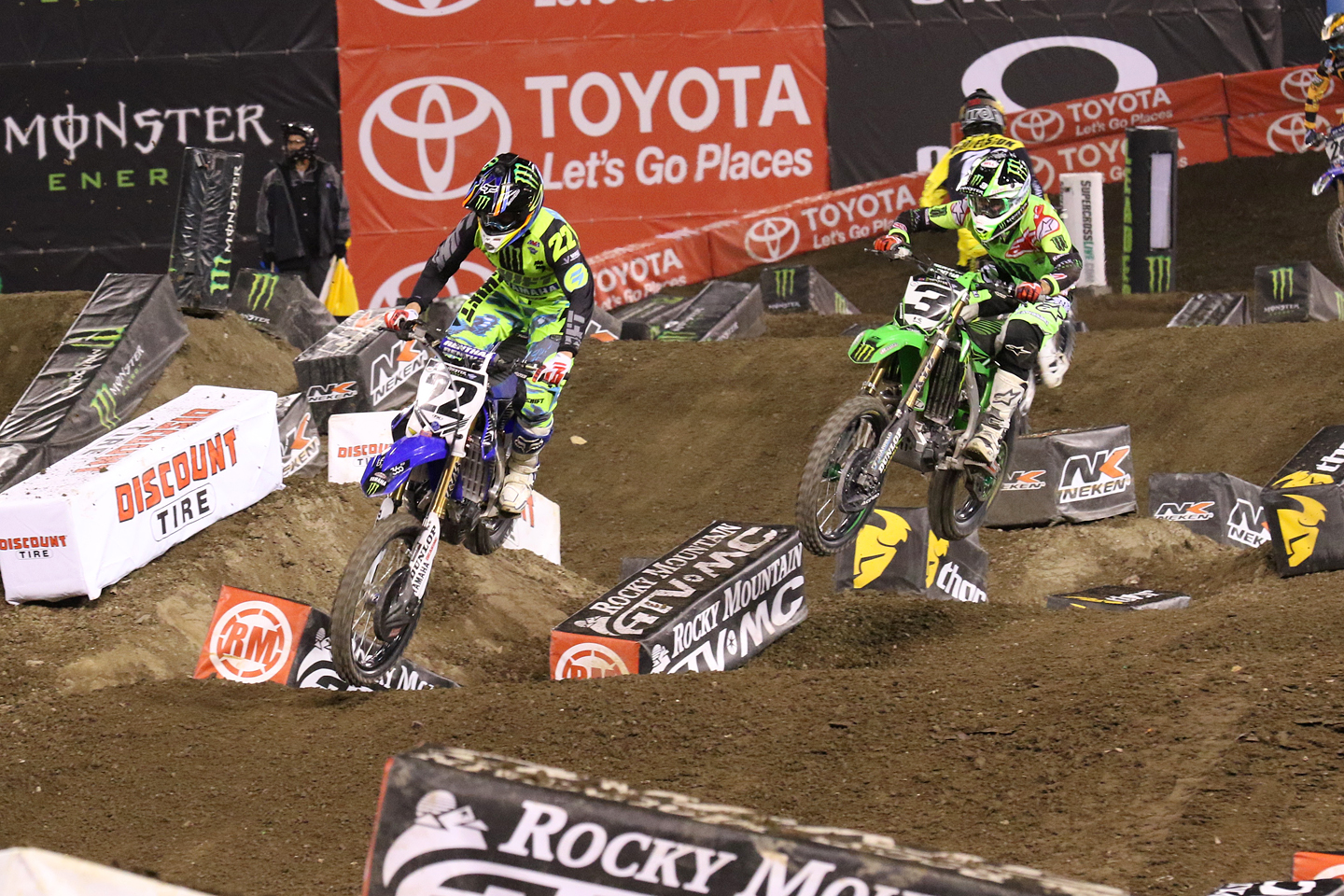 These two were part of the "not scared" group.
It's honestly really simple and anyone who has ridden both a 2-stroke and a 4-stroke knows exactly how it works. The capabilities and characteristics of a 4-stroke make up for what a rider lacks in so many ways that a truly less skilled rider will appear to be far superior to their actual capability as a racer.
Now, how does this relate to the Anaheim 2 "Superwhoops"? I hate to call whoops the most "tame" opportunity to test a riders skill but on a Supercross track where speed can kill, the whoops really are the best test-obstacle to spotlight separation, with the least opportunity for serious injury. I mean think about it, they could make a Super-triple, Crazy-quad, Wall of Death or Alligator-pit but without getting all Circus-show and irresponsibly dangerous, the whoops are the "it" of separation in this day and age. Those Anaheim 2 whoops did what we haven't really seen in years and I mean 4 years or so, they provided true separation and put old school rider capability on spotlight. The guys who were blitzing through those things are likely the same guys who would be excelling if we turned back the clock and dropped the gate for 22 dudes lined up on 2-strokes.
This is no argument to get back on 2 strokes, I do still however believe the displacement of these 4-strokes absolutely HAS to be revisited and settled upon lower numbers. I won't even go into arguing that the displacement of these bikes has anything to do with the massive string of injuries making the rounds lately. This sport has always been dangerous but I felt a sense of excitement during the race in Anaheim that has been absent for a long time. That feeling that anything could happen at any time simply because there was something on the track that separated man from beast. Dropping the displacement is a no-brainer in Supercross. You can't bring in enough dirt or make a jump big enough to really challenge these bikes without endangering the racers irresponsibly. Drop the CC's to bring that balance of skill vs HP back closer to the middle.
We can't rely solely on a gnarly whoop section at every round to separate this "deep field".