David Vuillemin on Daytona and the GP's
David Vuillemin on Daytona and the GP's
Lots of criticism about the track—what's your take on it?
To tell you the truth I have never been so bored watching a SX race like I was on Saturday night. I stayed off social media and the live timing site since the race wasn't live on TV. I didn't want to know what happened before I watched it. I was very disappointed with the track. How can you make such a pointless track with that much room? I've said it before, I'm a fan of old school Daytona when the race was during the day and the track was 90 seconds long. Back when Gary Bailey used to design and build the track, it was very tough and very challenging. In first practice, the track was already rough. Gary was digging uneven holes everywhere there was a flat section. They don't do that anymore. What happened to the sand rollers? There were none on Saturday. What we got was tight turns, one lined chicanes where everyone followed each other and none of the obstacles were challenging.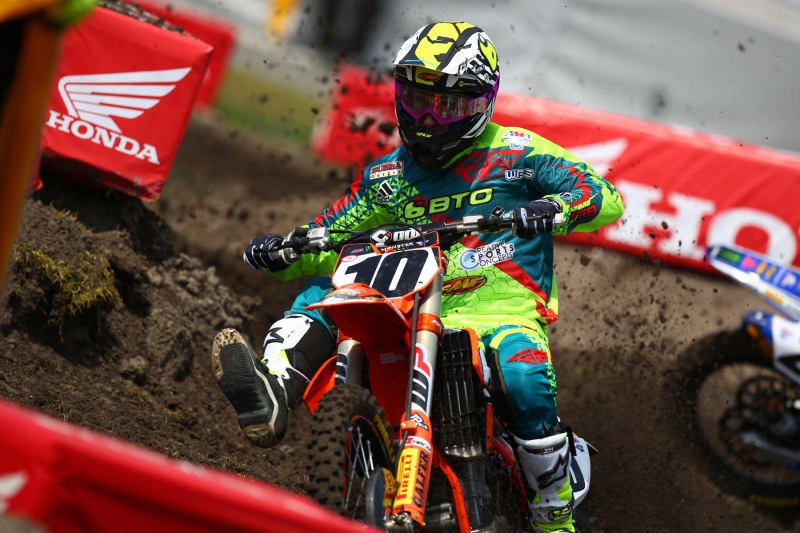 The track wasn't good by any means. Photo courtesy of Pirelli
The Daytona track shouldn't be groomed and flattened before the night program like it is now. I am ok to fix faces of big jumps for safety reasons but they have to leave some ruts made in practices for the the night program. Riders have to adapt and change lines. The track these days is too fast and the track builders are getting too soft. Daytona should look like Southwick with man made SX jumps. Gary Bailey's tracks in the 90's and early 2000's were challenging. He wasn't as good with the equipment like the guys are today but it made the tracks tough, rough and challenging. Jumps were uneven. He made square edges from the get go and the track developed by itself without anyone touching it. I remember him just fixing both faces of the triples and that was it. I know it's difficult to change the layout of the track in Daytona because of the sprinkler system in the lawn and the grills of the water evacuation but it worked better 15 years ago. We gotta go back to the old style of building this track. It will make it more interesting.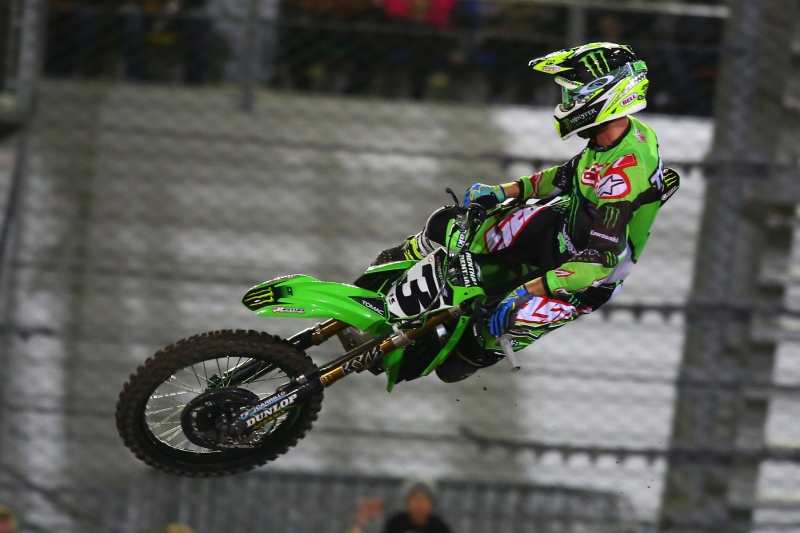 Great ride by Tomac to capture the win at the speedway. Photo courtesy of Monster Kawasaki
Eli Tomac! Why was he so good and does this mean anything going forward for him doing better in the series?
I think his state of mind was different coming to Daytona. He was fast there last year and MX riders like him feel like they should perform on that style of track. I didn't really think he rode better technically than in the first 8 regular SX races though. He still made a lot of mistakes and didn't look nearly as good as 2015. I don't think he looked more comfortable than any other races this season but he got the job done. His start obviously helped him too. Eli and Ryan were way better than anyone else on Saturday. Marvin, in 3rd, was 20 seconds back at the end of the 450 main. It shows you that those 2 guys were fast though but still, I don't think we've seen the best of Eli yet. Maybe it's just me but I believe he can ride way better than that. His riding technique and his flow around the track aren't as good as we've once seen. Eli's win will boost his confidence for the next races but confidence will not do anything. He will have to improve his riding technique to perform like he did in Daytona on a regular SX track.
Four way battle in the 250SX class, what did you see out of the guys?
Just like Tomac, Jeremy Martin, as a MX specialist, showed up at Daytona expecting to do better just because the track resembles more of an MX track. He looked better than 7 days ago obviously and showed patience to get around Mookie Stewart on a track where it was very difficult to pass. Malcolm and Martin Davalos were doing well but I don't think their fitness was as good as Jeremy and Justin's. Hill rode great but went a bit unnoticed in Atlanta coming from last to 5th. His performance in Georgia tells us that he's physically ready to race 15 laps. We know J-Mart is physically ready after his two outdoor titles. I think as always in Daytona, fitness played a big role on Saturday. When I saw Malcolm start to land from big jumps sitting on the seat and riding very defensively, I knew it was a matter of time before he was gonna lose some positions. His leg strength isn't up to par yet. His last failed attempt to brake check Davalos was pretty stupid and he even stalled the bike when he looked back to Davalos.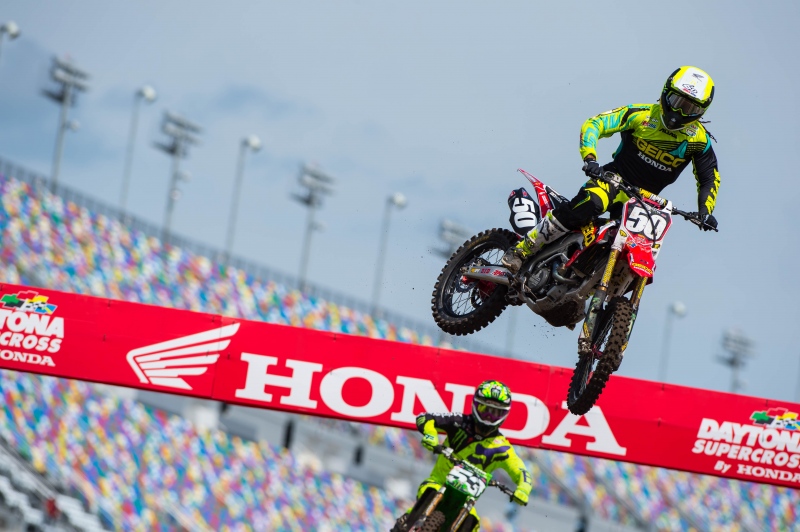 Malcolm Stewart led 12 laps but in the end, Vuillemin thought he tired out. Photo courtesy of GEICO
Kudos to Martin for taking the outside line in the second to last turn of the race. That move kept the red plate on his bike for at least another race. After 2 races, I liked what I see from "Little Hill". He's gonna have to start better from now on but his riding and fitness are on point to win this championship. Jeremy Martin will have to step it up on a regular SX track but his first win of the season might help him do that. Malcolm needs to focus on his own race and stop focusing on the other riders. As far as Davalos goes, he still leads the series but we'll have to wait a couple more races to see if he can do what he did in Atlanta again… This series is very open and might become the best and most interesting series of the season
You're a fan of James Stewart but Daytona went rough for him…again. Thoughts?
Like I've said it before, I'm not sure what he's trying to accomplish right now. Is he gonna win a championship again? I really doubt it even if I'm a huge fan of Stew. Is he gonna break MC's record? I doubt it. Is he gonna best himself from his Kawi or early Yami days? I doubt it. Is he riding for the money? Maybe that's what it is and it's ok. I rode a couple seasons too many but I needed to make a few more bucks before retiring. James can't stay on two wheels anymore. He keeps crashing, crashing and crashing. I'm scared of the day he'll crash one too many times. He's crashed so hard and so many times since he turned pro in 02. That being said, I'd love to see him retire and do something else. Stew should be remembed as the fastest man on the planet, not what we've seen this season…
What else caught your eye from Daytona?
Not much caught my eyes to be honest. I was too busy trying to stay awake through the broadcast. I got bored very quickly and lost interest in the race early on. I saw a struggling Chad Reed after a great race in Atlanta. I'm pretty sure he hated the track and swore all day about it. Those things affect Chad's results a lot it seems. When everything goes right, he's a podium contender for sure. He showed it a few times this season. But, when he doesn't like the track or if he's not feeling 100%, it affects his results a lot. He lost the consistency he once had. I can't wait to see him up there again. For me, it's way more interesting when he's riding well and up front.
You raced GP's for a long time. What did you make of Ben Townley's criticism of the series and the Loungo 's response to him?
Ben knew what he was getting into when he signed his Suzuki deal to race the GPs. We know Qatar and Thailand aren't the best of tracks but they aren't that bad really. I'd rather ride on the Thailand track than race Binghamton, New York or Troy, Ohio. I've raced Youthstream promoted series in 1999 and 2009. I think they do a great job organizing the series. It's very professional and clean. Yes, some tracks aren't very good but some are actually fun to ride. Just like any other series. You can't like all the tracks of a championship. MXGP is the reason BT is getting a fat check at the end of the month. If MXGP wasn't there, he would still be retired or ride for nothing like he did at MXDN. Like we say in France, "You shouldn't spit in the soup" when you're getting paid to race for a factory no matter what series you're racing.
Plus, saying that publicly will not do anything but work against you. Throwing Guiseppe Luongo and his crew under the bus isn't the smartest thing you can do. Just keep it to yourself. If you feel like a track isn't good or if it's dangerous, just ride at 80% and still cash your check at the end of the month. There's always another race where you're gonna enjoy the track more. As far as Luongo's rhetoric, you have to understand where he's coming from. There's no point getting in a feud with him. Luongo was there before Townley and will be there after Townley. It's just like if a rider would bash on Feld at a SX race. There's no point. You knew what you were getting into when you signed up for the series. If you don't like it, just don't sign up…
And besides that, what are your thoughts on the series after two rounds?
The MXGP world champion is leading the MXGP series and whoever should've won the MX2 title in '15, he's leading the MX2 series. Everything happening is pretty predictable. I am waiting for Cairoli to be 100% to see what he can do against Febvre and Gasjer. The series is very long, 18 races and a lot of stuff will happen in the next 16 races. I'm surprised by Gasjer. He's riding very well and it's not too often when we see a 250 guy perform in the 450 class right away. After Valkenswaard and the 2 races in Argentina and Mexico, we'll know more but this championship will be fun to follow. Everyone is stepping up their games. The riders are riding way more aggressively these days in GP. It looks a lot more like the Nationals now. The first 2 races were pretty fun to watch and I will follow it as much as I can. I don't regret spending $8 a race to have 4 commercial free motos. Plus, I think Malin does a great job commenting the races. You gotta give credit to the guy. He's mostly alone talking for 4 straight motos. That's a lot of talking!