Test #8: Shinko 505 Hybrid Tire
Test #8: Shinko 505 Hybrid Tire
A majority of our PulpMx Product Punishment tests are performed in the southern most parts of the Nevada desert, known for grueling miles of rocks, sand whoops, and hard-packed trails. Testing in these conditions demands the most out of any product put into our hands, especially tires. For this new edition of PulpMX Product Punishment, the gentlemen of Western Power Sports (WPS) introduced us to a new hybrid tire released by Shinko: The 505 Hybrid Cheater – a hard enduro/single track tire designed for what seemed to be the best fit for our rocky landscape.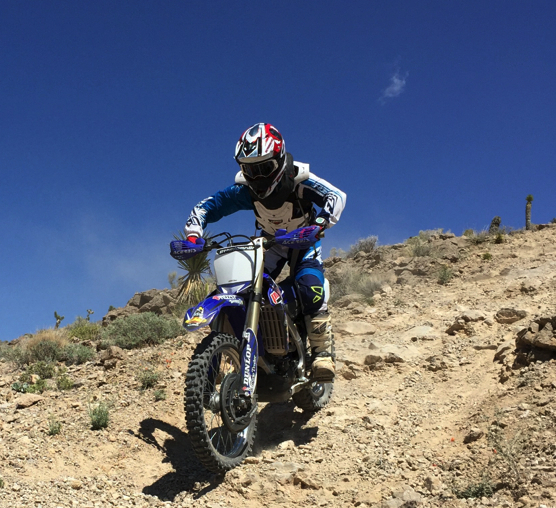 Typically, tires on our test bike do not have much longevity, due to the nature of the terrain that we ride. As stated previously, the copious amounts of hard-packed, rocky trails that surround us tend to shred whatever types of tires and/or compounds we run at any given time. Seeing knobbies that tear off of the carcass in chunks is normal at some point in their short lifespan. At first glance, the 505 Hybrid tire looked and felt different than other tires we have previously used. The tread pattern and spacing was tight, giving the tire a rounded, trails-influenced look. The compound was the most intriguing aspect, as it has a very soft, pliable feel, which would come in handy in the most technical sections of our rides. Here are some other specifics that Shinko has provided for the general public:
· Best of both worlds, with a soft, sticky rubber compound of a trails tire, to work in a wider variety of soil conditions.
· Larger off-road influenced knobbies provide better braking in loose soil, and finds traction in the most extreme conditions.
· Ultimate Hybrid off-road tire, combining the riding styles of Hard Enduro & Extreme Single Track.
· Available in the popular 18" and 19" wheel sizes.
For the purpose of this test, we opted to go with their largest size, a 120/100/18 for the rear end of our YZ450FX. The carcass of the 505 Hybrid is naturally flexible, which initially raised some concerns about pinch flats in the desert. With the extra soft compound used for the knobbies, paired with a flexible carcass, preliminary impressions of the future performance and longevity carried some doubt before mounting the tire on our bike. On the flip side, mounting the tire was rather easy, as the traits described above worked in our favor. One feature that really stood out after getting the 505 Hybrid fully mounted, was the very minimal bead that sat on the edge of the wheel. Once inflated, the tire stood very tall and pronounced, and the lack of a large bead allowed the tire to have a sturdier footprint when on the ground.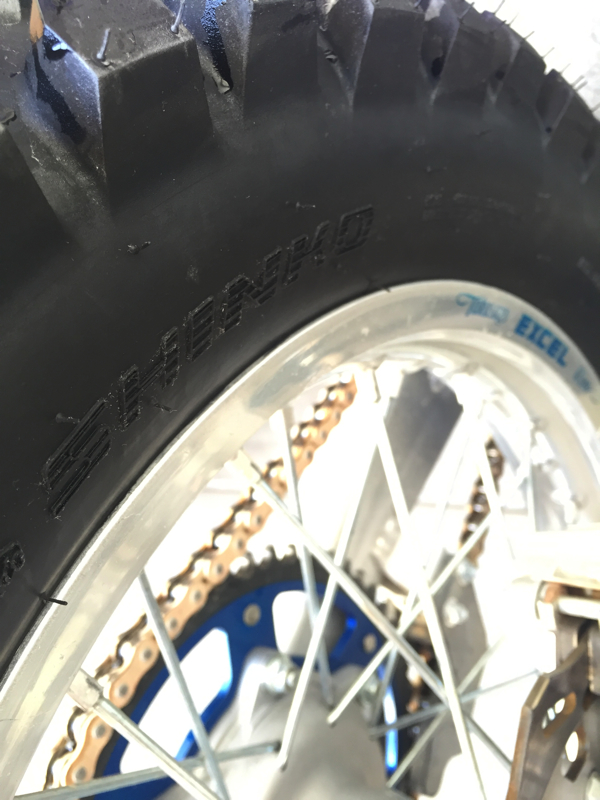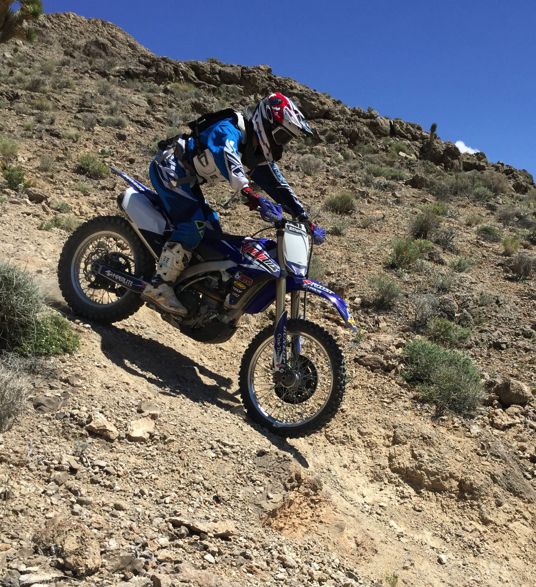 Once on the trail, the Shinko 505 Hybrid showed it's true colors, and adapted quickly and easily to our rocky single-track sections. This is exactly where the tire shined, in hard-packed, loose-rock sections, at low & high speeds. In fact, even riding some slight trails-influenced areas, where you had to navigate through very large boulders with no line to follow, the 505 Hybrid stayed glued to the ground, and provided more than adequate traction on our 450. This definitely inspired confidence when riding, which could allow a rider to possibly attempt sections or trails that he/she might have been skeptical to try in the past. Furthermore, the initial impressions of potential pinch flats quickly came to an end when testing this tire, as we encountered several large, embedded rocks on our rides at speed. Not wanting to admit the fact we had more than one close call after smashing our way through the desert, but never once sacrificing one of our heavy-duty tubes.
On another note, areas where this tire lacked performance were easy to encounter, as it was always in soft soil conditions. Between a mix of silt, sand washes, and even mud, the Shinko 505 Hybrid tire did not favor well with traction in these types of settings. The real wheel spun freely, giving the rear end a very loose, non-stable feel, which can probably be attested to the close spacing in the tread pattern, and the rounded trails-influenced design.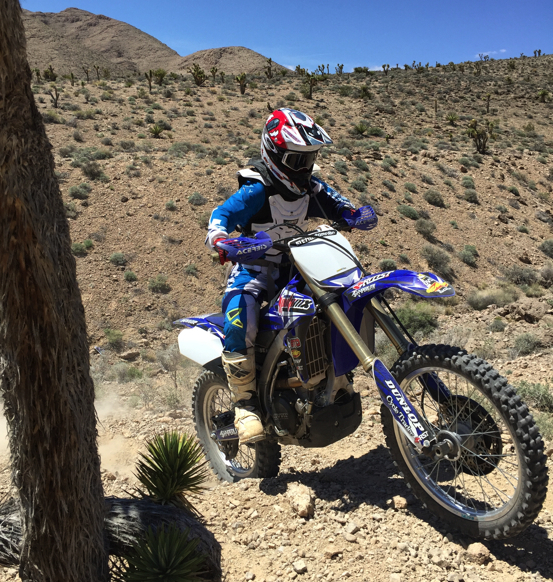 After over 300 miles of testing in the Southern Nevada desert, the Shinko 505 Hybrid tire has ran its course. A true testament of the design and materials used in its production, not one knobby on this tire has torn or chunked off. The tire has remained intact, although worn out at this point, and even after smashing multiple large rocks, our wheel remains unscathed. Overall, we definitely enjoyed the use of the Shinko tire, and were pleasantly surprised with overall performance and longevity. If you are a rider that has similar soil conditions in your area that were described in this review, I would definitely think about giving this tire a chance to prove itself on your bike. We honestly feel that it is of great value, with a lower price point than some of its competitors, but proving to last much longer as well.
Thank you for reading! Please check out our previous review on HCP Designs here:
http://pulpmx.com/stories/pulpmx-product-punishment-5