Kris Keefer answers some pertinet questions on the '18 YZ450F
Kris Keefer answers some pertinet questions on the '18 YZ450F
10 Things You Need To Know About The 2018 Yamaha YZ450F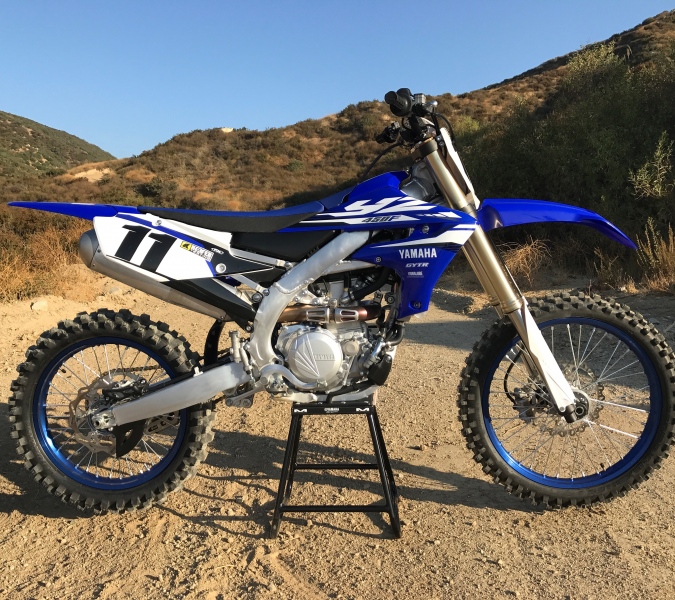 Although it looks close to the same, the new bike does have a lot of changes.
Its here! It's here! The long awaited 2018 Yamaha YZ450F media introduction was at Glen Helen Raceway Wednesday. I wanted to give you guys 10 key points about the new blue steed. If you want to hear more about the 2018 YZ450F you can listen to the "Keefer Tested" podcast that is up now on pulpmx.com, iTunes, keeferinctesting.com and Stitcher.
1. Engine: The 2018 YZ450F's engine is tilted more forward in 2018 and has a host of changes internally for increased power output (you can go to keeferinctesting.com to see what those changes are). The engine character has a more of a free feeling than the 2017 version. The 2017's engine braking was heavy and the 2018's engine has less off that drag on de-cel. The bottom end is snappy and comes on strong (yet smooth) and chugs into a
very meaty mid range that pulls farther than the 2017. If you're not careful the mid range pull can get away from you (while in third gear) accelerating out of corners. Top end is lengthened and has slightly more over-rev than the 2017. It is not as smooth on low end as the KTM 450 SX-F, but not as snappy as the CRF450R. It is somewhere in the middle. I feel Yamaha did a great job of adding to an already impressive engine character, that makes it easier to ride aggressively.
2. Suspension: The suspension feels much like the 2017 and moves in the stroke a lot. However this movement doesn't have as near the amount of pitching like the older YZ450F does. The fork still has good comfort over braking bumps, but has slightly more deflection on small acceleration chop (which is more of a chassis feel, but more on that later). I stiffened the fork up two clicks and slowed the rebound down one click and this helped calm the fork down on light bump absorption. The shock needs to have a sag setting between 100-102mm similar to the 2017 setting. However the rear of the 2018 does not have that stink bug feel to it like the 2017. Coming into corners the rear of the Yamaha has a better ride attitude (lower feeling on decel) and will not push the front end near as much as the older bike. The shock is a little soft like the fork, but still has remained comfortable on acceleration chop. I did go 1/8 of a turn stiffer on high speed compression to help keep the rear end up on jump landings and steep faces. I feel like the suspension has a wider range of adjustability to maximize the comfort for a wide range of riders. I had Alex Ray testing with me and while he's a good 20 pounds heavier than me, he found a comfortable setting to go fast on.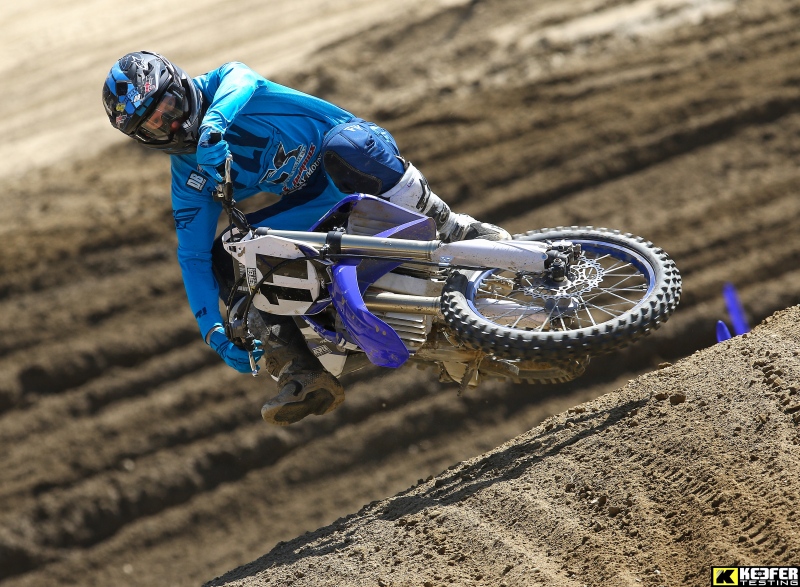 Kris Keefer does his best Travis Preston impersonation.
3. Chassis/Handling: The 2018 chassis feeling is much different than the 2017. The 2018 YZ450F corners much easier and feels lighter on "tip in" (entrance of corners). Mid corner push that last year's bike had is not as apparent with the new frame. The front end sticks through corners and will not give the rider as much vague feeling. The downside to the new chassis is the stiffer feel it can bring on straight line stability. The front head tube area has a little stiffer feel on acceleration (hence the fork deflection) and gives the rider less of a tire contact patch (only on acceleration). It feels like the front end is never really planted when on throttle and dances around more than the 2017. Off throttle the front tire has good grip and doesn't deflect as much.
This stiffer 2018 feeling is exactly the opposite of the 2017 Yamaha YZ450F. I would say with a little more suspension set up I could get rid of most of that feeling, so I will tinker. We complained about cornering with the Yamaha for years right? Well…. They listened and now we might have to adapt to a slightly less stable straight line chassis feel to get that cornering feel that we wanted.
4. Ergonomics: The 2018 is much slimmer and easier to get farther forward on. I can move farther up on the seat and not have the shroud area hinder my leg movements in corners. The fat feeling shroud area is minimized and will not freak the Honda or Kawasaki riders out moving to the Yamaha. The middle part of the YZ450F (frame) is narrower and you are able to feel that when whipping the bike over jumps. The word "Flickable" is used a lot and the Yamaha has more of it in 2018. The taller bar mounts take a little time to get used to, but the handlebar is the same bend/shape, so just roll your bars back a little to compensate for the bar mount height if it bothers you.
5. Electric Start: When I can get an e-start without making the bike feel like a hog on the track Iam all in! The 2018 Yamaha's e-start battery only weighs 1.5 pounds and doesn't require the rider to pull in the clutch. It cranks over fairly easy and makes stopping to talk to your homies in the pits much easier in the summer time..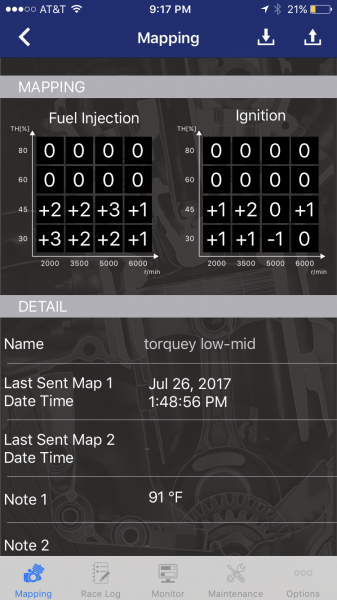 The Yamaha Power Tuner App is pretty cool.
6. Yamaha Power Tuner App: You can download this app and make your 2018 Yamaha YZ450F's engine character tailored made for you. There are three pre-programmed maps already on the app, but you are able to fine tune your fuel and ignition parameters to your liking. Having someone hack into your machine should not be a problem because its a password set account just like your home's wi-fi connection. It's also cool that you are able to share/text your personal map to your buddies, so they can try what you came up with as well. I went with a stronger bottom to mid map (shown in this article) and this helped me carry third gear more through corners. I felt like I was in between gears on some tighter corners, so I wanted more grunt on low to mid range. By adding some fuel and advancing the ignition a little I was able to use third gear around 75% of the track at Glen Helen!
7. Blue Wheels: Don't fight it! Accept it! The flat blue color the rims are good looking and lighter than last year's design. If you don't like them than you can always go with the white/cyan colored Yamaha with BLACK rims! They are reported to be stronger than last year's stockers, so I will be testing this in the upcoming weeks!
8. Arrival: So when do they arrive in dealers? I spoke with two Yamaha employees and both told me they didn't have a firm date yet, but most likely dealers will see them in 2-3 weeks time. The MSRP is $9,199.00. That is $500.00 more than the 2017.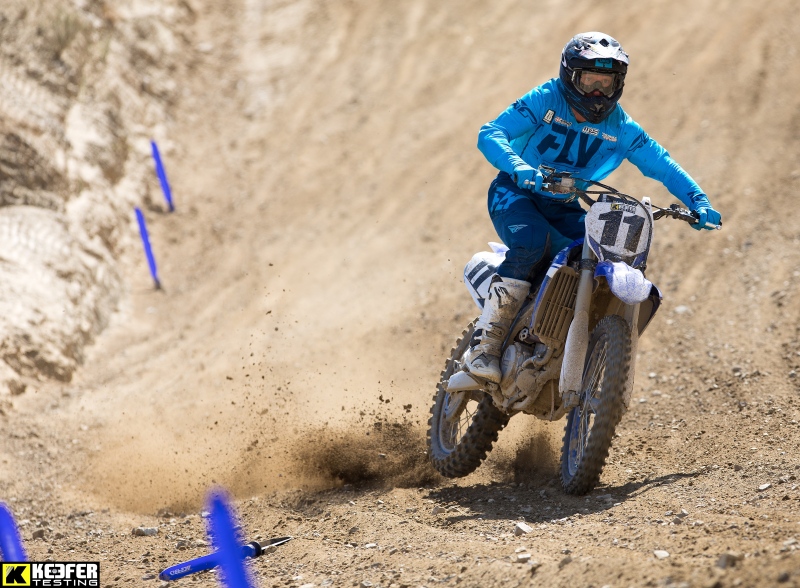 Keefer likes the Power Tuner, the rims, the way it turns but doesn't like the seat.
9. Seat: If there is one thing I strongly didn't like about the 2018 Yamaha YZ450F is the seat. The seat foam is soft and I can feel the seat base when I am leaning through a corner hard. The corner of the seat's foam is soft and the seat base and gas tank area (near seat) hit my butt bone and is uncomfortable during a long moto. I am going to try a firmer foam ASAP.
10: Air Filter/Gas Cap: The airbox cover is so easy to take off. There is one dzus fastener that holds it on and then it pops off. The air filter is held on by two clips that makes removal ten times easier. The airbox/intake noise is similar to last year's, so for those that are used to it will not know any change in sound.
So what's the verdict? I have only had one day on the 2018 Yamaha, but from what I felt it feels like a better YZ450F. The chassis feels stiffer, but that makes for a better cornering blue bike that we haven't seen in….Well……Ever….. I am going to be playing around and tinkering in the coming weeks so stay tuned for continual updates on pulpmx.com and keeferinctesting.com.