The embargo has lifted!The embargo has lifted!
The embargo has lifted!The embargo has lifted!
Since I have had a set of 2018 Fly Lite Hydrogen gear for over a month or so now I wanted to get you guys a review on the new Fly Lite Hydrogen pant and jersey. Fly flew us out to Idaho last month to not only spoil us, but let us ride in the new gear to test it out for a couple days. The Lite Hydrogen pant and jersey has been one of my favorite sets of gear to wear on any given day for a couple years now.
The 2018 Lite Hydrogen pant now features the revolutionary BOA closure system that was once only on the Evolution 2.0 pant. The BOA system offers fast, on-the-fly micro adjustability that provides a truly dialed in fit with the simple turn of a dial, creating a customized fit around your waist. The Lite Hydrogen pant is an athletic, minimalist, stretchy fit that ventilates extremely well on long, hot desert testing days. The Lite hydrogen pant also has a 90% stretch panel construction, leather heat shields (on the knees) and sublimated graphics.
The Lite Hydrogen jersey also has an athletic fit to it with laser cut perforations to help dissipate heat, a tales printed collar, an open zero cuff with mesh gussets, a low profile collar, an extended tail and sublimated graphics that are claimed to be fade resistant. I put all of this to the test!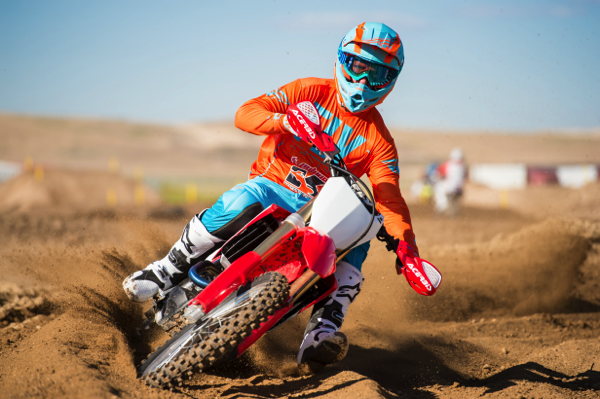 Let me tell you it wasn't easy to keep this gear hidden from the social media world because I was constantly riding in this gear for over a month! Luckily for me I had a lot of confidential testing days that kept the spy photos and "Insta Bangers" out of the equation. I am extremely happy with the new BOA system on the 2018 Lite Hydrogen pant. If there was one thing I didn't like about the 2017 Lite Hydrogen pant is that it was so stretchy that it pulled down (in the rear panel) while accelerating out of corners that left me with an untucked jersey by lap three. I am not like Jason Anderson so I wasn't into that kind of look. With the 2018 pant and the BOA system all I have to do is turn in the reel and tighten, so that my pant is securely locked my waist. Let's face it, most motocross riders have no ass and usually the jersey will come untucked immediately. Not with this BOA system. The pant has held up great against my knee braces and although this is a very light weight pant it has really good durability.
The Lite Hyrdrogen pant is not as light as the FOX FlexAir, but has held together better over time. If you are a bigger guy don't fear because FLY sells the Lite Hydrogen pant in sizes 28-38. I have seen a pair of 38's on my buddy and it doesn't look abnormal at all. When comparing the FlexAir and Lite Hydrogen cuts, the Fly pant is not quite as tight as the FlexAir and doesn't hug against your legs as much. This left me with a little more room for an array of knee braces that I tried over the duration of the test. The colors that Fly came out with in 2018 is so much better than the colors they had in 2017.
Bright yet clean colorways are what I prefer and that is exactly what the Lite Hydrogen is. Although I am not sure Fly recommends putting your pant and jersey in the dryer, I have done so on many occasions and the BOA reel sticks works flawlessly.
The Lite Hydrogen jersey ventilates very well and the open cuff design is one of my favorite aspects of this jersey. Sometimes when you get an open cuff design the jersey will ride up your arms during a moto, but the Lite Hydrogen jersey's cuff will stay in place and not go all Mike Alessi on you. The athletic cut of the jersey is on the snug side, but again not as tight as a FlexAir jersey. It's important to note that the Lite Hydrogen is not as tight as the FlexAir for the bigger dudes with some extra weight in the belly region. Don't fear the spare tire because Fly offers a 2X and I promise you will not look all EMO with a snug fitting jersey.
Once you slip the jersey on you can feel how soft it is and will the material not irritate your skin. You will also still have enough stretch for an under protector if you choose to wear one (which I did on occasion). Mrs. Keefer has washed the pant and jersey several times and the colors have not yet faded or dulled out. One downside to the jersey is that the collar is somewhat tight around my neck, so I stretch mine out a little. However, be forewarned if you are like me and stretch your collar out, there is a chance for mud/dirt to get inside your jersey. I am willing to take that risk for a more roomy neck area fit, so the juice is worth the squeeze for me to do that.
Fly Racing has come a long way with their gear fitment and designs over the years. The 2018 Lite Hydrogen pant and jersey is light, takes abuse well and looks bad ass! The pant costs $169.95 and the jersey is $49.95. You can check the complete line of 2018 Fly Racing gear at flyracing.com and make sure to tag me @kkeefer120 on your Instagram photos when you get the new gear! I want to see all of the "Best Dressed" riders out there…