I usually try and pick one big race a year to try to attend and see what I can get myself into.
I usually try and pick one big race a year to try to attend and see what I can get myself into.
Testing dirt bikes is one thing, but trying to really push my limits as a racer and race at a high level is one thing I want to try and keep doing. This year my family and I looked at the calendar and chose to give Loretta Lynn's a go. When I initially made my mind up to do this race I didn't think about how much work, money and how much my family had to sacrifice to get us to Hurricane Mills, Tennessee. Now that the time has come and the week is finally here, I wanted to sit down and let you all in on what the journey looked like from the inside for me and family to get to "The Ranch". `
Looking back on my childhood now and watching Aden (my 11 year old son) ride his dirt bike I know some of the struggles my dad had to go through to keep me riding. I stress out just watching him ride and tell him to NOT jump certain things on the track for his own safety. My dad taught me the basics, but basically just sent me out in the desert to make my own mistakes! Holy shit, I could not even imagine doing that with Aden. I grew up middle class and my dad worked two jobs so it was difficult for him to afford taking me to Loretta's (let alone a local race), so getting to race with Aden at Loretta's has been one of my "bucket list" things to do before I get too old and crotchety to travel back east. Growing up I raced a lot of District 37 and local motocross races as that is all we could afford at the time, but I was thankful that I had a dirt bike to keep me out of all the trouble that sometimes the high desert can lead you to. This sport is expensive (as you are about to read) and I don't even have to pay for a lot of my stuff. This is why I respect what I have because I remember how much my dad had to work his ass off just so I could have one running machine to ride/race. I try to instill that in Aden and not let him lose sight of that, because all he sees is free shit that shows up to the house on the daily. That is not real life. He doesn't see all the work that goes into getting these bikes, gear and parts that show up in his garage.
Area Qualifier: This journey started back in April at the Loretta Area Qualifier at 333 MX Park in Victorville, California. I wanted to do this along side Aden to see if maybe we both could get to Hurricane Mills together and to my surprise he made it through his area to go to the regional in June. Now Aden hasn't shown that much interest in dirt bikes (until this year) and has only raced two other events before the area in Victorville. Watching him get more involved in the sport that I love so much has brought me so much happiness and headaches as well. I see a lot of me inside of him as I didn't start to show interest in dirt bikes until I was ten years old or so. After assessing the pocketbook after the area race the grand total of that weekend was $600.00 and that was a race that was 15 minutes down the street! More chores for Aden was on tap before the regional. I see all these families, their motorhomes, brand new bikes and they hit all the amateur nationals! What do these people do for al living? I want to know! I want in! It seems there is a lot of money going out, but I am curious as to what kind of money comes in for them to spend the money and time it takes to get to all of these big amateur races.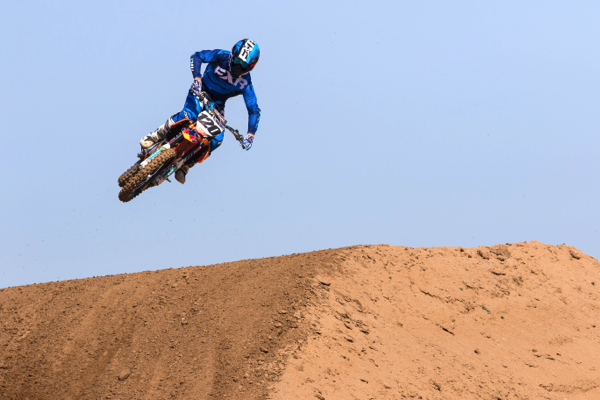 It's Lit Fam for LL's y'all!
Regional Qualifier: Our regional was at Hangtown in Sacramento, so that meant that we would leave on a Thursday to be able to get to the track Friday morning for practice. Heather took two days off from work and I volunteered my good friend Greg Loup to be my man friend/mechanic for the weekend. Arrival at the track Friday meant we had to purchase wristbands for the weekend for all of us ($140.00) and the cost of practice fees and race entries would set me back another $400.00. The fuel cost roundtrip was $300.00, including hotel cost ($425.00 for three days) and food was around $250.00. The races were only 5 laps long, but were ran very efficiently as it made the day go by very quickly. Five laps is not that much for the money, but I get they have to fit a ton of classes inside of two days. Little Aden didn't qualify out of his 9-12 mod division, but we weren't banking on him to. There are some kids in that class that don't go to school and ride full time, so he wasn't too bummed on his performance. I was still proud he was out there and he had a good time. He now understood what it took to get a level where he would have qualify next year. I qualified out of both of my classes (25 Junior and 40 plus) and would be going back to the Hi Dez with two tickets to "The Ranch".
The National: After the regional I had a major job change as I left Dirt Rider to work more closely with Keefer Inc. Testing and Pulp MX. Getting a business model off of the ground and trying to stay in shape for a race that demands you to be in good shape is tough to do. Not to mention trying to balance a family life with the wife and kid at home. However, just like most of you out there that have a supportive family, they took it in stride and let me do my thing without much fuss. I trained and did 25 minute motos as much as I could in between testing new bikes and parts, typing, recording podcasts and answering emails. It was sometime in July where I was asking myself "what the hell did I get myself into"? I was on a high level of burnout from all the moving parts of life and I almost wanted to say screw it and give up on going to Loretta's so I could just focus on work more and not be so stressed out. However, after speaking with my dad one night on the phone it all came into perspective. I was telling my dad about all of the shit that was going on and told him I might not go to Loretta's, so I could focus on my business at home and he spoke in his soft yet stern voice. "Kris what was the one thing you always wanted to do when you were a kid? I couldn't take you to Loretta's, but you have made it this far and worked hard to get to where you are right now. The work is still going to be there when you get home, so why not go to Loretta's and create a memory that will last the rest of your life. It's not about winning or losing, but it's something you've always wanted to do and after the race is done you can always look back and tell yourself you gave it everything you had and did it". It was almost like a speech from the movie Rocky and it got me fired back up to get my head back in the game. Money will come and go, but doing something you love might not be there for the rest of your life. So….. I am on a plane headed back to Tennessee about to embark on a week long vet class racing journey with my family for nothing but pride and a good time. It took me 40 years to pop my Loretta's cherry and oh…..Did I mention it cost $675.00 for the entry alone at Loretta's? Sorry dad, but this whole spending money thing still stings a little!
You can stay up to date on what is going on with Keefer and his Loretta's journey by following his Instagram/Twitter @kkeefer120 or follow Heather @mrskeefer120 for more behind the scenes Tennessee clips.