You want the truth? You can't handle the truth!
You want the truth? You can't handle the truth!
What a ride by Marv, what did you see from him?
Basically, Marvin rode the best race of his career on Saturday. His riding was flawless. Technically, it would've been very difficult to ride better than he did. Washougal suits his style very well. That's maybe the best track of the series for the way Marvin rides. Washougal is a very tricky track where traction and grip are very challenging so you have to use a lot of throttle control and momentum. Momentum is the key at pretty much every track but with Washougal is slippery, tight at times with shallow ruts, you have to be very smooth. You can't hammer like in Red Bud for example. Marvin isn't as comfortable on a track where you can to pin the outsides. We saw it in Red Bud and Southwick. But, Washougal, where you have to be smooth, precise and smart with your positions on the track, Marvin is one of the best there is. The problem with Marvin, I think, is that he doesn't show nor use his full potential all the time. When he does, like Saturday, he is very lethal and almost unbeatable. Both of his motos were very impressive. He did everything perfect. He was smooth and in control when he had to be and he was charging and aggressive in other sections. His placements on the track and his lines choices were also great. And one of the strong point of Musquin is that he is very consistent and can do those things every lap.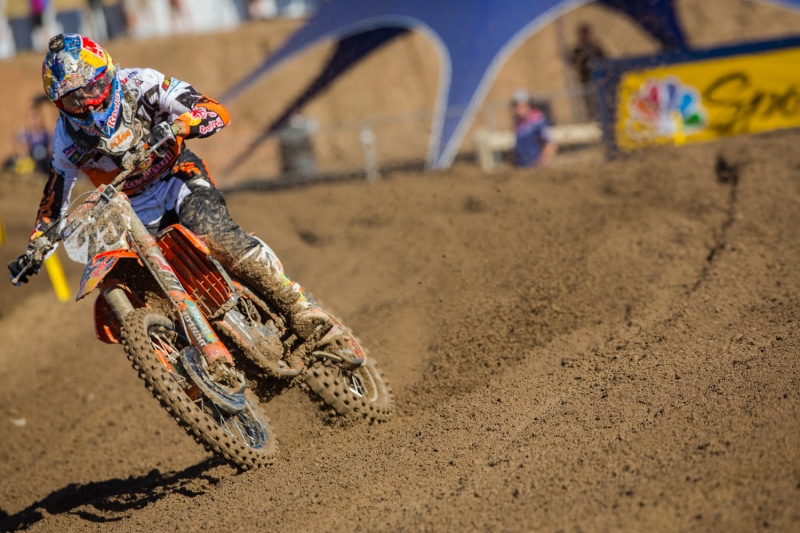 Musquin was amazing at Washougal going 1-1 for the second race in a row.
In a way, I was very impressed with the way he rode but, in the other hand, I've known for a long time he has it in him. I've seen him ride since his mini bikes days. I know what he's capable of and that's why I'm a bit critical at times. When he rides at his full potential, he can win anywhere in SX or MX. A favorable track like Washougal helps him get to that full potential more naturally because he's great in those conditions.
Marv did a bunch of 2:11's in the second Moto while ET did one 2:11 and then next best was a 2:13…any reason that you saw why?
Eli was actually the fastest by a hair in both motos which could be surprising if you watched how the both motos went. If Washougal might be the best track for Marvin, it could well be the least favorable for Eli's riding style. Tomac was great at Red Bud and Southwick. Those tracks are 100% stamped Tomac. His riding style of railing the sandy outside berms works very well on those tracks. Millville can also be one of his tracks but this year, the weather made the track very rutted and more technical than usual. It's why he wasn't as good this year. I'm not saying Eli isn't a technical rider. He shows us in SX and on most of the MX tracks that his kind of technique works very well. He dominated a very technical SX series. He dominates MX races too but where a different technique is needed. Washougal is almost a mix of MX and Enduro riding. Eli is very much of an on/off (on the throttle) kind of rider. On a soft and sandy tracks with big berms, it's an advantage.
But not on last Saturday's track. In Washington, on/off can work on a one lapper (he was the fastest in practice and in both motos) but it's very difficult to be consistent riding like that in a 16-lap moto. Where his corner speed is unbelievable in Red Bud and Southwick, he lacking some in Washougal because it's tighter and there are more ruts that berms.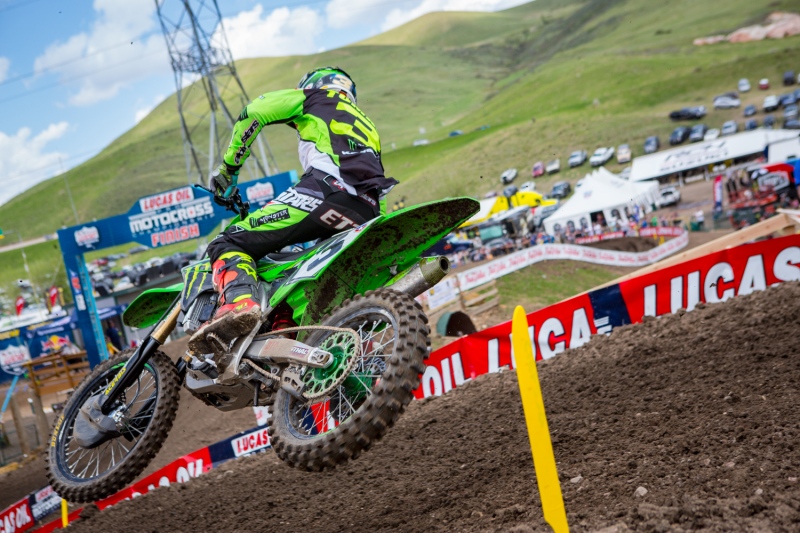 Tomac went 2-2 at Washougal but stretched his points lead out more.
I'm gonna try to explain what technique to use in Washougal. Imagine your bike being stuck in 4th gear and your clutch lever is broken but you have to be the fastest you can. You will have to open the entrance of your turns to carry your speed into the turns. You will have to avoid braking too hard to keep your momentum. You will have to let go of the brakes earlier to be able to go thru the tight ruts without stalling. That's pretty much the philosophy to adopt to be efficient. If Eli rides like Tomac and Marvin rides like Musquin, Marvin will always have an edge with track conditions like Saturday.
But, I also have to take in consideration what's going on in the championship and what happened in the SX series. Eli kinda blew the end of the SX season and I'm sure he doesn't want to do the same in Motocross. Eli doesn't have to win all the races and beat Marvin at this stage of the season. Indirectly and mentally, Marvin has nothing to lose and no pressure and Eli is trying to win his first 450 title of his career. Both situations are very different. Remember Dungey vs Eli in SX when Ryan had a huge lead. Eli had to win with nothing to lose and RD had to ride smart and score points. That could also be a factor, let's not forget that…
Should Marty hunt for a 450 ride next year?
I'm not jumping on the Davalos bandwagon just yet. Martin is delivering some interesting results lately and riding the 450 well. We have to keep in mind the 450 class isn't very deep this season. You have Eli and Marvin in front. We had Baggett riding amazing for a while but he's struggling with a thumb injury now and then you have the field… Martin's fastest laps were close to 3 and 4 seconds slower in first and second motos than the Musquin/Tomac duo. I think it's a lot of difference between the second and third place guy. Same with Wilson in Millville. Dean podiumed but was 3 seconds slower in both motos. Those 2 guys beat the rest of the field the last 2 races but I don't think the field is doing that great.
Put a few 250 guys who should be 450 riders today, Osborne, J-Mart, Savatgy for example, and Davalos and Wilson wouldn't be in the top 5 and we wouldn't be here talking about them today. I just want to see more from the "second tier" riders before I jump on anyone bandwagon. To answer your question, it's a great time for a 250 rider to get out of a very thick 250 class and move up to the 450s. We're hearing left and right the 450 class is the best ever and so on. It's not and it would be a great timing for older non-winning 250 riders to make the jump and try themselves in the big class.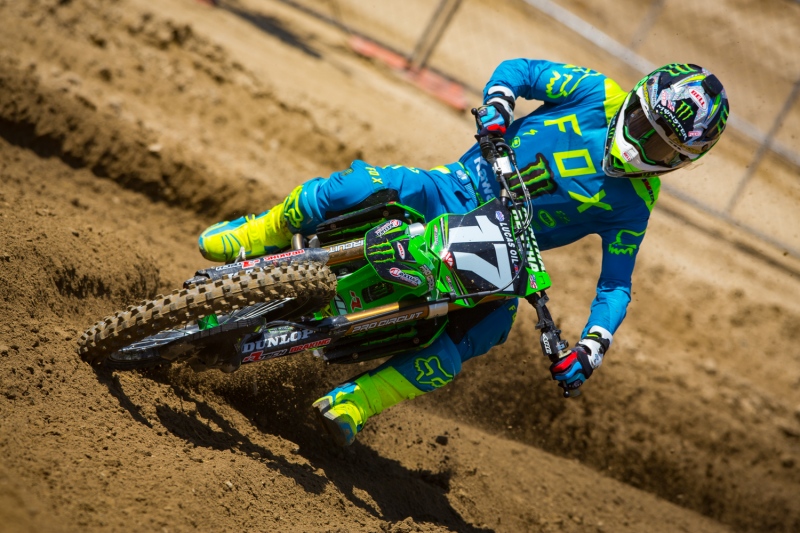 Joey Savatgy won his second straight national and third on the year with 7-1 moto scores.
What a great second 250Mx Moto. Take us through the rides from the guys?
It was basically a 5-rider race. Savatgy with a great start and regained his form the last couple weeks help himself by starting in front and riding a free track. He wasn't the fastest in the second moto, in fact 4th fastest, but he did what he had to do to win the moto. The crazy development of the race gave him the overall with a 7-1 score. Talking about that score, we need to have someone search for the rider with the least amount of points to win an overall. Joey scored 39 points. That's 1 point less than a 3-3 score. Could be an interesting stat to find. What about Hampshire? Out of nowhere, leading the race for a while, clocking fast lap times and getting his first moto podium of his career with a second. He even fell over at one point and ended up a couple seconds behind Savatgy at the checkered flag. He had a bunch of guys pressuring him behind too. He impressed me, I wasn't expecting that.
Osborne was maybe the fastest guy once again but had to come thru a thick pack in a deep class on a difficult to pass track. Zach is showing a lot of heart this season and salvaged once again big points after a crash in the first moto and a not so great start in the second. Ferrandis podiumed the overall again but I'm a bit disappointed. The way the both motos went, he should've won the overall with a 3-3 score. He had a tough mid-moto. He started 4th and should've at least got 2nd in the second moto. Instead, he got passed by Nichols and later by Osborne. He passed Adam in the last lap for an overall podium but it should've been a French sweep in Washougal. Dylan last lap pass on Adam move AC from virtual overall winner to 4th overall. That's crazy. Cianciarulo blew that one up, for what reason I don't know, but when you start 3rd behind Savatgy and Hampshire, with Osborne in 8th, you're not allowed to get 5th and lose the overall.
What about Tomac's decision to bow out of the MXDN. Thoughts?
This type of news is never good for the fan base. It's a 50/50 thing. Half will be ok for it and the other half thinks he should be punished for treason. It's like politics, you have people who want Hillary in jail and on the other hand, people who want Donald impeached… You can't really win with a decision like that but we have to respect it. MXDN is just not on Eli's list of goals. His goals and what he's paid for is to be US SX and MX Champion. I'd rather see him at MXDN. I want the US to send their ultimate best team to that race because I am biased. I am biased because after 25+ years in the MX World I still believe the US championships inside and out are the most prestigious and difficult series to win. It's why I want to see the best Americans there.
But, let me be the Devil's advocate, being a US based rider racing the 450 class is f#$%& tough. Monster Cup Mid-October, an important race because live on TV for 3 hours in the US watch and followed by a demographic with potential buyers of whatever companies that support Eli. After MEC, it's SX prep time… Then, SX is 17 races on 18 weekends. MX season 12 races on 15 weekends. Nowadays, the MXDN is 1 month after the last National. That's way too long. Youthstream should move the MXDN early September if they want the best US riders to be attracted. Even if it means having the MXDN before the GP season is over. MXDN or GP, it doesn't matter for GP riders. They are there as well as their teams. Like I said, I'd rather see Eli there with Zach and Blake. Blake won't be able to go neither. MXDN isn't an individuality race. It's a consistent 5 results race with 3 riders. Teams win, not individuals. Let's not forget the US almost won with just one rider starting the last moto of the day last year. Whoever they send, the US will always be in the contention of winning because winning is in the DNA of Americans. It's always been and always will be. My blood and my heart want to see France do good but my beliefs want to see team USA always be a contender and show us this never-say-die attitude I like so much…
What's your best Washougal story?
Prior to my first time in Washougal in 2000, I was struggling my suspension especially the shock. I started the season well with a podium in Glen Helen and 2 wins in Hangtown and High Point and leading the series. Then a DNF a moto in Southwick due to a mechanical. Then, I hit a wall. I don't feel comfortable on the super rough tracks and I was questioning my set-up, like most USA riders do… My dad was in the picture then. He kept saying my shock was horrible. We were using factory Kayaba obviously at factory Yamaha. The shock had a bigger shaft and maybe not tuned right. After 3 tough races, my dad out of nowhere said I would be better off with a stock shock with a spring for my weight. I think it was a 5.0 back then if I remember right.
Keith McCarty was the team manager then. How was I gonna ask him I wanted to try a bone stock shock with my spring on it to do some testing… I think Keith liked me for the most part. He saw my family was all in. My mom was at the track everyday taking everyone lap times. We didn't have fancy electronics with sensors and GPS back then. She took all Yamaha and Yamaha of Troy riders' lap times every day. Everyone was coming to her for lap times. She says she didn't like doing it but she loved it I think. She printed everyone's lap time. Looked like an old deli receipt though filled with times.
My dad was tyrant and made most moto dads look like dads of the year but he knew what he was doing with 2 stroke engines and suspensions. Yamaha agreed to do the test I wanted. We went to Glen Helen (shocking!) mid day when the track sucked. They brought a bone stock never opened rear shock out of the box. They put my spring on it and that's it. I rode with my factory set up. Switched to the stock one. It was night and day better. Lap times where better and I felt more in control and comfortable. We switched back to the factory one to confirm and the bone stock was better. I asked them if I could race Washougal with it and they said yes. They brought an extra on as spare and off we went to Washington state.
Long story short, I went 1-2 for second overall behind soon to be The Goat. Washougal wasn't as rough as Budds Creek or Red Bud, so we kept the same set up for the following race in Millville. I went 3-2 for 2nd overall. RC, shockingly, went 1-1. It's a good story and it backs what I've been saying for a while. Riders nowadays dont start testing enough from the stock bike. They all start testing with already modified bikes. How can you have bases and not get lost when you don't know what the parts on your bike do if you never tested them against stock stuff?