Photos by: Jim Tucker
Glendale track was what a SX track should be all about right? Long lanes, good whoops, jumps that only the top few can do! You had to love it right?
I'm all for long lanes, technical rhythm sections where you have to be precise, big whoops and 180 degree bowl turns. Glendale had all of those. I think it makes for better racing and it challenges the riders. I thought the races were pretty fun to watch and the best 2 guys won. On the other hand, we might get tired of this kind of track if we had it every week. The A2 track wasn't as technical and as challenging but I felt like the best guys won too. Even if the track is easy, the riders have to find a way to be fast on it and not blame the start every time. The start, unfortunately for some and fortunately for others, is part of being a good SX rider. You gotta be a good starter, a good rhythm section jumper, good thru the whoops and have the fitness to last a main event or 3 for the triple crown rounds. As a fan and former rider, I liked the technical tracks because it was way easier for me to make the difference but you have to perform on a generic & easy track too. The key is really to adapt and use your racing IQ & speed to be the best you can be on any track. Glendale made it easier for the technical rider that's for sure.
Eli Tomac is 36 points back and has won back to back. If he wins this title it'll be the greatest supercross comeback ever. Can he, will he, do it?
Eli won all the races he finished this season so far but he's still a ways back in the series. What's good for him is that guys like Barcia & Roczen (and maybe Seely or someone else on easier tracks) could get between him and Anderson right now like we saw this weekend and in A2. It's still a long shot but obviously doable. I doubt Eli will win all the remaining races but he has a chance. If he starts winning like in 2017, he'll get up there in the standings quickly but he's gotta avoid the mistakes he did in A1 and in New Jersey last season. The only thing he has to worry about is to score the most points he can on Saturday without really looking at the points right now. He's on a race to race basis, just like after Dallas last season. He's been riding good but might not even be at 100% just yet. His performance in Arizona was good, he got a great start and checked out a bit right away. Barcia and Roczen weren't that far back and he's not dominating like he was in '17. Dungey isn't there anymore and none of his competition will be as consistent this season even if Roczen is having a Dungey-like start of the season other than A2. Same for Barcia. Not having a guy like RD5 leading the championship this season is an advantage for Eli for sure but he already used all his mulligans for the season in the first 2 races. If he keeps doing what Tomac can do, we'll soon have a good series with multiple riders contending for the number one plate. That would be way more fun than the dual we had last year.
Jason Anderson was up front early, shuffled back very fast then regrouped to get fourth. It was a very weird race…how does that happen to a rider?
Jason's first half of the main event was horrible. He missed the rhythm sections a few times, he almost crashed "a-la-Savatgy" before the whoops. He dropped down to 8th and stayed 7th for 14 of the 23 main event laps. I really liked how he regrouped and had the ability to get going again. That's something extremely difficult to do but he salvaged a fourth place. I think he lost his concentration at the beginning behind Barcia, made mistakes and Roczen passed him. It went downhill from there. At that point, you have to focus again, jump everything and ride smooth. When you get that done, then, you can start charging again. That's what happened. The key in SX is to ride technically good, the speed comes naturally after that. I was impressed by his second half of his main. They showed him on TV with 11 minutes to go, he started riding better. I told my buddies who were watching with me that he would get 4th. I should've made a bet.
You had maybe the tweet of the day when watching Marv through the whoops. Why does this happen to an elite guy like Musquin?
When Marvin got passed by Bowers in the heat race in the whoops, I was scratching my head… That was a "what the F is he doing" moment for sure. I don't know what's going on with him and his injury. I don't know how bad is it and if it affects him a lot or not. It has to affect him quite a bit because he was unrecognizable. But, it's not only the whoops though. He's had problems with the whoops for while, yes, but also in traffic. When he's feeling good and riding by himself, he's one of the best that's for sure. When he's in traffic and has to pass riders a bit slower than him, he's way too timid and scared of the contact. He spent so much time behind Peick and could've passed him many times but didn't go for it. On the other hand, Anderson passed Peick pretty much right away and made it stick. He's also timid in opening big rhythm sections. The triple on, triple off before the finish, he had to see Peick jump it a few times before doing it himself. No disrespect to Peick, but Weston & Marvin aren't in the same league if we're talking SX skills. Marvin shouldn't wait for Peick to show him how it's done. If I remember right, he had the same issue in Glendale last year in the big rhythm sections. He took a while to do them. I think Marvin is riding with a safety margin that's too big, for whoops, passing riders and jumping sketchy stuff. He's going to have to take more chances on tracks like Glendale and be more aggressive in traffic. If not, he'll only do good on easier track with a good start…
The triple off the tabletop was big and required a lot of skill, what did you see from the guys that were doing it?
In 450, I don't think the triple-on was super hard. The triple off was sketchy because the take off was super small and the landing pretty high. If the landing was a regular 3 footer, a lot of riders would've jumped it. The technique to jump 3-3-3 isn't too difficult. You had to jump far on the table top with the front end a bit high. When you do that, you get a better pop on a small take off. The last 3 was also challenging. Same thing, they had to over jump the triple-off to land at the bottom of the landing. Not to get a higher pop but not to endo. If you land too high on the 2nd 3 and still want to jump the last 3, you might end up like Roczen at the Monster Cup a couple years ago. They had to over jump the 2nd 3 so they wouldn't hit the last 3 with the suspension fully extended. It's why you have to jump in the pocket to time the rebound of your suspension with the take off of the last triple. That was a pretty technical section and it was cool to the riders be challenged.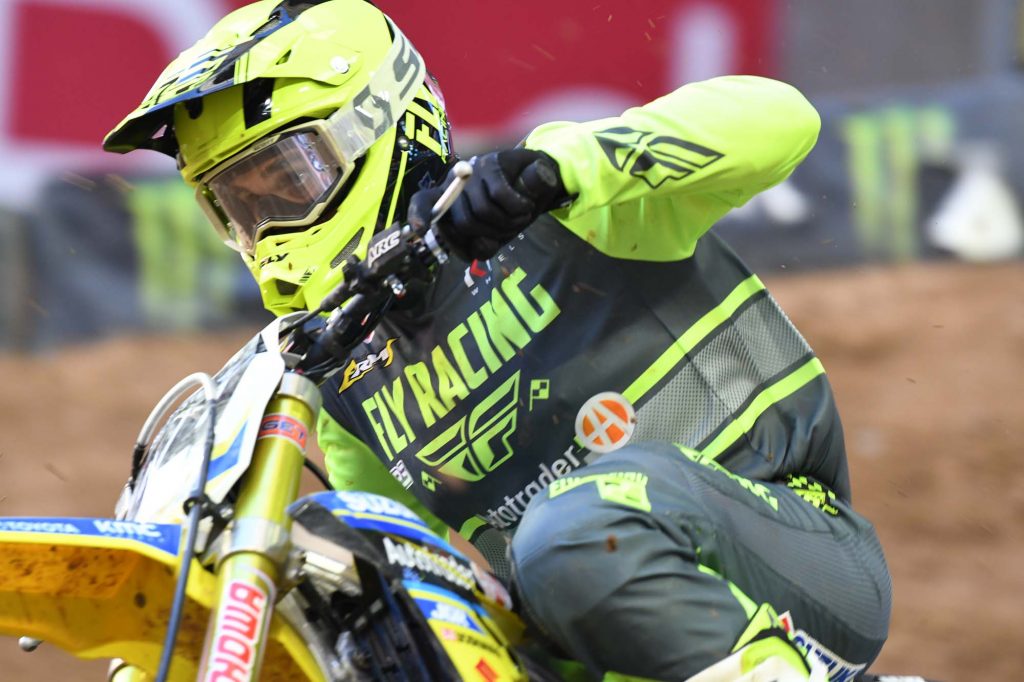 How about Weston Peick, he's been awesome to start the year.
Weston has been mixing it up in the top 5 at every race. After 3 top 5s, he got 6th in Glendale. His starts have been good and he's been solid. He was doing all the big rhythm sections of the track and all the sketchy 3s. That was impressive. He keeps improving technically. Like I said above, when you up your technique, your speed will come naturally. That's what he's doing right now, riding good, improving his technique and speed and being solid. He fights for his positions. He's having a great start of the season, way better than other guys we thought would be better than him at the start of the series. I love seeing guys we weren't expecting to do that high in the hierarchy, surprise us…
Ken Roczen- mental, physical or leave him alone, he'll be fine?
Ken doesn't look like 2017 Ken or Suzuki Ken yet. Maybe with his injury we will never see him as radical as he was and maybe riding the way he's riding now might help him more to get a SX title? I think he's doing great after not racing for a year. He's still fast, he's very consistent and doesn't ride on the edge anymore. I think he'll improve with more races under his belt. He's only 12 points from the leader of the championship after 4 races. He's right there. He doesn't push the envelope like he used too. He wasn't super comfortable with the 3-3-3 before the finish and he went back to a safer rhythm in the second part of the main event. Knowing what we know and what happened last season, I think Ken is doing great and will improve with more seat time at the races. I'm not worried about it.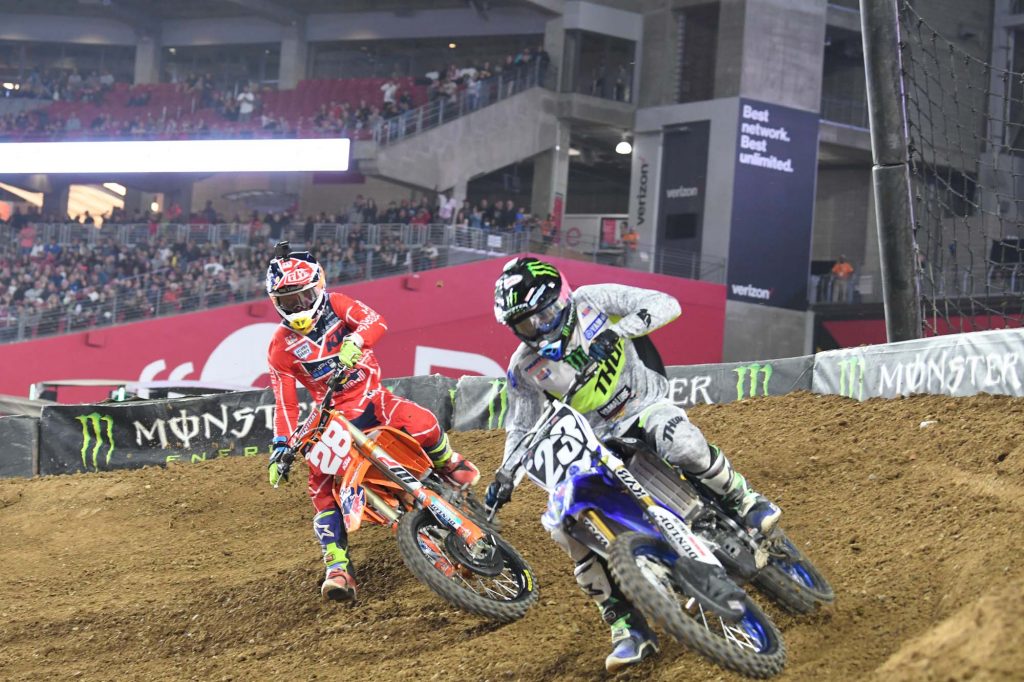 Plessinger moving over into McElrath, fair or foul?
Plessinger Emig'd McElrath pretty good. He got that move right out of Fro's playbook! It was a bad and dangerous move but I will let it slide this time because I haven't seen Aaron do something like this before. Think how everyone would react if Freise or Barcia would've done that. The internet would've broke! I have to give McElrath credit for not crashing and keeping his composure to finish 2nd. I can name a lot of riders who would've seen red and try to pay him back, at any cost…
Is AC ever going to figure all this stuff out and be a week in and week out winner/title contender?
I would tell you/him what's wrong but he would have to put me on the payroll. It wouldn't be fair to the other guys and the one I am training/coaching… AC seems like a smart kid. He should figure it out at some point. The only hint I can give you is that it's not because of his starts like he said in the post race press conference…