Just when you thought the crazy 2018 Supercross series couldn't get any crazier, the 250 East Regional Series happens!
I feel like a broken record at times, especially during this year where there is just crazy ass stuff happening each and every week. It's as exciting as it gets with predictability thrown straight out the window of a 100+ story skyscraper. Would you ever have thought that the guy who was a few corners from winning the 2018 title and the winner of the majority of the races during the campaign would have a nearly carbon copy-JS7 year in 2018? Crash or win and that is not hyperbole, just straight up literal fact. Would you think Justin Barcia who came into the year on a wing and a prayer (no not a Honda wing), would find his way back to elite status aboard the (updated) bike he couldn't find comfort on a mere 2 years ago? How about Marvin Musquin, the heir apparent to Ryan Dungey, flailing at times with only one win to his credit through 7 rounds… Want me to stop? Tough, there's so much more… Jake Weimer battling back from a debilitating string of injuries to only crash in his 3rd appearance in the series and once again be sidelined with a complicated injury. Gut wrenching is the only phrase I can muster to describe Jake's situation in recent years. Chad Reed still has yet to crack the top 10, really he can barely sniff the exhaust fumes of the 10th place guy in any round yet, due to an injury which has allowed zero prep in the pre-season and almost no prep between rounds since the series began. Congrats to him for being on the cusp of taking the number-one spot for Career-SX Starts, that means something but when it's all said and done, no one is buying that Chad is happy about his season unless the Finishes improve.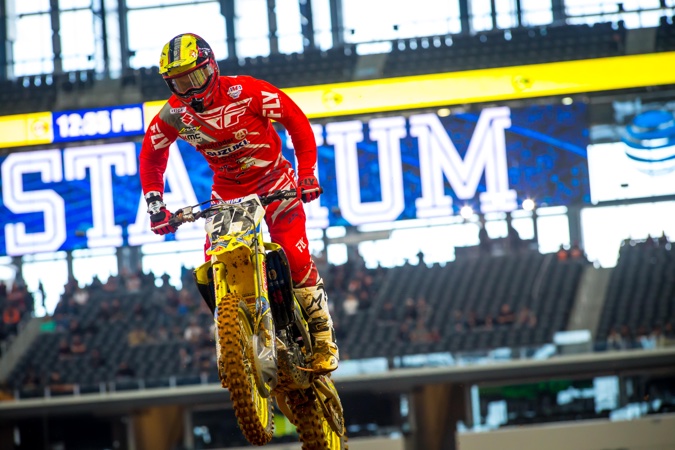 Weston Peick is not giving an inch to anyone these days and that includes the "untouchables" of prior years where he would secede position to. This is a new era with the departure of Ryan Dungey and EVERYONE is taking this opportunity to strut their stuff and reinvent their legacy.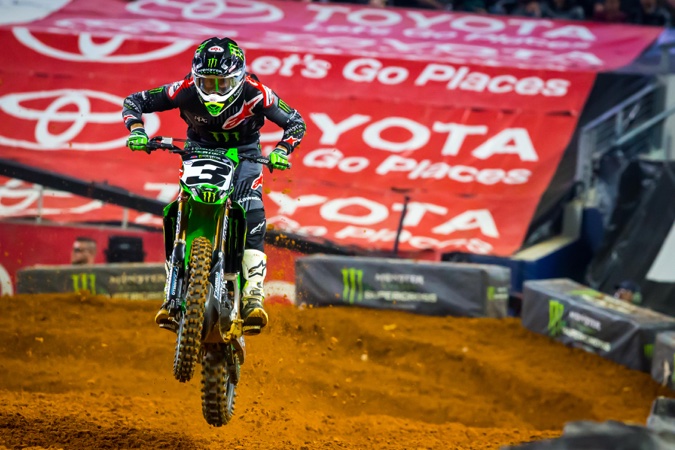 Never before have we seen such different "stripes" on so many riders when the green flag waves on a new season. It's really a nod to Ryan Dungey and his legacy if you ask me. Think about all the other riders who retired that never really resulted in an actual changing of the guard in the 450 class. Ryan Villopoto, Kevin Windham (mid-season but retired nonetheless), James Stewart (yes, it's over folks), Trey Canard and Andrew Short to name a few. None of these departures resulted in such a stark and simultaneous shake-up in the field of "could-be" winners and podium regulars.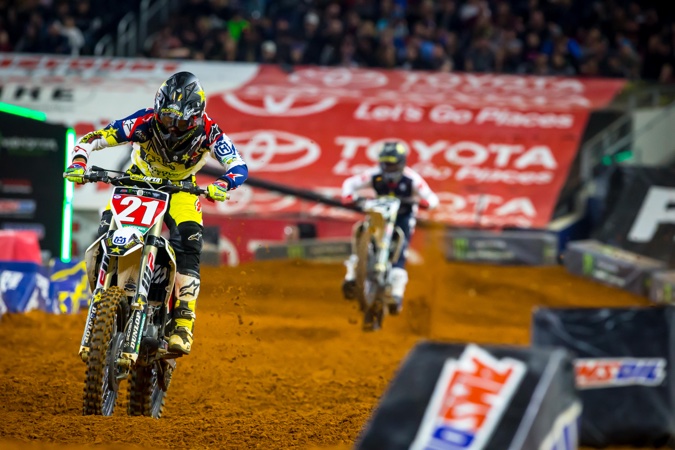 And then there is Jason Anderson. The tail-out, balls-out New Mexican scrub-nado. The guy who once was sent home to "get his head straight" during 250 MX, has clearly figured something out. He's got a healthy points lead and while he appears to error from time to time during the early laps, he always finds a way to recollect himself and maintain his form and position atop the points standings. I'm still skeptical until this series has completed because, well, in racing, I feel you always have to remain skeptical until the guy actually possesses the #1 plate when all is said and done. The racing world is full of coulda beens and shoulda beens, there's really a lot of great tales surrounding those campaigns (Damon Bradshaw 1992 anyone?) but you can't argue with an earned title (unless you're a Dungey-hater and you will go to your grave claiming asterisk. By the way, you people are jack-offs).
After ALL this turmoil in the first 6 rounds of the 2018 series, we come to Dallas and the 250 East coast Regional series puts it's stank on the floor of the house Jerry Jones built.
Wow.
Let me say that again, WOW!
There are plenty of names I could put on blast here for needing to really calm their balls but I'm not gonna do that after 1-round. I'm going to address the 250 class as a whole as a sort of Public Service Address to them and their opponents. For the sake of their safety and longevity in racing as well as life.
Big picture guys.
I realize you want to lay your claim to being the alpha dog of the class and show that you are not going to be anybodies bitch but you gotta be smarter. You know why Zach Osborne won? Speed and circumstance is only part of the puzzle, the other part is made up of many aspects that all add up to race-craft. Maturity, timing, focus, perspective, experience, commitment… just a few of the facets that make up race craft and from what I saw in Dallas, there are many of you who are just too damn impatient and ill-timed and the lightning-quick choices you make that ultimately put you and others in danger. It's not a long series but the way many of you raced it in Dallas, one would think you thought it was a 1-round dash for cash and #1 plate. Typically this is great for fans and trust me, I was on the edge of my seat but it was more because I felt nervous, like I was going to see some disastrous choice that left someone horrifically and possibly irreversibly injured.
The sport is dangerous enough without introducing the antics you'd typically expect to see in a C-qualifier. Everyone take a breath, re-center yourself and focus on settling into the race and using race craft to your advantage, not to destroy the competition. The start is certainly important but flying into the first corner with your hair on fire with no intent to brake is never going to end well.