It's no secret that there's bad blood between Pro Circuit Kawasaki and Zach Osborne. Over the course of the 2017 Eastern Regional 250 Series, Zach had altercations with not Only Joey Savatgy but Adam Cianciarulo as well. Some of these occurrences were unjustifiably in qualifying sessions but the real dagger was obviously Zach's definitive flattening of Joey Savatgy with a corner to go in the Vegas finale for the 250 Championship. This incident has already been dissected ad nauseam although Zach was penalized monetarily for the hard hit, his title was not ripped from him.
The scores from that incident in particular but the eastern regional campaign as a whole has left lasting scars with the Pro Circuit team and as this years eastern series began, it was clear early that the elite green outfit was on high alert for anything possibly perceived as aggressive involving the red-plated Husqvarna pilot. Zach didn't wait long to provide them with more ammo for their distaste for his race craft and at round one, the Pro Circuit team had already had enough of the 1E. In a move that could only marginally be considered offensive and was far more planted in the incidental contact category, Austin Forkner met the ground as Zach forged ahead at round one. Much like a bully and victim scenario, this story is now playing out with Zach Osborne pitted as the overly aggressive, mean guy bully and the Pro Circuit faction as ready to retaliate and pounce at any perceived flinch of aggression, underdog. How ironic, Pro Circuit feeling attacked.
Here's the thing though, where Pro Circuit looks at this as a personal attack of Zach vs PC, Zach's only focus is forward. If there is a body or bike in front of him, he doesn't target it. It's simply a blur in the periphery blocking his focus of "forward". If that blur is blue, green, pink, orange or white, it is just a blur. He's focusing on those "marks" we always hear riders talk about in interviews and if one of these focus-killing blurs impedes his progress of catching "forward", it's incidental. He's like a selfish aggressive driver on the expressway. He only cares about where he's headed, he gets behind you, honks his horn, flashes his brights, maybe swerves a little… he doesn't give two shits about who you are or your goals, meanwhile, you are feeling attacked, like it's a personal thing. Asking "what the hell is this guys' problem with me?" It's not you, it's him. You are the blur in his focus. Get it?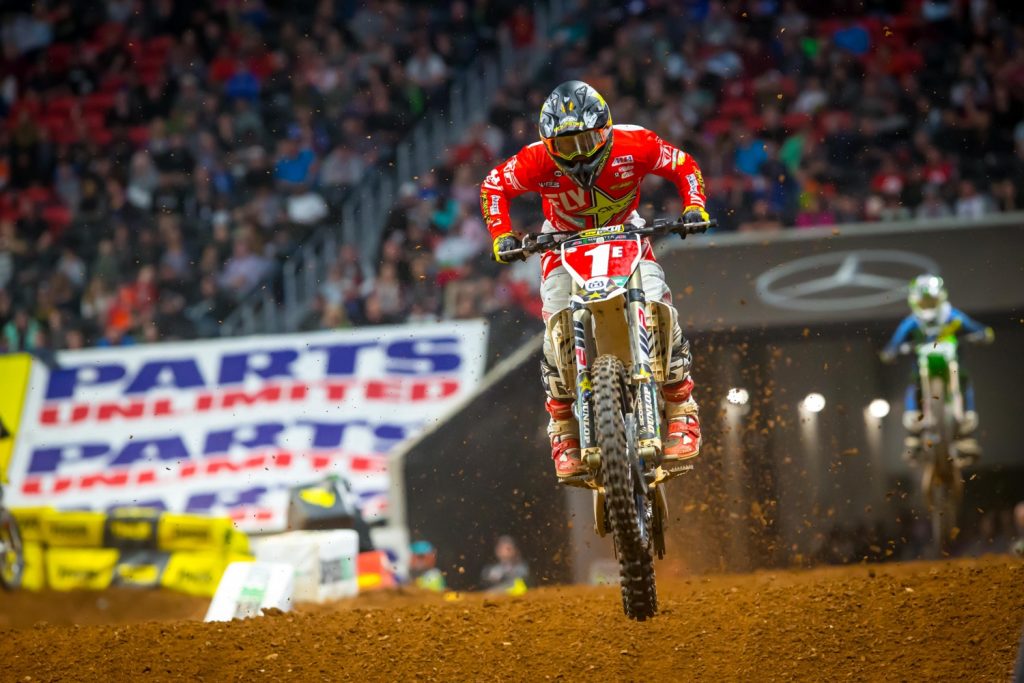 Chasing "Forward".
The reason I make a case for Zach has everything to do with the fact that I have a very liberal view of contact in Moto. If wheels are on the ground, it's hard for me to consider a move dirty. Unless it's cutting across intersecting ruts to put your front wheel into the side of someone's frame spar (Mike Alessi on Broc Tickle), just about any on-the-ground contact is fair game amongst "comparatively equal" racers. I make sure to clarify that because the rules completely change when a slower rider is pulling shit to keep a faster guy from getting by. That's a different chapter. Is Zach aggressive? Does a bear shit in the woods? Of course he is, he's a veteran and Champion and a lesson you learn along the way is when a "majority-positive-percentage" opportunity presents itself, you capitalize. These opportunities present themselves when your wheels are on the ground and you have a level of control, even after contact is made. When you leave the track surface, all bets are off. There is no level of control and that is where I flip completely and cannot defend a riders choices or actions.
It just so happens that the rider who chose to make that move in Atlanta was a Pro Circuit guy. A guy who three rounds in had already stated that he felt slighted by the same guy who has been burning a hole in that team's frontal lobe since lap 15 in Vegas of 2017. There are people out there, my boss for one, who will err on the side of Austin Forkner not being foolish enough to put himself in harms way by cross jumping. I call bullshit on that. He's a young kid full of testosterone who has shown the same fast-forward focus as Osborne but mixed in with poor decision-making in race situations that have cost him in the past and this one was the dumbest and most reckless yet. Cross-jumping is criminal. Period. Marvin Musquin does it all the time and I feel the same about every instance of him doing it. Spare me your thoughts on him getting cross-rutted, look at the tape, there isn't a single rut on that jump face and if you're going to point toward him having no rear brake as the culprit… I can't even talk to you people.
And what the hell is RC even talking about on the broadcast when he says that part of that situation going bad was Osborne "losing his balance" on take off?!? He didn't lose his damn balance, he immediately realized Forkner was cross-jumping into his line and he was attempting to alter his trajectory to possibly save himself from landing on this number 35 fruit-loop move.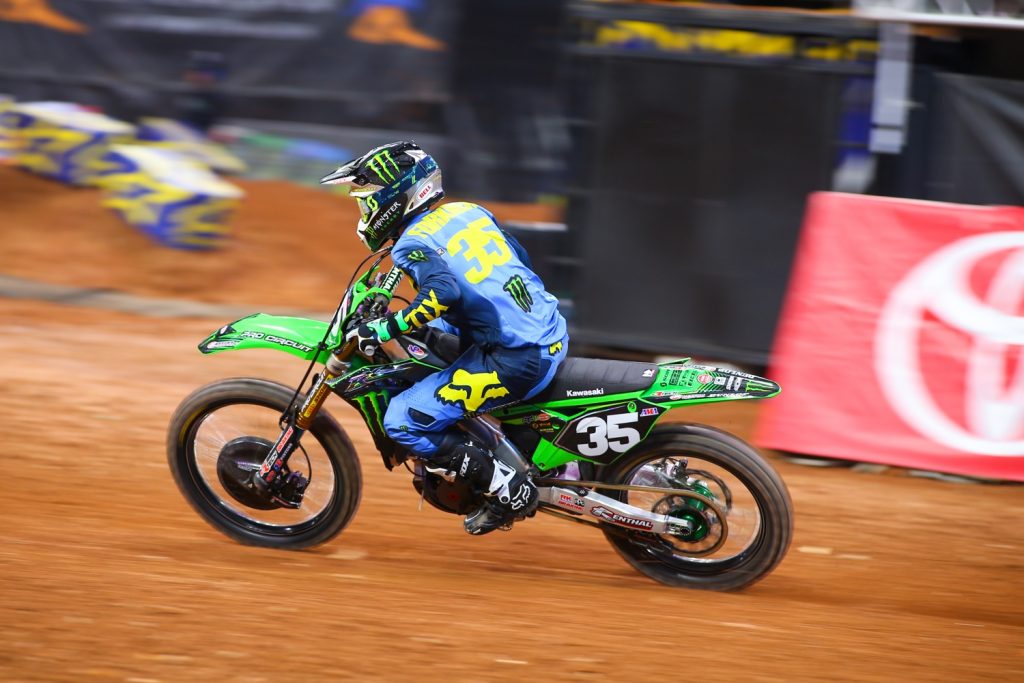 Fast as hell. Keep it on the ground.
Hey Austin, you're fast as hell, you don't need to pull jackass moves in the air where riders, you included, are vulnerable as hell. How would you feel if a career was ended with a move like that? It's not that difficult to imagine when you have no exit-plan.
Smarten up kid and enjoy a long career while not potentially robbing anyone else of theirs.