Photos by: Simon Cudby
Well it's official, we have ourselves an incredible season on our hands. An all-timer with plenty of storylines and destabilized assumptions which have previously been bankable theories.
We have a defending champ who exited stage-left before even making his bark heard let alone taking a bite of any piece of the confidence pie everyone is after. Marvin Musquin came in a tad underprepared due to injury and still looks to be regaining his speed. Justin Barcia's kick-off win at Anaheim one has molded itself into more exception than rule over the following weeks. Joey Savatgy has shocked pretty much everyone as the standout among the rookie-class– OR has he? Aaron Plessinger has become the Justin Brayton of years past in terms of solid rides with little fanfare and finds himself 2 positions higher in the points than the often front-running Savatgy. Dean Wilson has made more noise with his Ignite sponsor affiliation and Grandpa Earl video than he has seen TV time this season, yet he sits firmly in 5th in the points standings. That's incredible considering he's only just arrived under the Factory awning at Rockstar Husky. Chad Reed still gets bigger cheers than anyone when he sniffs a lead or makes any pass near the front. It's kinda strange, the guy who always made the naysayers eat crow with his wins long after he was expected to still be able to reel off wins, now looks to be in a constant state of finding/chasing comfort on the bike and only seems to fight hard for position in spurts. Still, I'm not about to start thinking the can't pull off a miraculous ride, it would be right out of Chad's standard issue playbook to shock and shut up everyone one more time.
And then there were the whales.
Ken Roczen. Cooper Webb.
Ken Roczen made it clear early on that he was not going to sit behind Eli and wait for an error. I was chocked honestly, because Ken has shown to be more mature through 6 rounds of 2019 than I thought was possible. I wrote a year ago just prior to his move on Cooper Webb that left him healing from another debilitating arm injury, that he needed to restrain himself a bit more and show a level of maturity and decision-making we hadn't seen from him previously. Unfortunately, we saw how that turned out shortly thereafter. Thus far in 2019 Ken has been the Dungey-kind of solid when RV was still on the gate: sneakily good but without a win (though Dungey got a few). It's hard to argue with Ken's approach, I mean he's held the red background more than once, despite not winning but I'll be honest, he hasn't really looked like he was on the verge of winning prior to Dallas. When Ken motored past Eli on lap 4, I was like "oh yes, it's on!". For Ken to make that statement pass early on, I expected one of two results to occur; 1. Eli would immediately respond and motor away, or 2. Ken would attempt to increase his pace and make another aggression-induced error. I'll tell you, I had minimal confidence that Ken was at a level where he could make that pass and maintain a lead pace for the remaining 15 laps… in my defense, I was correct but only by the most insane of technicalities "IN SUPERCROSS HISTORY" (they love pushing that point relating to this crazy finish).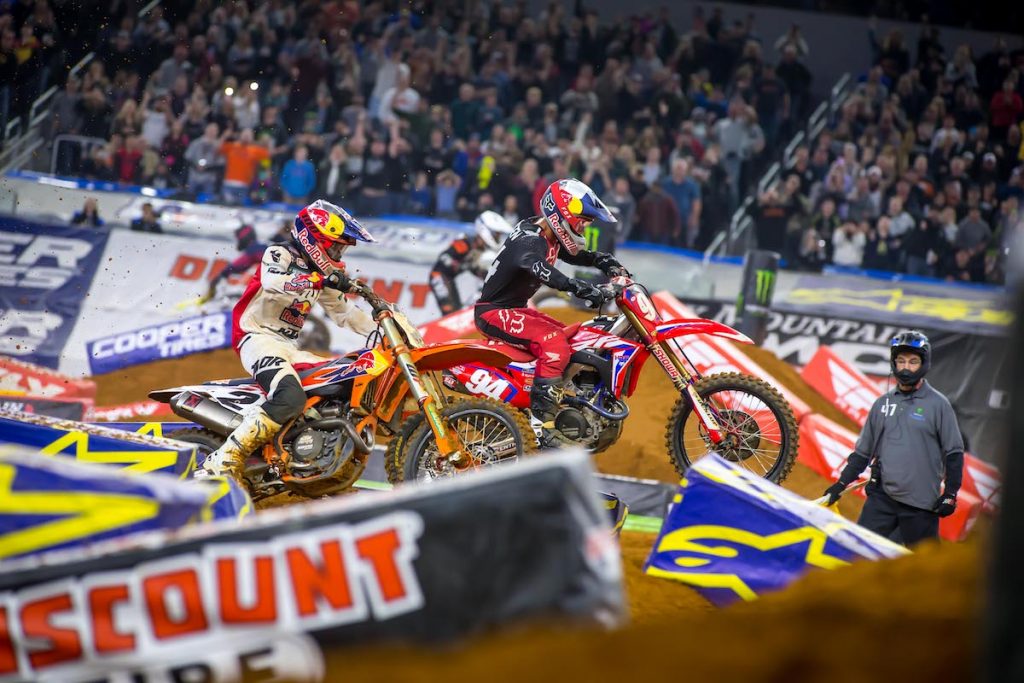 It's insane that essentially a second after this Cudby photo was snapped, the finishing order was inversed.
When Cooper caught up to Ken, his closing speed was utterly insane. I fully expected him to blur right by Ken and gap him in demoralizing fashion for another C Webb win. Instead, it looked like Cooper decided he was gonna camp on Ken's back tire and hope pressure Roczen into an error. In my mind, Cooper could make his move by the 94 at any given moment, much to my surprise, Cooper noted that Ken responded and matched his pace, making it all but impossible to safely and surely make his move to get by Ken. Good on you Ken for not only maintaining pace but matching Cooper's pressure on a treacherously betraying track surface that was clearly more than met the eye.
As the final lap wound it's way to a close, Ken maintained the line he was running throughout the Main, G-ing out in the outside rut through the corner leading to the finish line jump and Cooper did just exactly what was necessary to defend against Ken's selection: He cut across the apex of the corner with just enough "scare-factor" to pull Ken out of his focus and as the two progressed through the corner, Cooper had better launch traction out of their contact location, while Ken got wheel-spin and that ended up being the tale of the tape. High line robbery of Ken's first win in two years but he lives to fight another weekend.
It's hard to reconcile the Ken we saw on the podium with what we saw at the finish line. He put on a strong face and though he explained the bitter taste, you've got to expect after leading for 15 laps, on the verge of his first win since his catastrophic 2017 crash, to lose by the closest margin in recorded history, had to be the gut punch above all others. I gotta be honest though, I was glad Ken didn't secure that win. For Ken's sake. It's not that I don't think he's put in the effort or the time waiting to get back in the winners circle. I didn't think his performance in that race was quite what he's capable of and Cooper edging him out at the finish line is, in my opinion, just what he needed to fuel the resolve he will need to solidify his true ability to see this title down to the last round. What doesn't kill you makes you stronger and this bitter pill Ken had to choke down in Dallas is exactly that. It hurts now but what he learns from it is so much more valuable for his future.