For this installment of Classic Ink, we are going to take a look back at the ad for Honda's lovely new CRs for 1989.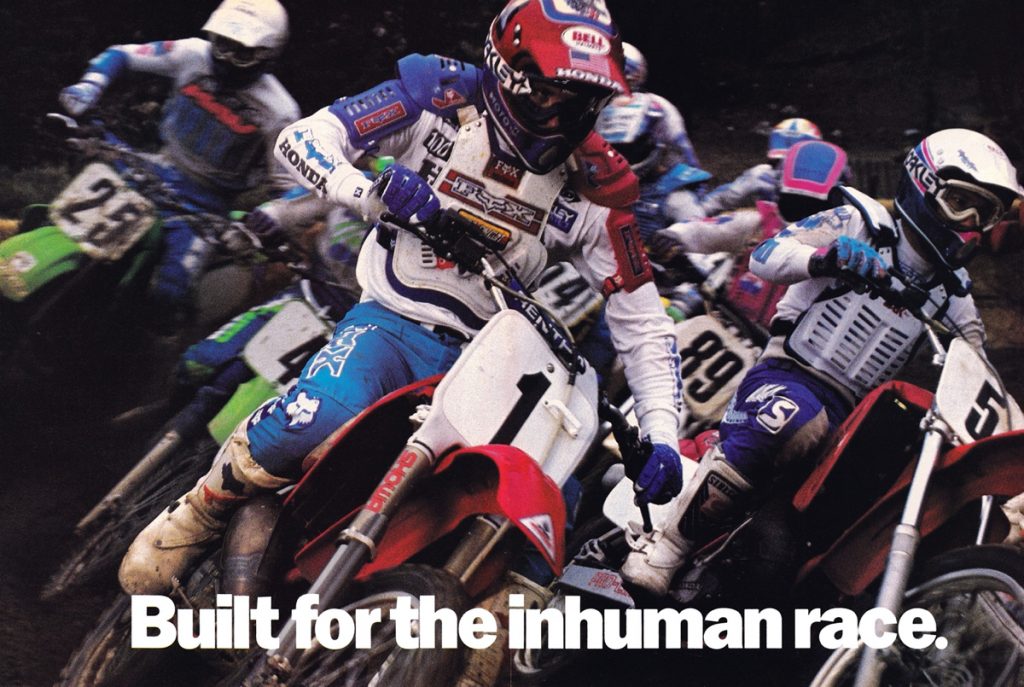 In 1989, there was no bigger star in the sport than Rick Johnson. At the time, it was inconceivable that before the end of the Supercross season his run at the top would essentially be over.
In 1989, I could not have been more excited about these new machines. At the time, I was a HUGE Rick Johnson fan and I wanted nothing more than to pick up one of these sexy new CRs. At the same point in time, I had an '88 YZ125 that I liked, but did not love. It was snappy, but utterly lacking in top end and one of the worst shifters of all time. I bent two shift shafts pounding on that damn thing's recalcitrant cog box and was ready for a switch back to red from my persnickety YZ.
When Honda had originally gone to this deep red in 1988, I had not been on board with the change. I loved the orange "Flash Red" of '83-'87 and thought this change was a step in the wrong direction. I did, however, dig the sexy new bodywork and "lowboy" exhaust on the redesigned CR250R.
By the time the '89s made their debut, however, I was all-in on the new look. Something about RJ waxing everyone all season on that red steed seemed to have an effect on my monkey brain and made me love it in spite of myself. For 1989, that look was even better with trick new 45mm Showa inverted forks being added to the mix and new graphics that I still think are Honda's best to this day. The new bike was sooooo sexy and I knew it just had to be awesome.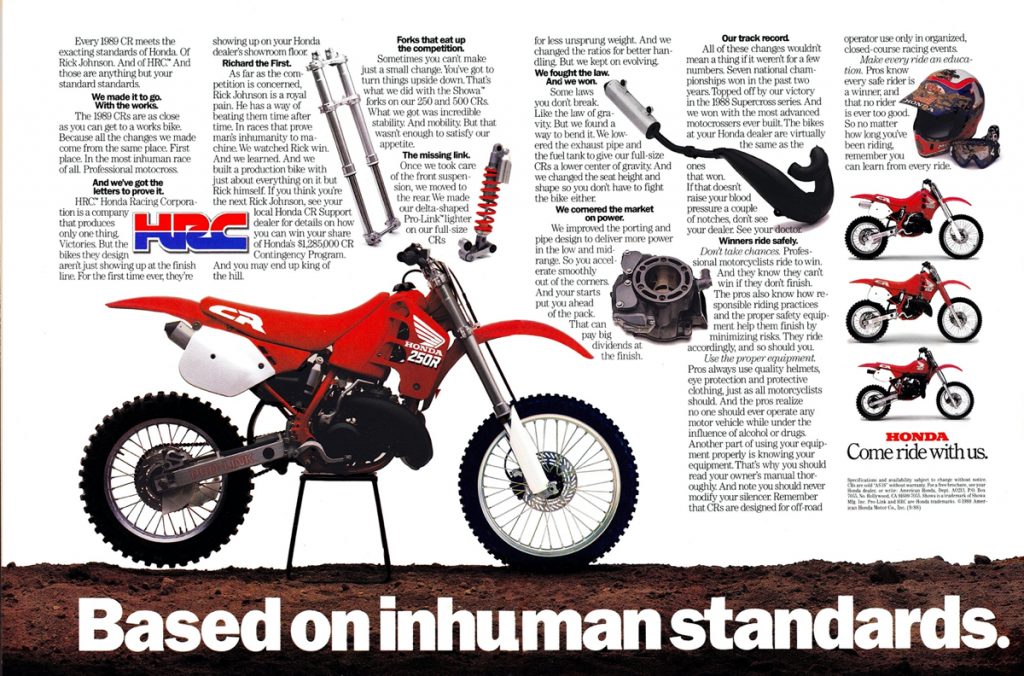 Clearly, the inhumanity Honda had in mind with this ad was the torture these forks were going to impart on their unsuspecting victims.
Of course, history proved that these '89 CRs had a fatal flaw. Fork and shock settings on all three full-sized machines held back otherwise omnipotent packages. Every one of them was an absolute rocket, but not a single one of them knew what to do with a bump. Without the new inverted forks, the CR125R was slightly better, but even it was harsh and poorly set up. In the case of the CR250R and CR500R, the performance was so terrible that Honda actually had to issue a recall mid-year to address customer's complaints about their abysmal action. Of course, this did not diminish any of my desire to own one (RJ was still kicking ass on it after all), but the word was fast to get around regarding these jackhammers.
In spite of this flaw, the '89 CRs are still thought of as some of Honda's most-coveted models. Maybe it was the sexy bodywork, maybe it was the cachet of all that winning, or maybe it was just a love of sore wrists; whatever the reason, there can be little doubt that Honda had their mojo going in 1989 and this ad only furthered that allure to a young racer like me.
For your daily dose of old-school moto goodness, make sure to follow me on Twitter and Instagram – @TonyBlazier
For questions or comments, feel free to drop me a line anytime at TheMotocrossVault@Gmail.com