Eli Tomac started the season with moto finishes of 9-8-11-10-6-1. Prior to this season, Eli hadn't finished outside the Top 10 (excluding mechanical failures) since round 4 of 2017. It prompted a lot of talk in the off week on whether he'd come back and pull what James Stewart did in 2014 and go 1-1 for the overall win. While he didn't win the overall this weekend, he did win the 2nd moto and serve notice he's still got championship winning speed.
Today's second moto performance reminded me of this epic scene from one of the all-time great movies "Dumb and Dumber".
Humor aside, Eli Tomac's second moto win was his 49th career 250/450F moto win which breaks a tie with Bob Hannah for 3rd on the all-time moto wins list. Only Ricky Carmichael (141) and Ryan Dungey (68) have more moto wins in the premier class.
If you include the 500cc class from 1986-93 in the premier class moto wins, this puts Eli Tomac into a tie with Jeff Ward (49) at 4th behind Carmichael (141), Dungey (67), and Rick Johnson (67).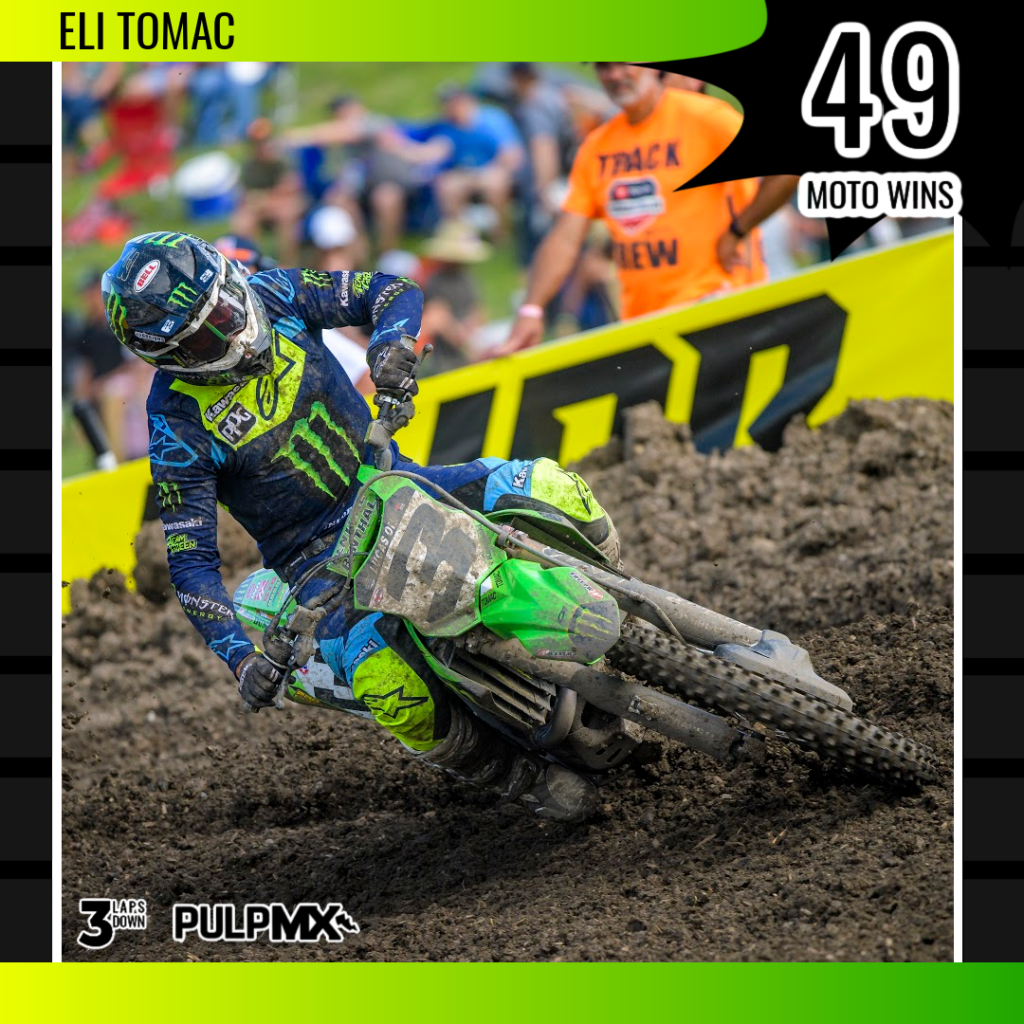 Maybe as surprising as Eli Tomac's 49th career moto win is that Cooper Webb has only gotten 2 moto wins and 1 overall win in the premier class and never been on the podium outside of that one weekend at Spring Creek in 2019. A bit more detail on Cooper below.
Let's take a look at some of this weekend's individual rider stats…
450 TOP 10 RIDER STATS
Dylan Ferrandis (1st Overall). Who picked Dylan as his sleeper pick for the title? I did. Just wanted to make this known again. He's won 2 of 3 rounds and holds a slim 3 point lead over Ken Roczen. What's interesting is that he's not dominating the stats like Roczen. He's got 1 moto win, been fastest in 1 moto, and led only 13 laps in 2 of 6 motos. He's just been ultra consistent with 3-1-2-2-2-2 moto finishes.
Adam Cianciarulo (2nd Overall). Arm pump and 2nd motos are hindering AC's title hunt. He's now been fastest rider 2 of 3 weekends and in 3 of 6 motos, led 31 laps in 4 motos, but he's down -29 points to Ferrandis. There's still 18 motos remaining though.
Eli Tomac (3rd Overall) – Back on the podium for the 53rd time in his 250/450F career, Eli Tomac won the 2nd moto while setting the fastest lap time of the day. Anyone believe Eli can make a run at the title down -47 points with 18 rounds to go? Regardless, he's now 3rd or 4th in all-time moto wins in the premier class (depending if you include 500cc moto wins from 1986-93) and is a #legend.
Ken Roczen (4th Overall) – While Ken has led the most laps (39) and won the most motos (3), he's 3 points down to Dylan Ferrandis in the championship after 3 rounds. 3-3 moto scores for 4th overall was a good day, but after passing and then being repassed by Ferrandis, it's clear he's going to have to bring his best riding every single lap, all season long, if he wants to win this championship.
Chase Sexton (5th Overall) – Chase has been 2nd, 3rd, 4th, 5th, 6th, and 7th fastest in motos this season, but not first. Nor has he led any laps or gotten any holeshots. But he's shown speed in and been in the battles for multiple podiums. Yet he's finished 5th, 6th, and 5th overall. It's just a matter of time.
Aaron Plessinger (6th Overall) – Aaron lost -6 positions in the second moto at High Point – the first time he's lost positions in a moto this year. Let's hope that's an exception and we see him back in podium contention at Red Bud.
Justin Barcia (7th Overall) – Similar to his supercross season, his round 3 performance wasn't as good as his first 2 rounds. He's now gone 4th, 4th, and 7th with 2 moto podiums in the first two rounds. Justin needs to demonstrate he can fight for podiums all season long.
Marvin Musquin (8th Overall) – For a rider that ranks 19th in all-time 250/450F moto wins, we expect better than 5-10th place finishes, but Marvin's finished 8-7-9-9-10-7 so far in 2021.
Joey Savatgy (9th Overall) – Joey continues to improve each round (14-12-9th overall), keeping his momentum from the end of the supercross season where he finished 6th at the last round.
Cooper Webb (10th Overall) – Cooper finished over 30 seconds behind the leader in the first moto and a minute and a half in the second moto. While Webb is in the books as one of the all-time great supercross riders with 2 premier class championships and 19 wins, he'll not be included in the discussion for all-time greats until he improves his results in the premier class of Pro Motocross. He's only got 2 moto wins and 1 overall win and never been on the podium otherwise.
Chris Canning (19th Overall) – Props to the New England native for going 19-19 for 19th overall. Not his career best (11th, Southwick moto 1, 2018), but an impressive outing nonetheless.

250 TOP 10 RIDER STATS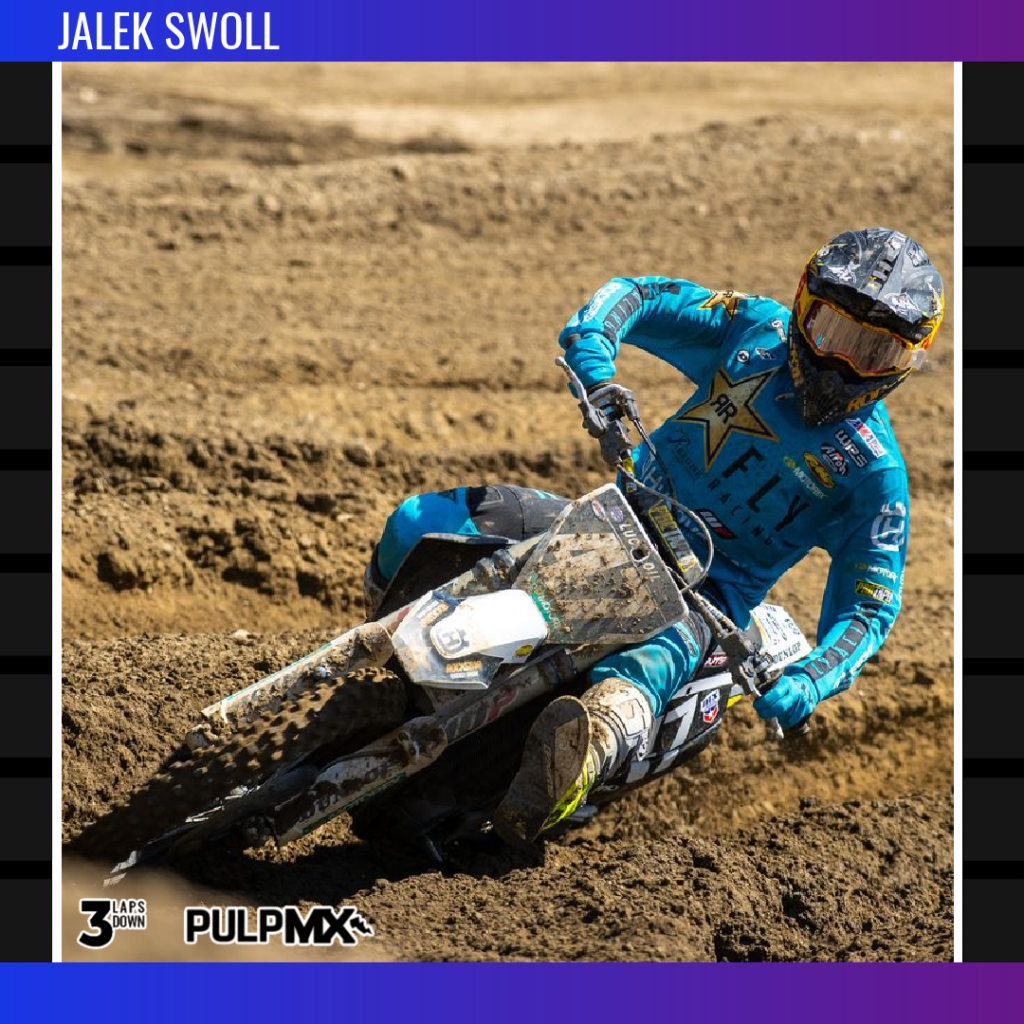 Jalek Swoll (1st Overall). Jalek takes his first moto and overall win in just his 9th career pro motocross race. He also led laps for the first time in his pro motocross career. Not often you can say you've won every race you've led.
Jett Lawrence (2nd Overall). Jett was 3rd fastest for 3rd in the first moto and 2nd fastest for 2nd in the second moto. He added +1 more point to his championship lead – now 11 points – over Justin Cooper. On the season he's been fastest in 3 of 6 motos, fastest on the day 1 of 3 times, won 2 motos and 2 overalls, and led the 2nd most laps (21). Not bad for a 17 year old kid in his 2nd season of racing.
Justin Cooper (3rd Overall). Justin has been much better in the 2nd motos this year. He's led laps in all 3 second motos vs. leading just 1 first moto. He's also averaged 4th in the first moto vs. 2nd in the second moto. If he can figure out these first motos, he'll give Jett a challenge for this championship.
Colt Nichols (4th Overall). Colt Nichols got his first holeshot of the season and had an average first lap position of 3.5 (vs. season average of 10th) at High Point.  His good first lap position led to his first moto podium of the season (5th career) and he's started to build momentum. He started the season with 9-12-9 moto finishes and has improved significantly in his last 3 motos with 5-2-5 moto finishes.
Garrett Marchbanks (5th Overall). Garrett set the 2nd fastest lap in the first moto and the 4th fastest in the second moto as he finished 10-4 for 5th overall. That 4th place finish was the first Top 5 moto finish of his career. He's been making a statement on his privateer Club MX Yamaha this season.
Austin Forkner (6th Overall). The top prospect on the Pro Circuit Kawasaki team is paid to win championships, but he's yet to finish inside the Top 5 and were 3 rounds into the season. While it's been a few years since Austin lined up for a Pro Motocross season, 7-8-13-8-7-6 moto finishes do not meet expectations.
Ty Masterpool (7th Overall). A great day for Ty with 9-10 moto finishes for 7th overall. He hasn't shown the same brilliant speed from 2020, but his results are improving one week to the next.
Hunter Lawrence (8th Overall). What could have been!? With crashes on the first lap of the race, once when he was leading, Hunter is likely not happy with today's results. Maybe only RJ Hampshire has reason to be more bummed (see below).
Dilan Schwarz (9th Overall). A career best 6th place in the first moto was a great finish for Dilan. Unfortunately, his second moto's have been less than stellar this year, an average 20th vs. 11th in first motos. Regardless, riding aboard the dated Suzuki RMZ250 and battling the top factory pilots shows that Dilan has significant talent and a bright future ahead of him.
Carson Mumford (10th Overall). A highly touted rookie in 2020, Carson's had a tough start to his professional career without a single moto or overall Top 5. However, a 7th place finish in the second moto in High Point may be the catalyst he needs to get on the right track.
RJ Hampshire (15th Overall). A broken chain cost him a win, 25 points, and 3rd in the championship. Instead he sits 10th in the championship after finishing 38-8 for 15th overall.  #toughday
I don't even drink beer, but after today I think I need a 12 pack!

— RJ Hampshire (@Hampshire21) June 19, 2021
Got any stats questions or want to bench race, hit me up on Twitter or Instagram @3lapsdown.