For this edition of Classic Ink, we are going to look back at Suzuki's last original Full Floater RMs.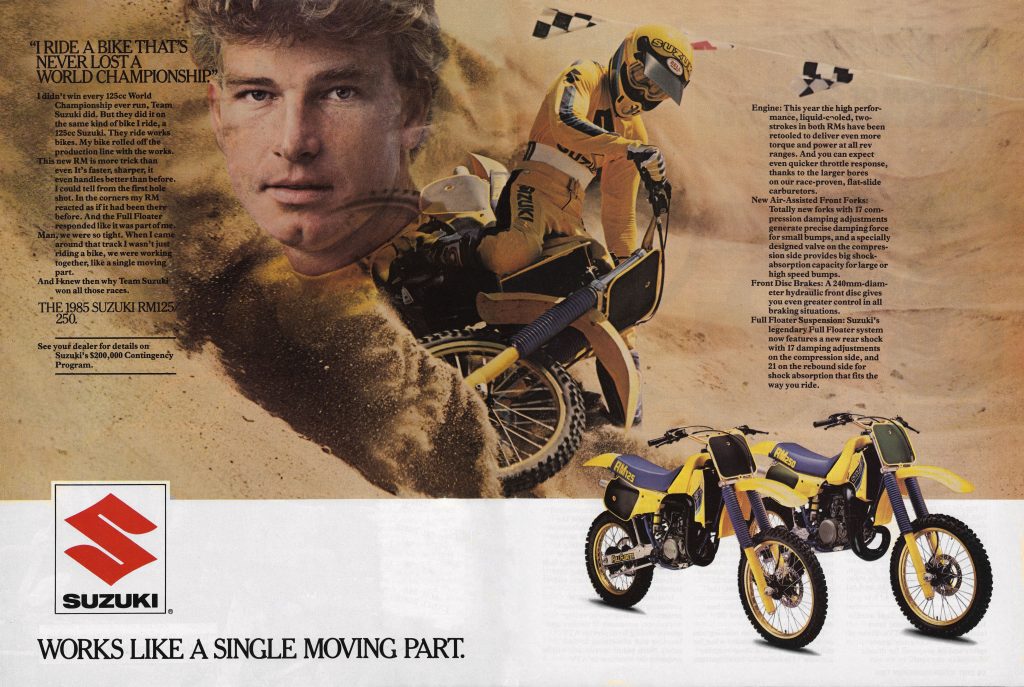 With Suzuki's motocross struggles over the last few years it might be hard to remember what a powerhouse they were in the 1970s and early 1980s. As this ad states, Suzuki was undefeated in 125 Grand Prix competition, winning every 125 World Motocross title run up to this point. When Finnish motocross legend Pekka Vehkonen captured the title for Cagiva in 1985 it was the first loss for Suzuki since the championship was created in 1975. Photo Credit: Suzuki 
Suzuki was at a bit of a crossroads in 1985. After years of rave reviews for their innovative Full Floater rear suspension system, the brand would be moving on with an all-new design for 1986. Legal troubles, packaging concerns, and the cost of its complex construction all contributed to the demise of the most lauded rear suspension system in motocross history. The 1985 season would see the final iteration of Suzuki's game-changing rear suspension with relatively minor updates for the entire RM lineup. Visually, the bikes looked almost identical to the 1984s, with a slight change in graphics and a new coat of silver paint for the motors being the most notable visual clues. The RM125 and RM250 did pick up a new front disc brake for 1985 but the RM80 remained a dual-drummed machine. In some markets, the RM500 continued into the '85 season with the silver paint and front disc upgrades, but here in the US, the mighty Suzuki 500 rode off into extinction.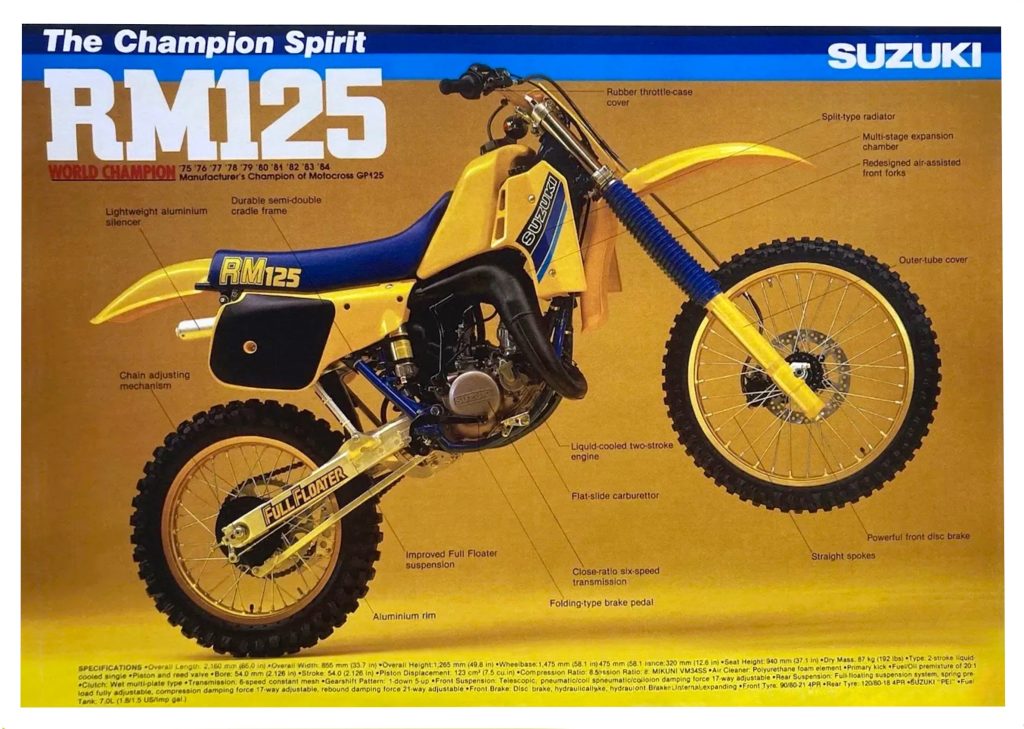 Suspension and motor updates for 1985 improved performance but the RM125 remained outpowered by the Honda and Kawasaki in the all-important 125 pony sweepstakes. Photo Credit: Suzuki 
While the RMs were still well-regarded for their suspension performance, these '85 machines were largely underwhelming in most other respects. The new front disc binders barely outperformed the old drums of '84 and none of the Yellow Magic machines were particularly potent. The unchanged RM80 did not even get included in any of the major shootouts and the RM125 got whipped by the blisteringly fast new KX125. Only the RM250 fared well, taking Dirt Bike's 250 shootout due to its excellent suspension, solid handling, and easy-to-ride motor. Fast guys preferred the more potent YZ250, but its poor stock suspension and less-refined handling made it a polarizing choice for some.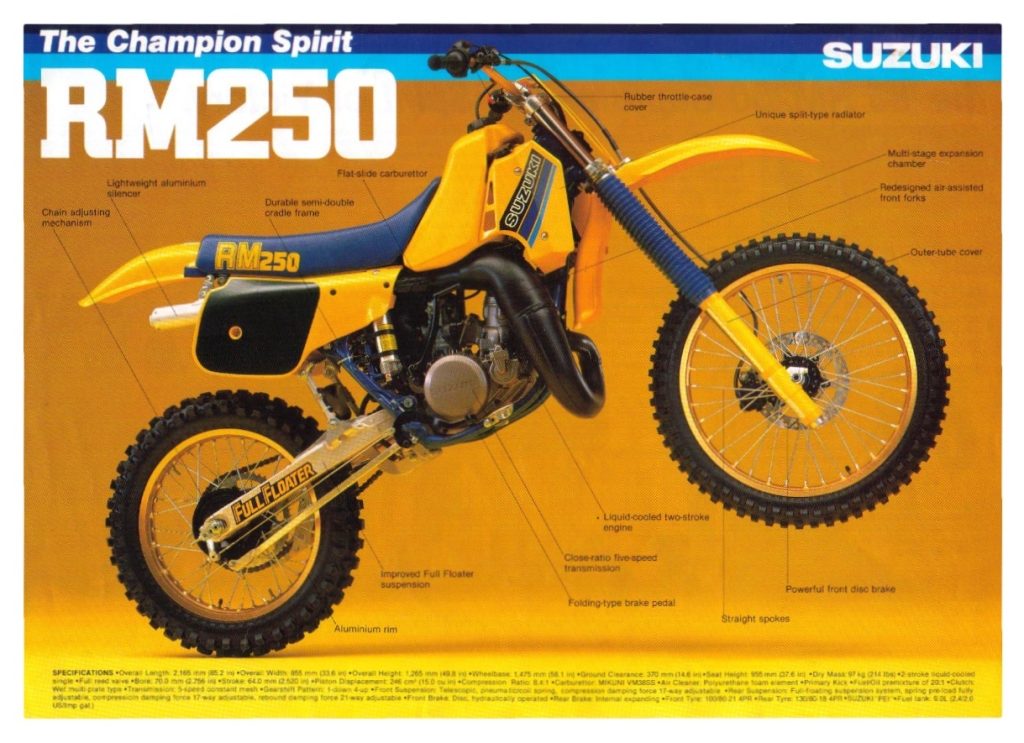 Like its smaller sibling, the RM250 was no powerhouse in 1985 but this was less of a handicap in the 250 division. Well-suspended and easy to ride, the RM250 was a great do-it-all machine for those who prized overall competence over blistering motor performance.  Photo Credit: Suzuki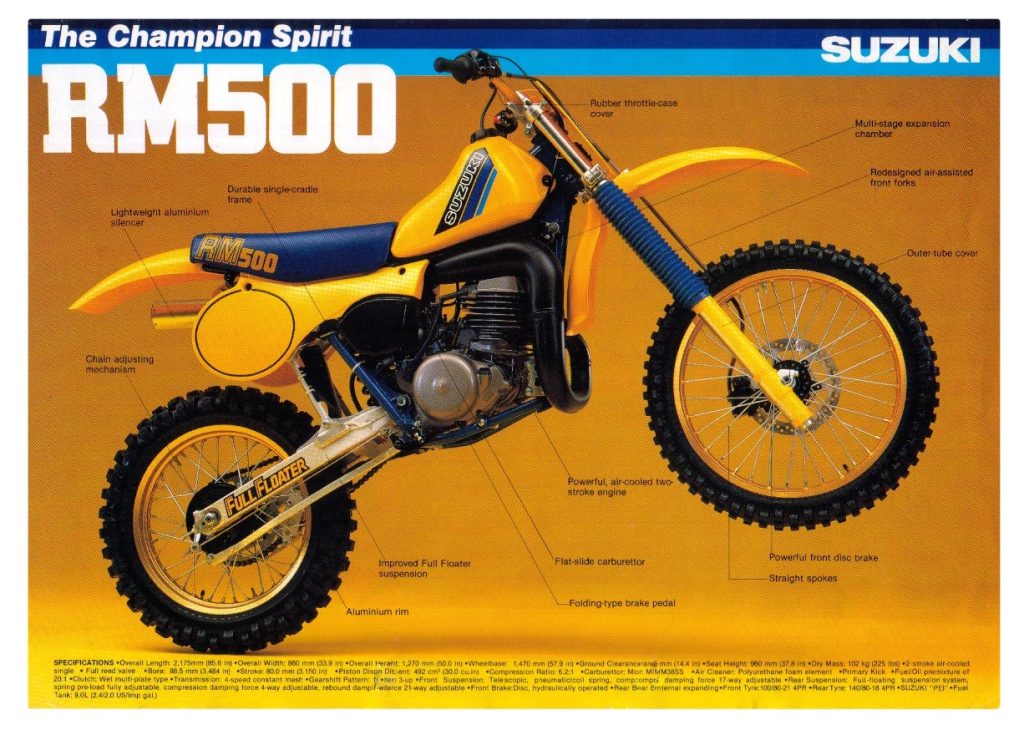 Here in the US, the RM500 was retired in 1985, but in other markets, it continued with the suspension and braking updates afforded to the 125 and 250. Photo Credit: Suzuki