There have been a lot of teams that have come and gone in the American supercross/motocross scene since 1991 but the most successful team in the sport started off modestly with a few young kids and

There have been a lot of teams that have come and gone in the American supercross/motocross scene since 1991 but the most successful team in the sport started off modestly with a few young kids and some box vans. Twenty-six titles later and staring in the face of a twenty-seventh when the 2010 250 nationals are over (after all, his riders make up three of the top four in points), Mitch Payton has been the central figure right there along the way.
The hop-shop that started as a Husqvarna horsepower factory has grown to become a goliath in the industry, serving just about every team in the pits with an exhaust, a camshaft or something with the familiar "PC" logo. With the race team, first on Honda's and since 1993 on Kawasaki's, Mitch has really committed to racing on Sunday sells on Monday. Any rider signing up for a ride on the team knows that they may make the most money in the class but they will be on the best bike, have the best team around them and they can make their money the old fashioned way. By earning it.
I sat down with Mitch at the Millville national to talk about this season, next season and the previous 19 as captain of the Pro Circuit army.
Me: Successful year in 2010. Talk about the season both supercross titles and now outdoors, you're top three in points.
Mitch Payton: So far it's been really good. Actually all of our guys rode awesome this year. Everyone in supercross had an awesome year. Tyla was looking good in supercross and but got hurt. Now that we've come outdoors everyone kind of turns that off and now it's all about this series. Fortunately, Christouphe is on the gas and it looks like Tyla has picked up his pace from last year, and Dean is super impressive for his first year; couldn't ask more from those guys. Jake is our 'lone wolf' down in the points, but truthfully he's riding really well. He has just had some really bad luck, a lot crashes and silly things have been happening, but if you look at his practice times and how he has been doing, he deserves to be on the podium too. I think by the end of the year it would be nice to have everyone in top five.
Talking about next year already, what are your thoughts right now? As far as who is coming back and who you're looking at – when is that kind of stuff going to get settled?
We've obviously talked to a lot of different guys. So far, we haven't firmed up who is going to be on the team yet. That will probably happen within the next two weeks. Hoping then we can tell everyone who we're going to have.
When you signed Christophe, he got hurt then had to take a year off. Did you have any idea how well he would rebound? That had to be a pleasant surprise.
Yeah, it was a sad accident. And it was one of those things… there was a lot of mystery surrounding the injury. Was he going to come back at all? Or if he was, I was kind of worried that he wouldn't have the strength, or endurance, or anything. But it was the type of injury that I thought was worth being there behind him and supporting him. I mean when you're lying in the hospital and then find out that your team cut you… that would be like 'wow, icing on the cake.'
I've been through it myself and I think it was the right thing to do, to stand behind him. Obviously, he's proved it was the right thing to do; he's been successful at everything he's set his mind too. I'm sure next year in the 450s he'll be successful too.
So this doesn't surprise you that much? How good he's been?
It doesn't surprise me when you look at how talented he is. As long as he could get his health back to where he could do this, I believe in him for sure. I'm just really happy he was able to get back so he could race. So yes, is it a surprise? You could write a fairy tale book about it. That was an amazing comeback. To have that type of injury and maybe not be able to walk? Then to be able to walk, to be able to run, to be able to do this and race at this level is just unbelievable.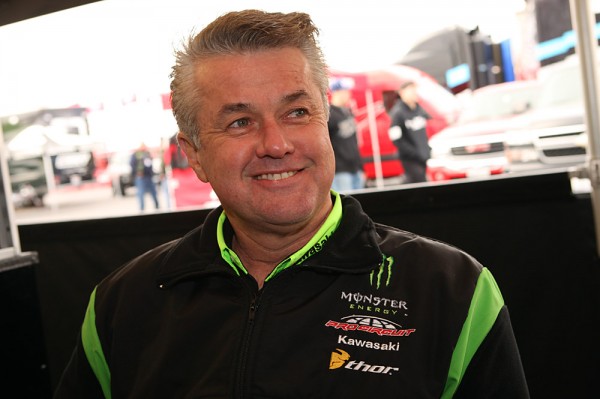 The man with the golden touch, Mitch Payton. Photo courtesy of TWMX
As far as Rattray, guys like myself that write about the sport, maybe thought last year was a little disappointing. This year he's turned it on and really showed everyone the champion that he is. Talk about his adjustment last year and this year.
Last year was maybe a hard year for Tyla. It was an odd situation. It was his decision to try and come to the U.S. at the last minute. It was his dream, he wanted to do it. Didn't care what it took; he wanted to come ride for us. I'd always told him if he wanted to come we'd make it work somehow, so we did. It was a little last minute to get it organized. I'm sure last year's results were disappointing for him and maybe a little bit of a letdown for us. We've worked on a few things for him, and he's worked on some things on his own. This year, he's turned it around remarkably. His starts are good, he rides good, his times are fast and he's in awesome shape. He's probably the fittest guy in the class.
I would say so. What about the Las Vegas SX where your team made up the top four. Where does that rank in all your memories as a team manager?
It was a great night. They won their heat races. Everyone was right there; it looked like life was going great. But that race has bit me so many times I try not to get too excited about it. Our goal is always to get in and get out of there to make sure we have everyone in one piece for outdoors. For me, it was a bit of a blur because I'm trying to watch all four guys, make sure they are riding each other clean. If they would have knocked each other down that would have pissed me off. They raced really hard but were really good to each other. It was a phenomenal race. Never would think that that was possible, and it happened, so it will probably be a memory forever.
What is it about your team that makes it so good? Ever since 1991, you've been a dominant team. You've been able to take riders like a Chris Gosselaar, Matt Walker, Eric Sorby … riders that maybe no one would've thought would do it, and turned them into winners and champions. What is it about the team?
I think it's… I make them drink Monster Energy drinks and it hypes them up a little bit. We were actually developmental crew for Monster Energy. We were a Hansen's energy drink team back in the day. So there was a lot of 'behind the curtains' work that was getting done. Many people didn't know. I didn't know myself at the time. (Laughs)
No but really, I would say… I kind want to think that it's the belief. When we started, I was so scared of failing. I was afraid everyone would make fun of me. We had a business selling parts to everyone and I knew we could make really good bikes. If we didn't do well, everyone would kind of pick on us. You know we were racing the other manufacturers, "the factory," so we had to be good at whatever cost and doing well right off the bat set the stage for us and the momentum. Nothing ever felt as satisfying as winning or at least being in the hunt for the win. It's like, do you stand a chance? I think that's really important. And when people come here they realize that maybe we're not going to pay them the most money, but what we do have is the best bikes. They handle well, they run well, and we have great staff. We have good balance on how we do things and a good history book on what works for us. I try to maybe teach them what I think is the right way to go about things, you know, as far as trying to be a really good person and if they work hard, they're going to get a lot out if it.
Is there one year that stands above the rest as being a favorite year?
No, I think you could go back through every year and every year would have some really fun highlights. Even a couple of years that we didn't win, you'd still find some really great things that happened. I think every year is great. I'm looking forward to finishing this year and hopefully we can keep our guys up there where there are right now, and get Jake up there further. Then we'll shut the books on this and get started on 2011. I think with some of the guys we're planning on having, I believe we can keep it going.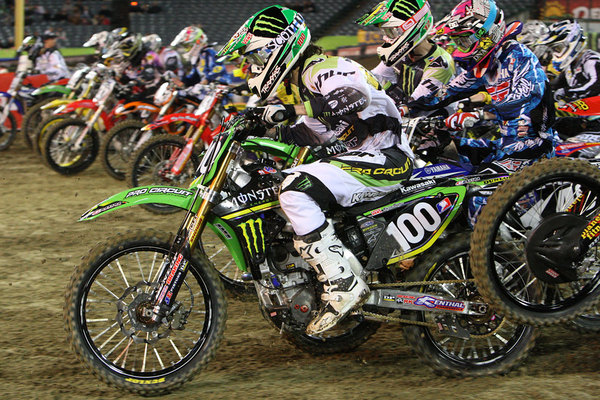 This is how good of a team PC is- They saved Little Hanny from himself!
Best rider you've had on the team, Ricky Carmichael is obvious but some others?
I think Ricky, he is pretty special. That's so easy for everyone to say, but he is a pretty phenomenal rider. But I feel like I've had some unbelievably awesome guys. To have McGrath, Christophe or a (Michel) Pichon? Or Ryno (Hughes) and Tedesco, Ben Townley, Grant Langston… it's hard to say. Then there's Ryan Villopoto…can't believe we forgot about him. I think every single one of the guys has brought a lot to the table and succeeded and moved on. And the majority,when they left here, have had a pretty successful career.
What about Dean Wilson? He's been really, really good and I would say a surprise.
Deano is awesome. He's going to surprise some people. Some other kids have gotten a lot of hype for being 'first year rookies,' but really, this is his first year. First year in Supercross, first year outdoors. He's a solid contender right now and next year…
And he's a good person too, right?
Great kid, great person. Not a punk, no problems with him. And I think he'll be a contender in both classes next year.
Best test rider you've ever worked with?
Ooh… that's a good one…(long pause).. Maybe Nathan Ramsey.
One rider you wish you had a "do-over" with?
Probably Brian Swink. It would have been nice to have him one more year. I think he would have done a lot more. The one we always joke about, between each other, is Windham. He was supposed to be my guy. That would have been fun to have Kevin.