I find it no surprise that the riders seem to agree that A2 was the toughest track of the year so far.
I find it no surprise that the riders seem to agree that A2 was the toughest track of the year so far.
Photos by James Lissimore
Not because the obstacles were more difficult than usual(though those whoops were again pretty gnarly) but because for all the effort they put in, there was little daylight to make passes.
It's a conundrum no doubt about it, I don't have the solution and it's apparent the track builders and riders don't either.
It's in a racer's nature to decipher the most efficient path around the track, and when you take the top 20 SX riders in the world and give them multiple limited windows of opportunity to determine said efficient path, they figure it out fast and follow suit. We hear it every week, "the race line". It's not "the race line(s)" for a reason. Riders of this skill level leave no doubt, they watch the lap chart, see who's poached atop, watch them, adopt their line, someone else moves to the top, they are watched and on and on. The race line is tweaked minimally until eventually, in the main event we see the riders navigating the track sticking in that race line, leaving only when they sense an error by a rider ahead, moving out of the line to attempt a pass; or as we saw at A2 in the 450 class, Stewart used a couple quad jumps to create his separation in the main event.
It makes sense, why take yourself out of the fastest line unless it's to make a move forward in the results?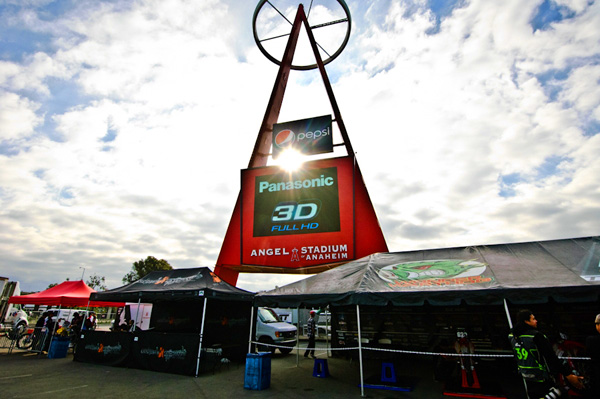 What was it about Anaheim 2 that made most of the riders agree it was the most difficult track thus far?
Were the rhythms so hard that everyone had their hands full just focusing on making the obstacles cleanly? Not a chance(maybe those nasty whoops but they are always an equalizer).
Was the track so average that everyone could ride it at their capacity all race leaving no room for separation? Doubtful.
With regard to the A2 Lites race, you'll recall, the only excitement came when Roczen or Tomac would venture out of the race line to make a move. Sure, from 1st to 4th was less than a 5 second interval for the duration of the race but I fail to see the argument that tight one-lined racing is exciting. When Tomac came up the inside of Hanny, awesome. When Roczen would rail the outside corner in the sand, awesome. But three or four main-line delineations in a main event is stagnant and I see where the riders would be frustrated and consider the track tough.
Like I said, I don't have the answer.
I do have two ideas which may or may not yield the result of better, less predictable racing but I don't necessarily think it's feasible with regard to safety.
Option A- For shits and giggles, What if(my kindergarten teacher always said any question starting with "what if" is a stupid question(he'd probably be fired for saying that to kids nowadays)) each rider was limited to one 10 minute practice session? Limiting track exposure would subsequently limit familiarity possibly resulting in a less "confirmed" race line. Less predictability? More experimentation? More dangerous? Who knows, maybe the track obstacles are so familiar at any venue that a 5 minute practice shows them all they need to know to head to the heats? This leads me to my second option.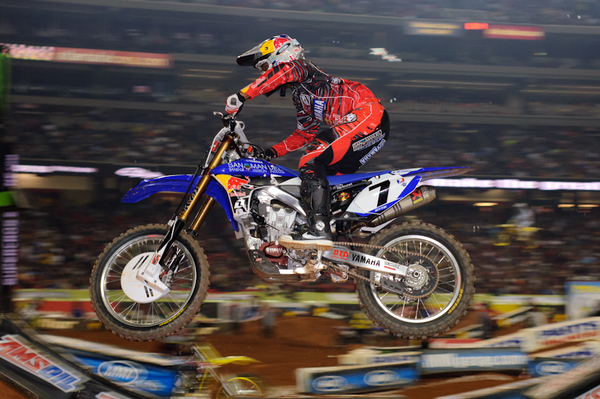 Option B- One of the strengths in my opinion of the SX tracks from yesteryear was also one of their weaknesses. Their inconsistency. Tracks had varying jump faces from one rhythm to the next, one obstacle to the next and one venue to the next. Why not introduce obstacles with a wider range of face steepness? Cut up the rhythm with some gradually pitched faces along with the standard steep faces. Remember those walls from a couple years back(when Josh Grant on a Lites FC bike almost decapitated RV on his PC Kawi)? I'll bet you a PB&J with Frito's in it RV didn't predict getting his bell rung in that fashion.
Supercross is dangerous as shit, duh, and yes there is the argument that no matter what you put the riders on out there in terms of vehicle or track, the cream will rise to the top. Maybe so, like I said, I dont have the answer but what I do have is an idea or two. They may be dumb but they help to start a dialog and thinking of other methods to get away from one lined racing.
As much as you can get away from it anyhow.