The Rockstar Energy Drink Australian MX Nationals reached it's traditional final stop on the tour at Coolum on the weekend.
The Rockstar Energy Drink Australian MX Nationals reached it's traditional final stop on the tour at Coolum on the weekend.
By: Col (Nelso_19) and Jake (Moto619)
Photos by: Col
The Coolum track is located approx 2 hrs north of Brisbane in Queensland and is one of the most pristine looking tracks on the circuit. Until the racing starts that is and the deep Coolum sand starts developing natural whoops and braking bumps everywhere you look. It's brutal and only the strong survive.
The anticipation heading to Coolum couldn't have been better as the Pro Lites (250) and Pro Open (450) Championships were still wide open with a possible 100 points up for grabs on the day courtesy of the 4 moto format. The 4 moto format consists of 2×15 minute motos back to back with a 5 minute break in between in the morning and another 2×15 minute motos back to back in the afternoon.
UNDER 19's
With the Under 19's Championship already decided heading into Coolum, 2011 Champion Errol Willis was proudly sporting his new #1 plate and was feeling confident of a strong showing. The minor placings were still to be decided though with GYTR Rockstar Yamaha rider Luke Arbon and his teammate Shaun Redhead (who has black hair), Axis Honda's Dylan Peterson and Hart and Hunnington Yamaha rider Jake Emanuelli all having a chance to finish the season on a high note.
The moto wins were shared between Redhead and Emanuelli with Redhead edging out the H&H rider for the overall. 3rd on the day went to Arbon who just edged out local Smart Honda rider Jacob Wright who was under the watchful eye of multi-time National MX champion Glen Bell. 2011 Champion Willis seemed to struggle in the Coolum sand with poor starts and short races not helping his chances. Willis finished 5th on the day.
PRO LITES
With Serco Yamaha's Kirk Gibbs the only rider to win all 4 motos in a single round this year and JDR KTM's Matt Moss dwindling points lead that he had built earlier in the year, the 250 Championship was still up for grabs. Other riders such as American import Monster Kawasaki's Phil Nicoletti and Berry Sweet Lucas Oil Honda rider Kade Mosig had won motos and overalls this year but it was clear early on that Moss and Gibbs were the class of the field.
Motos 1 and 2 saw Gibbs and Mosig split moto wins while Moss could only manage 4th and 9th in the first 2 back to back races. In te 3rd moto on the day Matt Moss grabbed the holeshot and pulled away for his first win of the day with Gibbs following him home in 2nd. Nicoletti had a pair of 3rd place finishes in the first 2 motos but bad starts hamperred him all day and prevented him from battling with the front runners. Gibbs and Mosig stayed consistent with Gibbs winning the final moto of the year but it was to no avail as Moss cruised home in 5th to secure the 2011 Pro Lites Championship, and a guaranteed return to the USA for 2012 on the JDR KTM team.
PRO OPEN
With Monster Kawasaki's Dean Ferris' crash at the penultimate round breaking his thumb and effectively ending his title hunt, both he and teammate Billy Mackenzie still had a mathematical chance at the title. Ferriswheel showed heart and determination to qualify fastest for the weekend but his damaged thumb would prove to be too painful and a first corner crash in the 3rd moto ended his day early.
Rockstar CDR Yamaha teammates Jay Marmont and Josh Coppins had a big points lead over the Monster Kawasaki teammates heading into the final round, but only 18 points seperated them and after motos 1 and 2 the points remained the same as the duo split moto wins in the first 2 races. In race 3 things would take a turn for the worse for Coppins as he was involved in the first corner crash with Ferris which resulted in a dislocated shoulder for the Kiwi, thus ending his day early. Marmont went on to win the final 2 races of the day but it was a little soured by Coppins' injury, however that hollow feeling may evaporated when his Championship bonus arrives from Yamaha.
Marmont's 4th consecutive Pro Open Championship was a massive achievement. He was fast and consistent when it mattered the most.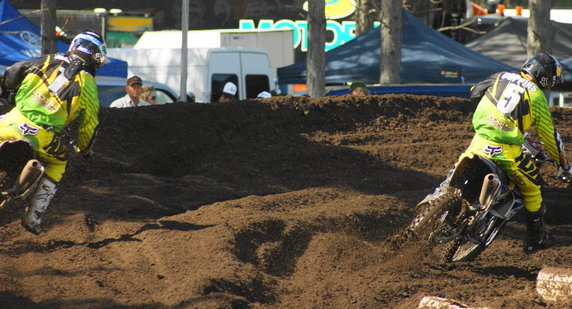 CDR Rockstar Yamaha teammates Jay Marmont and Josh Coppins were never sperated by more than this in their first 2 moto battles.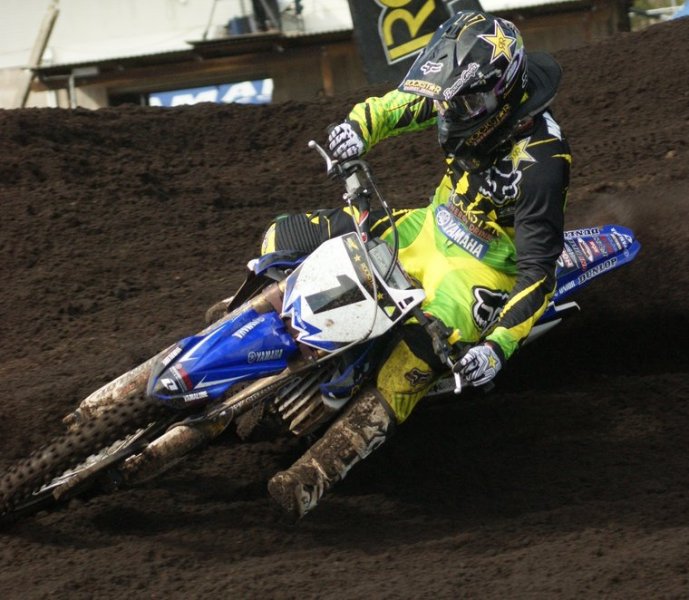 Perfect style from the 4 time Champ.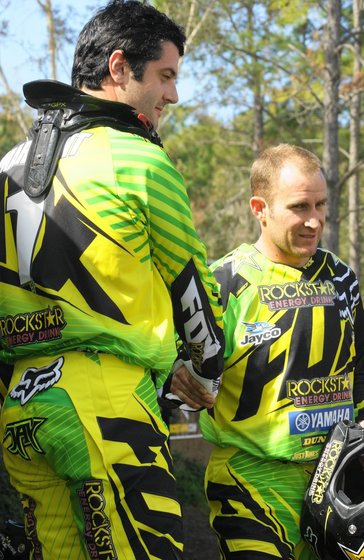 Marmont and New Zealand's Josh Coppins shake hands before going in to battle.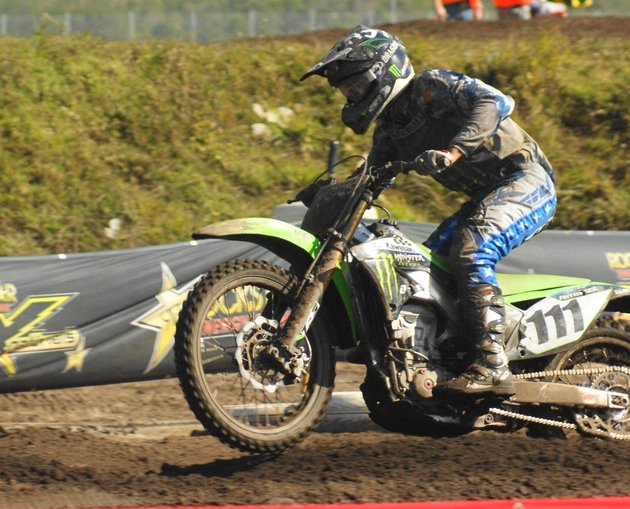 Dean Ferris charging through the never ending breaking bumps.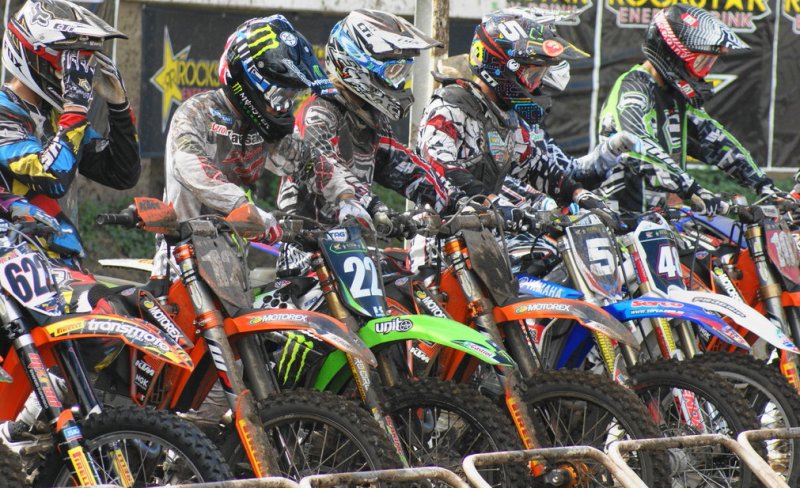 Riders line up for the start of moto 2 of Pro Lites competition.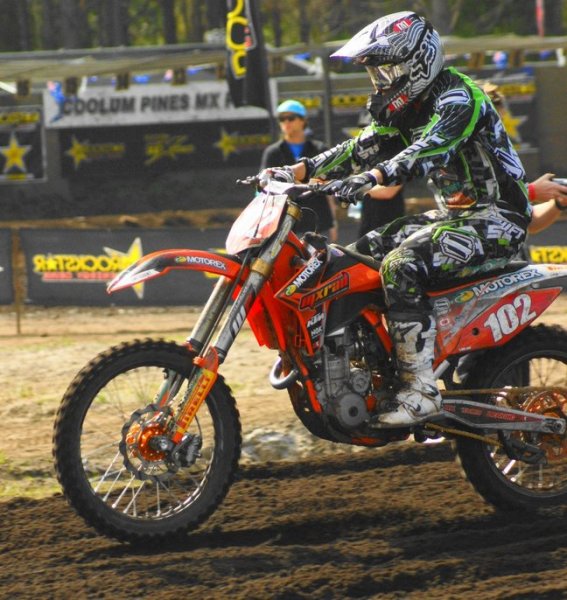 Matt Moss, 2011 Pro Lites Champion and USA bound in 2012.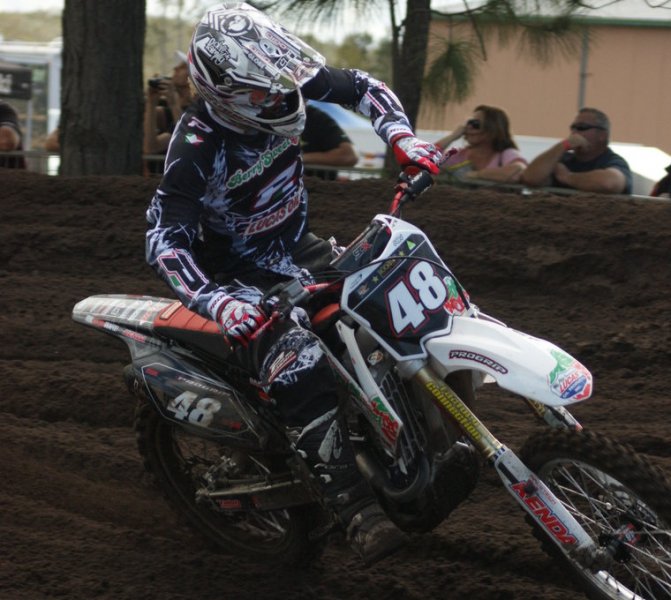 Kade Mosig rides for the privateer Berry Sweet Lucas Oil Honda team owned and run by former Southwick 125 winner Craig Anderson. Kade rode awesome for 2nd OA at Coolum.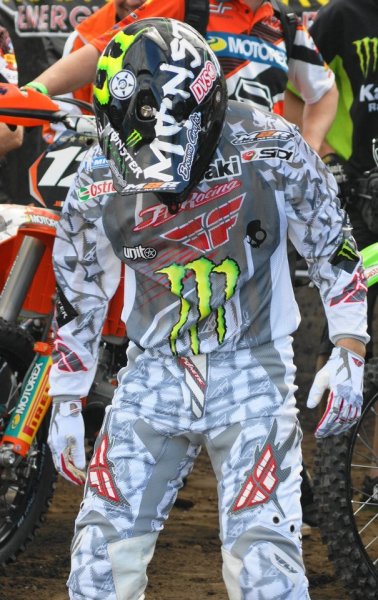 Nicoletti packs his gate.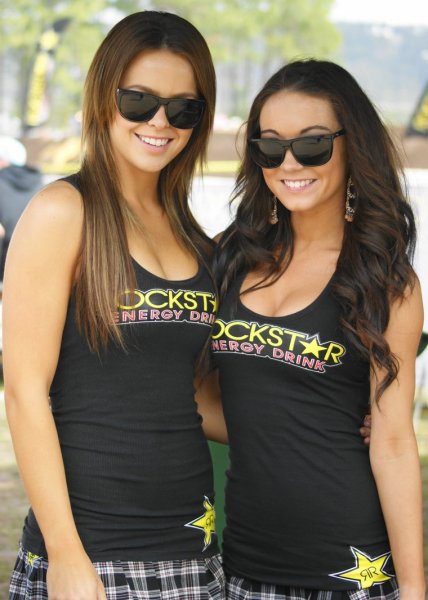 Rockstar girls Down Under style.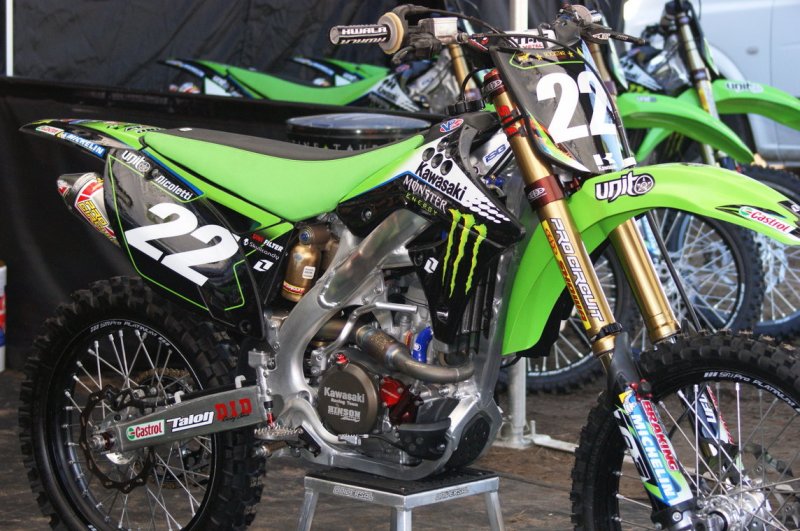 Nicoletti's Monster Kawi KXF250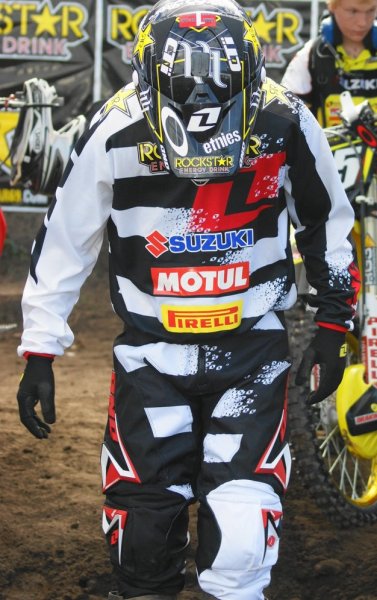 There was plenty of 2012 gear on display on the track. Here's Dan McCoy sporting some 2012 One Industries threads.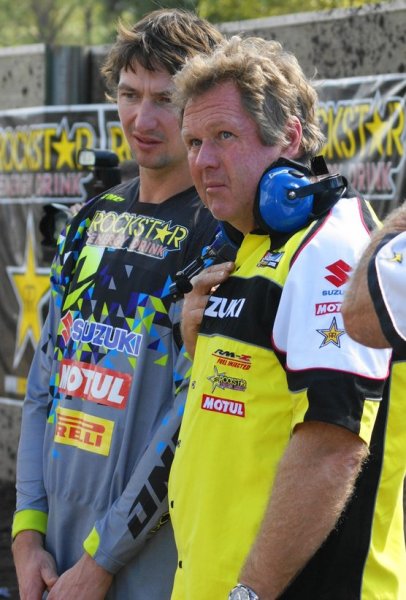 Poor old Cody Cooper couldn't even manage a top 10 at Coolum. Here he chats with Suzuki team manager Jay Foreman behind the start gate. "Jay do you think I could get another ride next year? Jay? Jay??"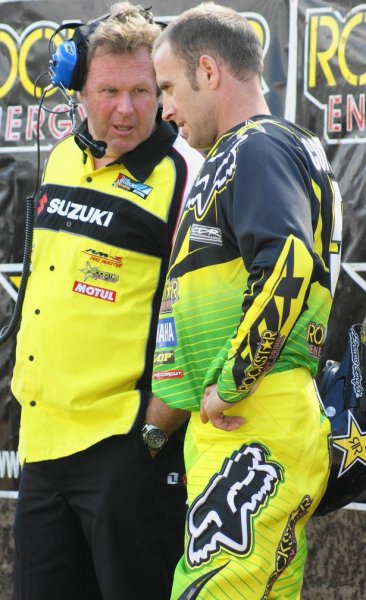 "Can you believe Coop wants me to renew his contract for next year…"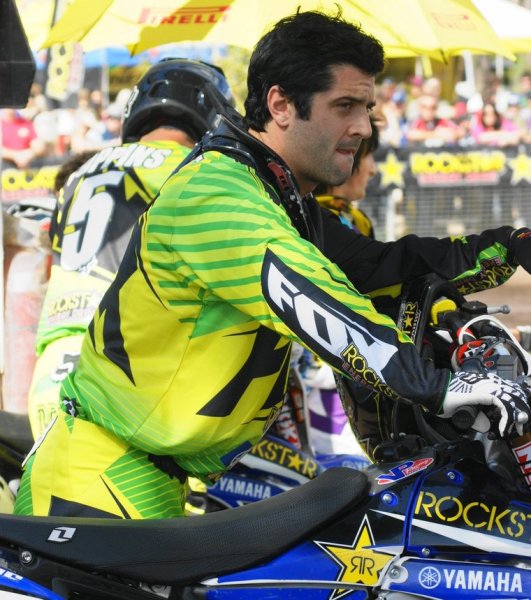 "I can't believe Coop just asked Jay for a ride next year…"