PulpMX Fan and aspiring writer Paul Quesnel sent in this little piece and we thought it was a good read and wanted to share it.
PulpMX Fan and aspiring writer Paul Quesnel sent in this little piece and we thought it was a good read and wanted to share it.
Photo's by: THE James Lissimore
This is a great time to be a fan of American motocross. Maybe even the best time. Gone are the days when you could accurately predict the names on the podium before the race started. Gone are the days when McGrath or Carmichael would decimate the field. Gone are the days when Bubba would win as long as he stayed on two wheels. We are in the midst of what could be the most competitive era in our sport. It has become a perfect storm of talented riders in the 450 class. As we draw closer to the start of the 2012 season, let's take a look at each of the top riders and what they are bringing to the table for the new year.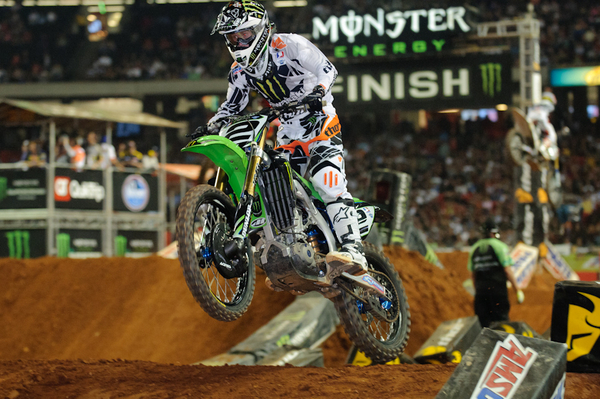 Will RV2 pull-off a 2-peat?
Ryan Villopoto
At the beginning of the 2011 season, no one quite knew what to expect out of the 250cc sensation in Villopoto. He had just recovered from a horrendous injury, he hadn't raced in about 8 months, and it was going to be his 3rd season in the premiere class. Many people thought that if he didn't win a championship this year, he may never win one. But in true RV fashion, he performed when his back was against the wall. After narrowly winning the SX championship after the disaster in Jacksonville, Villopoto fought tooth and nail with Dungey for the motocross crown all the way down to the last moto at Pala. RV has to be the most clutch rider in the sport today. He might not be the fastest, but he will simply outperform his competitors when the championship is on the line. RV has the ability to make aggressive passes on the opening laps when others are just waiting for things to settle down. He looks very comfortable on the 2012 kx450 as we saw at the end of the outdoor series and in his absolutely stellar performance at the MEC. Ryan recently got married and has to be full of confidence thinking about what a successful year he had. All that confidence will surely help Villopoto as he heads into next year. At this point, RV looks to be the favorite heading into 2012, but he will need to keep his momentum going since all of his competitors are very hungry for a title.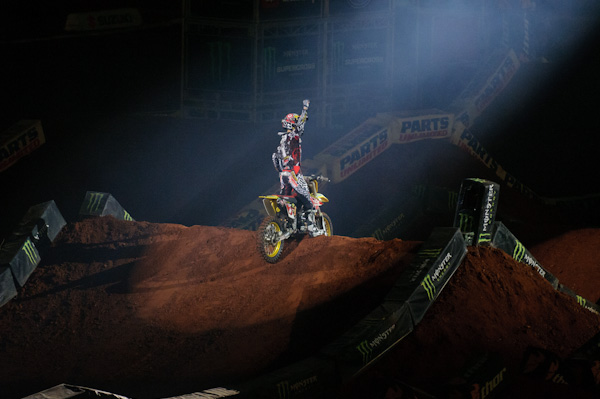 The Dunge is coming in with a lot of pressure on his shoulders.
Ryan Dungey
2011 was not very nice to Ryan Dungey. If it wasn't for a pair of heartbreaking mechanical issues, Dungey could have repeated the same success he enjoyed in 2010 while winning both championships. To Dungey's credit, he admirably hung in there after the mechanicals and almost walked away with a title. Dungey has a very controlled riding style. He doesn't take many risks and in turn he doesn't make many mistakes. He learned a long time ago that championships are won on your bad days. Dungey is a smart rider and keeps his focus on the championship at all times. He remains in control while others self-destruct around him. What he might lack in talent he makes up for in hard work and determination. He's conditioning and desire is second to none on the track. Dungey will have an uphill battle in 2012 as he is going to be riding a new and unproven bike for the Redbull/KTM team. One thing that will work in Dungey's favor for 2012 is that he will be reunited with Roger Decoster, the man who believed in Dungey from the start. The change could be just what Dungey needs to win a title next year. Either way you can count on him to be up front for many years to come.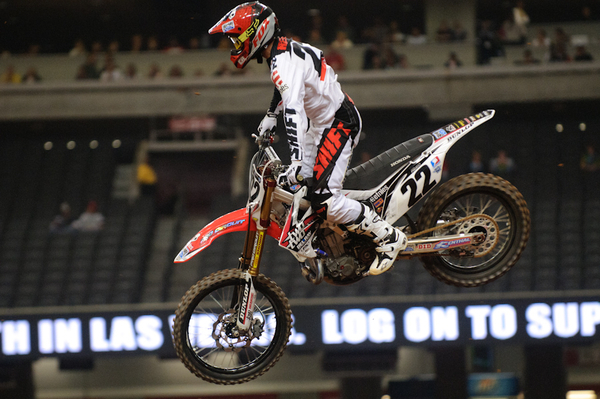 There's pretty much only one way for '12 to be better than '11 for TwoTwo.
Chad Reed
Chad is like a freight train. Once he gets the momentum going, it's almost impossible to stop. He is the kind of rider that feeds off confidence. Once he believes that he can win, he gets 100 percent out of himself. Most people had written Chad off at the beginning of the 2011 season. When he got his 1st podium at Oakland, many thought it was going to be his best finish of the year. Little did any of us know that he would lose the SX crown by a mere 4 points and lead the over half of the MX series until his Millville skydiving expedition. Chad has the ability to get left in the dust by his competitors in one race, then come back at the next and destroy everyone like the previous race never existed. He is a wily veteran that knows that just because someone can catch him, doesn't mean they'll be able to pass him. He successfully started and maintained his own race team while other teams are struggling to survive. He has completely changed his attitude about racing and the sport altogether and is now a fan favorite. He will remain on Hondas for the next two years and continue to fine-tune his race program. With all this one thing is certain, you can never count out Chad Reed as long as he believes he can win.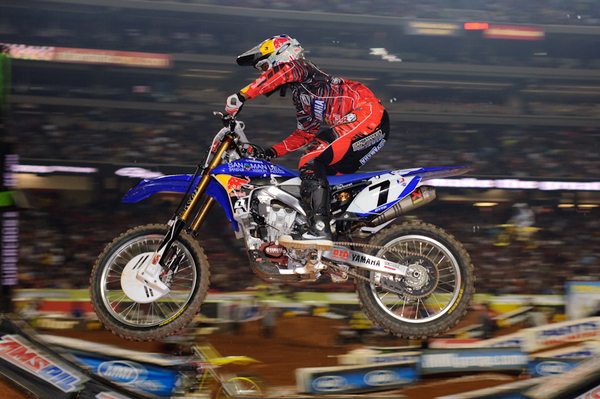 Will JS7 do a better job of keeping the JGR Yamaha on course?
James Stewart
James is still the fastest and most talented man on the track at any given time. The thing is though, that doesn't always translate into championships. At this point in his career, Bubba's biggest problem is his own name. James, his crew, and the entire sport have built him up so much that every time he lines up at the gate we expect him to win. We have all made him out to be the next McGrath or Carmichael, but he can't live up to those names with the amount of depth in the class right now. He does not have the luxury of being just another one of the top riders. He cannot just go to each round looking to gain sufficient points in order to win a championship without everyone questioning why he wasn't able to win the race. Incredible, unmatchable speed, it is his gift and also his curse. If he wants to win a title in 2012, he needs to think more about the big picture instead of trying to be the fastest man on the planet. He needs to forget about chasing MC's almost unachievable record and focus on finishing out his career strong instead of on the ground. James going to team JGR should be a nice change for him. All the guys over there seem like real genuine people and that should help James stay on track. He has all the speed and the talent in the world, all he needs now is to put the rest of the pieces together.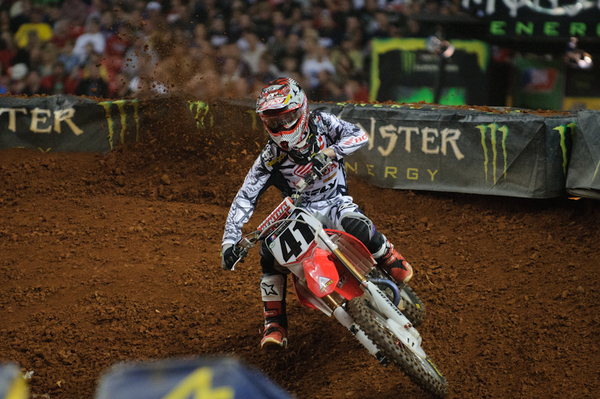 Adversity has crept up on Ice Trey once again. Resiliency doesn't begin to describe the 41.
Trey Canard
(Paul sent this in before Trey's recent collarbone deal)
Canard really impressed a lot of people in 2011. He turned the fast four into the flying five. Him winning races shouldn't have really surprised many people considering he was able to keep pace with RV and Dungey in 2010 when he moved up to the 450 class for some east coast rounds. But with the addition of Bubba and Reed, his performances in 2011 were definitely more notable. As a rookie, he did not get timid when running up front with the big boys. Instead, He believed he should be up there with them and his results improved as the season went on. He's aggressive enough when the time calls for it and he's not afraid to hang it out there. He is a bit prone to injury but if he could stay healthy for the entire year he has a good shot at a title. He needs to work on his consistency a little also, as we saw this past SX season he was somewhat hot and cold. Trey is a good kid that lives his life by the good book. He stays focused on improving his speed and doesn't get caught up in any drama. He is also well on his way to being a fan favorite with his opening ceremony antics. All in all, Trey is a super talented kid with a ton of upside and if he can stay out of the hospitals for a while, he has a good shot at winning a title next year.