Ping slept like a baby knowing that no pole-jumps were taken advantage of in Dodger Stadium.
Ping slept like a baby knowing that no pole-jumps were taken advantage of in Dodger Stadium.
Photos by: THE James Lissimore
Peripheral
Obviously the LA SX fans were worried that Brett Michaels was going to be in house performing "Get Your Ride On" live. That's the only possible reason for that pathetic fan turnout. If LA continues to host a round with that attendance there's no reason we can't have a day/night doubleheader in the Pontiac Silverdome just like the old days. Shit, Podunk North Dakota would have a better fan representation even at the height of ice-fishing season. I know the deal with Californian's losing their minds when rain showers move in but come-on; maybe those California hippies are really just that afraid of showers. Har. Seriously though, this is clearly a sign that Cali fans are taking for granted the number of SX rounds they have available to them. It's time to make a return to Michigan; excuse me while I put my soap box back in the garage.
Races being tape delayed is all that needs to be said about the confidence the promoters have in SX regarding its growth. I don't care that the CBS broadcast is National and "reaches" more viewers. The fact that ANY race of the 17 is tape delayed is inexcusable. I don't want to hear that B.S. argument about how back in the day we had to wait a week or call a 900 number to get results. I was a fan when 900-Pro-Race was around but this is the information age and it's just pathetic that a sport as compelling as SX, with the story-lines leading into the season apparent, still deals with tape delays. The fact that we have 10 live races this season is awesome but the 7 races which are tape-delayed trumps the positives of the live races. Until all the races are live, the sport will continue to be considered "dirt bike racin'" by fringe fans.
Motorcycle racing of any kind is a niche and casual fans are hard to draw in long-term. It's expensive to get involved in and unless you are involved with racing them in some facet, you're likely not interested. The tape delay isn't attracting new fans and it's definitely pissing-off committed fans, so why do it? Is it the costs involved with pre-empting alternat programming? When the repeat of Barrett-Jackson's Auctions draw more viewers, thus increasing cost to replace it, I shake my head at the interests of society as a whole.
According to the round three stat presented by Weege this week, we now know who the 2012 SX champ will be. Weege's fact checking found that over the last 9 years, the SX title was won by the winner of the 3rd round of the series. That's an impressive run as far as stats go, especially in SX. Will it hold up for a decade? I'm not touching that judging from the first 3 rounds.
To begin the series with three different winners on three different brands is just more evidence of how unique this season is. I know I sound like a broken record when it comes to this year and the stacked field but it really would be hard to overstate how special it is for us fans.
All the talk was, worry about a mudder but with great planning and prep by Dirt Wurx the track was anything but wet. In fact it was so dry that riders were pushing the front all over the place and slip-sliding in a much different fashion than they would be were it due to mud and slop. In the end the track, though slick, was pretty damn good and the racing, intense, as has become the norm.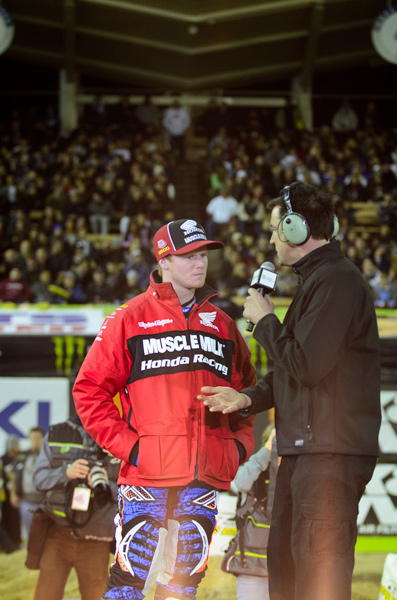 Keep praying for Trey.
Heartbreak
Recently when Trey again broke his collarbone, fans began saying that Trey was riding over his head and needed to back it down(even I wondered if that was an option). Although Trey wasn't backing it down last night, that sickening crash is evidence of what can happen when your not matching pace at this level for even a split second. Snagging a bale cover, subsequently doubling the triple and leaving Trey and Mo, two of the universally agreed upon best guys in the sport, unconscious and motionless was a nauseating sight. "Backing it down" is not a solution at this level, it's a recipe for greater catastrophe. Keep those prayers going strong for those two.
Just reading all of the tweets regarding Lurch and his trying to deflect attention from the seriousness of the crash disgusted me. They teach "on with the show" in broadcasting as a fall-on crutch for those who lack the intuition to handle an unscripted event. Lurch definitely falls into that category. Put Weege or someone with his skill-set in that position and he does the right thing; deals with the situation respectfully, not going all Ron Burgundy during a very serious situation. I'm betting he was too obtuse to realize how much of an A-hole he was considered even when the crowd began to boo him. Surely he was just following the direction of the voice in his headset, they were probably room-mates in community-college broadcasting school. There comes a time when "on with the show" is precisely the wrong answer.
That was it. Lurch is a one-trick pony and by following instruction, he fumbled.
SX Class
Heat races typically have little bearing on main event results but this season you can throw those results even further out the window. The main event is an animal all its own. The heats are like little main events, the LCQ is a last gasp of breath and the main just leaves your jaw dropped for 20 laps. When it's all over, you blink, wipe the drool from your chin and shake your head. These races really are non-stop action.
This weeks LCQ casualties included Brayton, Top Jimmy, Blose and again, JT$. Blose was one of I believe 8 riders to make every main in 2011. Here we are at round 3 and the streak ends. It's just more support of the case that this SX class is the most elite ever.
I guess Factory Honda's Justin Brayton should just rip up his contract, return his bike and apologize to Honda for sucking? According to the lead-douches on Vital missing the main, like Broc Tickle did last week, means you suck and you're not worth the ride you got. Wake up jack-holes, these are the fastest dudes in the world and this season the top 20 in lap times are separated by about 2 seconds. Nobody lucks INTO a main this year, they luck OUT OF it. There will be even more shocking names than Brayton, Tickle, Grant and Wey missing mains later this season. I'd put money on it.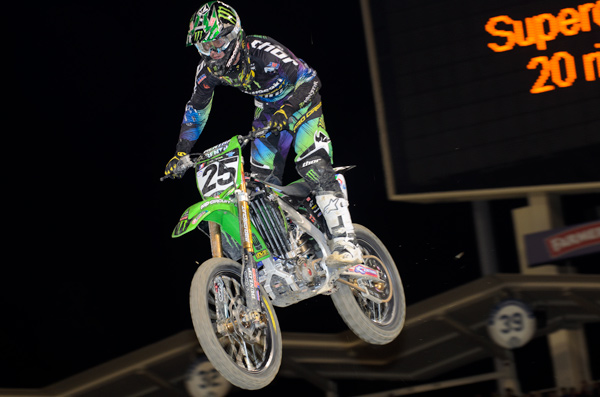 Broc was running solid most of the main. He'll get better.
Reed had that look where he just wasn't going to be denied the win. He was super aggressive in his heat, tested the front end, found the limit and adjusted for the main. If RV doesn't crash the script probably changes but as they say, "it is what it was". Although others were doing the triple/triple Reed was, he owned it and his line through that section was noticeably faster than others doing it.
Cue Matthes and his point about Ryan "Crashopoto". While you can't argue with facts(it is happening), it's just the way it's going for RV thus far. He's not riding over his head or erratically but they are time-suckers and need to stop before they really start costing him dearly. You can't deny that RV is the fastest guy right now though, he was about 9 seconds down and came back to 4th. I think he's running helium in his tires because he's floating around the track like he has a dozer blade smoothing the bumps on the front of that machine.
Talk about a roller-coaster ride. Jake went from mid-podium last week, to leading the main for a few laps in LA to, only minutes later getting dropped by Stewart, then finishing in 11th. The story-line continues in 2012, the rider who minimizes mistakes most excels and even the most seemingly inconsequential miscue can result in a double-digit drop in finishing position. In LA Jake's mental game took all the abuse of a high school girl getting punk'd by the cute guy. Jake seems to spend a little too much time "in his head"(he's very thoughtful and introspective when he talks), so I hope he borrows from RV's approach this week and just moves on with preparation and lets the past be the past. He filed that move by James away for future reference.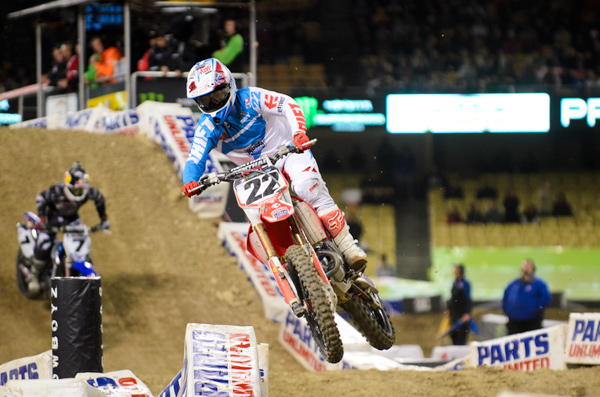 I liked Chad's heat-race gear much more than this but it's his party and he'll wear what he wants to…
Bubba's move on Weimer was assertive but not dirty. Jake simply didn't expect to be checked up as long as he was and his weight bias couldn't hold out for the duration. James was just making sure the move stuck.
I was surprised to see JS taking the outside line toward the finish even after seeing Reed take the inside and make time on him there. It makes me wonder if he's just that worried that his bike won't react predictably in that line or did he feel like he wasn't losing anything going outside? It sure looked slower and RV was going inside too which tells me it was the faster line.
Dungey has hit every step of the podium in the first three races. Just podium-clockwork from the Dunge. What's that add up to? The points lead at round 3. Yup, the Dunge is undeniably better on orange.
End
The questions I find most intriguing leading into Oakland?
Will JS7 figure "it" out and be the 4th rider/brand to win?
Will RV stop the main event crashes?
Will Dunge continue the podium streak?
Will Chad start a streak of his own?
One thing is certain, the majority of the sports fans will read about it before they see it and that is a damn tragedy.