RV almost made the "19th lap strategy" work in Atlanta for the second year in a row.
RV almost made the "19th lap strategy" work in Atlanta for the second year in a row.
Photos by: THE James Lissimore
Periphery
Last night in Atlanta had all the makings of a real snoozer. As of late Villopoto looked unflappable and aside from Reed, his opponents hadn't looked like viable threats.
As they say though, it's racing and the unexpected can and usually does happen. That cliché' rang true last night and benefitted us fans by turning up the intrigue just as we expected the exact opposite to happen.
The Atlanta track is always one which the riders look forward to. Massive floor-space, a bevy of 180º turns, awesome dirt and fan turnout which-is second to none in our sport. MX Sports is still looking for that southeast National, I think it's safe to say that an institution that could draw form that Atlanta fan-support would be an ideal location.
The dragon-back rhythm lane was very cool and the track the most technical, with many line choices, we've seen this year. Even the wall entering the sand was an awesome change-up from how the sand is usually treated and riders were hitting that thing from left to right. There were guys checking up into it, doubling it and then there was that enormous triple Millsaps launched into the sand from the wall. Just nuts and again, options; always a good thing which benefits racing.
SX2
Starting with the heats, you had to ask yourself, "does anyone want to lead out there?" First it was Barcia tucking the wheel, then Wharton mimicking Barcia and with that Mookie inherited the lead. No longer than a half-lap later, lil' Stew absolutely augured himself at the end of rhythm lane 4. He looked hurt for sure but after collecting himself, walked back to the pits and showed up ready for the LCQ. Too bad his pumpkin wasn't. That's a real shame and somewhere in the Georgia-Dome Tony Alessi was again reciting his theory on the Universes. The always smiling Mookie was still showing his teeth when his bike wouldn't fire but it was out of disgust, not pleasure. Just like Dungey at Southwick last year, Mookie showed us raw emotion when the control is taken completely out of your hands and you're at the mercy of the machine. It's bullshit but it's part of the game and it can happen to anyone at anytime. I don't fault Mookie for stomping around and spiking his goggles like he just scored 6. We want these guys to be real right? Well that's real.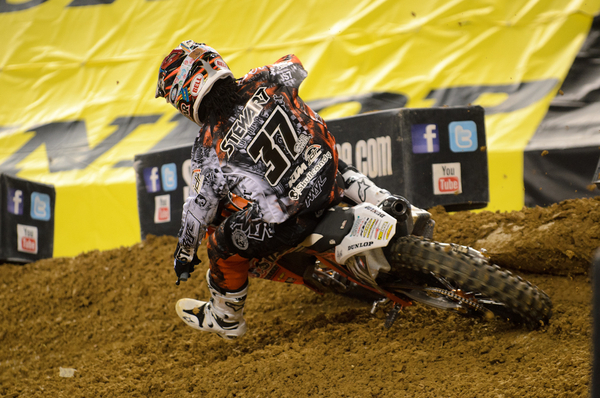 Mookie had a fever all his own before the LCQ.
Roczen turns a terrible start mishap into a stellar ride from the back, keeping himself in the title hunt like we all expected him to. There is no question, Ken is the Dolph Lundgren of Supercross and there will come a time this season where he "Apollo Creed's" the field.
Darryn Durham rode about the most quiet 5th place possible. I don't believe he was shown on the broadcast even once, heat race or main event. 5th on the night and 2nd in the points after two rounds. Double-D's 2012 is falling right in-line with most guys who move into the PC Kawi rig from another team. Mitch = Happy.
Blake Wharton goes back-to-back with another 4th and is rewarded with 3rd place in points. He's the Dungey of the east coast SX2 class. Well maybe not because Blake rides with more body English and isn't shying away from contact when given the opportunity. The consistency is a dead-ringer though.
Welcome to 2011 Blake Baggett! Wait, it's 2012? Blake has gone 15th and 2nd in the first two rounds so he's got to be feeling a bit of déjà vu from his results last year. Blake has the complete package in terms of skills, he just needs to get his head out of his way before the gate drops. Is it against the rules to pop a half a Xanax before racing? Blake seems calm on the podium but I'm thinking he may be working on an ulcer before the gate drops.
Captain891 turned an unfortunate round-1 rookie debut around like a "cagey-vet". Before RC commented on Bogle's bars, we were asking ourselves where he went down, we were convinced his bars got pulled back in a crash. Nope, apparently he just runs them freaky RC-style from the Kawi days. Whatever it is, it works for him but I bet if he starts struggling that's the first thing the team asks him to change-up.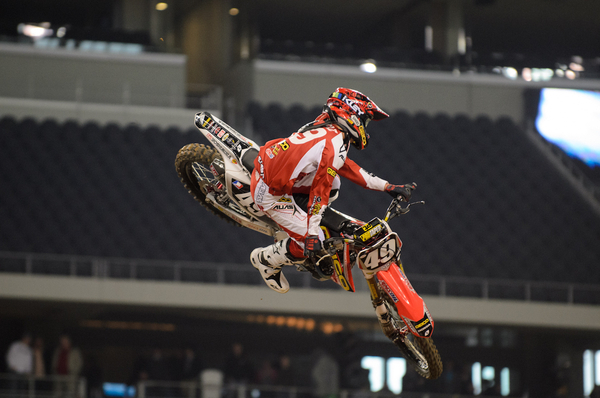 Oozing style… but look at those bars.
Barcia Barcia Barcia. The east coast is all Barcia, all the time. In the first two races, he seriously looks superhuman. That's no dis on the class, he's just on another level. He's more controlled than last year and looks like he just knows he's going to win from the start. He was already confident but now with Stanton, that confidence is exuding and palpable which after 2 straight wins, could very well start building a mental block for those lined up against him.
SX1
The talk was of RV1 being sick but in the end it was less about an RV ailment than it was about a poor start and Ryan Dungey smelling blood.
How about Cole Seely? As we've heard time and time again, Cole thrives when riding is fun and there is no pressure, well Atlanta was exactly that. Cole had been riding the 450 for a week with a goal of top-ten finishes and the primary reason for this stint, putting another Honda back on the track. Honda has had an utterly forgettable 2012 in terms of rider tragedy. It began with Trey's horrific LA crash, then Shorty was pummeled in the first turn in San Diego by a water buffalo and just a week ago we saw the exit of Chad Reed in Dallas. So yeah, it's been rough and this race could have been considered a success if Cole had simply finished in the top 15 but nope, Cole went ahead and led nearly half of the main event.
I wasn't surprised to see Cole run at the front but to holeshot and set the pace for 7 laps? Yeah, that was a shock. Even knowing how strong he is with no pressure, that is a phenomenal short-term debut. Even though Cole eventually tightened up and fell to 6th, he's going to be the name buzzing in bench-racing discussions this week. Many questioned bringing up Cole who, with Tomac's San Diego crash, is right back in the thick of the west coast points chase. For now those reservations are murmured; but depending on the next few weeks, Honda will either look very keen or very extremely irresponsible. I hope it's the former, Honda has had enough heart-ache to deal with in 2012.
With Dungey in second and knowing RV and Stew were coming from the back, I expected him to make quick work of Seely. Dungey was primed to do what he does when he gets a good start and knows his title-opponents are buried; pounce on their misfortune and make the most of his consistency. By lap 5 I was convinced RV was going to win. Dungey hadn't made the progress on Seely I thought was necessary to stop the RV freight-train. Is it an indication of Seely's future 450 prowess or an indictment on Dungey that he couldn't get by Cole until Cole began to tighten up? It may very well have been due to Cole's riding alone but in my mind Dungey was just not riding with enough urgency. In the end it doesn't matter how long it took to get around him because when RV did finally catch the Dunge, he did elevate and RV made a couple costly errors which sealed the deal for RD5. That's two wins for KTM now in SX1 and that makes Dungey the only multi-race winner next to RV. More importantly though, the points gap has decreased between first and second, not increased as many expected following Dallas.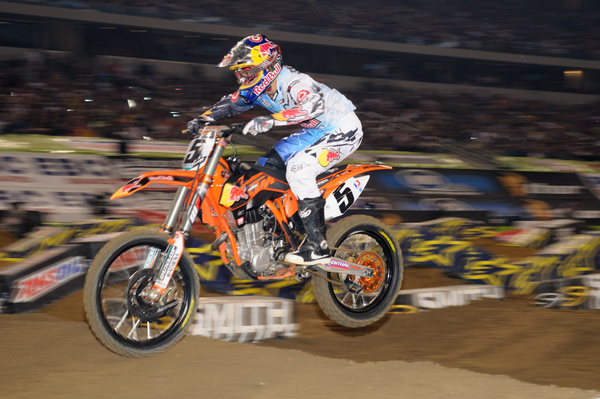 The Dungey-doubters never shut up and he never stops fighting.
RV did what he needed to do following a rough week and poor start in the main event. The "19th lap strategy" almost worked in Atlanta for the second year in a row. He was two mistakes and a few corners away from changing up the finishing order and points. But as fans of racing, not riders, the way it ended is great for the sport.
Watching Stewarts move over the exiting-dragon-back, you could see, James was looking more comfortable than he has all year. To see Dungey clip it and almost go down in the heat was evidence of the dire-commitment to go for that thing. As we see often though, if it's not going to remain the main race line through the main event, riders fore-go it and even Stew didn't do it all race. It wasn't an obvious time saver, unlike jumping the gator-pit in Daytona last year, it was more of an "ooohhh ahhhh" for fans and a "Stew's gnarly" for his competitors.
Leaving Atlanta, I expect James to be better. I think he can build on this, a main event where he didn't go down or have any misfortunes other than a dismal start. We're still on the east coast for a few weeks where he's better and all it takes is a few consistent races without crashes to get that confidence to start rebuilding.
Congrats to Kevin Windham on 200(!) big bike SX starts and more impressively not having missed a main start since 2006. Legend.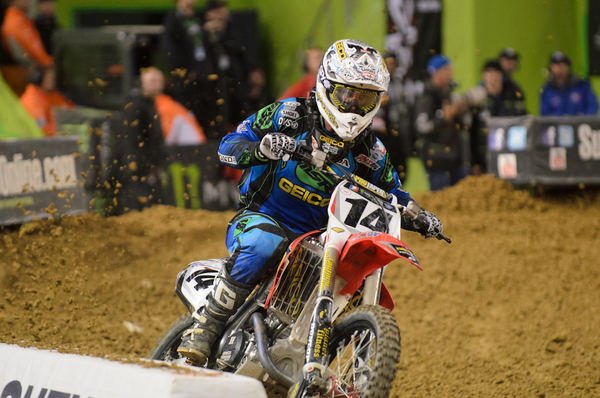 Even unborn children want to be like K-Dub.
Bummer for Hanny, just one of those weeks.
Broc had a decent start but again, something happened in the first lap that dropped him to 19th continuing the insanity that is his 2012. Anyone who says "told you so" is an idiot regarding Broc's 450 season. He hasn't yet rode to his ability, for whatever the reason, he's better. Everyone knows it, but the fact remains, without the finishes and points, it doesn't matter. He's got to get it sorted. We're heading into the halfway point of the season and it's make or break time for Broc. Mitch isn't happy with how the Pro Circuit 450 debut has gone and obviously, neither is Broc. The troubles have just been compounding but only a fool counts out a former champ. Don't do it.
End
The "greatest season ever" just refuses to die. Maybe it's the Universes, kismet or chance. Whatever you want to call it, it spells intrigue and excitement for yet another week; when we least expected it.
Will the east SX2 crazy-crash-fest continue? Will Barcia get "the turkey"? Will Mookie get sweet redemption and the W?
The story-lines are many and the season is young.
Thanks for reading.