Just like our premier class in the U.S., there are five men who stand out above the rest, ready to go to war for the MX1 World Championship.
Just like our premier class in the U.S., there are five men who stand out above the rest, ready to go to war for the MX1 World Championship.
By: Paul Quesnel
Photos By: Ray Archer and James Lissimore
Well, we have reached that time of year again. We have officially entered that awkward span of time where, although there are multiple supercross races left to carry out, most of us are already counting down the days until the nationals begin. Depending on how well the title chase is shaping up, this small window of transition seems to fluctuate every year. But with Villopoto wrapping up the championship this past weekend in Houston, it has sprung upon us much earlier than usual. Thanks to RV, we are now forced to wait over a month and a half until we will be able to watch a 450 race that actually means something in regards to deciding a championship. And to make matters even worse, we are now facing an eventless Easter weekend where there won't be any racing at all! The good news is the moto gods have witnessed our frustration and have already answered our prayers. If you didn't already know, the 2012 World Motocross Championship is set to roar to life this upcoming weekend and its already looking like this season has the potential to be the greatest in GP history. The reason for all this enthusiasm stems from looking at a returning cast of MX1 title hopefuls that could very well rival our boys here in the states (outdoors). And just like with our premier class in the U.S., there are five men who stand out above the rest, ready to go to war for the MX1 world championship.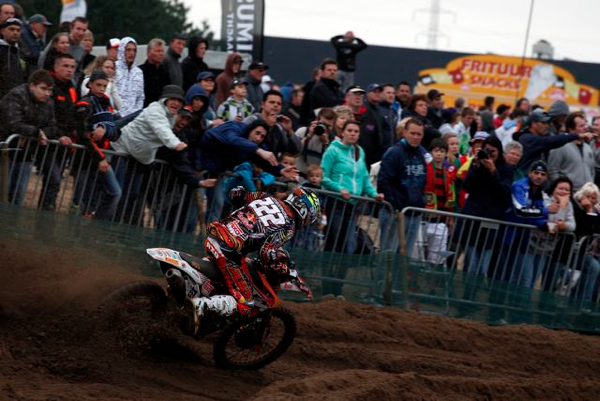 The man with the target on his back. Archer Photo
Antonio Cairoli
More and more these days you hear people say that Ryan Villopoto is the best rider in the world. But while they very well could be right, they usually have to pause for a moment and think before they say it. The reason for this brief lapse in concentration is usually because of one man, Antonio Cairoli. In fact, as far as the Grand Prix scene is concerned, the Sicilian born Cairoli is a living legend. By earning his fifth world title last season, the KTM factory pilot has rightfully placed his name in the record books right beside other GP icons like Decoster,Geboers, Jobe, and Smets. Furthermore, as to hint that he does not plan on slowing up anytime soon, AC has recently stated that although it is not one of his goals, he would eventually like to overthrow 10 time world champ Stefan Everts as the undisputed king of world championship. Tony's greatest attribute, like many other great GP champions, is his ability to master every track condition known to man. Traditionally, Italians are known better for their hard-pack skills but AC is absolutely stellar everywhere, especially the sand. Cairoli is known for his conditioning/determination more than he is known for being the fastest man at every round and he has the uncanny ability to make unbelievable charges late in the race. He sneaks up on his competition when they are tired and beat down and steals the moto win before the even know what hit them. With just a few laps remaining, Cairoli is a very dangerous man. The reason he has won so many championships over the years is because he is the best at turning a horrible race into a pretty decent result. Last season, he picked up a knee injury in the first moto of the very first round and the results he posted at those early races would have proved vital if his main competition weren't also struck down with injuries later in the year. If everyone stays healthy this season there is no doubt that it will by Tony's toughest title defense and if he does prove to be successful it will also be his most impressive. To successfully defend his title in 2012, he will need to continue to stay motivated and continue to just take what he can get on the days where he is not the fastest, which he already does. Tony seems like a very level-headed guy in general and I believe that this type of well roundedness translates to his skills on the track. So if anyone hopes to beat him for the title this year, they will need to make sure they have the complete package, just as he does.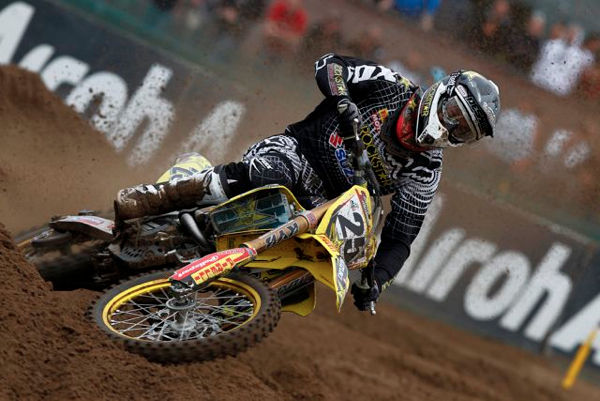 Remember when this guy kept Dungey honest at Unadilla 2010? Archer Photo
Clemente Desalle
To say that Belgium has been the dominant country in the world championship over the years would be a huge understatement. The tiny country and its riders are responsible for a whopping 51 world titles since the inception of the GP's while the countries in 2nd and 3rd have only won 16 (Sweden, France). This is why it is only fitting that the rider who is thought to have the best chance of dethroning Cairoli is Belgium's own Clemente Desalle. The, "MX Panda," a name given to him for the amount of food he consumes, started making big waves in the MX1 class right around 2009 when he began mixing it up with the likes of Tony Cairoli and David Phillipaerts while on a privateer LS Honda. He was dubbed, "mister dangerous," by Italian TV after clashing with the two world champions on several occasions and many others thought of him as the wildest rider in the class. Still though, none of this deterred the factories from chasing his signature for the upcoming season. After all, he was running at the front of the class on a regular basis with a bike that wasn't even close to his competitors. Anyways, despite having another year on his contract with LS Hoonda when 2010 rolled around, Desalle signed with factory Suzuki and took his place as the new gem in the MX1 class. On the Suzuki, Clemente had the best season of his professional career by gaining multiple race wins and finishing the series 2nd overall in the points. Besides all that, the most impressive thing the Panda did in 2010 came from Unadilla where he shocked everyone by nearly beating Ryan Dungey for the overall! Coming into 2011, Desalle showed that he was ready to steal the championship away from Cairoli and found himself leading the points series for the first half of the season until small injuries later derailed his title hopes for good. If he wishes to win his first world championship this year, he will need to concentrate on eliminating the small mistakes that usually cost him major points. Furthermore, he should reconsider his participation in the Belgium nationals because as we saw last year, both of the injuries he suffered from in 2011 came from those events and not the GP's. Desalle showed us last season that he has the ability to rise above the other title hopefuls with his unmatched speed and aggression and if he brings that intensity into the series this year, he definitely has a great shot to win the title.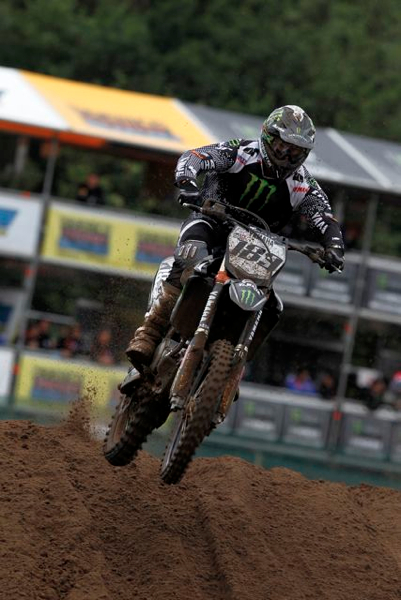 Sophomore slump or surge? 2012 Will tell us. Archer Photo
Steven Frossard
There is no doubt that the most pleasant surprise to come into the MX1 class last season was Steven Frossard. The rookie Frenchman impressed everyone by nearly winning the first round of the season in Bulgaria and he continued to show promise by picking up moto wins along with a couple overalls as the year progressed. What made all this so surprising was the fact that Frossard wasn't some multi-time MX2 champion. In reality, he actually enjoyed only a small bit of success while competing in the small-bore class. The one thing you can say for the French junior champion and his MX2 days is that he steadily improved with every year that passed. When he jumped into the class in 2007, he was able to gain points in most the moto's he competed in, leaving him 26th overall when the series concluded. In '08 he earned multiple podiums and finished the season 10th in the points. 2009 saw him get his first moto wins along with a 6th in the standings and 2010 brought him his first overall victory and a 3rd when the points were tallied. Even the move up to the big bike class wasn't enough to slow his progression as he was able to score 2nd overall in his debut season. Like a lot of recent MX2 graduates, Frossard has a very American riding technique with his aggressive style and constant need to scrub. When the time came for him to make his 450 debut, the bigger machine seemed like it was a natural fit for him and the transition went very smooth compared to a lot of other riders. When he forced to battle with the MX1 heavyweights like Cairoli and Desalle, he was as unshakeable as he was determined. To make a run at the title this year Frossard will need to work on his downfall from last season, his consistency. For comparison sake, Cairoli finished outside the top three a mere 5 times through 28 motos in 2011 while Frossard on the other hand placed outside the top three a total of 12 times through 27 motos. Still, there is no way you can deny that the flying Frenchman took a gigantic step up last year. His speed and fitness are just as good if not better than everyone else in the class and if he can just put all the other puzzles pieces together, he very well could be the 2012 MX1 champion.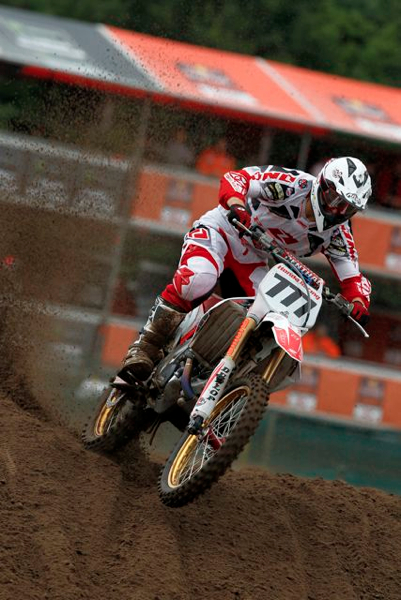 The fastest Russian export in, well, forever. Archer Photo
Evgeny Bobryshev
Evgeny Bobryshev is the first Russian to be considered a serious title contender in the world motocross championship for more than 30 years. Moreover, he's the first rider from behind the Iron Curtain ever to have a factory ride with a Japanese team. Yet somehow, the likeable bear of a man everyone calls, "Bobby," couldn't be farther from your stereotypical Russian. Plucked out of the MX2 privateer ranks at the end of 2009, Bobryshev was the biggest revelation of 2010 on his Honda 450 for the British CAS team. By challenging for MX1 moto wins and winning the British national championship at his first attempt, he quickly showed everyone that he was the real deal on a big bike. Away from the track though it wasn't easy for him and his team was first to admit that he was far from a complete rider. Bobby was blazingly fast, of course, but very prone to crashing and had little or no idea how to best set up a bike. Additionally, he knew very little in the way of regimented training and nutrition. That all changed over the off season of '10/'11 when the CAS team folded and Bobby was snatched up by the resurgent Martin Honda squad, the official Honda factory team. Bobryshev spent most of that winter learning as dieticians sorted out his food and trainers kept him to a strict program. Honda technicians gave him a crash course in testing and he spent many hours pounding out laps in a bid to get the bike dialed in the best he could for the '11 season. The hard work paid off. Bobby would earn his first overall podium at round 3 in Glen Helen and from there his momentum just seemed to take off. This forward progress would all come to a head in Germany with what could be called one of the greatest standout rides of the year. At the popular German track known as Teustchental, Bobby battled it out with Cairoli and the rest of the MX1 favorites to take the double moto win and therefore cement his name as a serious threat for years to come. Bobryshev would get injured just a few rounds later when he collided with Clemente Desalle at a Belgium national and from there it looked like his season was over. Surprisingly, the tough Russian came back before the end of the series to pick up one more moto win and to give Villopoto a quick but impressive battle at the Moto Des Nations. Bobby has all the raw talent and speed that you would want to see in a world champion, but in order to win the title he will need to iron out the rest of the kinks and work on his conditioning. A few things that are in his favor coming into the new season are the addition of the trick, new 2013 factory Honda and the fact the Bobby was already one of the best starters of 2011 aboard his factory bike. For a man whose winters were spent in the permafrost winters of Russia, Bobryshev has come a long in short time and if he keeps moving forward he very well could pull off the upset in 2012.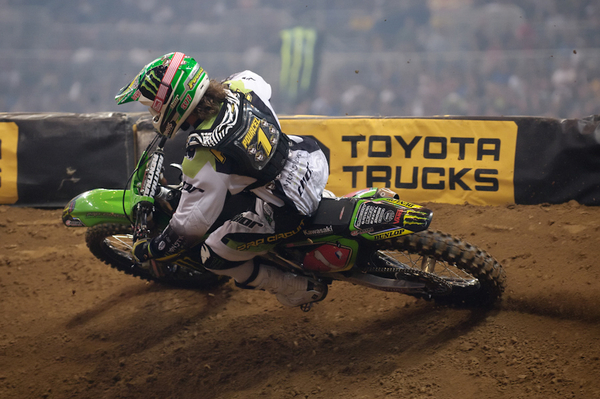 Remembr this guy? Lissimore Photo
Christophe Pourcel
Out of these five men, Christophe Pourcel is definitely the wild card. This is not because of his eccentric and unusual ways, but more so because he is so unpredictable. He could either win the first two moto's of the season or he could pull off in each moto and complain about his bike. If he did either, I really wouldn't be all that surprised. Love him or hate him though, there is no way you can question Chistophe's talent and whether his name should be placed in the same category as the top echelon of the sport. The biggest problem Pourcel seems to have is that everything has to be just right for him to perform to his full potential. And I'm not just talking about the bike set-up either. I'm talking about the sun, the moon, and whatever side of the bed he woke up on. There is no doubt that Pourcel has had a rough career though and I think many people underestimate just how tough he is. Just like everyone says, it's not easy for foreign riders to just pack up their lives and come over here to race. Add in the fact that he had to do it after his crash in 2007 and the following paralysis and the task almost seems impossible. After watching him lose the outdoor title twice in the span of one year, you almost can't help but feel bad for the guy even if you hate his guts(for the record, I don't hate him). And if you think that losing titles doesn't affect these guys, just take a look at Bradshaw after the '92 season. Lastly, after all the stupid stuff that took place between he and MotoConcepts and after he departed from the states, he goes home and gets some good results before being picked for the Moto Des Nations. France is leading going into the final moto and Poucrel passes Dungey, his former 250 rival, straight up and is showing everyone that he still has what it takes to be a contender on a 450. Enter flat tire, and the Moto Des Nations victory along with the pride that came with passing the former American 450 champion all just went out the window completely. We always learn more from our hardships than we do our victories and if all these things haven't driven Christophe absolutely insane, then they must have made him tough and they must make him want to win just that much more. If Pourcel wants to gain his second world title though he will need to make sure he minimizes the mistakes, realize that it's a long season, and mostly just keep his shit together. He definetly has the ability/confidence to do it and an interesting fact that many people don't remember is that when Christophe won his world title in 2006, he had to go through Cairoli to get it. And if he can do it once, he can do it again.