In #Soak Lake City a beast was awaken and thwarted all #Docking attempts.

In #Soak Lake City a beast was awaken and thwarted all #Docking attempts.
Photos by: James Lissimore
There was plenty of heart break to go around in SLC in both the SX2 and SX1 class. Just like the pendulum of life though, there was equal-portions of triumph served up as well.
The track wasn't nearly as sloppy as we've come to expect with the 16th stop of the series, or as Ralph likes to run into the ground, "the penultimate round". Just because the riders weren't sloshing around in mud holes or in danger of losing their fingers due to hypothermia, the track was a sketch-fest nonetheless.
The ruts formed quickly and became deep and unpredictable. There was loose dirt on top of the concrete hard track surface which made the corners tricky as well.
SX2
I'm not sure what all this talk about Eli Tomac winning the title is about, I didn't even see Eli Tomac racing, in fact, I didn't see Eli at LA, Oakland or A2 either. That was Chuck Norris on the #17 machine. When Eli rides like he did all day in SLC it just makes me shake my head in awe. In that form, aside from the freak things that can and do happen in racing, I can't see Eli getting beat. Dean is a great racer but Eli just seems to have the mental advantage as well as freakish physical strength, not unlike that of Chuck Norris. He puts the bike where he wants it, it's crazy, he's like a condensed though equally powerful Tyler Bowers. The Eli we've seen most of this season is nothing like the Eli of last year in Supercross. I'm interested to see if he has figured out the conditioning program for the outdoors because as we have seen the last two outdoor seasons, he has tended to be affected by the heat and not dealt with it as well as his competition.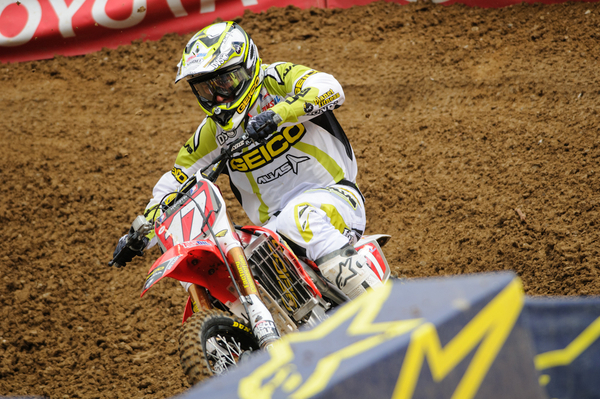 Chuck is on the verge of domination.
Congratulations to Chuck, I mean Eli. As strong as he is this year, I am really interested to see if there is anyone to really give him a run when he defends his title next year.
Such a bummer for Dean. After pulverizing his shoulder in Seattle, Dean's week was all about setting his shoulder up to be as strong as it could be for raceday. Following two issues in practice, Dean actually looked great in his heat and most of the main before getting passed by Eli and then the nail in the coffin, getting out of shape in the beat down whoops approaching the finish line. It was clear that Dean was hurting bad toward the middle of the main. Eli reeled him in and just waited for the miscue. Eli knew it would come so there was no reason to stick in a wheel and risk another altercation. It came when Dean couldn't make the last triple of the 3-triple rhythm and Eli took advantage.
It's a real tragedy that Dean is moving on to the 450 class without having won a SX2 title. He's certainly had the talent and speed but you know what else he's had? Legendary opponents. Christophe Pourcel, Justin Barcia and Eli Tomac. Sure coming into this series, Eli Tomac wouldn't exactly strike you as having looked like a future legend but I'm here to say, what I saw of ET in this series has me confidently saying that he will be winning races and titles for years to come.
Everyone talks about the likelihood of Dean joining Two Two Motorsports. It's gotten a little silly with people suggesting Dean can "just ride the Two Two bike in the outdoors", even in the midst of his PC contract but honestly, that environment is exactly what Dean needs. He and Chad get along like little bro, big bro already and that is the perfect relationship to help Dean's transition in to the big bike class. Dean's got the technical skills and speed, what he needs is to tap into Reeds mental toolbox. Being in the same truck as Chad, where he can ask at any given moment how to address anything he wishes, is something he can't really get in any other environment. There really isn't a more experienced and accredited racer out there who could offer Dean what Chad can. With rumors swirling that Monster wants to stick with Dean wherever he goes, it begs the question, can a Monster sponsorship exist within the Two Two Motorsports structure? Or is that Monster deal going to force Dean into another environment and ultimately cost him one of his greatest assets in the guidance of big bro?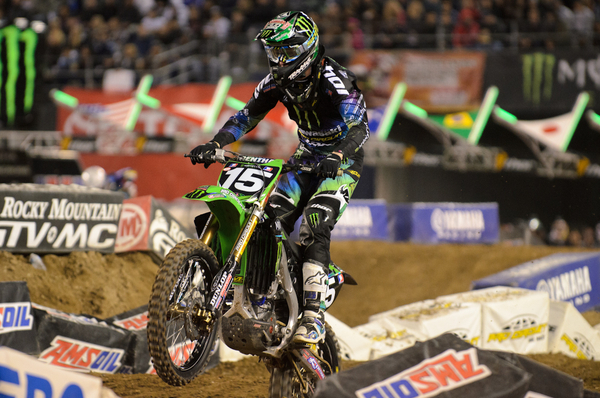 Dean not winning a SX2 title is one of the sports great tragedies.
Tell me if you've heard this one before, it's the parade lap and a guy practicing a start sideswipes an opponent, putting them both on the ground in a heap and in pain. How does that happen? Actually, seeing how Jason Anderson rebounded from that incident may inspire riders to devise similar tactics to spike their heart rate prior to the main event to assure they are completely ready for battle. Maybe guys will start straight-up T-boning on the parade lap? Helmet slaps? We see all kinds of antics when the riders are behind the gate, maybe it's time to really give the fans a show, after-all, it is called the "parade" lap. Parades are supposed to be a spectacle to entertain the viewer. Wait, maybe that's why they started calling it a "sight-lap"? Well that still works because that was a hell of a sight.
Where has this Jason Anderson been? Other than getting Weege's version of the "what happened" pep talk, Jason has not been mentioned much, certainly not for his promising race results. Who knows if it will be the kick in the pants Mr.Anderson needs but it's a start.
Great race by Wil Hahn, I think we're moving past the point of just being happy that Wil makes it through a race uninjured and now getting used to him riding good and hard for the duration. Keep it going Wil.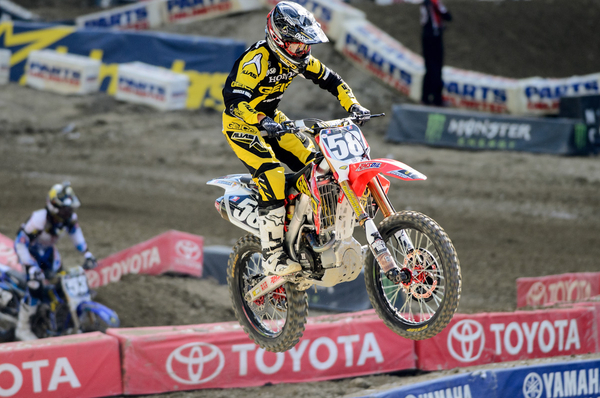 Glad to see this guy having some good fortune for once.
SX1
When Dungey's return was announced, I figured he would be pretty much what we saw last week in Seattle. Putting in solid laps but his head firmly planted in outdoor mode and he was NOT going to press for a win no matter what. When SLC began, the Dunge looked like he hadn't ridden a lick of Supercross since his victory in Atlanta. He was missing rhythms, clipping back tires and just looked completely in disarray out there. Even up until Weimer put RD5 on the deck, Dungey looked like he was only mildly interested in challenging for the lead. When Jake made that move, Dungey snapped out of his lackadaisical haze and switched back into "Dungenator 2010" mode. He remounted and as he wicked the throttle he wicked up the pace and his precision with which he was attacking the track.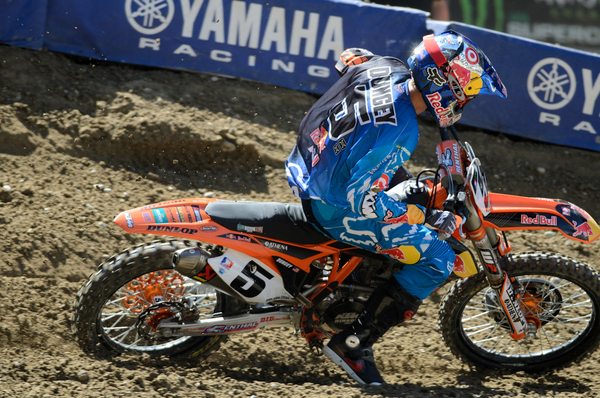 Dungey went from laissez faire to "go-time" in an instant.
It didn't take long for Ryan to draw up to Jake, which was actually made easier by Jake tightening up and having his own issues with technique as the laps clicked off. The Dunge got by Jake cleanly and immediately set his cyborg-sight on JGR's Davi Millsaps.
This is where we switch the script from a tale of triumph, to tragedy. Davi Millsaps is unequivocally the surprise of the 2012 season. If someone had told you prior to A1 that Davi would be the beacon of light for the JGR team and finish the series 2nd in points, be honest, you'd probably kick 'em in the nuts. It's no secret that Davi has had issues for years with motivation, passion and persistency but Davi appears to have reached his stride. Maybe it's his baby on the way? I'm just glad to see Davi finally looks like he has figured out how to be happy racing and is delivering on the rides that everyone has felt he was capable of for years. Unfortunately in SLC Davi's great ride was overshadowed by a 19th lap miscue due to lappers that snatched defeat from the jaws of victory. Honestly, with the Dungenator's cyborg-vision locked in on it's target, fate was not on Davi's side, nor lap times at that point. Still, a second place is a great ride for JGR's rock.
I've got faith in Jake Weimer. I picked him in my league for SLC and he looked great all day. Aside from the second half of the main when Jake started making errors he looked aggressive, confident and just solid. I was glad Jake finally returned the favor to Dungey, that was a long time coming and when he initiated it, it was just a good ole' definitive block pass. Just like Dungey had done to him early in the series. Jakes real first full year in the 450 class has been a roller coaster ride in terms of results but overall, I'd say it's been a success and a great year of experience to build from.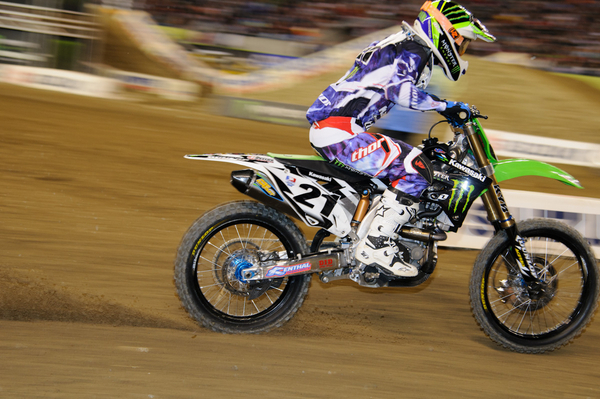 SX 2012 is ending on a high note for JW21.
Justin Brayton has been making me look silly for the last few weeks. I assumed he would be the guy in that 2nd tier group that would separate and establish himself as the dominant guy. I mean, it was only a few weeks back that he was the only guy to challenge RV for two consecutive races. Sure it was only for a handful of laps before RV pulled the trigger but Brayton was a man possessed at that point. It's almost as if JB gave it all he had for those races and kinda spent himself for the rest of the series. Maybe not, maybe it just comes down to his starts? Whatever the case, I've been expecting more from Justin in the last few races.
I was really happy with Broc's ride in Salt Lake. He actually looked more like himself in SLC than I have seen him look since last year on the little bike. He was aggressive and asserting himself to take positions instead of just trying to quietly sneak around the track and only take positions when they were a sure thing. It's tricky. Broc knows what he needs to do but when you've been just frustrated every week with not riding how you know you can, your own mind begins to fight you. Sure, there are a lot of guys out now but sometimes that's exactly what you need to break down that bastardly mental roadblock that sabotages yourself from the inside out. Pumped for him and hope to see even better results in Vegas.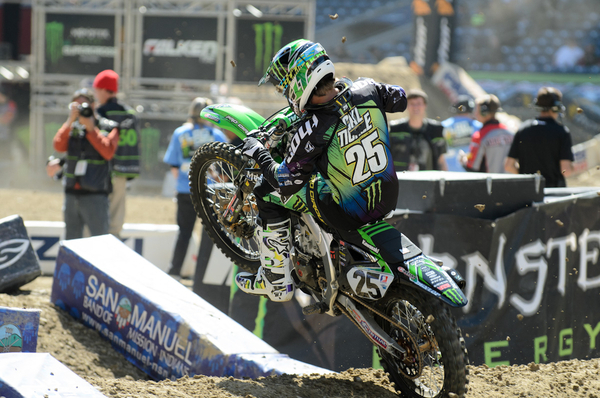 Broc's best finish and easily his best ride on the 450 came in SLC.
JT$ lives and breathes one thing: racing(I'm keeping this out of the gutter people) and for a guy who has been a shoe-in for main event transfers for going on 15 years(work with me), this season has been a real tear jerper. It warmed my heart to see JT transfer for only the second time this season. Nobody and I mean nobody gets more pissed about not making a main than JT, so just imagine not making 14 of them. The guy used to do double-mains people! There's really only one way to end this. Yup, you guessed it.
Moving onto Vegas now. No titles to be decided, it's all for pride and honestly, I think that will benefit the East/West shootout. The only thing that makes me think it will still be a bust is the fact that outdoors are about to start and no one wants to risk injury in the last SX of the year when there is little on the line.
Who do you have for the Regional Vegas wins and the Shootout?
I'm going Tomac, Barcia, Tomac.
Yup, I said it. Chuck FTW.