For this edition of Classic Steel, we are going to take a look back at one of the most exotic production machines ever offered for sale, the 1976 Puch MC250 Everts Replica.
By: Tony Blazier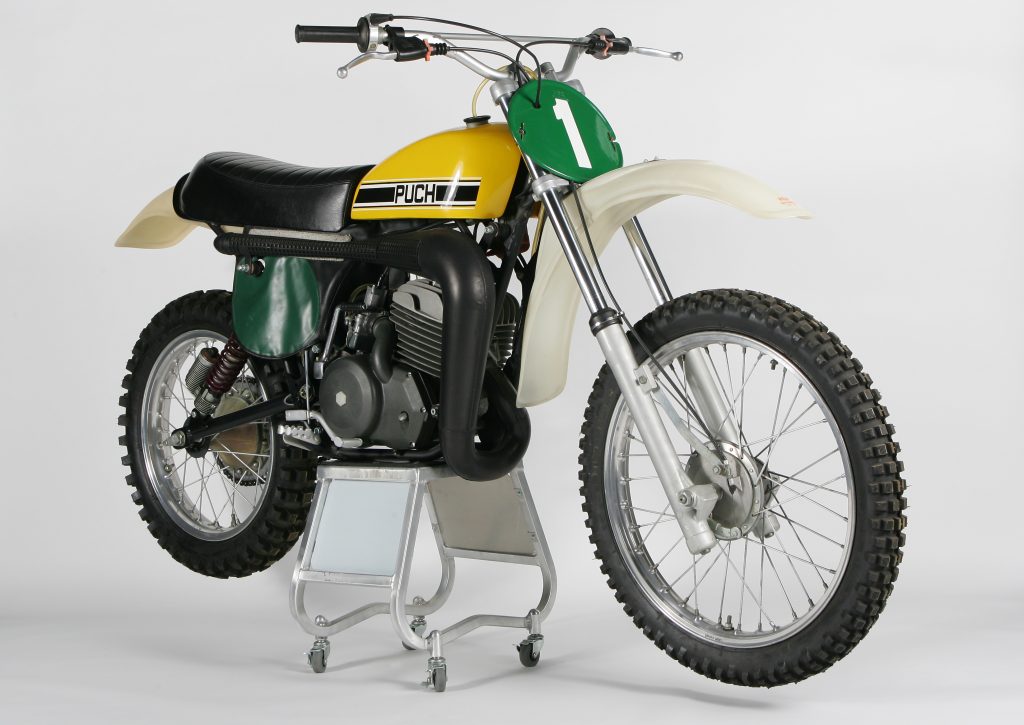 The 1976 Puch MC250 Everts Replica is one of very few true works bikes ever offered for sale to the general public.  At a production run of only 97 units, a pristine example like this one that was in the Primm MX collection can command upwards of $30,000 today. Photo Credit: Stephan LeGrand
Today, the name Puch is not well known here in the US but the company has a long and storied history. Founded in 1899 by industrialist Johann Puch, the company that bore his name began like so many other early motorcycle manufacturers, as a bicycle company. Based in Graz, Austria, Puch quickly earned a reputation for innovative designs and quality workmanship. From bicycles, the brand transitioned to mopeds, motorcycles, and eventually automobiles in the early twentieth century.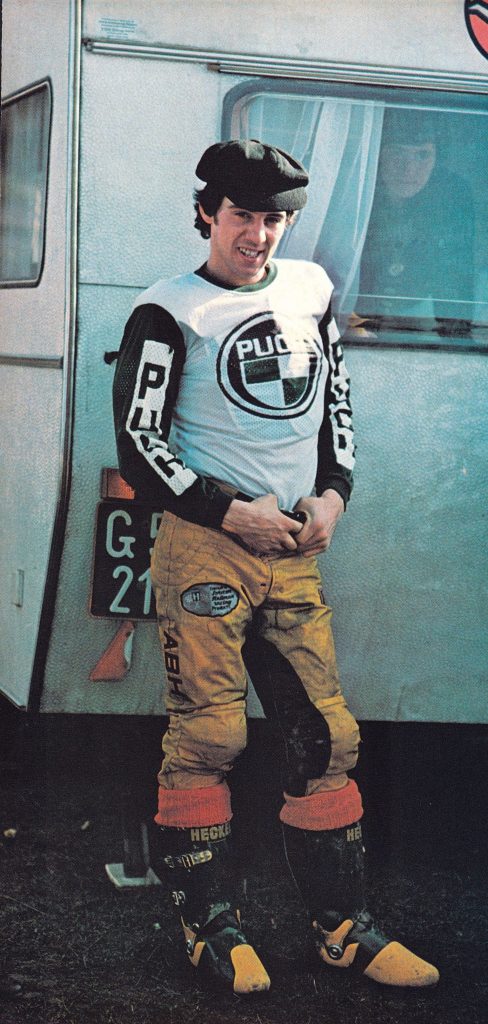 Puch enlisted the talents of Belgium's Harry Everts to race their unproven machine in 1974. A year later he would reward them with their first and only 250 World Motocross title. Photo Credit: John Huetter
In the early 1900s, the Puch brand became renowned for its performance, participated in several rallies and Grand Prix racing events. Their vehicles were renowned for their performance and respected as the preferred automobile of the Austrian imperial family.  After stints in World War I and World War II as military suppliers and manufacturers, Puch finally returned to civilian production in the late 1940s. With the continent ravaged by war and economically in ruin, there was a huge demand for small and inexpensive cars, mopeds. and motorcycles to get the people moving again. Puch was there to fill the demand with an assortment of affordable two and four-wheeled machines, including a popular city car based on Fiat's iconic 500.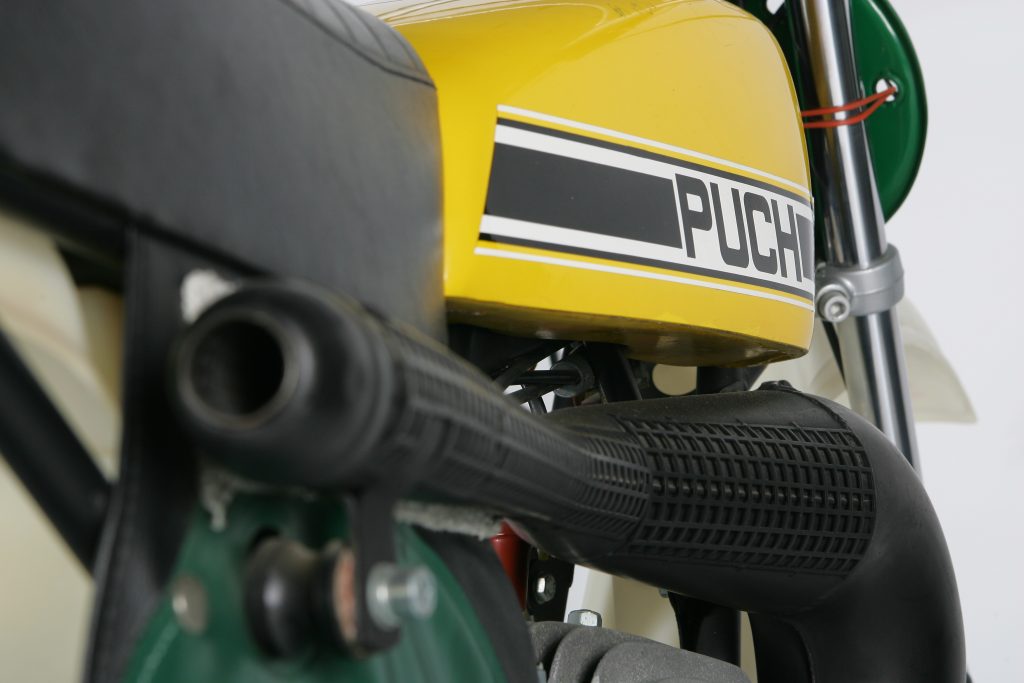 On the '76 Puch, the only thing standing between you and a roasted right thigh was this little heat shield welded to the expansion chamber. Photo Credit: Stephan LeGrand
After several decades of recovery, Puch was ready to get back into racing in the late sixties. During the lean years after the war, they had shuddered their racing efforts and focused on rebuilding the brand. By the late sixties, however, they had started getting back into racing by producing light and powerful two-stroke motors that could be placed into off-road racing chassis. With motocross exploding in popularity and a huge demand for light and powerful 125cc machines in America, Puch saw an opportunity to expand their business by getting into motocross.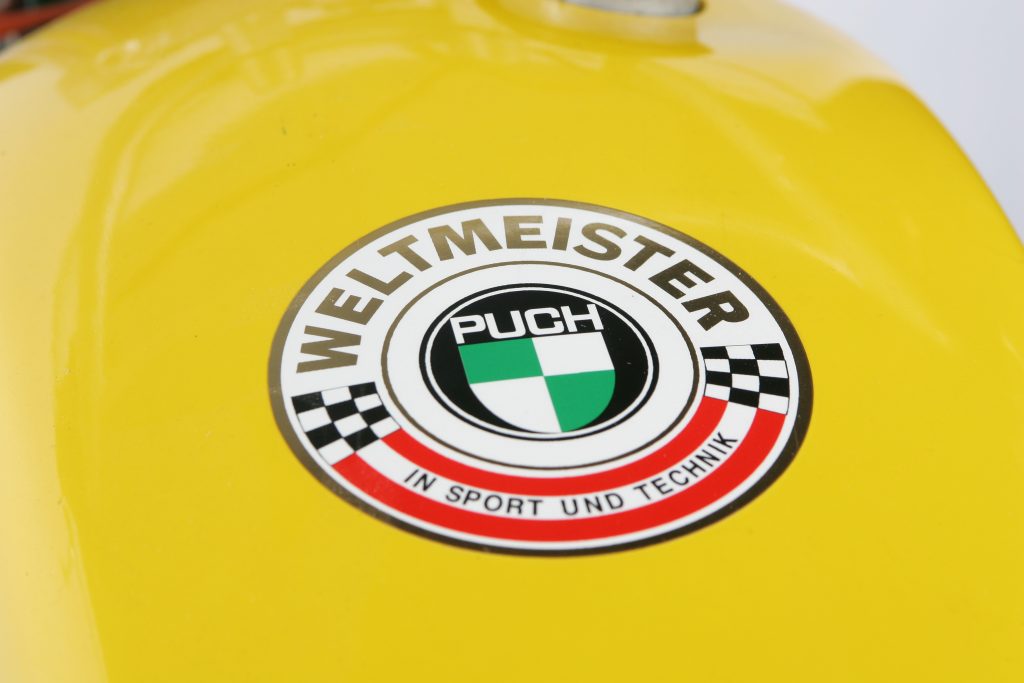 The iconic Puch logo draws its colors and inspiration from the flag of the Austrian town Steyr where one of the brand's partners was founded in the mid-1800s. Photo Credit: Stephan LeGrand
In 1970, Puch hired Belgian 125 National Motocross champion Harry Everts (father of ten-time World MX champ Stefan Everts) to race their Puch-powered 125 around Southern California in an attempt to burnish the brand's reputation. At the time, Puchs were being sold under the Allstate brand through Sears and Roebuck and were not thought of as serious racing machines by most Americans. While this probably helped raise awareness to some extent around SoCal, it was not the statement the brand was looking for.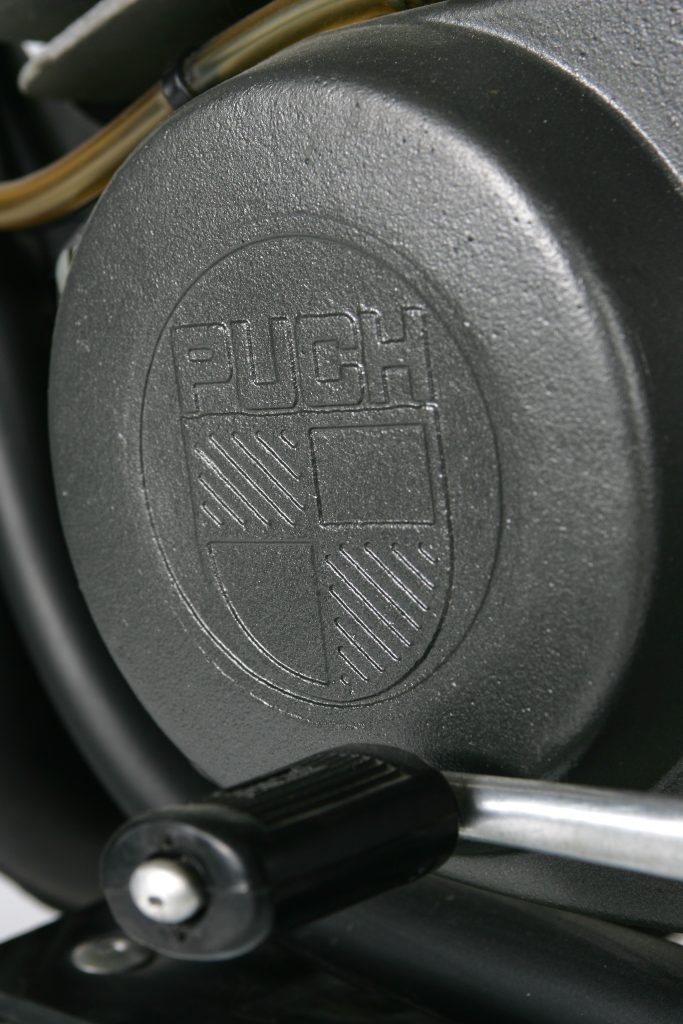 Beautifully finished sand-cast magnesium cases pointed to the MC250's exotic roots. Photo Credit: Stephan LeGrand
In 1974, they decided to jump in the deep end by enlisting Everts to race the Grand Prix season on an all-new Puch-built machine. At the time, they were not producing anything up to this task, so they would need to design and manufacture an all-new race bike from the ground up.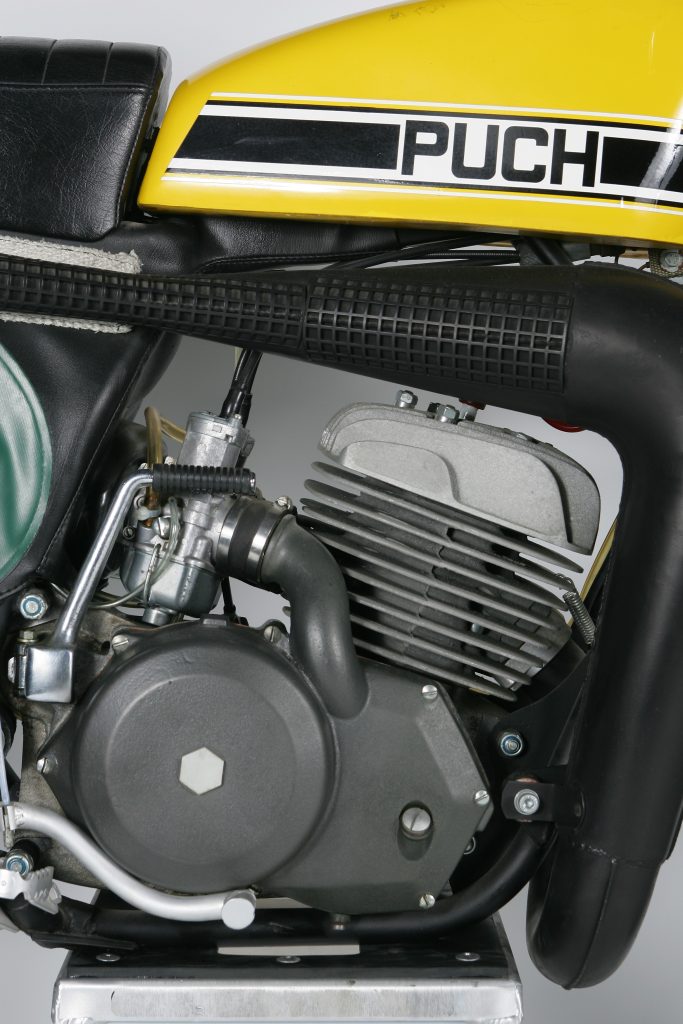 The most interesting feature on the '76 MC250 was its one-of-a-kind dual-intake system. Employing two carbs and two separate intakes, the Puch featured both a Can-Am style rotary-valve and a traditional piston-port intake to feed fuel to the cylinder. Photo Credit: Stephan LeGrand
In his first season on the factory Puch machine, Everts comported himself quite well, finishing out the '74 campaign in an impressive third overall. For 1975, the team was back together with an improved and even more potent machine. This year, Everts would race the Puch to his and the brand's first 250 World championship ahead of Sweden's Hakan Andersson and Germany's Willy Bauer. In honor of this 250 title, the Austrian manufacturer decided to produce an extremely limited run of Everts replicas for the '76 season.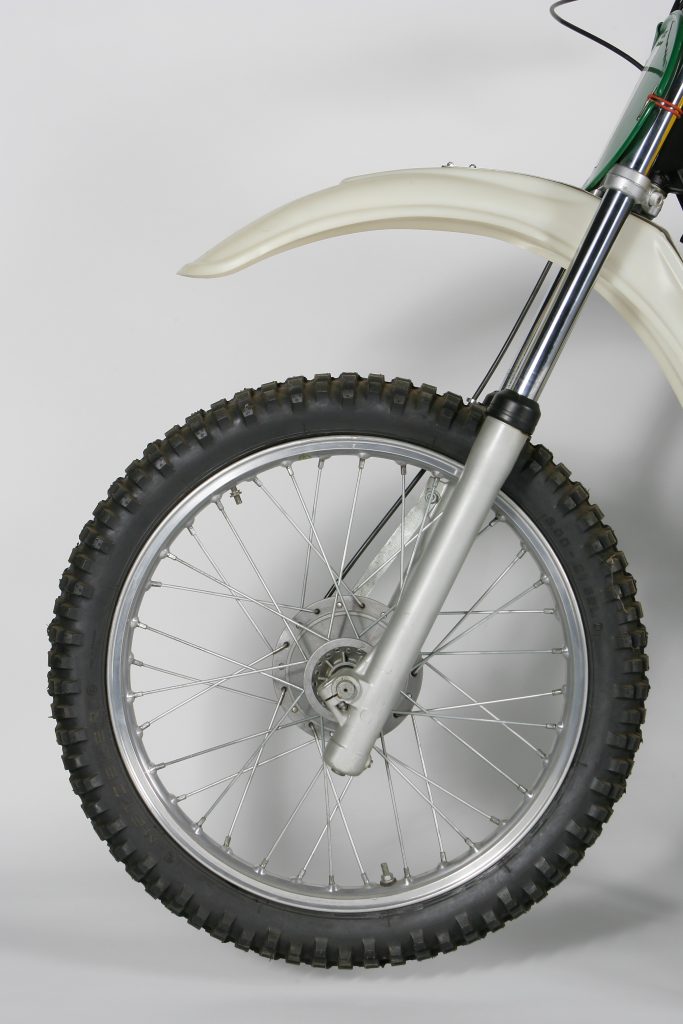 The 1976 production MC250 front forks were an exact replica of the units found on Harry Everts' 1975 factory race bike. These works Marzocchi units featured hand made magnesium sliders and an excellent for the time nine-inches of travel. Photo Credit: Stephan LeGrand
Unlike the countless other machines that have worn the "Works Replica" moniker, the 1976 Puch MC250 Everts Replica was a true factory machine in every sense of the word. Painstakingly crafted out of exotic materials, the MC250 was every bit a works bike in design and execution. Initially, Puch projected a production run of 100 Everts Replicas, each with a price tag of $3000 ($13,500 in 2019 dollars). While that was roughly three times the cost of a garden variety CR250 in 1976, it was still a fantastic bargain in relation to what the MC250 actually cost Puch to develop and produce. For roughly the cost of a new '76 Ford Pinto, you could own one of the most exotic race bikes in the world.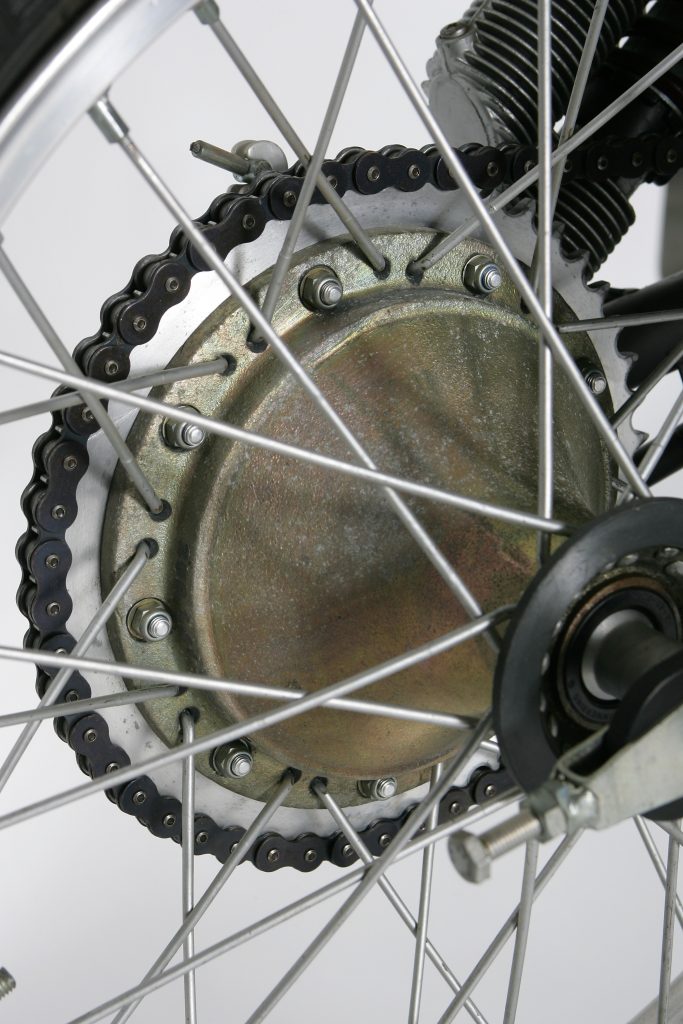 The front and rear hubs on the MC250 were sand-cast magnesium works parts to keep the weight as low as possible. About the only weak link on the incredible Puch was its brakes. Even by 1976 standards, they were not very powerful and a disappointment compared to the rest of the bike.  Photo Credit: Stephan LeGrand
Even by today's standards, the 1976 MC250 was an exotic machine. The motor employed a unique twin-carb design that produced a very aggressive style of power. Each Bing carburetor fed a separate and unique intake system.  Carburetor one fueled a rotary-valve intake directly into the crankcase, while carburetor two pulped its mixture into the cylinder through a more traditional piston-port arrangement. The two systems were designed to work in tandem in order to produce the widest possible power curve.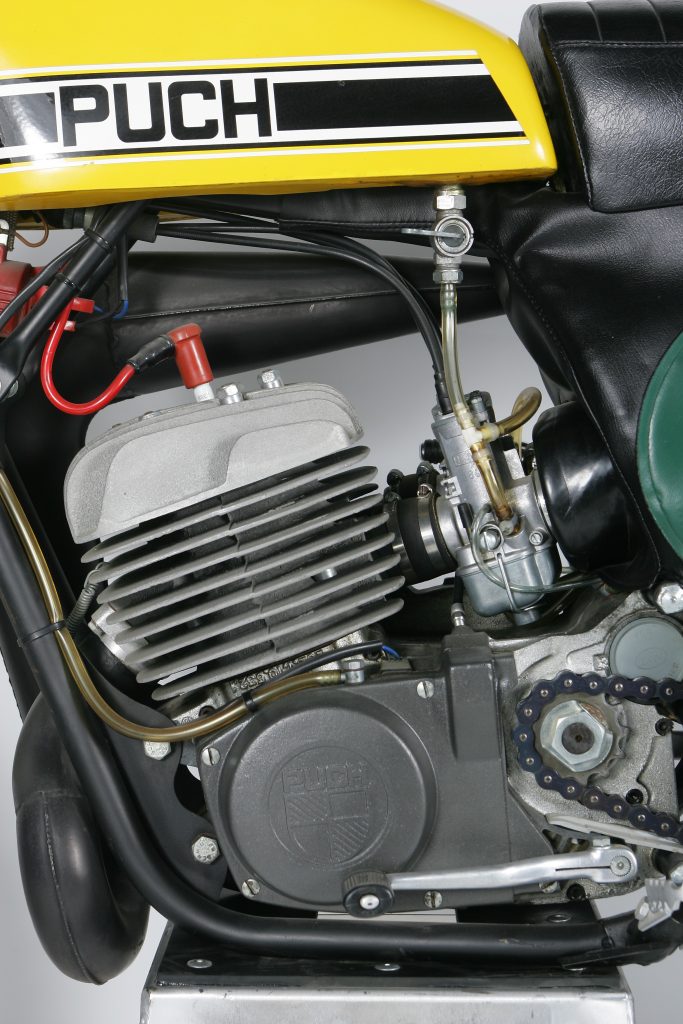 The Puch's innovative motor produced an aggressive style of power that made it best suited to highly experienced riders only. Photo Credit: Stephan LeGrand
Power measurements in 1976 varied wildly, ranging from forty-two to fifty-one horsepower depending on the dyno used. Even today, those are impressive numbers for a 250 and in  1976, they were unheard of. At that time, even a strong running Open bike struggled to crack forty horsepower and an average 250 put out somewhere around thirty ponies. Based on that, it is not hard to see just how impressive this works engine really was.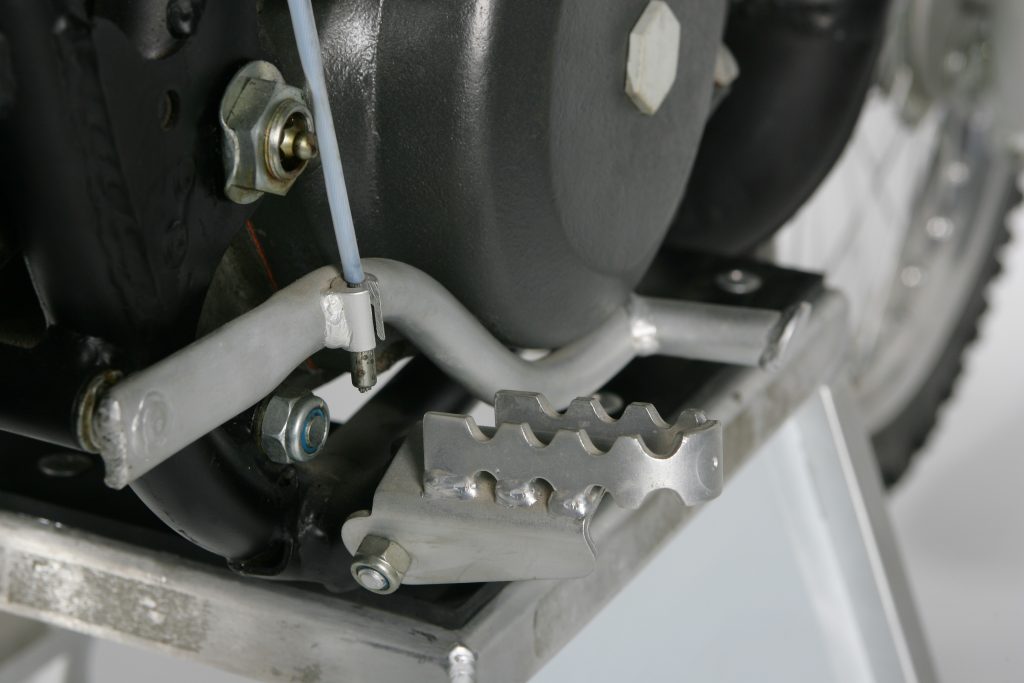 Works pegs have certainly come a long way since 1976. These spindly offerings lacked even a return spring and would not cut muster on a modern pee wee.  Photo Credit: Stephan LeGrand
As impressive as it was on paper, it was even more so on the track. The motor positively exploded as it climbed onto the pipe and made full use of its second fuel supply. Once on the pipe, it shrieked through the powerband like a banshee, leaving a wicked roostertail in its wake. Because of its 500-class power output and explosive hit, the Puch was best suited to highly experienced riders only. It was a pro-level powerband that required skill and talent to harness.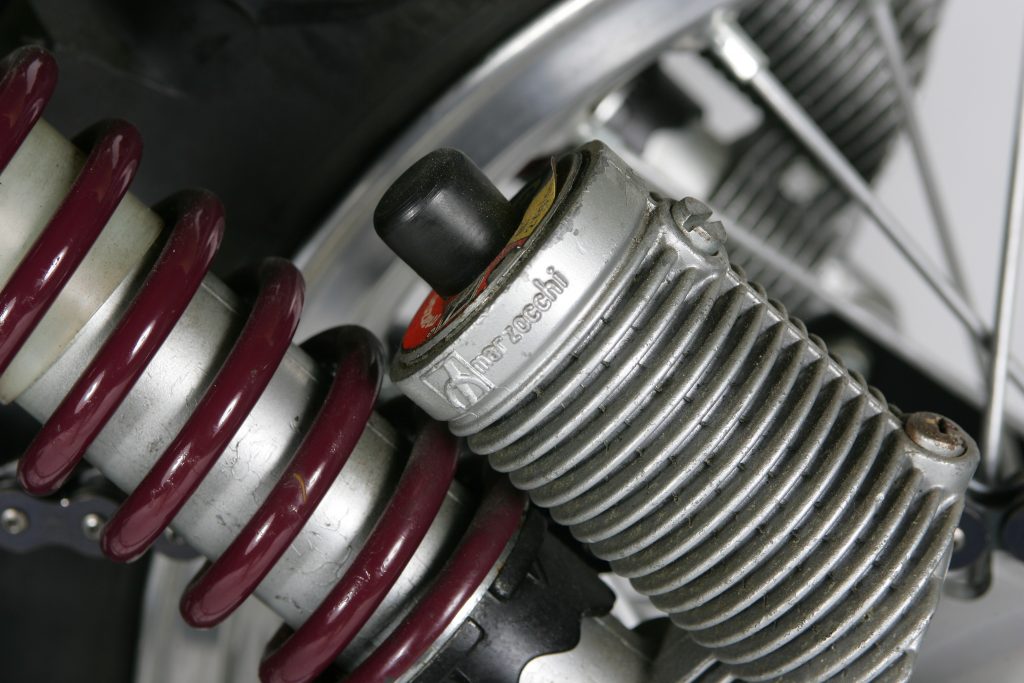 Works Marzocchi components handed the damping duties front and rear on the Everts Replica.  Photo Credit: Stephan LeGrand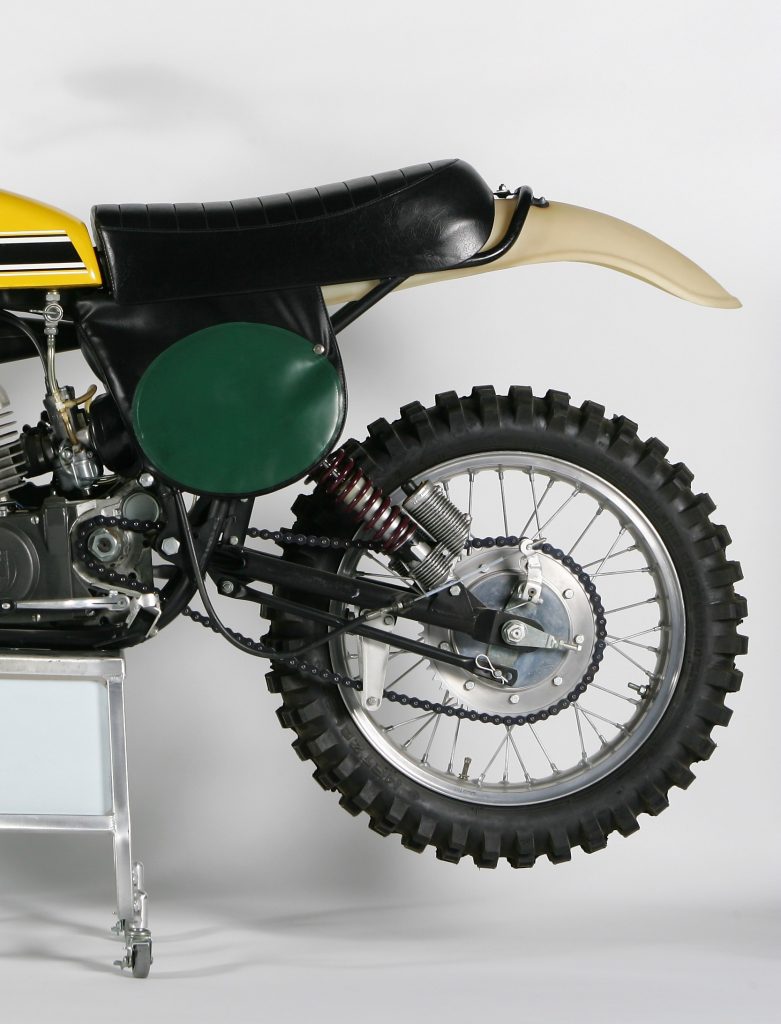 The rear suspension on the Puch provided an excellent (for the time) nine inches of travel. The Marzocchi rear shocks provided a plush ride and added to the excellent handling of the Puch.  Photo Credit: Stephan LeGrand
Everything on the Puch was handcrafted. The individually assembled and component-matched engines used magnesium cases that were sand cast and hand-finished. The cast aluminum heads and barrels were all individually ported and matched to the bottom end. Any components built for the Puch were high-cost low volume items. The extremely low production target of 100 machines precluded any kind of assembly-line production so each bike was hand-assembled by Puch. The same team that had created Everts' factory racer built every production MC250.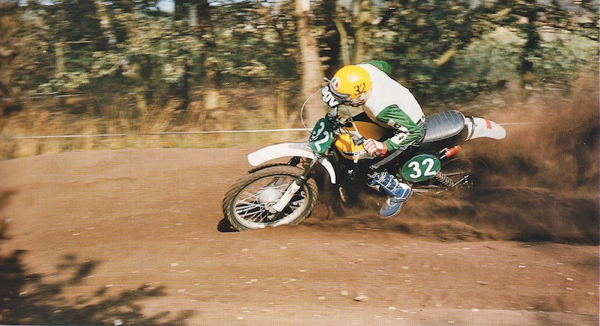 Harry Everts and the Puch made a lethal combination in the mid-seventies. In 1975, he delivered the brand its first and only 250 World Motocross title. Later on, the talented Belgian would move to Team Suzuki and deliver the Japanese brand three additional championships in the 125 class. 
Photo Credit: Chris Malam
To keep weight to the FIM minimum, Puch made liberal use of exotic lightweight metals throughout the MC250. The engine cases, hubs, and forks were all hand-machined out of magnesium.  The chrome-moly steel frame was both light and strong using a beefy rectangular backbone with strategic holes for lightness and a unique bolt-on lower cradle. The wheels were Akront Lipless alloy units shod with Metzeler rubber. The suspension duties were handled by Marzocchi, with the forks and cantilever twin shocks delivering nine inches of suspension travel.  The gas tank was a fiberglass unit that held just under two gallons of pre-mix. Every piece on the MC250 was engineered for one purpose, to win races.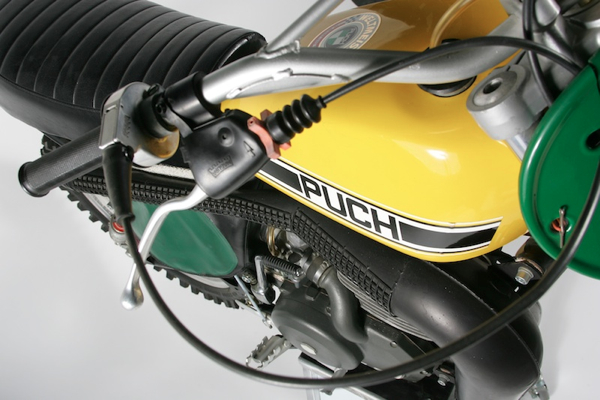 Puch chose Magura to supply the throttle and levers for the Everts Replica. 
Photo Credit: Stephan LeGrand

The 1976 MC250 ended up being the high water mark for Puch as a serious manufacturer of race-bred machinery.  In the late seventies, Puch would transition over to using Austrian built Rotax motors instead of ones of their own design and shift their focus away from racing. Although they would continue to produce motorcycles and scooters up until the merger with the Italian scooter giant Piaggio in 1991, Puch would never again reach the heights of success they enjoyed in 1975. Harry Everts and Puch caught lightning in a bottle in 1975 and the fruits of this pairing ended up being one very remarkable motorcycle.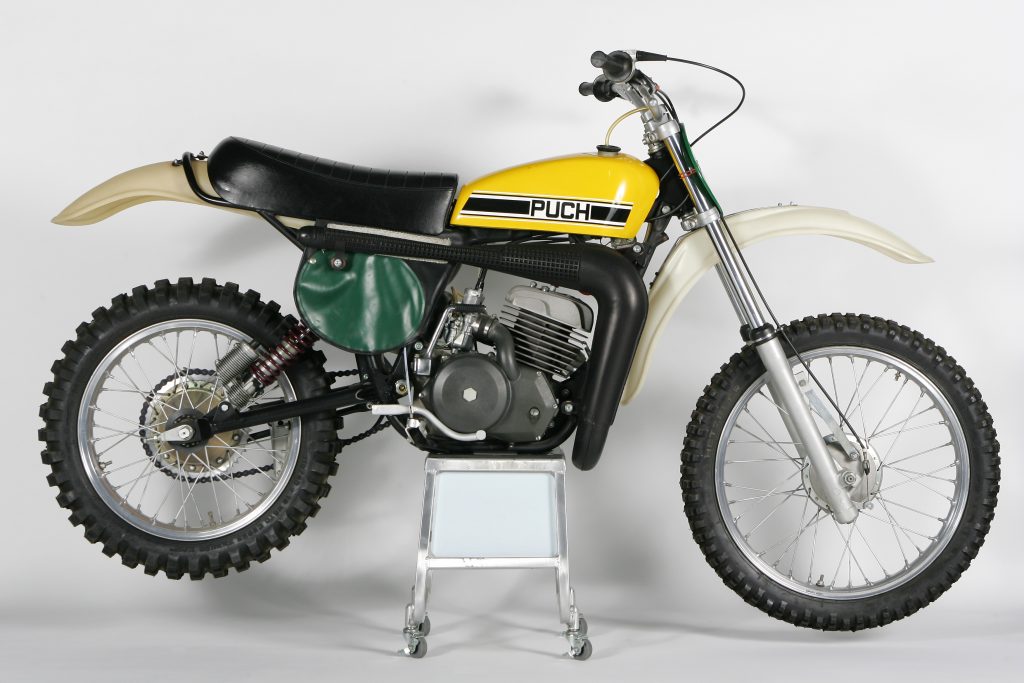 The Puch MC250 Everts Replica offered true works bike performance to anyone lucky enough to get one of the ultra-exclusive machines. Never before or since has such an incredible machine been offered for sale to the general public.  Photo Credit: Stephan LeGrand