Former factory rider David Vuillemin offers up his thoughts on the Salt Lake City Supercross and gives us a bonus with GP talk!

Former factory rider David Vuillemin offers up his thoughts on the Salt Lake City Supercross and gives us a bonus with GP talk!
By David Vuillemin
Photos by James Lissimore
That's it, we know all the Supercross Champions after the Salt Lake SX. The anticipated greatest SX season ever ended up with as much suspense as an Eddie Murphy movie. Oh well, there is much we can do about injuries though. What's good about this season is that the crowned champions are the riders that deserved their titles the most. There are no doubt that Ryan, Justin and Eli were the best this year and in a way I like it when the best guys win. I am not into wanting the underdog to win for some reason, unless he comes out swinging and become the best out there.
I am going to talk about Salt Lake City and go thru what I liked and what bothered me rather than do something about every rider like usual. That way, I keep some imagination to talk about the GPs.
What I liked…
The track: Finally, we got a couple rhythm sections where not everyone was doing the same thing. Finally, they got rid of those stupid flat 180 degrees turns like in Seattle where it made only one inside rut. Finally, we got some 180 degrees bowl turns when we saw some (block)passes. The traction wasn't great with the soft dirt and the rocks but it made the track even more technical. The triple-triple-triple after the start was pretty good. It wasn't super hard, I don't think, but maybe a little intimidating because the jumps were tall and steep.
The KTM boys qualifying lap times: Dungey and Musquin were on top in timed practice. It's always good for the confidence to be the fastest going onto the night program. Ryan clocked a 47.110 and Marvin a 47.129 which was the 2nd overall lap time on his 250F. Pretty surprising because in Salt Lake City sits at 4400 feet which hurt the power of the bikes quite a bit. Marvin was already the fastest in Seattle so it was good to confirm it. Ryan struggled all day in Seattle and struggled with his bike in practice in SLC. The first practice because of a crash and the first timed practice because of a "bike failure" like she said on the podium. RD had a minimum of track time before the last timed practice but still, clocked the fastest lap time of the day. Impressive!
Dungey-Tomac's will and determination to win: Both of those guys were in different shoes going into this race. Dungey came out of a disappointing race in Seattle where he looked like someone that didn't ride for 6 months. He has nothing to prove in the last few SX races before the Nationals. Tomac had everything to win (or lose) in his battle with Wilson for the West Championship. Ryan impressed me a lot and I haven't seen him ride that aggressively in a while. I mean aggressive in his riding style, not against other riders. Weimer's blockpass which made Dungey crashed seemed like a good wake up call for the Dunge. Ryan never gave up, clocked great lap times and gave it all to catch (and pass) Millsaps and win the race. It's surprising from Ryan to do so, he is more calculated usually especially when he has stricly nothing to gain and could jeopardize his MX season if something happens in SX. I am not complaining, it made great racing and a great show on TV. On the other hand, Tomac rode like Tomac which is why we love him. Eli fought hard after a mediocre start, caught the injured Wilson and passed him to put even points between them in the Championship. I loved how he rode. He didn't ride cautiously, he passed riders like it was the first race of the season. Christmas came early for Eli when Wilson crashed out which would crown Eli a week early, a well deserved black #1 AMA plate. Congrats.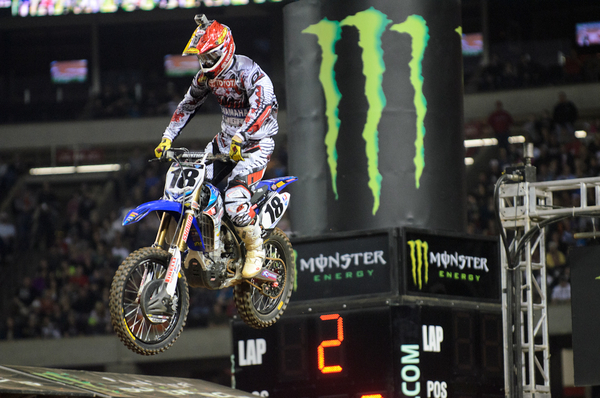 Props to Millsaps on a great race.
Rockstar Lites Boys: I thought Anderson and Davalos rode great and stayed on their wheels. I even thought Anderson could have won the race but he missed some fitness to counter attack Eli's comeback at the end. Marteen and Jason's heat race was even great where they battled hard for the 2nd spot behind Tomac. As a team manager/owner, it has to feel good to put 2 guys on the podium. I don't know, it never happened to me ;-). Anyway, it was a good ride by those guys and I always like to see new kids on the podium after a great ride.
Davi Millsaps: It's cool to see Davi stepped it up and raced to win now. Davi rode good all day but made a mistake and made a bad decision dealing with lapper, Matt Goerke. This stuff happens and should have been handled better by Davi. Anyhow, Davi holeshotted, led 19 laps and stepped it up where other riders that should, didn't. I've told you for months that the set up he has on his YZF450 is pretty good and, that's for me, the best tuned YZF out there…
What bothered me…
Marvin Musquin's racing: What the heck happened with Marvin between practices and the night program? For the second week in a row, Marvin was the fastest Lites guy. Come the racing and Marvin disappeared… He looked uncomfortable in the heat race, raced by giving too much importance behind him. He looked scared of being taking out out and rode super defensive. Yes, he crashed colliding with Davalos in the heat but that really wasn't a take out. Going in a bowl turn to the inside and straight to it isn't the right way to go fast. By doing all of that, he lost a lot of time and got passed too easily. With his speed and his 2 world titles experience, Marvin should battle for the win every weekend and not ride with no confidence.
Justin Brayton: What's going with him too? 11th fastest in practice and 4th in the Main. You will tell me that 4th is good but he was 20 seconds behind Dungey who crashed and got onto the lead just a little over a lap to go. It's not like it was RV that holeshotted the race and took off. Plus you have to see who's behind, not a virtual top 8 guy (in my book) with everyone on the gate is behind him. Justin showed some good things during the season but he's having a rough couple of weeks. I am not looking at raw results. two times with a 4th should be good and I couldn't do it but I am looking at the way he rode and the way he should ride. With his potential, the best we've seen him ride this year, his bike and #1 factory honda guy, he should have won this race.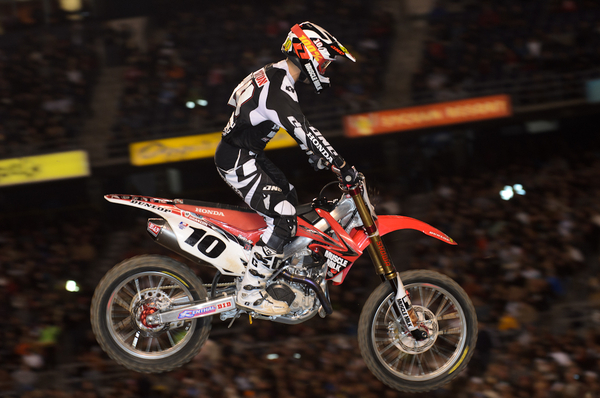 Le Cobra wants to see more from Brayton.
Mike Alessi: Yes Mike got another top 5 and I am sure MotoConcepts celebrated by opening $300 Cristal bottles with a sword. Or maybe not, I'm kidding. I gotta make fun of my former boss Mike Genova, he likes it when I do anyway. Back to Mike, good job on the top 5. He rode good and consistent, I'll give him that. But come on, what about jumping the rhythm sections? The sign at the entrance of the stadium says "Supercross"! He never did the fast way after the start, triple-triple-triple, and never did the triple-step-on in the other rhythm section. Mike impressed me in practice in Seattle. He rode like a real SX top guy and was charging "a-la-RV". I even tweeted about it. But he has to race SX the right way and jump rhythm sections that most of the 250f were doing. He knows how to do it. I've seen him do crazy stuff before, he (they) just decided not to do them. You can't podium a SX race without jumping the rhythm lanes like the guys you race against. And I am not asking to jump something only Bubba was jumping. It also could be that he's racing safely to be injury-free for Hangtwon.
Lapped riders: They were really bad this weekend. I know Matt Goerke is racing Tyler Bowers for 1 point and $200 prize money difference to get into the top 10 but it's not a reason to mess up the leaders. We saw Chisholm staying in the main line doing 5mph when Dungey was behind. Ryan didn't even jump the whole lane. In the Lites, it was the same with Wilson and Tomac. I understand they are racing for a position but they need to get out of the main line. Everyone rides in a 2 feet wide line around the track. The rest of the track sucks and is slow, get off the main line and let the leaders go at it. That's what the leaders want, that's what the fans want and that's what the sport want. Seriously, I could care less about a guy moving from 12th to 11th in the last last but I care about not seeing a win battle because a lapper stays in the middle of the track.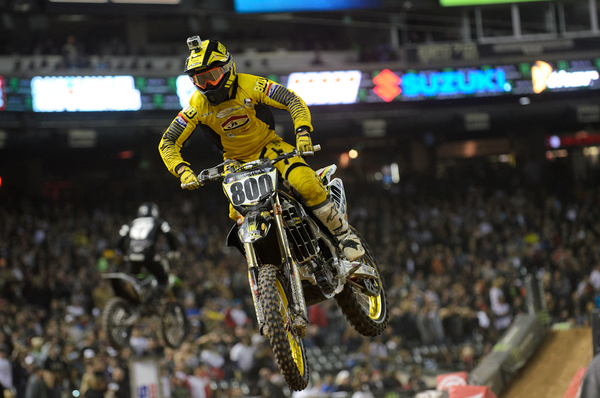 Vuillemin didn't like Alessi's SLC.
Wilson's injury/crash: Wilson's DNF sucks. It would have been nice to have some drama and a title battle in Vegas. Last year the West Lites race was crazy with Tickle, Hansen and Tomac. Ge well soon Deano and we hope to see you race in Hangtown!
That's it, the Supercross season is almost over. One more race to go, three mains, one shootout, one banquet to "kiss a.." and congratulate the people you hated all year long. The champions will look vulnerable and cry. Dude, I wished I cried in front of the whole industry. Oh well, I didn't and won't ever happen. 😉
I can't believe this season is over. I guess when you don't ride or don't go to all the race, it goes by way faster. In the other end, I was super excited for the Nationals but with RV, CR22, Trey out, it won't be as fun. Unless Bubba stays on a Yamaha and goes 24-0… hahaha
Talking about motoRcross, there is a series that started a month ago called the World Motocross Championship… 😉
Three races went by already, one in the sand and two on hard dirt. Three guys in the MX1 class are above the rest right now. Cairoli is leading the championship with 1 GP win and 3 moto wins, Paulin is in 2nd with a GP win and 1 moto win and Pourcel is 3rd with a 1 GP wins and 2 moto wins.
For some people Cairoli is doing better than expected at this time of the year. He usually starts slower. He was imperial in the sands of Valkenswaard with an uncontested 1-1. Tony lives in Belgium now and ride in the sand all the time. Usually, Italians are super fast on "concrete" tracks but Tony lost a bit of his hard packed speed due to a lot of sand riding for conditioning, riding technique and when you are in Belgium in the winter, there isn't much to ride on than sand. Tony has the best package, knows how to win, super fit, 5 world championships and he's only 27 years old. Tony will get better in the season when they hit rough tracks and with the heat of the summer. He is an animal in those conditions, the other guys know it so they need to gain points on him soon if they want to be in until the end. Tony struggled with his starts last year with the 350cc. He is still on it this year but his starts have been great so far this season.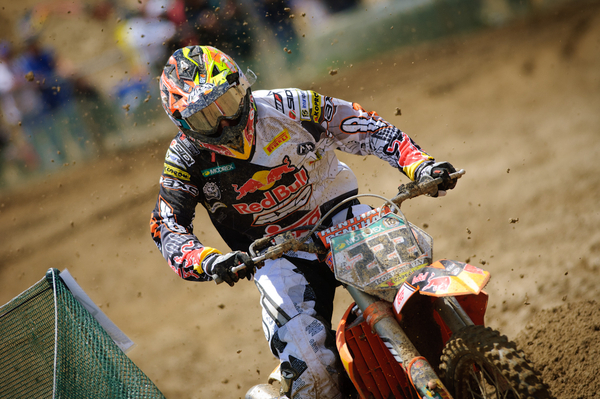 DV says that Cairoli will just get better as the season goes on.
In second, Paulin isn't a surprise. Multiple MX2 GP winner and he won his first ever MX1 GP last year on the track they raced this weekend on the Monster-Yamaha-Rinaldi-YZF450. He is now on a factory KXF450. Gautier comes from the south of France, where it's hard packed. He rode a lot of hard tracks this winter and didn't really ride in the sand that much, compare to everyone else living in Belgium. Gautier did pretty good in the Valkenswaard but stepped it up in Bulgaria and Italy. He is strong physically and looks ready for this MX1 season. He should be in it until the end.
In third, we have C. Pourcel. CP has been on fire the last 2 GPs. He won a moto in each GP and the Italy overall. He sucked in Holland at the first race. He wasn't that fast and his fitness wasn't up to par for tough sand races yet. Rumors were saying he was sick, that could have been why, but I wasn't buying it. Some of my close sources say things haven't really change and he still doesn't ride/train that much. On the other end, on the hard packed not very rough tracks, he has been doing great speed wise as well as fitness. Bulgaria and Italy were slick tracks with long dry ruts. You couldn't charge hard in those conditions. CP was amazing, super smooth, taking his time, keeping his momentum. It was CP of '09-'10 for sure and, even with whatever happened last year at MCR, I am still amazed with his riding. Just like I was when we were testing on the YZF. Still, we will have to wait a few more GPs and we'd know more after the Mexico and Brazil GPs in 3 weeks to see where everyone actually stand. It's still a little early to see who's going to be Champion this year.
Behind those guys, you have three Belgians, Desalle, DeDycker and Strijbos. I am expecting more from Desalle who has the potential of doing better but, like I said, the last two tracks are good for all those guys from Northern Europe. It's why I am pretty sure Desalle, Phillipaerts, Bobrishev would be more of a threat on rougher and softer tracks later in the season.
In MX2, It's the Herlings-Searle show. Jeffrey is faster in the sand but Searle can give him a run for his money on hard tracks. Searle broke an engine in moto 1 in Italy due to a leaking radiator caused by a collision on the start. Those two will go 1-2, 2-1, 1-1, 2-2 a lot this season. They are way better than the rest,that's for sure…
There are 13 GPs to go. It's going to be a long and passionate season. The next GPs in Mexico and Brazil would be easier for me to follow because of a smaller time difference. I am too old to wake up at 3am to watch a race, but I still do. High level motocross races are actually really fun to watch for a fan like me…