Considering all three titles were already wrapped up before this weekends Vegas race, the racing actually turned out to be more entertaining than expected.
Considering all three titles were already wrapped up before this weekends Vegas race, the racing actually turned out to be more entertaining than expected.
Photos By: James Lissimore
Save a few runs at season ending podium bonuses, all three races were essentially for bragging rights.
The track was dry, slick fast and of course sporting that insane Thunder Alley roost. Monster Alley? No thank you, it's Thunder Alley. I swear eventually every rider's roost is going to be sold a sponsorship benefitting not the rider but the series. "Ryan Dungey is really getting a mouthful of Davi Millsaps' Toyota roost in this heat race"… sigh. If it's not benefitting the racers, (insert rolleyes) and yawn. As Mike Genova said on a recent PulpMX Show, all prosperous sports enjoy a healthy eco-system of profit sharing. Until the participants take a stand in solidarity, they will continue to risk far more than most athletes for far less reward. No, I am not drunk, I was not even in Vegas and of course I realize this is a pipe-dream but it's always the crazy ones who change the status quo.
Peripheral
In the Speed broadcast open, Erik Kehoe and Justin Barcia announced the second worst kept secret in the sport currently; that Justin Barcia will indeed be joining the Muscle Milk Factory Honda effort for 2013.
I say second worst kept secret because of course, the first is the mutually agreed upon separation of JGR and James Stewart. Everyone knew it was coming. I mean, even if you're just a super-fan of the sport with a 6-year olds ability to inference, you knew that relationship was ending.
I found it interesting during the Speed show when they were showing clips of JS during this SX season and they showed his Houston crash where he rolled his helmet of the back of his head, got up and walked to the tunnel. If ever there were an image of a guy so completely over the frustration and obviously throwing in the towel on his current situation, that was it. The look on his face was so void of expression. Not hope, not depression, not anger, not contemplation. Just nothing. It was over. James Stewarts JGR career lasted 17 races and included 1pt scored over the last 7. I guess it's true, money isn't all it's cracked up to be.
Whether it was the desire to win again or the belief that he won't hit the ground as much on a Suzuki different bike, walking away from that much money is commendable. As has been said before, it sucks for the JGR guys but it's much more of a statement on the YZ450 than it is the JGR team, program or personnel. JGR would never say so but all that speculation as to whether the YZ450 being a team's equipment would lead to difficulties in signing a rider have been answered with a resounding yes. A rider actually terminated an insane 3-year salary halfway through the first year because of that bike. It could very well be all in his head but that is irrelevant; it is the reason for the split.
That brings me to something that still confuses me since I first knew that JS wanted out. JGR has a 3 year deal with Yamaha, why would Yamaha not ask their long-term partner, JGR, to include a clause in JS7's release that forbade him from racing on another brand until 2013, or the Monster Energy Cup and the earliest? It's an UNRECOVERABLE public relations suicide for the current YZ450 if James begins amazing us on the Suzuki new bike in such a short timeframe(Hangtown/Freestone). I just don't see how Yamaha couldn't ask this of JGR and can't see why JGR would not oblige them. Again, confusing to me.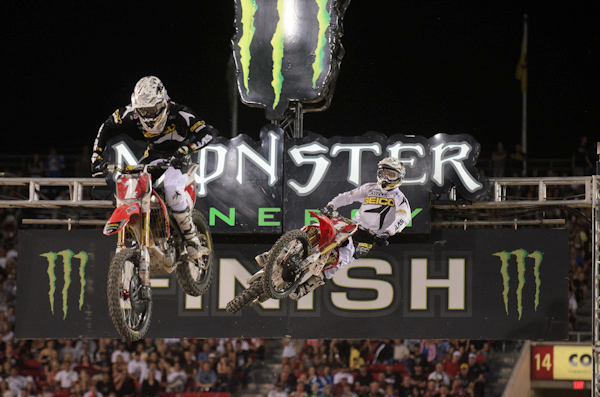 What a season for Geico Honda.
SX2 Shootout
Justin Barcia is the kind of guy who lives for a race like this. A race where there are no excuses, two regions combined and true bragging rights as the best SX2 Supercrosser of the year. You knew if Justin or Eli got the lead, it was on and barring catastrophe, one of the two was going to take the W. As impressive as Justin was in this, his final year in SX2, I felt Eli's improvement over last year was every bit as compelling a tale.
Really only one mistake made by each of the Geico 1's in the shootout and coincidentally it happened in the same section, off the same bump and pretty much kicked them in the same manner! Either those dudes are running identical bike setups or it was that crazy moon everyone was talking about. Geico bringing all their bike development in-house, with the forever-young Mike LaRocco turning Supercross laps to establish a solid base setup, paid off in a big way. I guarantee, if you asked anyone not employed by Geico when this decision was made, if the change was a good idea, the majority opinion would be in opposition. That takes balls and you can't argue with the results.
The 2012 SX2 season in total: Geico- 11, Pro Circuit- 3. Legit.
Good for perennial SX2 racer Martin Davalos to put it on the podium in the shootout. He even led shortly after pulling a nice move on Bam Bam himself. You know the story, Martin Davalos; infinite talent and solid equipment, inexplicably met with and defeated by opposition and inconsistency since 1952. Are you sitting down for this one? Martin Davalos is still eligible for the SX2 class in 2013. Truth. If he contests it, that will mark his 7th straight year in the class he has already raced 41 main events in. Grooming-class huh? Contrast that to Broc Tickle's 3 years and 22 main events followed by a force-out rule. Good job AMA.
Wil Hahn has finished the SX series healthy. Great job. That is all.
Blake Baggett put in a solid podium ride in his series finale but had a full-blown case of Hangtown on the brain during the shootout. That's the default for just about everyone who doesn't start in the top 5 in the shootout. Can you blame them? What's the sense in killing yourself during a 10-lap bragging rights sprint-race with outdoors coming in two weeks?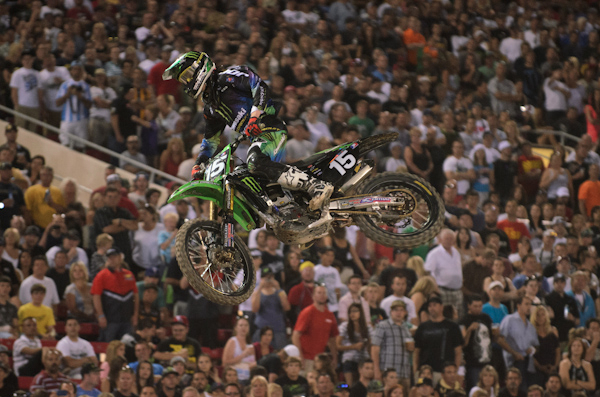 Dean had a pretty forgettable Vegas.
Then we have Dean Wilson. This situation has me bewildered. Dean goes shoulder first into a brick wall, errrr Chuck Norris, in Seattle, augers into the finish-line face in SLC and decides to race Vegas and plans to race the outdoors?! Rolling the dice on a bum shoulder in a contract year sounds like a recipe for disaster. Alternatively though, Dean's upside has been identified by everyone and mediocre results with a gimpy wing wont necessarily equate to a salary hit, but you know what will? A shoulder injury complication during outdoors that affects the start of his 450 SX career. Who knows, maybe Two Two told Dean he's got a spot over there regardless so do what you want… and then there's Monster who is apparently going with Dean wherever he goes. It's good to be Dean Wilson, bum shoulder and all.
SX1
I'm totally serious when I say, Nico Izzi's 6th place in Vegas was the story of the weekend. Sure, he's been known to put together a sketchy fastest lap, even when RV was still in there but since his ankle obliteration on Factory Suzuki in 2009, that's really been his deal. Put together a blazing lap at some point in the race program but in the end it's been a tale of crashes, tip overs, or endurance hurdles usually relegating him to 15th-20th. Add to that that he started the year in the SX2 class before moving up to the YZ450 when the series moved east. The same YZ450 that has been known to fight little guys and sure it was the last race of the year and the injuries blah blah blah but Nico's trials have typically been himself more than his opponents. Putting it together for 20 laps, including getting wicked by the bike at one point is legitimately commendable.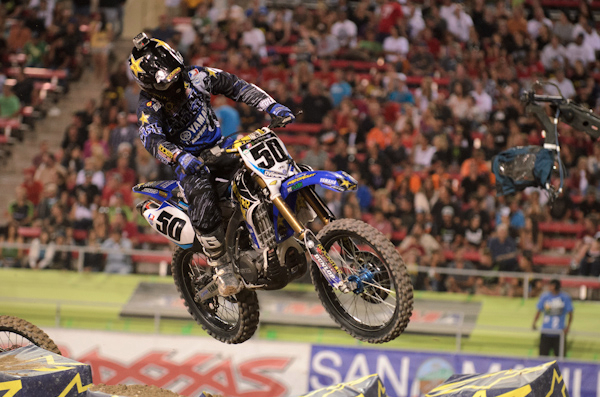 Nico overcame his typical demons in Vegas.
Is anyone even remotely surprised Dungey won? He's the last man racing from that anticipated top 5 before the season began and he showed that that divide is real.
Davi's ride was inspired and even though he nearly tangled with Weimer once, made contact with him another and even went off the track once, he battled to second place in Vegas and in the points. Davi Millsaps is a good fit at JGR and he seems more mature and happy than he ever has. I would be surprised if he didn't come back to JGR in 2013.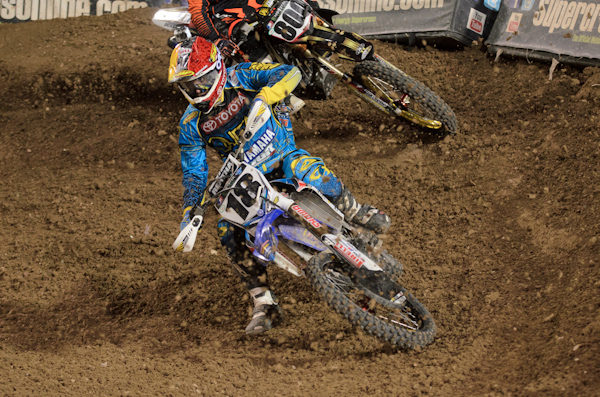 Millsaps, the over-achiever of 2012.
Justin Brayton was my pick at the halfway point of the season to break away from the 2nd tier group and establish himself. Well, he made me look really smart in the two races following my article finishing 2nd to RV but after that he was served a healthy dose of Dungey and Millsaps to which he couldn't respond. It was so strange that for those two races he kept RV honest, for a few laps anyway, but later couldn't match those consecutive 2nd place finishes, even with RV out. 3rd in Vegas and 4th on the season is good for JB but I feel like he may have pressured himself right off the season ending podium.
Looking through the 10th-20th finishing positions in both classes, it's clear the focus had already completely shifted to outdoors by the second lap of the main. Here's to hoping this years injury-fest doesn't continue into 2013.
Thanks for reading during the Supercross season. On to Hangtown.