Reader Lachlan Lidbury sent us some cool photos from the Honda museum in Japan as well as the 92 MXDN in Australia.
Reader Lachlan Lidbury sent us some cool photos from the Honda museum in Japan as well as the 92 MXDN in Australia.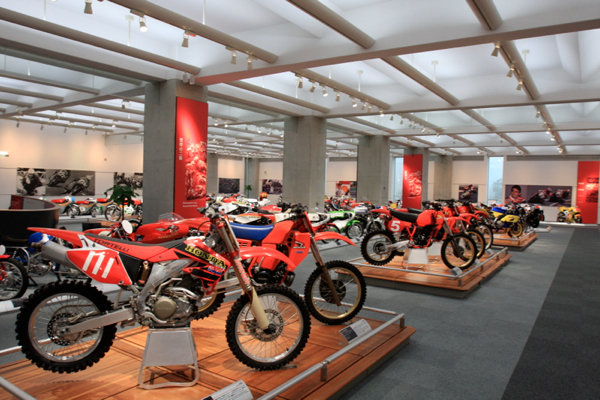 Situated at the Twin Ring Motegi racing circuit 2hrs north of Tokyo, the "Honda Collection Hall" showcase's Honda's decorated history of vehicle production / racing and was opened in 1998 to commemorate the 50th anniversary of the company founding. As a Honda fan this is as good as it gets. The GP, Moto GP and Motocross vehicles that Honda has raced so successfully are documented thoroughly. Each bike, car or motor is immaculately turned out on multiple floors with hundreds of exhibits – a must see for the discerning fan.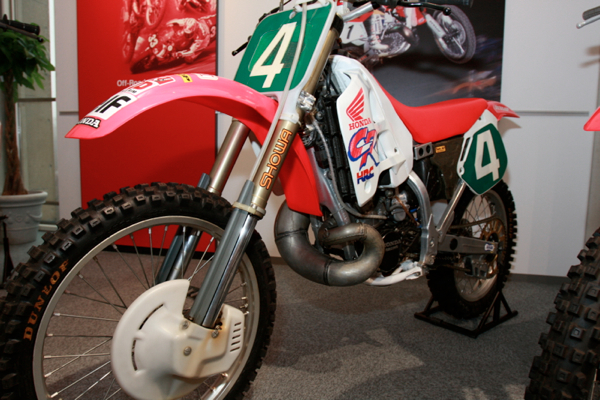 91 RC250MA (Piston Reed Valve, 51PS, 101.8kg dry)
Look no shifter! Honda called the system automatic HFT (Human Fitting Transmission). From what I read years ago, this thing worked really well. What happened Honda?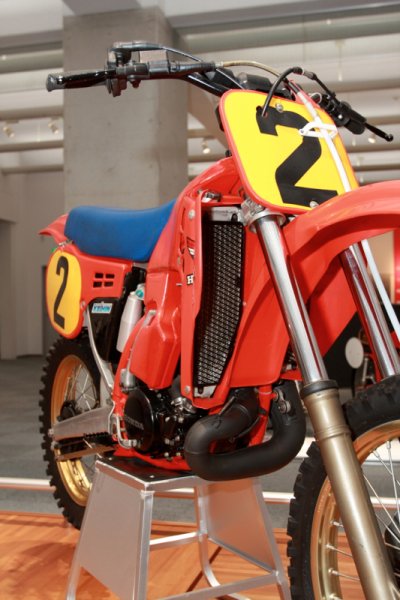 84 RC500M (ATAC, Piston Reed Valve, 60PS, 102.4kg dry)
David Bailey would have fond memories of this bike as he rode one of these to the 84 US 500 outdoor title. By 86 these works bikes were outlawed in the US because of the introduction of the production rule. This weapon of works exotica, was the first version of a model that would terrorise Euro GP tracks for three years until Honda went racing with production based hardware in 87. Malherbe started the domination with the 84 World title while Thorpe went back to back in 85 & 86.
That handmade lowboy alloy tank that Honda pioneered was rad! It had an electric pump feeding the carby uphill! It seemed Honda were way ahead of their time with the centralising mass mentality.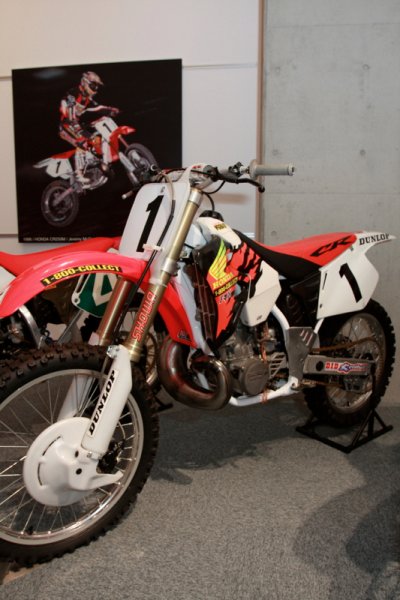 96 CR250M (Piston Reed Valve, 50PS, 98kg dry)
Showtime's 96 SX title winning steed, still with the 93 frame. Surely his all-time favourite bike – what more can you say!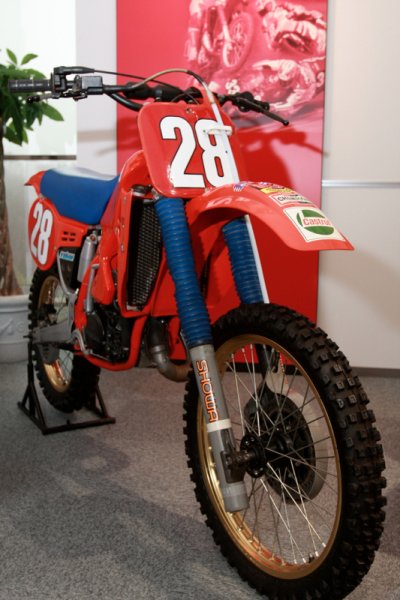 84 RC125M (Rotary valve, 33PS, 89.6kg dry)
Works zinger! This 84 RC125M (Rotary valve, 33PS, 89.6kg Dry) provided the platform for Honda to win the next 5 straight US outdoor nation titles. As you can see it had all the factory exotica, with the woks Showa cartridge forks, handmade swingarm and alloy lowboy tank that all the larger capacity Honda works bikes also had. What's even cooler is a young Ron Lechien took the 85 version of this bike to his only US title in dominating style!
La "Rock" solid. Iron Mike went 2 – 2 (250) in the face of multiple crashes, pushing 250 winner Belgium Boeverts to the very end. This was back when he had a bad run with a wrist injury. As a result he was one of the first guys to regularly race with a wrist brace.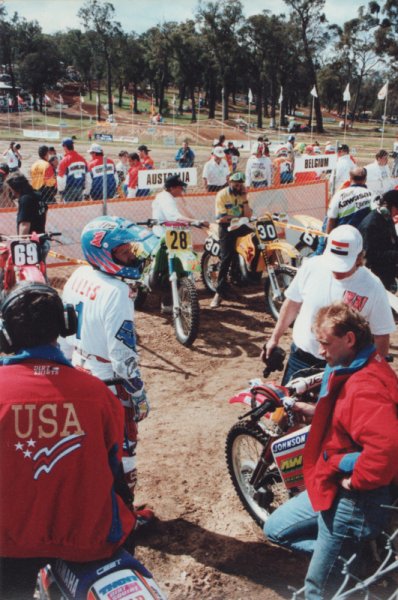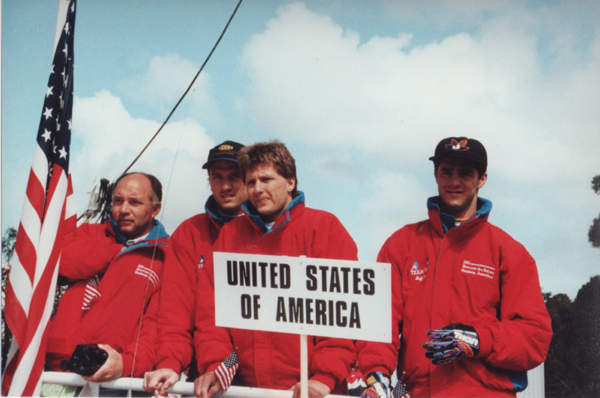 The much publicised 4992 US MXDN "B" team of Mike LaRocco, Billy Liles and Jeff Emig gave team USA its 12th straight Motocross des Nations victory over Belgium and Great Britain. As a teenager seeing these legends of the sport go toe to toe with the rest of the world was something else. The track was mouth watering the sun was shinning and the day dished out a US win with plenty of racing drama. Emig had a weekend to remember beating a young Stefan Everts (he suffered a flat in the second moto) with a 1-2 for the 125 overall. I remember standing next to Emig as a photographer showed him a shot from practice. It was of, Emig super committed, dragging his bars through a sandy lefthander (he didn't crash). Emig claimed that was the best shot he'd ever seen of himself! Despite a practice scare, Liles was solid on his Euro-based GP CR500 going 2-2 in class.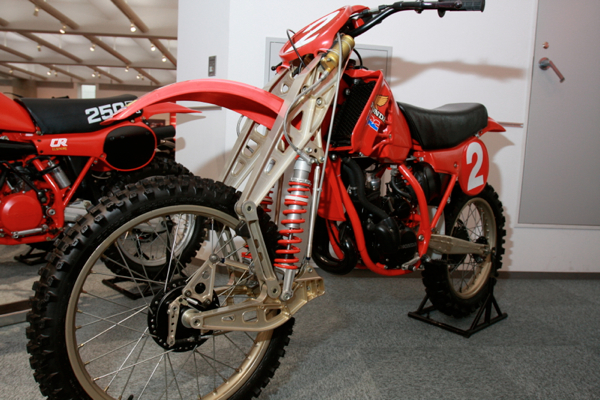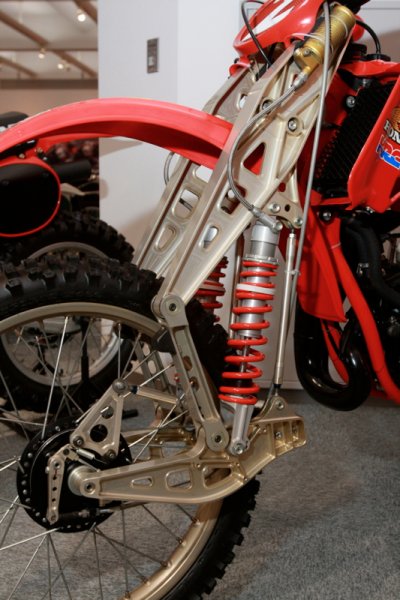 81 RC125M (Piston Reed Valve, 32PS, 88kg dry)
Exotic machining. Engineer Valentino Ribi pioneered the concept and whacked it on Roger DeCoster's 79 Suzuki 500 GP bike (he liked it). Honda then bought the design rights and incorporated it on this RC125 calling it, a double Pro-Link front suspension system. The result took out the All-Japan 125 Championship that year. Honda then promptly dropped the concept!
Fluid MX. The enigmatic Jean Michel Bayle chose the 92 MXDN as his last official MX race. It was a privilege to see him at his best, finessing a mighty factory CR500 in my own back yard and giving an MX lesson to the best in the world. He won the first moto by a country mile! In this shot from practice, notice all the faces turned to watch him, including a young, future 10 time World champ Stefan Everts, wearing the red, black and yellow colours of Belgium.