Where do we go from here?
Where do we go from here?
Photos by: James Lissimore
For a first round void of last season's champ and a handful of other top tier racers, you'd assume Hangtown was going to be uneventful. The unprecedented mid season team-switch made by James Stewart upped the intrigue factor immensly but beyond that, there were several compelling occurrences unfolding as the National series kicked off.
Lets start with something that has hit close to my heart for a few weeks now. It's no secret that Broc Tickle is a friend of mine and I was vocal about his 450 ride not being yanked from under him. He had been dialing his 450 outdoor setup since Houston, was very happy with it and convinced his outdoor series was going to be the redemption he and the team expected and knew was possible. It was clear in Supercross, Broc wasn't riding like himself but as this sport goes, the mental side is often the hardest to dial-in. Even when all the tools are there, if you can't get out of your own head, it just won't work out.
After a couple weeks of uncertainty when Broc was asked to ride a 250 the day after Tyla was signed up for the Factory Kawi bike, the news came that Broc was going to be permitted to race the 450 outdoors. But, and this is a big but because this is where the effects of Hangtown could come into play; Broc's results were expected to improve if he wanted to stay on the 450. Well I'm happy to say, Broc's rides at Hangtown were strong, going 6-7 for 6th overall. There were many who just wrote him off. It was as if his Supercross season was representative of his capabilities, which obviously they were not. Anyhow, I digress.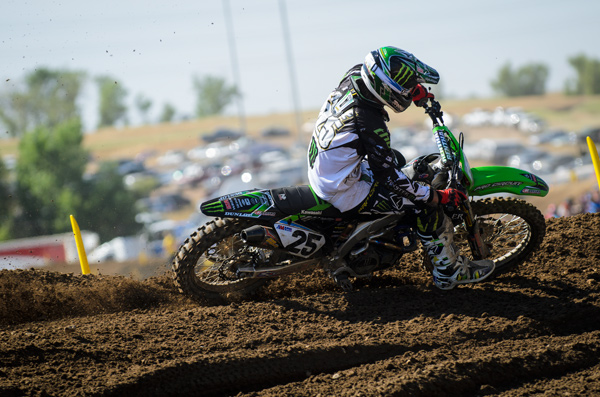 Broc was the top finishing Kawaski at Hangtown with two strong rides.
Tyla Rattray's biggest assets in the outdoors have always been his strength, endurance and consistency. His addition to Factory Kawi had all the ingredients for success and rightfully had many people slotting him in for podium finishes throughout the series. Fast forward to lap 1 of moto 1 at Hangtown and a broken hand brought everything to a screeching halt. When you add into that equation Dean Wilson's shoulder, which we all knew was going to bite him at some point and even with his strong finishes, I believe Broc is in danger of being thrown back to the 250 class. Mitch has to be fuming at the predicament his team is in now. Darryn Durham is out with a shoulder, Dean Wilson is out with a shoulder, Tyla was granted leave for the Factory 450 and is now out with a broken hand, Hot Sauce has rejoined the squad he won a title for in 2005 and Blake Baggett is in the drivers seat heading out of Hangtown.
Lets be honest though, Hot Sauce hasn't raced outdoors in a couple years, has been dealing with consecutive injuries and for craps sakes, this is the balls-out MX2 class where it's not uncommon for some crazy shit to happen. Blake Baggett is likely to be battling Ze German, and the Geico squad all by himself in the long run. As I said, I don't like Broc's chances at staying on the 450, due not to his results but just in an effort for Mitch to salvage a title for the green squad in 2012.
What is to become of RV's bike now? Do they just focus the teams full attention to Jake, or do they seek another fill-in for the ride? Hmmmm, what was the top finishing Kawasaki 450 at Hangtown? Oh, Broc Tickle. Is there a chance Mitch would agree to another of his riders migrating into the Factory Kawi semi? Let me just say, I believe you'll see pigs fly before I believe that would happen but it wouldn't be the craziest thing I've ever heard either. After-all, Monster and Kawi hold more cards in these situations. I'm very interested in what happens with this. Shoot, maybe being the badass that Tyla is, he just finds a way to ride through it? Ouch.
Speaking of ouch, poor Dean Wilson. But wait, is the sympathy really necessary? Read on.
Ever since Dean announced he was racing Vegas and the Nationals my head has been spinning. If you know me and my motion sickness, this has been a very trying few weeks. I just didn't get it. Dean won the series last year and all the talk this season has been of him moving up to the 450's class in 2013. Then I did some rulebook research and math. I'm going to go all David Vuillemin right now and pat myself on the back for being a pioneer of moto-prediction. I was the first to write about the possibility of "Dean to SX2 in 2013". He's said time and time again how much he wanted a SX2 title before graduating and when that dream went up in flames this year, I shifted into research mode and discovered that he is eligible to return in 2013 and make another run at it. That article is on PMT. Anyhow, back to the point. My mind was still spinning during moto 1 when Dean was running 9th and ultimately sitting under the Pro Circuit canopy while moto 1 was still circulating the Hangtown track. Then it hit me, my head stopped spinning and a smile came upon my face as I imagined myself giving Dean that little "Leave it to Beaver" fist-to-chin tap with a wink and a "attaboy"! Dean knew this was inevitable but realizing that, still gave it 100% effort until it was verified and he couldn't deny reality anymore.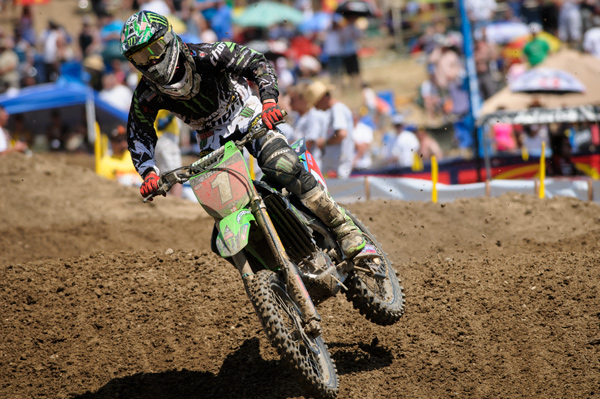 Dean's DNF was the best result in a no-win siutation.
I gotta think two major factors contributed to Dean's insistence that he roll those dice. One being, riding with that #1 plate on his bike. That shit means something to these guys. Even if it's only for a portion of a moto, ripping with that red background and solo 1 is form of validation that can only come from giving it your best shot, just as Dean did. Factor two, in my mind, is Dean is planning on coming back to SX2 in 2013 to make that goal a reality. If the plan was to get a 450 deal, I expect Dean would have gotten surgery before Vegas so he could get back to 100% as quickly as possible and start selling himself.
In this instance of suppressing an injury and ultimately having that injury end your season, it couldn't' have ended any better than it did. Round one, moto one, number one plate, 100% given. Good game, now go get fixed up. Of course that's all just me conjecturing but it helps me sleep at night.
MX2
It was great to see Blake Baggett pull the ole "15 minute mark trigger-pull" again. I don't even know how to classify that strategy. Who else, ever, can get such an average start and at 15 minutes just GO and reel in the leaders the way he does? If Blake can manage to get out of his own head and bottle up that mindset week to week, it won't matter if Blake is the only Pro Circuit rider on the gate. He's THAT mind-blowing in that form.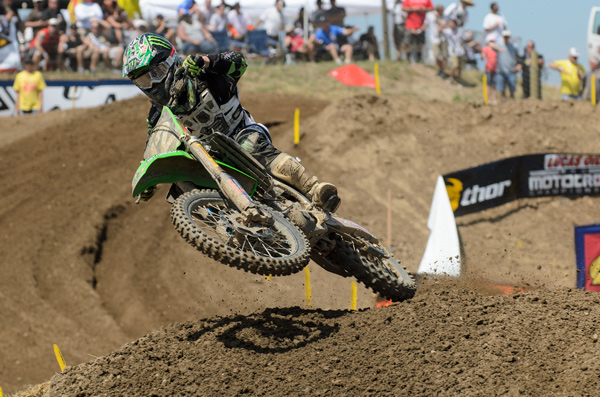 When this guy is "on", Honey Badger poops himself.
Barcia no likey getting reeled in an disposed of. Coming off a SX2 season where he was clearly superior, Blake's handling of him in Hangtown feels like an employee telling the boss how to do the job. Justin is going to bounce back hard but the question is, even if he does, is it enough to defeat el Chupacabra? (Let's be clear, there is "Blake Baggett" and then there is el Chupacabra. I don't need to explain the difference).
I was impressed by Roczen. Of course, NorCal isn't one of the grueling series stops where heat pounds you into submission but coming off a subpar SX2 season, I thought K-Rocz rode great. He seemed quite reserved in Supercross and I was glad to see him look more like the exciting Kenny of old. He's been riding with Shorty in Texas so I expect him to be strong in the Freestone heat but the true test is when the series moves to the humidity of the east. Beware of mirages Kenny.
Ivan Tedesco finishes 4th OA in his first MX2 race in 7 years and first outdoor race period in 2 years. Color me impressed. Not impressed because he doesn't have the skills but impressed because he's been away from it so long and that class is so balls-out and all over the map. At this point can we officially say Hot Sauce is a "little bike specialist"? Comfort is comfort and Ivan seems to have more of it in the class with the crazy kids.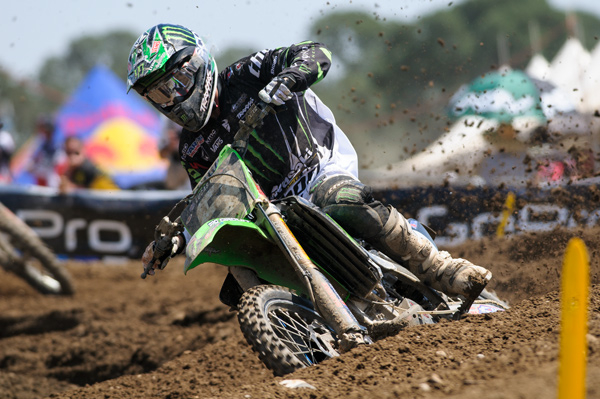 Hot Sauce showed many on the track and fans alike that he can play with the kids.
Eli Tomac did not have the Hangtown anyone expected. Moto 1 was solid but a crash in moto 2 made it an uphill battle. Such is life in the MX2 class. He'll be back.
MX1
So many ways to approach this.
I'm going to take the realistically logical approach though and say if you're claiming another JS7 24-0 series based on Hangtown, you are a dope. It is so funny to me how after 2 motos out of 24 the number of fans who have already moved from their perch on the fence, to "nobody can hang with James". Yes, James looked great but it's prepostorous to talk like he's unbeatable after one round. James was obviously more comfortable and fluid than he was on the Yamaha at any point. As he said, that bike isn't bad, it just didn't work for him. Chad Reed is a smart racer and when he says he'd rather race James on blue than yellow, you'd be well-served to accept that as being a legitimate indication as to the difference to expect.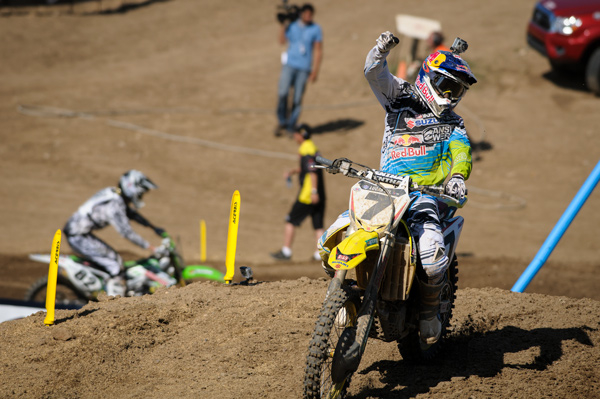 Yamaha's PR department has their work cutout for them.
Hangtown is a unique animal in the outdoor series though. It's lower speed and a tight layout when compared to many National tracks and being such, it's easier to corral a bike getting slightly out of shape. In moto 1 James did what he needed to to turn a great start into a comfortable lead and Just. Stay. Solid. Dungey's poor start gave him an opportunity to settle back into his first outdoor race since 2008 and get his groove back.
He looked great, as I and many others expected he would. Was it the bike holding James back the last three years? Clearly. I've said it since last year and even if he had not won both motos at Hangtown, it was obvious that his comfort level has increased and he looked more like the James of old than he has since '08 outdoors and '09 in. Don't lose perspective though, this is one race and titles are won on your bad days.
Dungey had one of those title winning days, a bad one. Dungey's first bad day resulted in a 3-2 for 2nd OA, it's just what he does. Lets not forget either, this was Ryan Dungey and KTM's first outdoor race on that bike, it's not dialed in. Clearly it's not dialed in, it was handling like a bucking bronco out there. Dungey was good, keeping Stew honest and the 5 is going to get better, as will James. Texas owes the Dunge one and I'd bet dollars to donuts that he cashes that rain check next week. The question is, if he does cash that rain check, what does James do with his first "bad day". I use the term "bad day" loosely and in a different frame of reference than the rest of the class. Coming into the season everyone slotted James and Ryan as the "1-2" of the class, rightfully so. As such, "bad day" means something different for them than every other racer out there.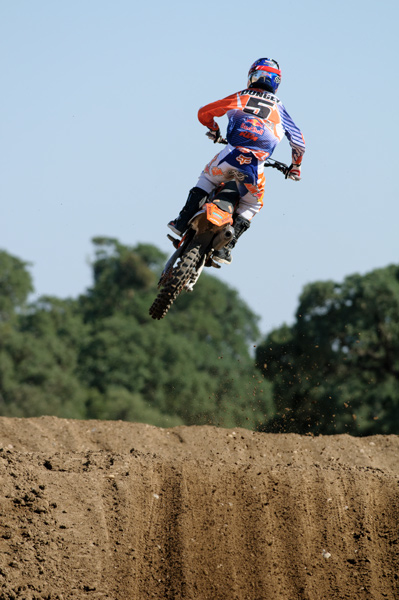 Ryan Dungey on a bad day. Not bad.
It's funny, coming into Hangtown it seemed like penciling in Mike Alessi for 3rd OA was a no-brainer but getting there via 7-3 moto scores was not how you'd expect it. That 2nd moto 3rd place finish was a good 26 seconds behind the Dunge so you can be sure the week will be chock full of practice starts and kayaking into the wind.
Andrew Short lived up to his expectation of pulling great starts on the CRF450 and save for Alessi was THE guy behind the top 2. Clearly Andrew looks at the KTM350 the same way Bubba looks at the YZ450F. "Ball don't lie" people.
Don't look now but we have a 3-way tie for 3rd in points as we head into Texas. Alessi, Short and Metcalfe all share 34pts and just as expected, we have a season long battle to look forward to where riders will join this battle and fall out of it over the duration of the season.
Poor Davi Millsaps. Had an amazing moto 1 pulling down a HARD fought 2nd, then in moto 2 crashing and jacking up his elbow. Coy has been really working on Davi to get him to start series' off stronger instead of building into them and this was a great first race for Davi. He really did ride his heart out in both moto's. The Davi love affair transitions into the outdoors and it's candy-hearts and valentine cards all around.
Jake Weimer had a great charge from the back in moto 1 but really needs to nail some starts.
Nico Izzi was a model of consistency with 11-10 finishes, good start.
Chizz pulled down 11th OA but I fully expect him to setup camp inside the top 10 for the duration.
Top Jimmy had terrible starts and better finishes but he's better than that 13th OA.
I'm happy for Matt Lemoine's debut 450 ride to 15th OA with an 11th in moto 2. It's a start and an optimistic one to build on.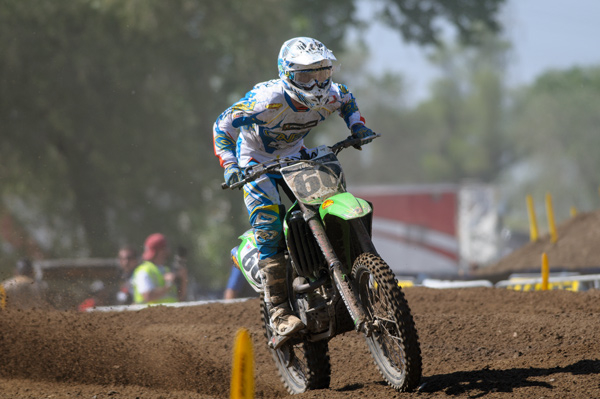 Welcome to the 450 class Matt. 15th OA is a respectable debut.
Terrible day for Team Honda, really the best way to view the day is that they didn't have to drive very far to get there. If ever there were a mulligan for a team, that is it.
Kyle Regal had a terrible day as well. You'd never guess Kyle to be an outdoors specialist based on those finishes but he'll be much stronger than this, it's not just smoke and mirrors with Kyle, he's got it.
End
Hangtown brought a little bit of everything. Answers, questions, surprises, validations and doubts. Yeah, there were injuries as well which sucks but that's just how it goes in this sport as the boundaries are pushed.
I can't wait for Freestone, where in my mind the real outdoor series begins.
Thanks for reading.